Students, alumni make connections at annual Internship & Job Fair
Eager to acquire an internship, Myrina Otey charted out a clear strategy prior to entering the annual Internship & Job Fair at the University of Missouri–St. Louis on Friday.
She did her research and flagged just a few of the 128 attending organizations that interested her. But once she entered the Mark Twain Athletic & Fitness Center and weaved through the crowded aisles, she scrapped her original plan as she discovered several interesting companies she hadn't previously considered
"I'm just trying to see where I fit," the industrial/organizational psychology major said. "I want to find an organization that caters not only to the values that I have, but that I can also cater to their values and be a great culture fit for them. Right now, I'm not looking for just anything. I need to be somewhere I belong."
Otey and 550 other UMSL students and alumni had the opportunity to narrow down or expand their list of desired companies during Friday's event, which attracted 300 employer representatives.
To refine her search, Otey (facing camera, at right) used the event as an opportunity to interview potential employers. She quizzed the recruiters on their tenure with their respective companies, key things they've learned since entering the workforce and ways they can individually improve as employees.
"I have to ask these things. I have to know," she said.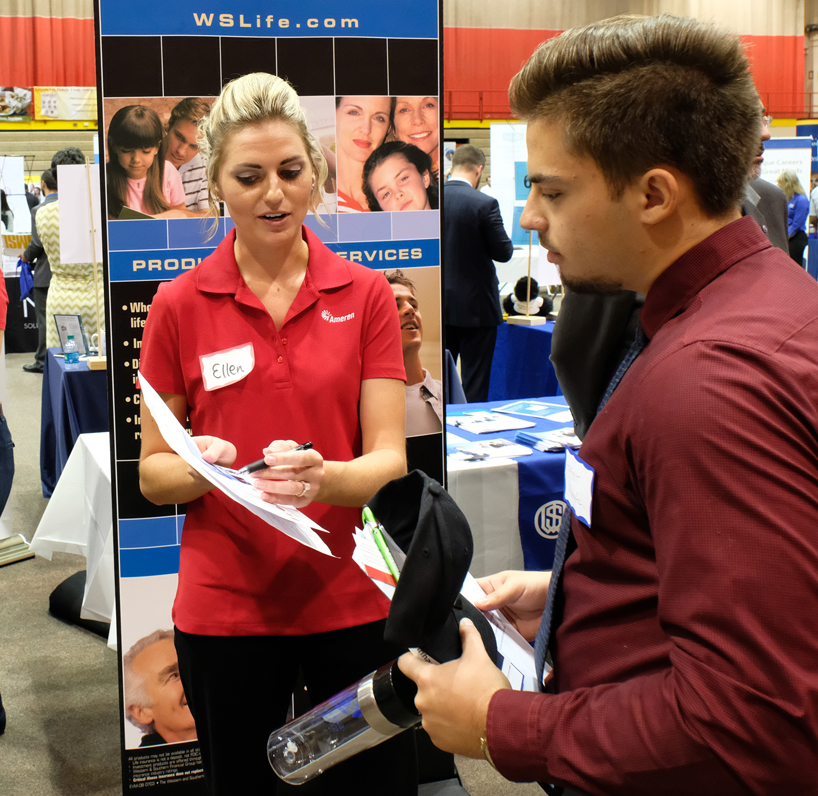 Ellen Prinster (at left) of Ameren was among the UMSL alumni who returned to campus to recruit other Tritons. During the day, she met with engineering major Hasmir Mustafic (at right).
"It was a great networking opportunity, a great way to meet new people and get some internships," Mustafic said.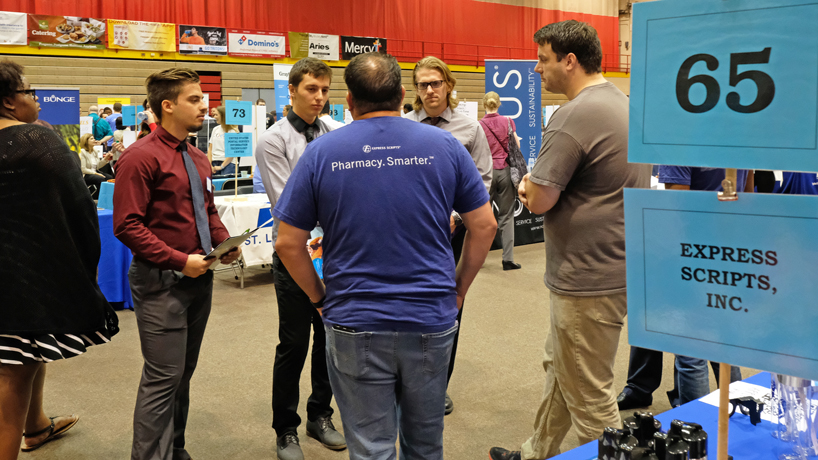 Mustafic also found the fair easier to navigate when paired with friends Esad Softic (middle) and Daniel Ganter. Softic said he first approached the event with a bit of hesitation as the number of companies seemed daunting. These reservations faded after meeting recruiters who were welcoming and approachable.
The trio mutually agreed they would return for future Career Services events.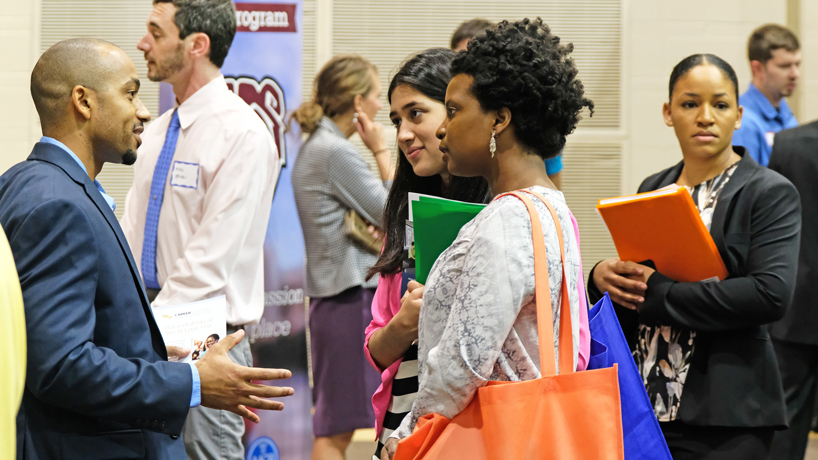 Baseerat Yousaf (in pink cardigan), a computer science major, and Crystal Kornyukhov, a mathematics major, stopped at the Federal Reserve Bank of St. Louis booth to meet UMSL alumnus Clinton Barney.
"It's been an amazing experience," Yousaf said. "I've met some amazing companies, and I am looking forward to possibly coming back in the spring again."
Barney, a talent acquisition specialist for the Federal Reserve, was also eager to greet students and discuss the robust summer internship program his organization offers.
"This is one of the events that I made sure I volunteered for because I am a UMSL alum," Barney said. "Having an opportunity to come back and represent the Fed to students as a former student – it was just a win-win."


Short URL: https://blogs.umsl.edu/news/?p=70406