Dressed to impress, resumes in hand: UMSL students, alumni get their feet in the door at Spring Career Fair
Nick Woolridge (pictured above at right) strode confidently from booth to booth during the Spring Career Fair at the University of Missouri–St. Louis on Friday in part because of his strong programming skills, but also because … he was sporting a new suit.
The junior computer science major purchased two the night before during a buy-one-get-one deal at Men's Wearhouse, so he could look his best on his hunt for a software development internship.
Woolridge was just one among the 450 UMSL students and alumni who suited up for the fair, which had 134 registered employers in the Mark Twain Athletic & Fitness Center on North Campus. The UMSL Alumni Association also sponsored a popular LinkedIn photo booth at the fair for job seekers in need of a free professional head shot.
Being a Triton was advantageous too, as many of the 300 recruiters were UMSL alumni themselves.
"Really I'm looking for connections and keeping an open mind," said Woolridge, who is hoping an internship now might turn into a job opportunity later.
He stopped by the booths of Express Scripts, QDivision and was on the way to World Wide Technology when stopped for a quick interview. Scroll below for more career fair moments captured by UMSL Daily.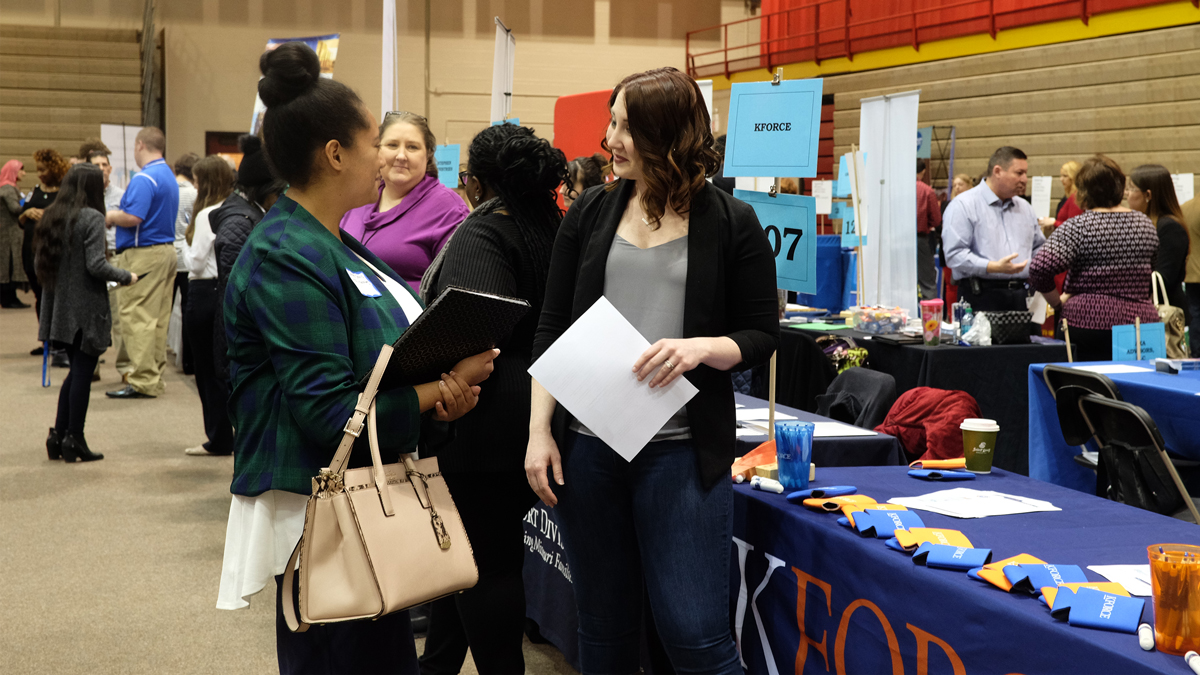 Alumna Corinne Davis (at left) shopped her resume around at the fair. After graduating this past December with an MBA, she's looking for a full-time job in digital marketing.
"After you start looking, you realize how valuable that face-to-face interaction is," said Davis, who also holds a BSBA from UMSL. "It's a more personal connection, and you get a better idea about whether you'd be a good fit or not."
On the prowl for an internship was Giridhar Babu (center), a junior business major with a focus in international marketing.
"Just getting to talk to people and learn their job experiences and everyday life within in companies is helpful," Babu said.
Raised in India but born in the U.S., Babu is interested in cross cultural collaboration, ways to connect the world better and how he might market to a global mindset.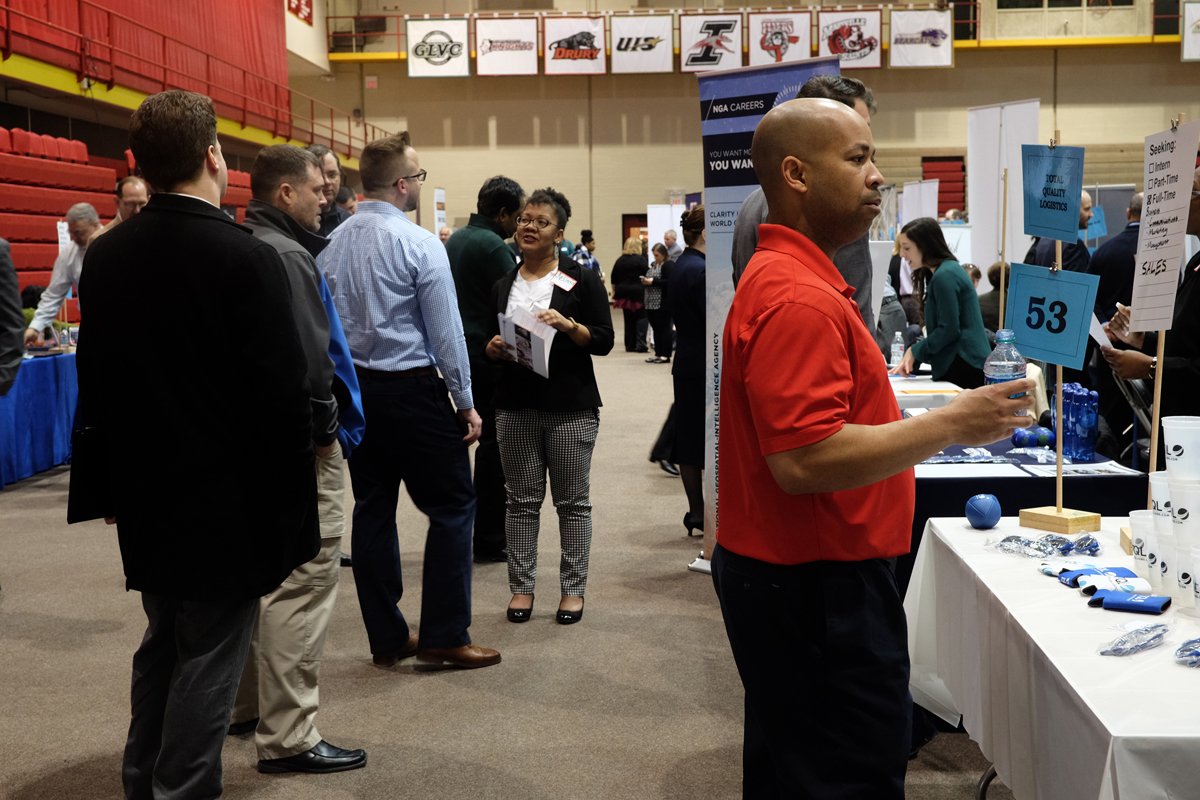 The well-attended fair saw lines form at especially popular booths, like the National Geospatial-Intelligence Agency (pictured above), Ameren, Edward Jones and Emerson, to name a few. As students and alumni handed out resumes, recruiters continued to be impressed with the overall quality of the candidates at UMSL.
"The immediate feedback received from recruiters regarding UMSL students and alumni continues to be outstanding," UMSL Career Services Director Teresa Balestreri said. "I am encouraged by the connections that were made today."
See the full list of the fair's 134 companies and organizations here.

Short URL: https://blogs.umsl.edu/news/?p=72952