UMSL internships help Jennings students get a head start on college
Morgan Stith finds herself paying a lot closer attention to birds lately.
Stith, a rising senior at Jennings High School, never gave them much thought until she landed a University of Missouri–St. Louis/Jennings Summer Internship Program slot in the lab of E. Desmond Lee Professor of Zoological Studies Patty Parker. After six weeks of catching sparrows and testing them for avian malaria, though, Stith has a new appreciation for our flying, feathered friends.
"I've always been interested in the science field, and I wanted to get experience in a lab setting," Stith said. "During the bird-catching and watching them, it made me really notice and take interest in them. It's exposed me to disease ecology, something I never thought about before."
Stith is one of 13 students who took part in the six-week, paid internship program this summer, the third year of the partnership between UMSL and Jennings. Students selected for the internships worked as research assistants under the tutelage of UMSL instructors in the fields of biology, chemistry, physics, psychology, economics, education and music. Parker said the plan is to add mathematics and computer science to the mix next year.
This summer's program ended July 27, with a celebration and presentation of the work that the students have put in. Parker said the internships help the students gain experience in a college research atmosphere that might not be available to them otherwise.
"They just flock to it. When they get here, they realize how much more they're getting than money," Parker said. "It's a big part of opening their eyes to how college works."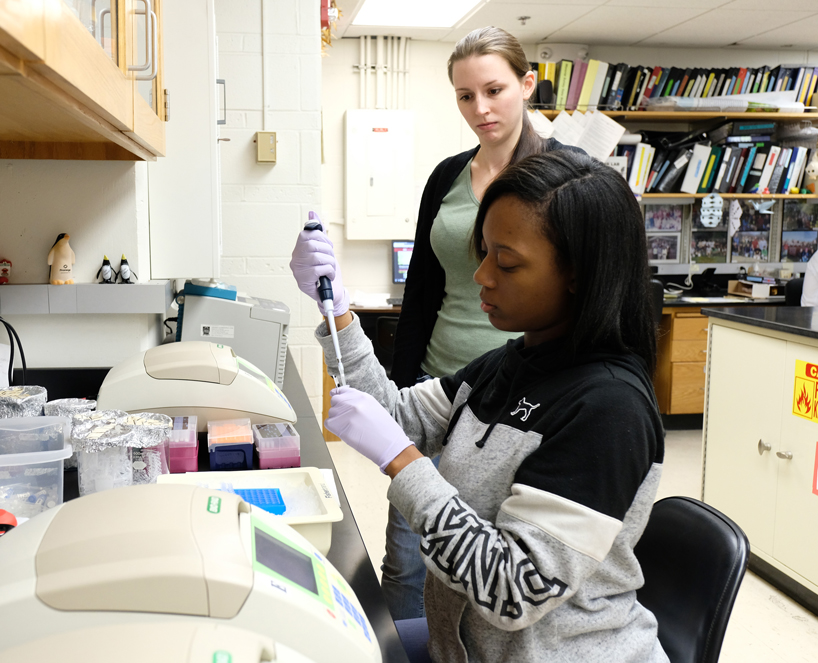 Senior Kiara Teague performed a polymerase chain reaction in Parker's lab, under the supervision of lab manager Katie West. Stith and Teague used lab work to determine whether the birds they caught were Eurasian tree sparrows – which only exist on a small swath of land in the United States – or the more widespread house sparrow. They were testing to see whether avian malaria is stopping the spread of the Eurasian sparrows. "It's opening you up to new people and getting you to actually be in a setting of what you may want to do for your job," said Teague, who wants to go to school for nursing, with an eye toward medical school. "You're actually in the setting so you can see what goes on, if that's what you want to do for your career. It's a good experience, very beneficial."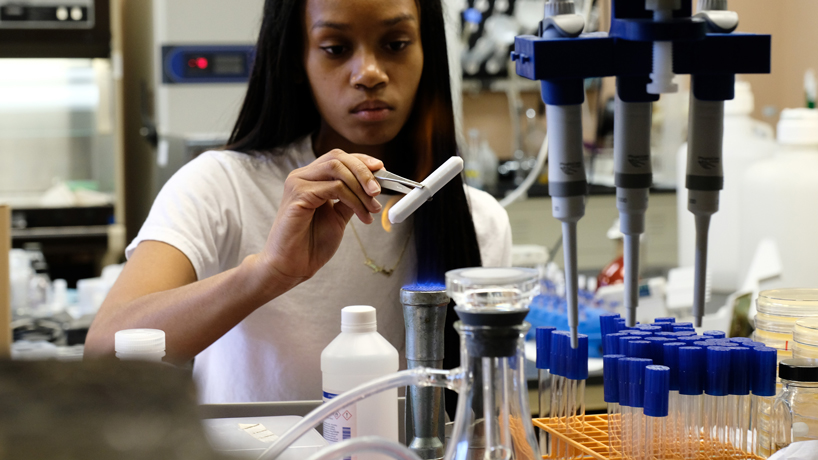 Senior Kaylan Waters worked in the lab of Assistant Professor of Biology Lon Chubiz, testing antibiotic resistance in strains of salmonella and E. coli. Waters split her time between Chubiz's lab and researching flies in the lab of Assistant Professor Aimee Dunlap. "When you're young, you're not really sure what you want to do, but seeing other things opens up your opportunities," Waters said. "Colleges, when they see you have lab experience, that kind of puts you ahead of everybody else."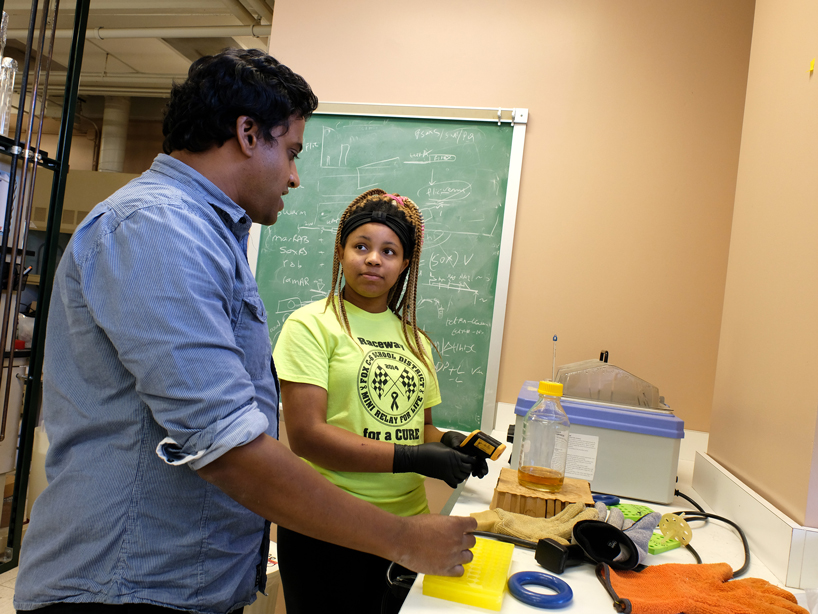 Jasmine Richardson (at right), who is also a senior, worked in Chubiz's lab with PhD student Silpi Thota as well as in an economics lab. She especially appreciated the sessions each Friday in which the interns gathered to talk about their experiences and learn from guest speakers. "We got presenters to come, and they're in different fields," Richardson said. "They'd talk to us about college readiness and the real world, and their career choices and pathways, what made them want to do that: basically being inspirers for us."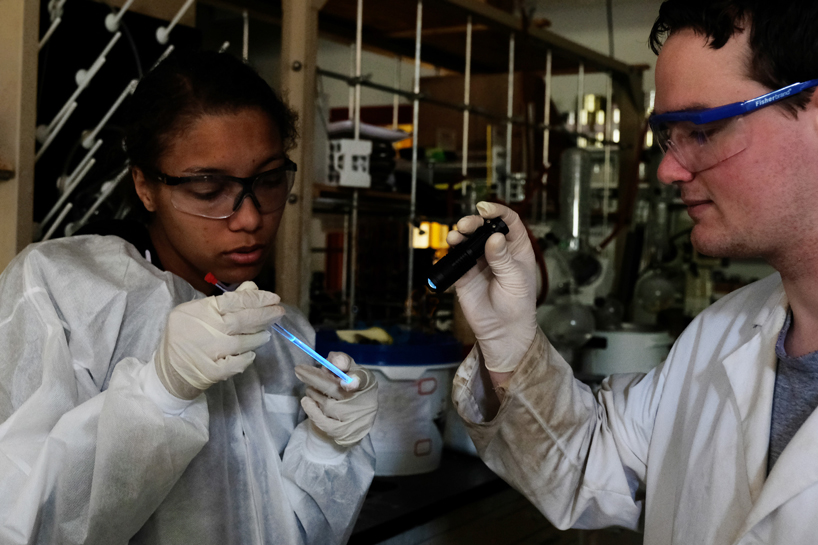 Kelly Warren (at left) worked with graduate student Stephan Germann in Associate Professor of Chemistry Janet Braddock-Wilking's lab, breaking chemical compounds and adding new elements to see if it changes the properties of the compounds. Warren was back for her second year in the program and is entering the pre-pharmacy program at Fontbonne University in the fall. Parker said that 19 of the Jennings interns from 2016-17 are currently enrolled at 12 colleges across eight states, most of them on full-ride scholarships. "It's helped me build personal relationships as well as lab, internship experiences," Warren said. "If I do work study, I know what to expect. It helps you branch out. By the end of it, you're a whole new, outgoing person. You just know that you're comfortable to talk about anything. It's a unique experience."

Short URL: https://blogs.umsl.edu/news/?p=74833