Welcome home: Scenes from Move-In Day 2018
The Oak Hall stairway had a consistent flow of foot traffic Friday morning as people carried belongings to their new rooms at the University of Missouri–St. Louis. Laundry hampers, lamps and metal pieces to construct a lofted bed were all in tow as students, parents and move-in crew volunteers weaved their way through the stairs.
Outside, impromptu cheerleaders and welcome signs greeted guests along the walkway. And as guests piled out of their cars, the people donning shirts with UMSL logos outnumbered those wearing any other type of clothing.
These scenes from UMSL's South Campus pointed toward one annual event – fall semester Move-In Day.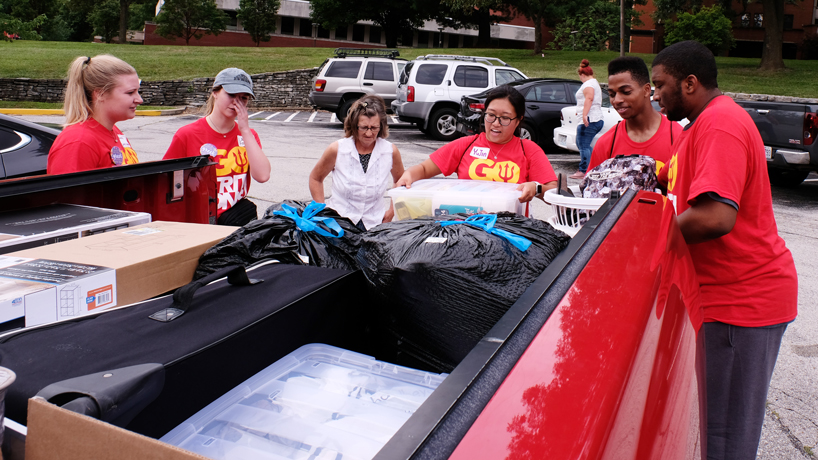 As soon as residents arrived Friday morning, groups of volunteers were ready to assist. Returning students made up a large portion of the volunteers prepared for curbside pickup.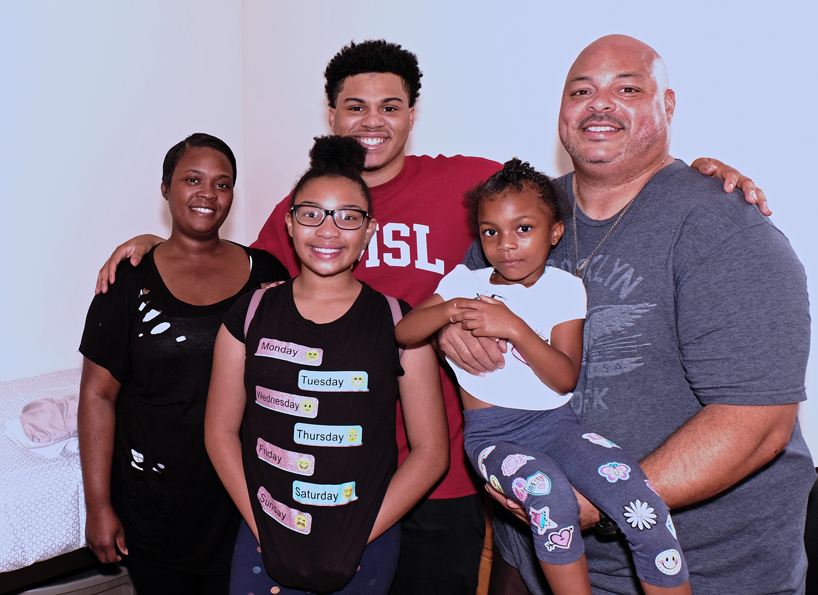 Many of the new residents and their families were grateful for the help, including freshman biology major Tyler Pope (center) and his family who made the trek from Chicago.
"There was a lot of help down there, which was awesome," said Raymond Pope (at right) as he helped his son move into his Oak Hall room. "All of the help was a beautiful thing."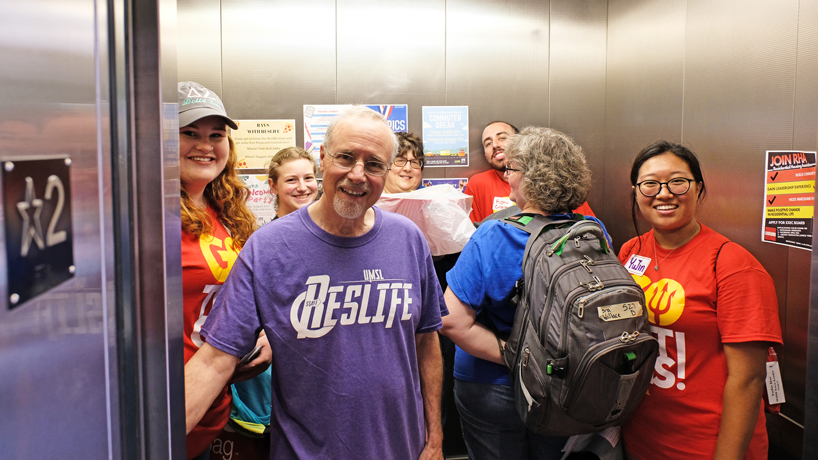 Even Chancellor Tom George (at left) was present to welcome residents to their new home and help with the Move-In Day effort.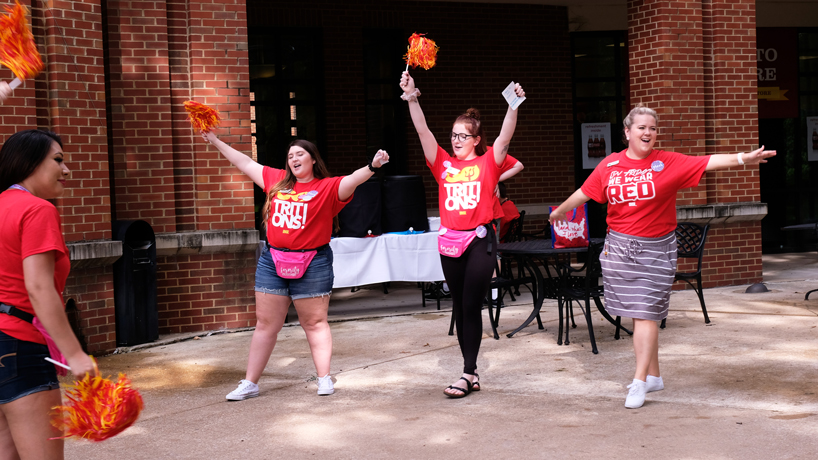 In addition to helping hands, residents were also greeted by fanfare, welcoming chants and smiling faces at the front entrance of Oak Hall.
Move-In Day was just the beginning of spirited events. Through Triton Take-Off Weekend, students enjoyed Donuts with the Deans, the Welcome Picnic and an STL Scavenger Hunt on the Metro.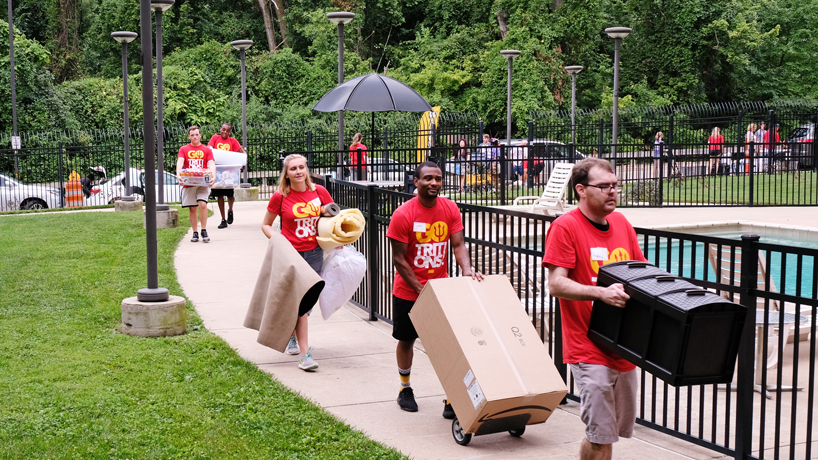 Groups of volunteers sporting red "Go Tritons!" shirts stretched to the back entrance of Oak Hall, eager to help guests who arrived from every direction.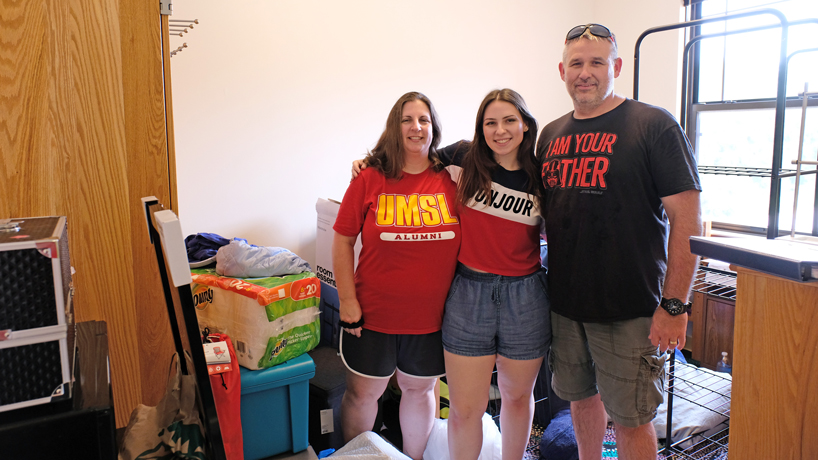 Even many parents displayed their UMSL Pride Friday, including Cathy Waltman (at left), a 1999 Department of English graduate and mother to freshman Phoebe Waltman (center). By coming to UMSL this fall, Phoebe, who plans to major in history, joins a long line of Tritons in her family. Waltman's mother, two aunts and a brother all have UMSL degrees.
"When I toured the campus this spring, I was like, 'This is it,'" said Waltman, who comes to St. Louis from Virginia Beach, Virginia. "It felt like home. I also like the mix of old and new buildings because I love history. Then I saw the dorms and thought they were really nice."
Cathy is happy to welcome her daughter to the UMSL family.
"I'm so excited for her," she said. "The campus has changed so much, and now I'm like, 'Man, I want to go back.'"

Short URL: https://blogs.umsl.edu/news/?p=75129