Internship & Job Fair gives UMSL students a head start on their careers
Pamela Young went to numerous job fairs when she was a student at the University of Missouri–St. Louis, but found chances to meet with companies that needed biology majors lacking.
So Young, an associate scientist in cell line development at Pfizer who graduated from UMSL with her BA in biology in 2011, has made it a point to regularly come back to the Internship & Job Fair and be there for students in the sciences.
"Whenever I see a science major, I just get happy," Young said. "I'm like, 'Yes, I'm reaching someone!'"
Young was one of the 275 representatives from 134 companies available to the 525 UMSL students and alumni who took part in the Internship & Job Fair on Friday at the Mark Twain Athletic Center. Many of the companies – such as Pfizer, Bayer, Ameren, Boeing and Express Scripts – brought along employees who graduated from UMSL, so the current students could connect with them through their alma mater.
Signs with the message "UMSL alum here to talk with you!" dotted the floor at Mark Twain.
"I've been giving a lot of advice," said Young, who has worked at Pfizer for the past three years. "I've also been talking to them a lot about the positions we have available and giving them ideas of the company as a whole."
Richard Beverly (left) said meeting with Young was insightful when it came to seeing what sort of careers are possible with an UMSL degree. Beverly, a senior biochemistry and biotechnology student, is getting his second bachelor's degree and looking for a next step from his current job at the Red Cross National Testing Laboratory.
He was very selective in which tables he visited at the fair, and his time with Young was especially enjoyable.
"The things she was talking about, the different departments she's worked at, I got more and more excited about getting this and potentially working with them," Beverly said. "It's almost like the kid in the candy store feeling. The fact that they were personable and talking to me and spending time with me, the conversation just grew further and further."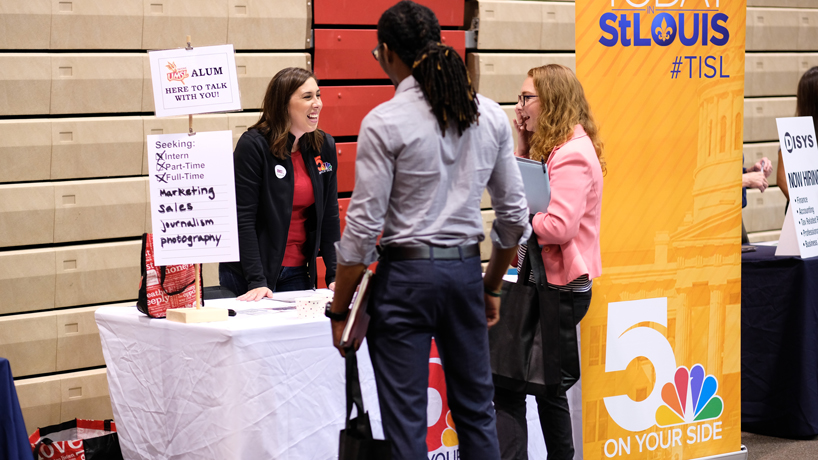 Junior marketing student Madelynne Marshall (right) said the KSDK Channel 5 table at which she spoke with 2010 UMSL alumna Brandie Piper was the third or fourth she had visited during the fair, and she planned on getting around to more.
Marshall said she's new to the process of seeking internships, but the fair was helping her get started.
"It's kind of overwhelming, but it's cool," Marshall said. "The conversations have been very informal, lots of information. Everyone's nice."
Sindhu Velmurugan (center), a graduate student in biochemistry and biotechnology, was also on the lookout for internships. Resume in hand, she sought out companies who offered chances to work in biological research.
"Being here makes me know about the market, as such, and what they expect from us and what kind of companies are out there for us," she said.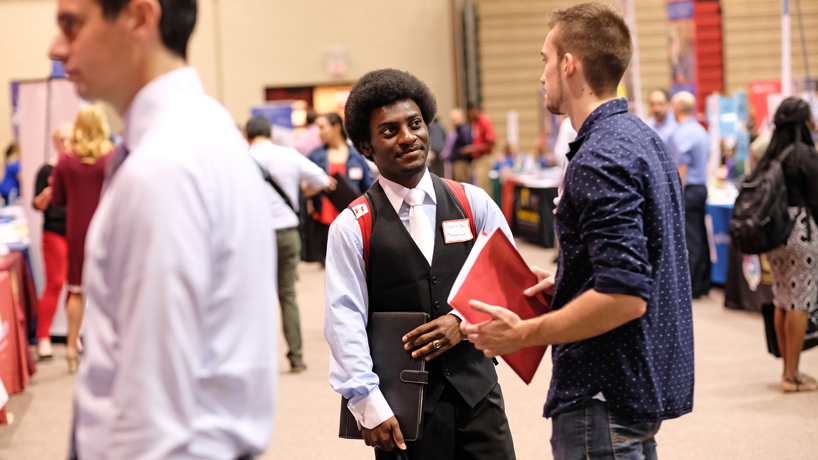 For the first time this year, fair attendees such as senior management student Stephen Day (center) could take advantage of The Fairs App, a program available for computers, tablets or smartphones that gave users the ability to sort through the companies present by categories such as name, industry and types of opportunities available. The app also let users "star" companies they were interested in, which would then transfer to a floor map of the venue so that they could see where the companies' tables were located.
"The Fairs App was a tremendous success and allowed for students and alums to prepare and plan their day for success," said Teresa Balestreri, director of UMSL Career Services.
The UMSL Alumni Association also sponsored a LinkedIn photo booth in which attendees could get a free, professional headshot.
Balestreri said that survey data taken less than a month after the spring career fair revealed that 87 percent of respondents were more motivated to apply for jobs or internships after attending, and 38 percent had already landed an interview stemming from their experience at the fair.

Short URL: https://blogs.umsl.edu/news/?p=75773