A transformative year: UMSL Daily reflects on memorable reads from 2018
It was a milestone year at the University of Missouri–St. Louis, which celebrated its 100,000th graduate and later unveiled a new mission statement – "We transform lives" – that sums up the work the university has been doing since it first opened its doors in 1963.
Before the calendar turns from 2018, it seems appropriate to take time to look back at some of the most memorable stories about the university and the students and alumni who've been shaped by it from among the 433 stories shared in UMSL Daily during the past year.
Here are the most-read articles from each month and six more our staff didn't want to leave out. All photos are by campus photographer August Jennewein unless otherwise noted.
January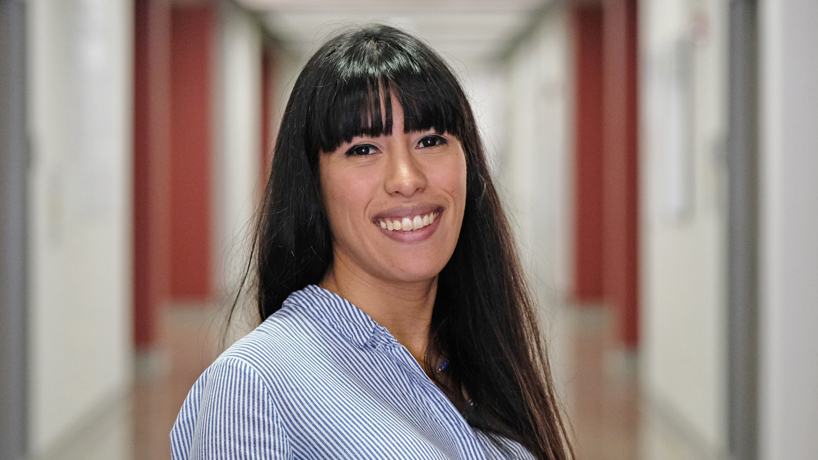 Estefania Fernandez Barrancos, a native of Bolivia, came to UMSL to receive academic training with the support of the Whitney R. Harris World Ecology Center. She is pursuing a PhD in biology and focusing on restoration ecology with plans to return to South America and rebuild tropical rain forests.
February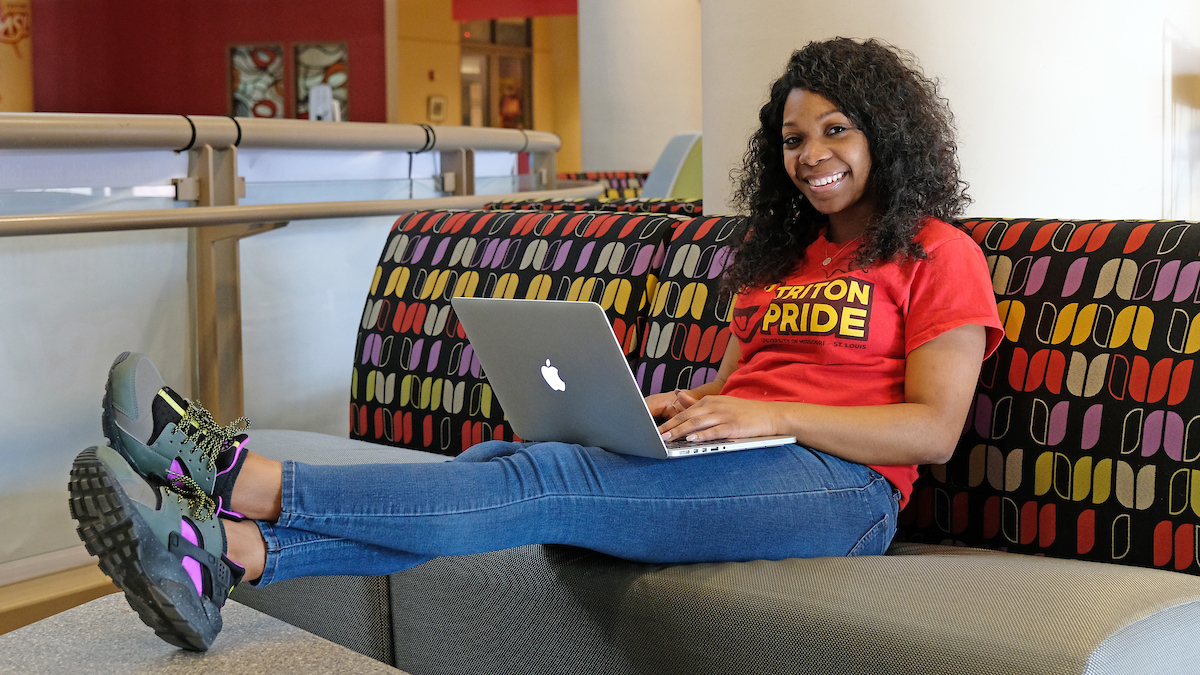 Media studies major Parris Smith had the opportunity to interview honored guests before the NFL Honors and Power of Influence Awards ceremonies during Super Bowl week in Minnesota. But she was back in St. Louis in time for her Monday morning shift as an intern at KTVI (Channel 2).
March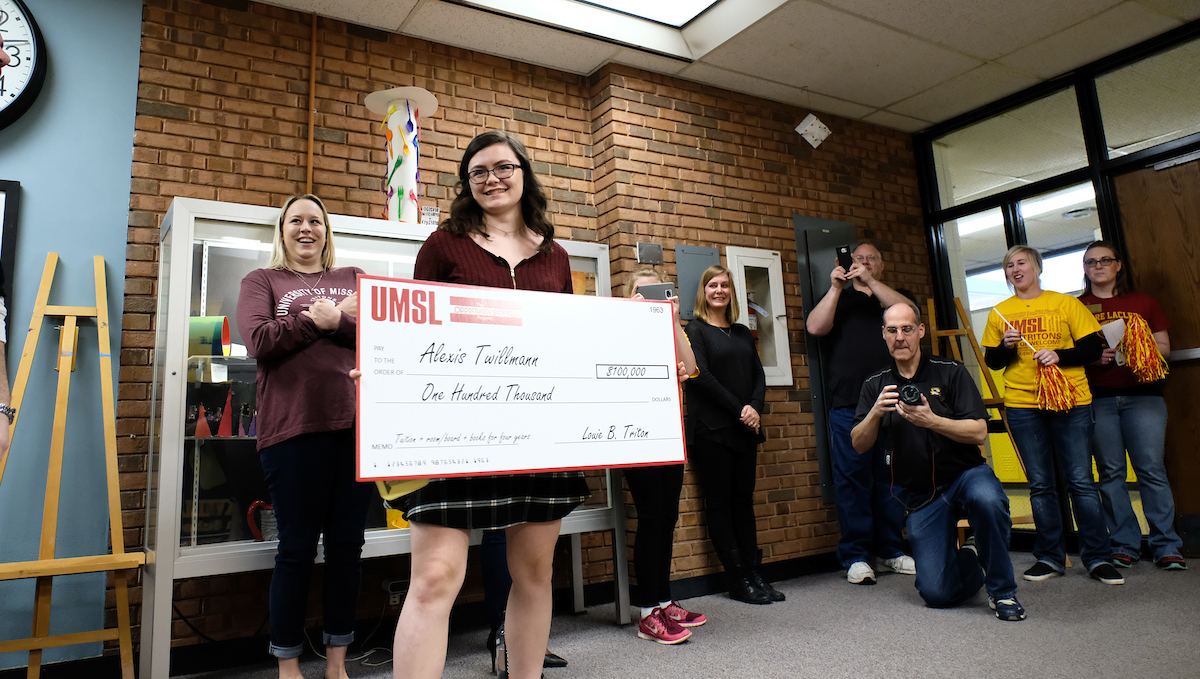 Members of the UMSL Admissions team surprised Oakville senior Alexis Twillmann (above) and four other area high school students selected for the Opportunity Scholars Program on March 5. Targeted at academically gifted first-generation college students, the program provides them with up to four years of tuition, room and board and books.
April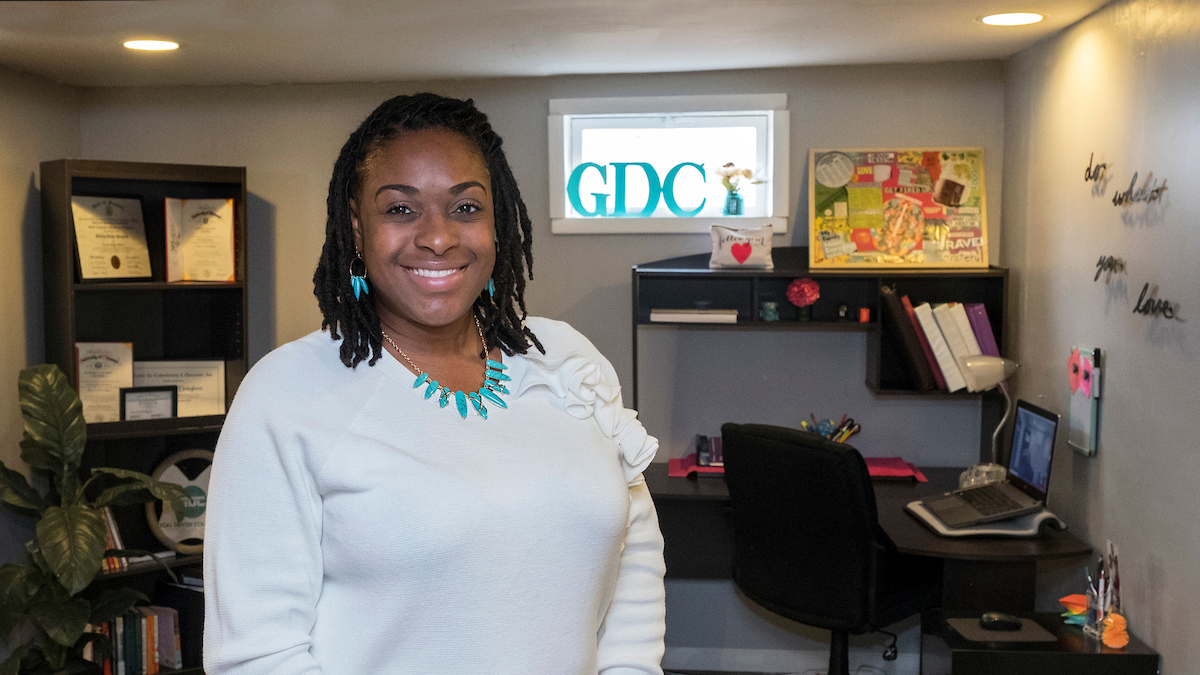 School of Social Work alumna Melissa Douglass (BSW 2012 and MSW 2014) opened Goal Driven Counseling, a fully online counseling practice serving teens and young adults going through transitions. Douglass believes offering mental health care to these populations via technology seems only fair because so many other services are available online.
May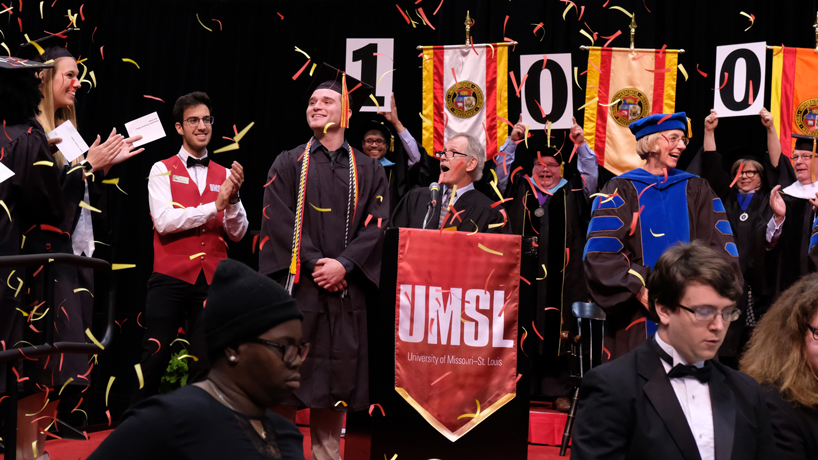 Marco Pipoly (left of lectern) was showered in confetti after being announced as UMSL's 100,000th graduate at the commencement ceremony for the College of Arts and Sciences on May 12. Pipoly received a research fellowship from the National Science Foundation and enrolled in the Neuroscience PhD Program at the University of Iowa.
June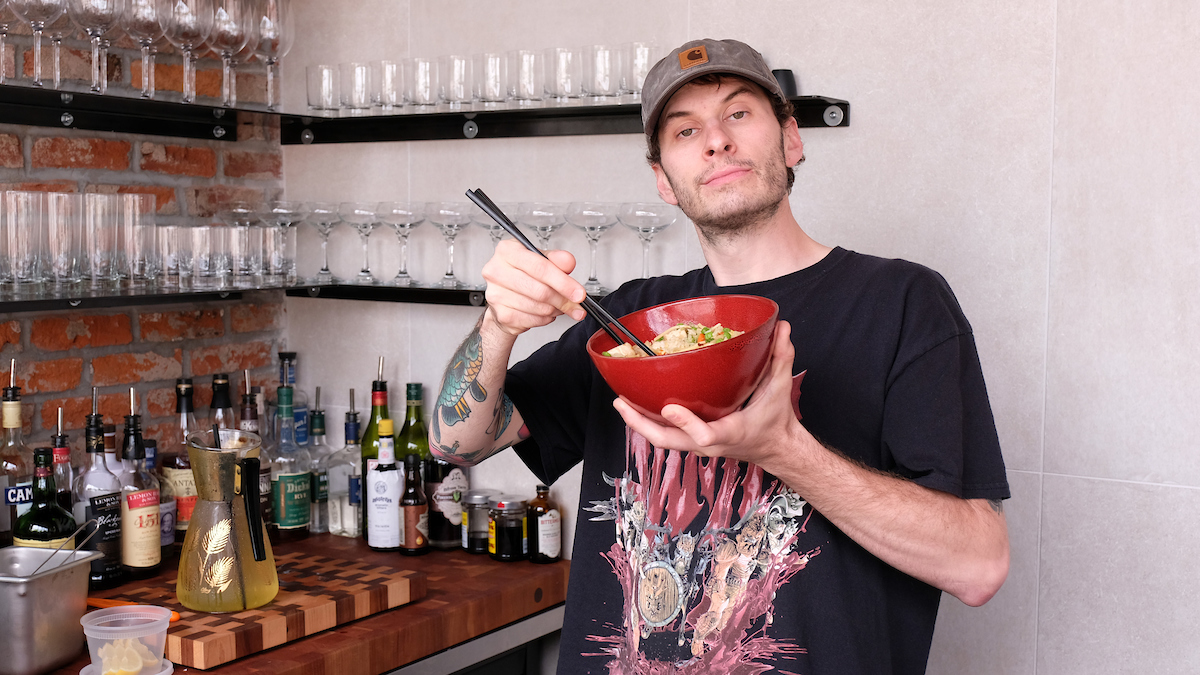 UMSL communication alumnus Corey Smale, who co-founded Strange Donuts, showed off his latest culinary enterprise, Good Fortune, a new Chinese American restaurant in the Botanical Heights neighborhood.
July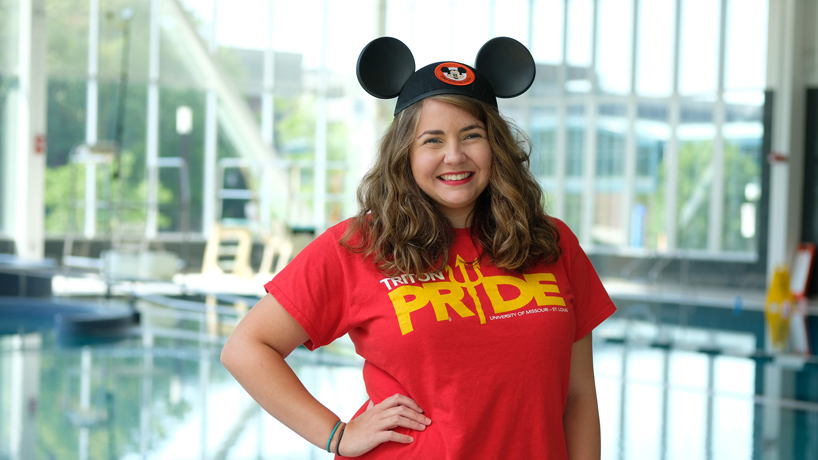 Mathematics major Taylor "DeeDee" Effinger spent the spring semester in Orlando, Florida, as a student in the Disney College Program. Through the program's "Live, Learn, Earn" model, she spent five months working in the Walt Disney World Resort, living with other students in a nearby housing complex, exploring the parks and taking Disney-led seminars.
August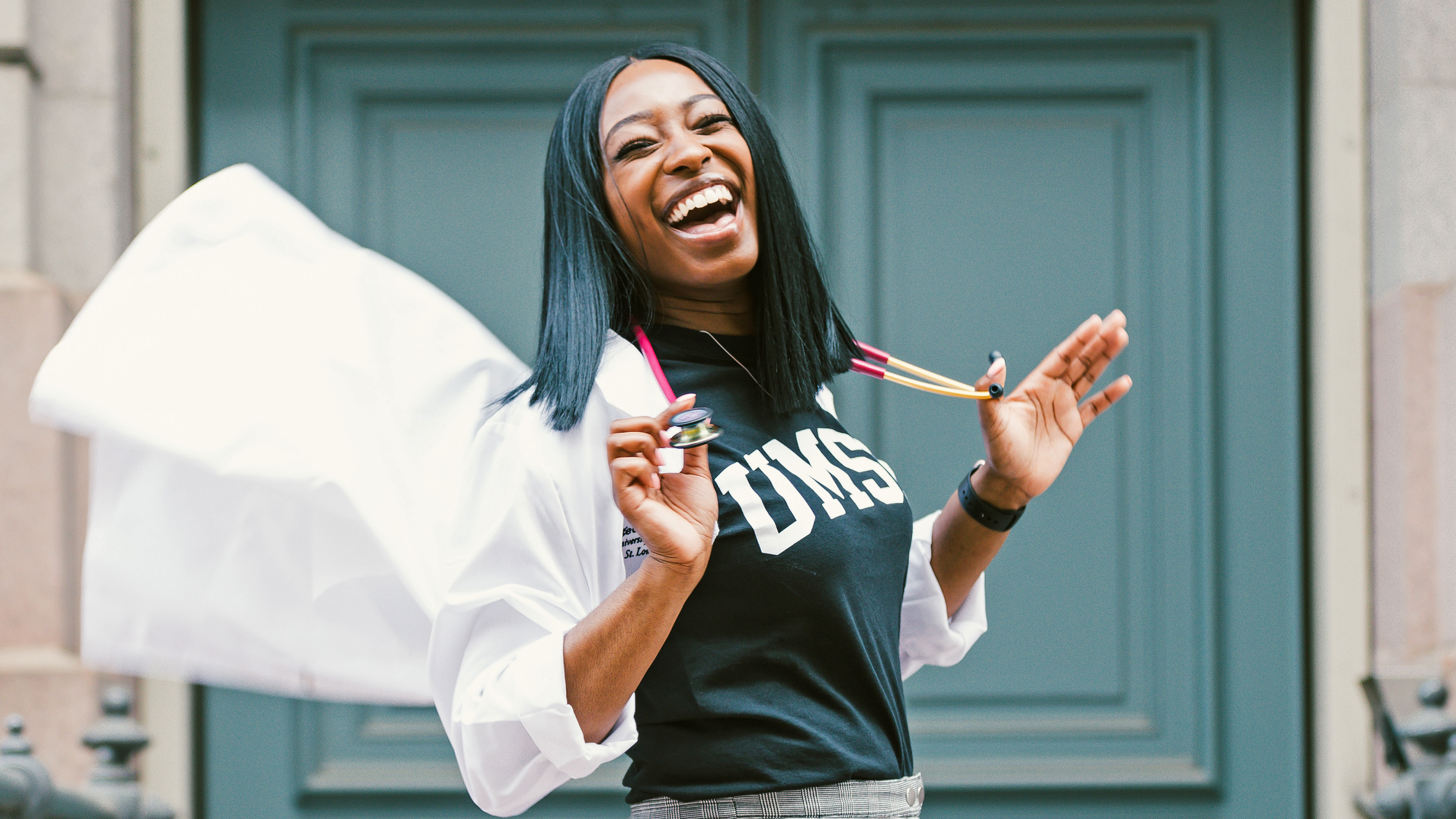 College of Nursing alumna Brandi Fields was accepted into the MedStar Georgetown Nurse Residency Program in oncology after finishing her undergraduate degree at UMSL. She hopes to combine outstanding patient care with her passion for diversity and inclusion education after completing the program. (Photo by LaVell D. Monger)
September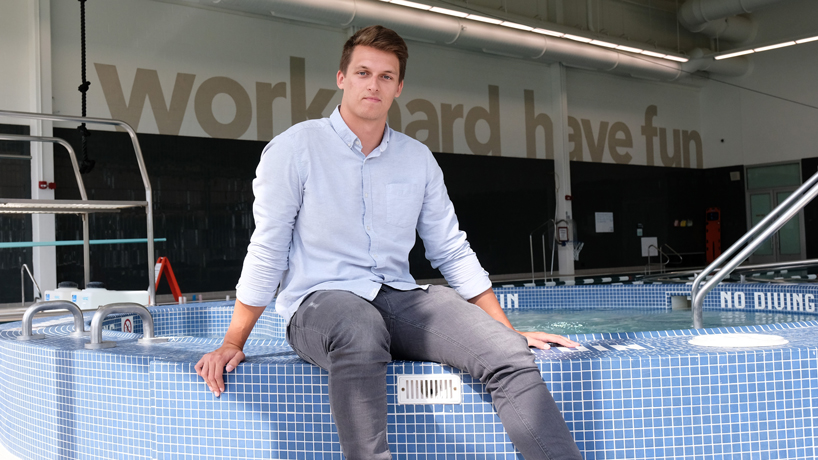 College of Business Administration student and UMSL swimmer Radoslaw Chupka turned a summer internship at World Wide Technology into a job offer with the company after he finishes his degree. He anticipates a position in project management or in the supply chain department after graduating in May 2019.
October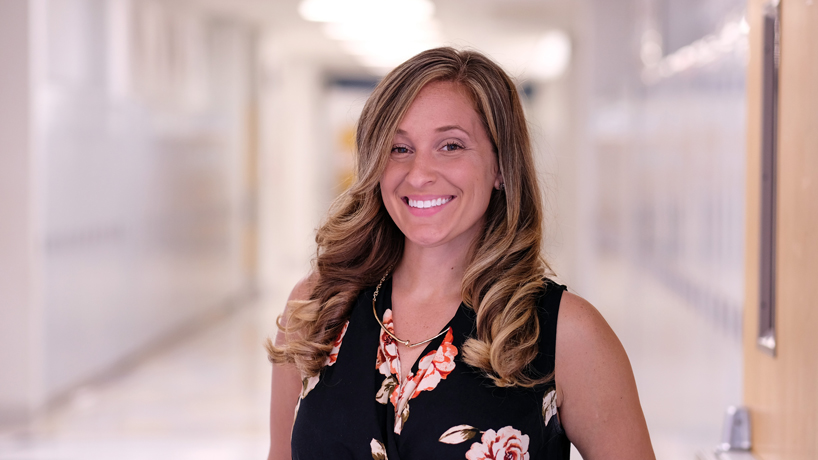 College of Education alumna Samantha Lurie (MEd 2010), now the Vashon High School dean of students, started The Show Me Costa Rica Project in 2012 to give students from under-resourced communities the chance to take an educational trip abroad. Over the past six years, 83 students from St. Louis Public Schools and the Riverview Gardens School District have made the trip to Costa Rica through the program.
November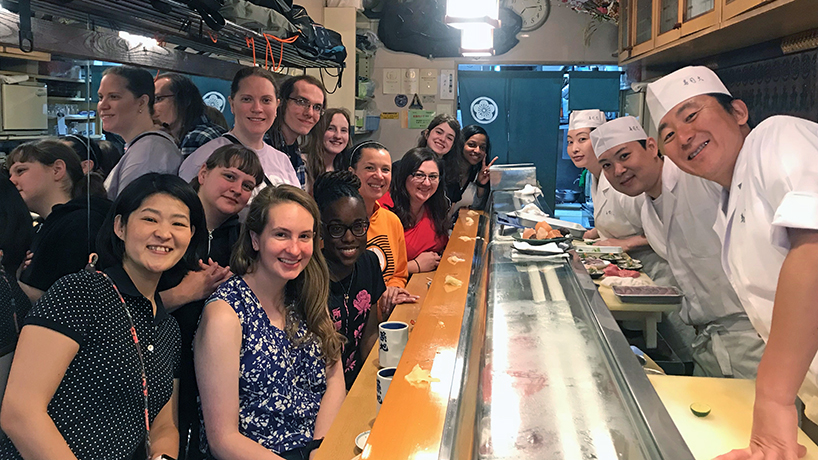 Assistant Professor Hiroko Yoshii (at left) was among the faculty members leading short-term study abroad trips this year. She took a group of 24 students on a Japan Study Tour. They spent nine days of the two-week trip in Tokyo, where they met the chef at a sushi restaurant in the Tsukiji district. (Photo by Hiroko Yoshii)
December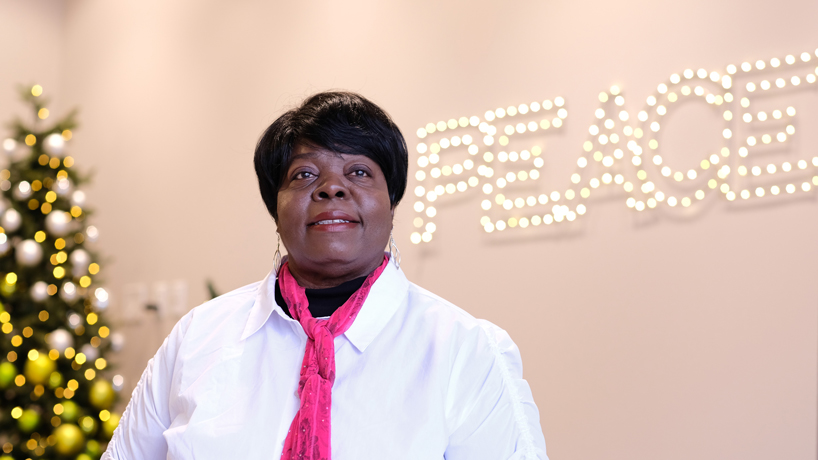 Everlene Falconer drew inspiration from her grandson Donovan, who has autism, to return to school and earn her Bachelor of Educational Studies degree. She was among the more than 1,100 students who graduated this December, and she plans to continue her work at Paraquad with people who have intellectual or developmental disabilities.
Not to be forgotten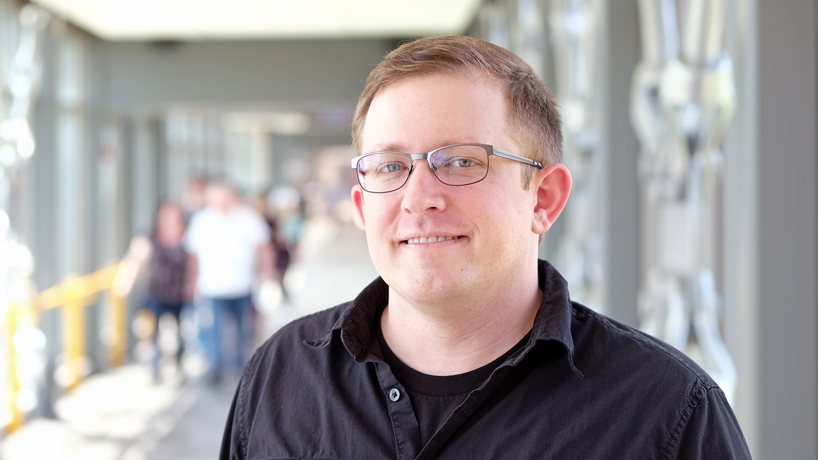 A challenge from a former boss encouraged Nicholas Wulfert to pursue a career in engineering. He had several opportunities from Boeing during his time in the UMSL/WUSTL Joint Undergraduate Engineering Program and landed a full-time position with the local aerospace giant after graduating with his degree in electrical engineering in May.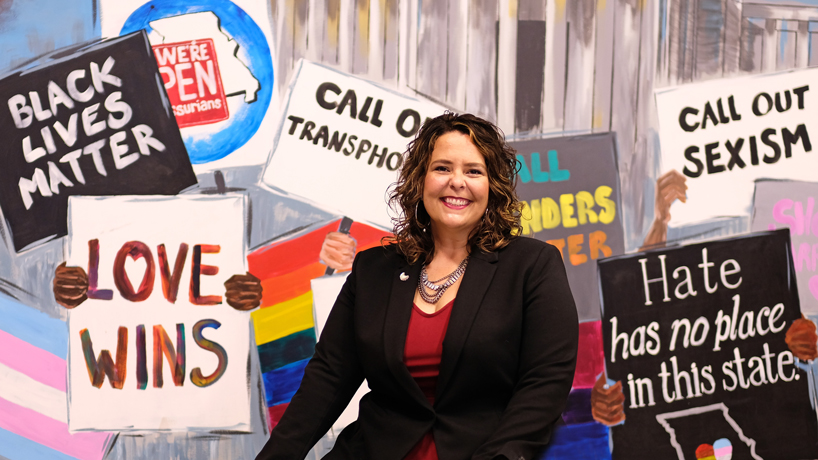 The Advocate magazine named alumna Elizabeth Fuchs (BSW 2012, MSW 2013) one of its "Champions of Pride" in its May issue in recognition for her work advocating for LGBTQ rights in Missouri as the manager of public policy at PROMO Missouri. She cultivated her passion for social work and policy at UMSL.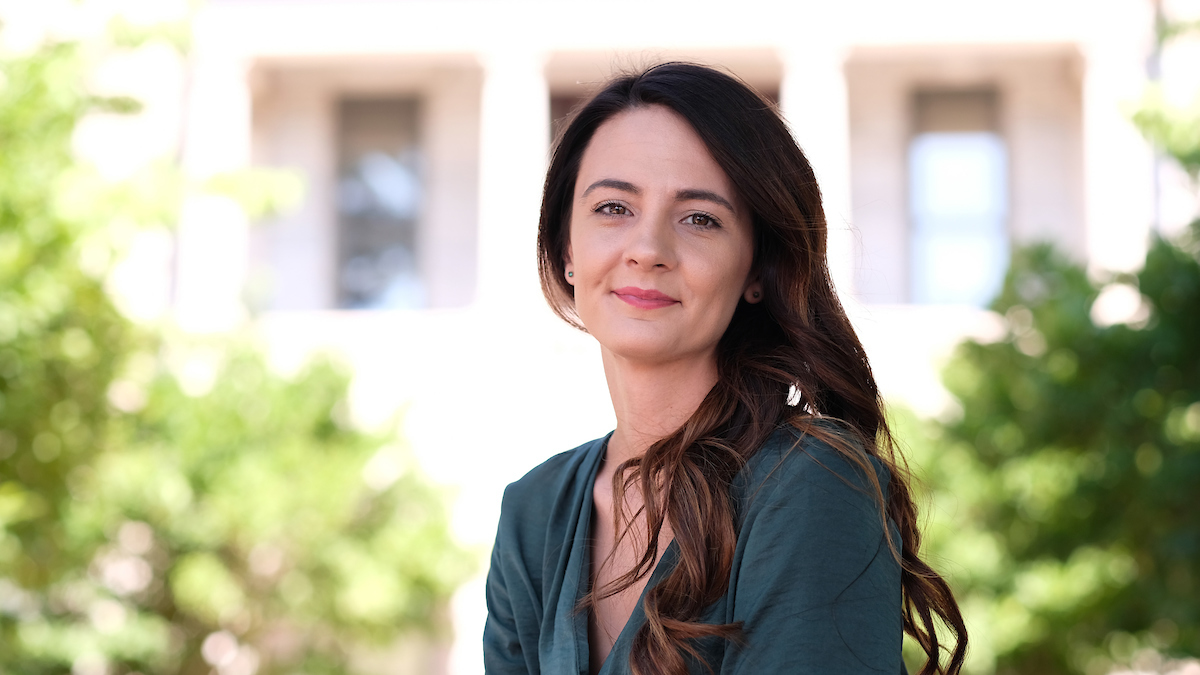 Criminology alumna Shelby Davis went to work as a data outreach associate with Measures for Justice, a nonprofit organization aiming to gather county-level criminal justice data throughout the United States, after earning both bachelor's and master's degrees at UMSL.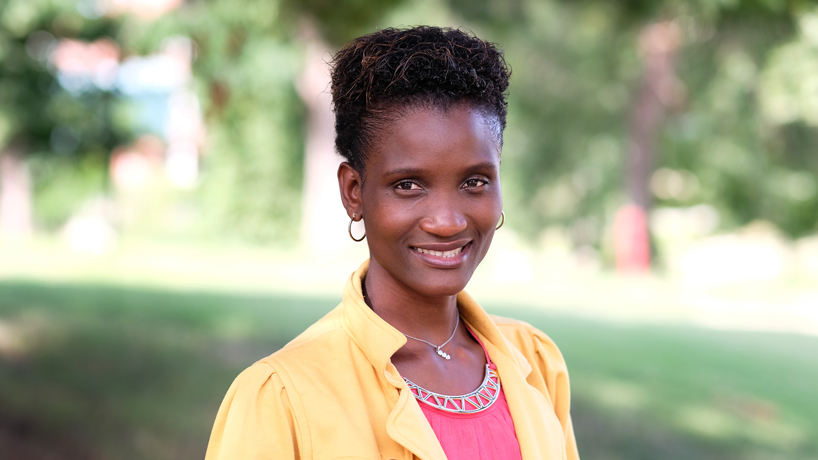 Student Annie Mbale grew up in a culture where educational and promising career opportunities weren't guaranteed, especially for women. She's hopeful that a bachelor's and forthcoming MBA degree from UMSL will propel her career and help her create opportunities for others in her home country of Malawi.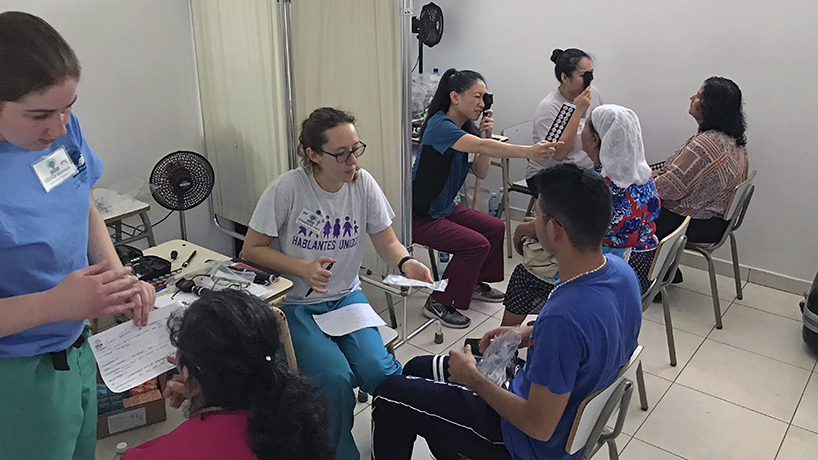 College of Optometry students Olivia Hoylman, Elizabeth Ditch and Marie Lulette Fermil and Assistant Clinical Professor Linda Nguyen joined a Helping Hands Medical Missions trip to El Salvador in November. They provided eye care to approximately 800 patients during eight days in Santiago Texacuangos. (Photo courtesy of Linda Nguyen)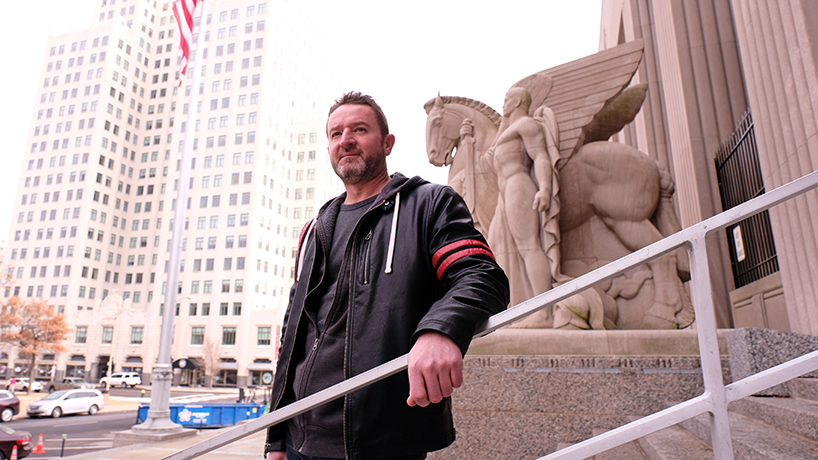 December graduate Jeffrey Pryor spent a decade in the U.S. Navy Seabees followed by another as a pipefitter at the Department of Veterans Affairs before shedding his conventional life to return to school and study full time at UMSL. He completed his graduate degree in history with a concentration in museums, heritage and public history and is hoping to work in France telling the stories of American military members buried overseas.

Short URL: https://blogs.umsl.edu/news/?p=77534