Media Coverage: January 2019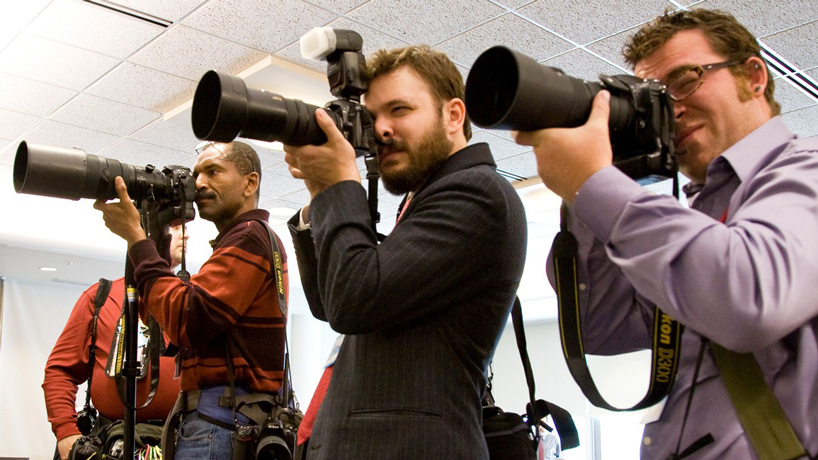 The University of Missouri–St. Louis makes a significant impact on the St. Louis area. Stories about the university, its scholars and their expertise are often covered by local and national news media.
Media Coverage highlights some of the top stories but does not serve as a comprehensive listing. Notice a clip we missed? Email us at umsldaily@umsl.edu.
Featured Stories
— Professor Emeritus of Political Science Terry Jones was in high demand all month to lend his expertise and historical context to talk of a possible merger between St. Louis city and county. Leading up to the Better Together group releasing its consolidation recommendation report Jan. 28, Jones was a guest on KMOX Radio discussing the prospects of a merger, as well as St. Louis Public Radio | 90.7 KWMU and 97.1 FM, and his research was cited in a St. Louis Post-Dispatch op-ed. Jones also appeared on 97.1 FM after the Better Together report came out, as well as serving as a key source for a St. Louis Business Journal story analyzing the recommendations.
— The St. Louis Business Journal and Inside Philanthropy both reported on the $2.4 million grant the Center for Character and Citizenship at UMSL received from the John Templeton Foundation. The grant will go toward the center's mission of developing more effective school leaders through stressing the values of servant leadership.
— School of Social Work alumna Lisa Clancy, the former associate director of the UMSL Community Innovation and Action Center, appeared on the St. Louis Public Radio "Politically Speaking" podcast to mark the beginning of her term on the St. Louis County Council. Clancy, who will represent more than a dozen municipalities in District 5, took her seat on the council Jan. 1.
— Professor Jon McGinnis and Assistant Professor Billy Dunaway made quite a splash in the philosophy world, earning a Templeton Foundation grant of nearly $1 million to explore what truths medieval Islamic philosophers can shine on modern religious questions. The St. Louis Business Journal picked up the story, and their accomplishment was also featured on popular philosophy blogs Daily Nous and Leiter Reports.
— Rachel Winograd, assistant research professor at the Missouri Institute of Mental Health, continued in her role as one of the state's leading researchers into the opioid use epidemic by discussing the topic on an episode of "Missouri Viewpoints" as well as in a Q&A session with St. Louis Public Radio on the effect opioid overdoses have had on Missouri's unexpectedly declining average life expectancy.
Media Coverage
Linda Bangert, adjunct instructor of art, and Jeff Sippel, professor of art
Prep News: instructed SLUH art teacher Joan Bugnitz in stone lithography
Clayton Bellamy, sociology alumnus
Muskogee Phoenix: new director of analytics for Griffin Communications
Edward Bennett, professor of optometry
AARP: benefits of different types of contact lenses
Marvin Berkowitz, Sanford N. McDonnell Endowed Professor in Character Education
Gulf News: guest speaker at UAE Moral Education Programme "Principals' Roundtable"
Psychology Today: research on what shapes a child's character cited
Alex Bolano, philosophy alumnus
Science Trends: author of story on what causes bedbugs
Susan Brownell, professor of anthropology
Radii China: valuing inner energy over bodily strength as a tenet of Chinese culture
Jason Buol, economics alumnus
Market Screener: joined Associated Bank as senior vice president
Joseph Carroll, Curators' Professor of English
Mashable: the historical, evolutionary basis for binge-watching shows
Jenn Chinn, optometry alumna
Review of Optometry: adding a new perspective to Dr. Chinn's Vision Care, the practice her father built
Rebecca Cornatzer, education alumna
The Edwardsville Intelligencer: part of inaugural class of St. Louis Business Journal Human Resources Awards
Craig Duffy, electrical engineering alumnus/former UMSL hockey player
USA Hockey: president of the Twin Bridges Lightning youth hockey club team
Bob Ell, coordinator of program administration for International Studies & Programs
St. Louis Public Radio: Uber and Lyft driver, guest on "St. Louis on the Air" episode on side jobs
Lawrence Ernst, optometry alumnus
South County Times: joined Rosen Optometry
Adam Geller, education alumnus
The Learning Counsel: founder and CEO of Edthena, a company that analyzes teacher performance through video and online collaboration
Erika Gibb, associate professor of physics and astronomy
Belleville News-Democrat: presenting on "Comets: An Illustrated Presentation"
Peter Handel, professor emeritus of physics and astronomy
BestLife: the properties of ball lightning
Matthew Henry, associate teaching professor of music
St. Louis Magazine: director of UMSL Percussion Ensemble, which performs at Music Without Boundaries educational concerts
Bob Hirschbuehler, psychology alumnus
Redstone Rocket: experience as an ROTC cadet in college during Vietnam War
Andrew Hurley, professor of history
St. Louis Post-Dispatch: analysis of 2018 St. Louis weather, which was dryer and colder than recent years
David Kimball, professor of political science
St. Louis Public Radio: the shifting Missouri voting demographics evident in 2018 elections
Roll Call: voters splitting with party preferences on ballot measures
David Klinger, professor of criminology and criminal justice
St. Louis Post-Dispatch: internal affairs' investigative role in shooting of off-duty officer by on-duty officer
Shaji Khan, assistant professor of information systems
St. Louis Public Radio: importance of studying internal cybersecurity threats
Norman Mann, criminology and criminal justice alumnus
South County Times: named police commander in Fenton
Krystal Matson, optometry student
Invision Magazine: earned Larry J. Alexander Scholarship for Education
Brooke Mayfield, criminology and criminal justice alumna
The Missouri Times: part of the inaugural class of the Missouri Leadership Academy
Sara McAllister, nursing alumna
Southeast Missourian: hired as women's health nurse practitioner at Cape Care for Women
Patrick Mulcahy, public policy and administration alumnus
St. Louis Post-Dispatch: hired as administrative assistant in St. Louis County planning department
Ray Mundy, professor of transportation studies and director emeritus of the Center for Transportation Studies
St. Louis Post-Dispatch: insight on how fear of crimes committed on public transit is greater than reality
Jacqueline Powell, education alumna
The St. Louis American: lead guidance counselor at Normandy High School, earned doctorate from Maryville
Jill Radkowiec, optometry alumna
Health Progress: usage of Medicaid during trying time in her life featured
Robert Ray, former professor of music
Las Cruces Sun News: composer of "Gospel Mass," which St. Paul's United Methodist Church is performing to mark Black History Month
David Rose, professor of economics
University of Colorado Boulder News: giving lecture on "Why Culture Matters Most"
Richard Rosenfeld, Founders Professor of Criminology and Criminal Justice
San Francisco Chronicle and Baton Rouge Advocate: analysis of 2018 year-end violent crime rates in cities
KSDK (Channel 5): possible positive effect of city-county merger on crime rates
James Shuls, assistant professor of education
PR NewsWire: panelist at St. Louis Policy Breakfast discussing school choice
The 74: commentary on school regulations shutting parents out of the education process
Chris Sullivan, director of Health, Counseling and Disability Access Services
St. Louis Public Radio: UM System campuses addressing student mental health needs
Douglas Swanson, coordinator of labor studies
KSDK (Channel 5): effect of opioid epidemic on the labor force in the construction industry
Zuleyma Tang-Martinez, professor emeritus of biology
Gay Star News: one of a number of LGBTI scientists for whom physicist Jess Wade has created Wikipedia pages
Gregory Ward, grounds supervisor
St. Louis Public Radio: Missouri Department of Conservation grant will go toward eradicating honeysuckle on seven acres of campus
Todd Watson, education administration alumnus
Daily Journal: retiring as West County Elementary principal after 21 years
Joann Weaver, communication alumna
The Alestle: experience on campus, working at SIU Edwardsville student newspaper
Pamela Westbrooks-Hodge, business administration alumna
KTTN.com and Nodaway News Leader: keynote speaker at Northwest Missouri State's annual Martin Luther King Jr. peace brunch
Stephanie Wiley, criminology and criminal justice alumna
Simon Fraser University News: research published on link between youth contact with police and deviant behavior
Rick Willenberg, political science alumnus/public policy administration student
St. Louis Post-Dispatch: federal government worker facing difficulties during shutdown
Jeanne Zarucchi, professor of French and art history
St. Louis Post-Dispatch: botanically illustrated works from her collection on display at Missouri Botanical Garden
Other Campus News
Forbes: UMSL's "Finish Your Degree" scholarship featured
WhereTraveler: St. Louis Mercantile Library featured in "17 St. Louis History Museums Not to Miss"
St. Louis Business Journal: UMSL lands online bachelor's program on U.S. News & World Report rankings
KTVI (Channel 2): Express Scripts and Cigna employees on UMSL campus help feed schoolchildren through "Blessings in a Backpack"
Democrat News: UMSL training health departments on how to prepare first responders to opioid overdoses
The St. Louis American: Martin Luther King Jr. Day Observance features speaker Bree Newsome
Press of Atlantic City: joint UMSL/WUSTL research cited on using cannabis to reduce opioid withdrawal symptoms
Cannabis Business Times: UMSL hosting Cannabis Business Licensing Bootcamp
St. Louis Public Radio: MADCO, UMSL's professional dance troupe in residence, mentioned in op-ed about quality of local dance companies

Short URL: https://blogs.umsl.edu/news/?p=78113