Media Coverage: November 2019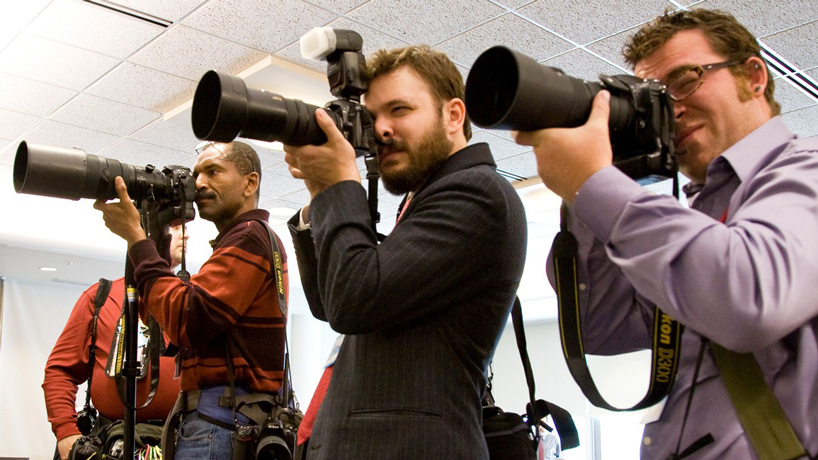 The University of Missouri–St. Louis makes a significant impact on the St. Louis area. Stories about the university, its scholars and their expertise are often covered by local and national news media.
Media Coverage highlights some of the top stories but does not serve as a comprehensive listing. Notice a clip we missed? Email us at umsldaily@umsl.edu.
Featured Stories
– St. Louis Magazine talked with Annie Mbale, a business and political science alumna, about her experience with the Odd Couples Housing program. The program brings generations together by pairing seniors looking for company with students looking for affordable housing. Mbale was paired with Pat Price in her Kirkwood home, and the two have become fast friends.
– St. Louis Public Radio interviewed Nate Oatis, an anthropology alumnus, who is dedicated to reaching St. Louis youth affected by gun violence. His nonprofit, the Excelsior Program, uses a unique approach: martial arts. As a longtime martial arts enthusiast, Oatis knew it could teach mindfulness to kids and provide an opportunity for them to vent.
– The St. Louis Post-Dispatch caught up with Jackie Zykan, a biology alumna, to get the scoop on her dream job, master taster for Old Forrester bourbon. Her background in biology and bartending, plus her gifted palate, made her an ideal choice to run the distillery's quality control, new product development, blending, single-barrel strategy and cocktail strategy.
Media Coverage
Vijay Anand, associate professor of cybersecurity
KMIZ: SIM card swapping
Phil Becker, optometry alumnus
The Daily Republic: Mitchell means home
Edward Bennett, professor emeritus of optometry
Contact Lens Spectrum: Resources for specialty lens fittings
Review of Cornea & Contact Lenses: The future of GP lenses
Adam Brown, public policy and administration graduate student
St. Louis Public Radio: Conducted research on gentrification in post-industrial cities
Bettina Casad, assistant professor of behavioral neuroscience
Healthline: Gender stereotypes about math are unfounded
Rita Csapo-Sweet, associate professor of communication
St. Louis Public Radio: Co-produced Holocaust documentary
Liz Deichmann, political science doctoral student
St. Louis Public Radio: Conducted research on gentrification in post-industrial cities
Julie DeKinder, clinical professor of optometry and director of Academic and Residency Programs, chief of Contact Lens Services and coordinator of the Contact Lens Residency in the College of Optometry
Optometry Times: Spoke at national conference on multifocal contact lenses
Brian Dixon, liberal studies alumnus
St. Louis Business Journal: Authored two books on cryptocurrency
Perry Drake, assistant professor of digital marketing
St. Louis Post-Dispatch: Business motives of social media companies
Thomas Eyssell, associate dean and director of graduate studies of the College of Business Administration
Washington Missourian: Wrote a book on the St. Louis auto industry
Bernard Feldman, professor of physics
Northfield News: Look back at the Armistice Day blizzard
Dan Freet, UMSL police chief
Columbia Daily Tribune and Columbia Missourian: University of Missouri System ban on guns ruled constitutional
Erika Gibb, chair of the Department of Physics and Astronomy
International Business Times and St. Louis Post-Dispatch: Meteor over St. Louis
Joel Glassman, director emeritus of International Studies and Programs
St. Louis Post-Dispatch, Fulton Sun and Patch: 2019 Gateway Award recipient
David Griesedieck, teach professor of philosophy
India Post: Spoke at Vedanta Sadas event
Thomasina Hassler, adjunct assistant professor
St. Louis American and St. Louis Post-Dispatch: Nominated to St. Louis County police board
St. Louis Business Journal: Confirmed to St. Louis County police board
Beth Huebner, professor of criminology and criminal justice
St. Louis Post-Dispatch: Rethinking putting probation violators in jail
Paulette Isaac-Savage, professor of adult education
St. Louis American: Inducted into the International Adult and Continuing Education Hall of Fame Class
Adaron Jackson, director of the David and Thelma Institute for Jazz Studies
Daily Journal Online: Jazz recital at Mineral Area College
Terry Jones, professor emeritus of political science
Town & Style: Hosts political lecture series at Gatesworth retirement community
David Klinger, professor of criminology and criminal justice
Fort Worth Star-Telegram: Police-involved shootings in Fort Worth, Texas
Northwest Arkansas Democrat-Gazette and St. Louis Post-Dispatch: National effort to track police shootings
Tom Minogue, economics alumnus
St. Louis Record: Named to St. Louis Business Journal's C-Suite Awards
Kara Moskowitz, assistant professor of history
Patch: Elected to board of Young Friends of Legal Services of Eastern Missouri
Patty Parker, Des Lee Professor of Zoological Studies and interim director of Whitney R. Harris World Ecology Center
St. Louis Public Radio: World Ecology Award for conservation in Madagascar
Brit Phillips, assistant teaching professor of nursing
KDSK: Teaching nursing students to protect themselves in the workplace
Lee Ann Pitman, business alumna
The Missouri Times: Upset in Missouri House race
David Robertson, Curators' Teaching Professor and chair of the Department of Political Science
Kansas City Star: Democratic wave could undercut Gov. Parson's advantages
Southeast Missourian: Democrats gaining foothold away from urban core
David C. Rose, professor of economics
St. Louis Post-Dispatch: Dangers of suppressing free speech
Richard Rosenfeld, Curators' Distinguished Professor Emeritus of Criminology and Criminal Justice
The Crime Report: Forecasting method shows inmate release won't increase crime
Douglas Schaeffler, criminology and criminal justice alumnus
West Newsmagazine: Named Ballwin chief of police
Christi Swick, political science alumna
St. Louis Business Journal: Named partner at the Sandberg Phoenix law firm
Rita Swiener, psychology alumna
St. Louis Post-Dispatch: Founded Santa's Helpers Inc.
Matthew Troutman, former astronomy instructor and postdoctoral associate
St. Louis Business Journal: Named Thomas Jefferson School's head of school
Cathy Vatterott, professor emeritus of education
Education Week Teacher: Rethinking grading
Kenya Webster, social work student
St. Louis American: People Against Poverty Campaign
Letisha Wexstten, communications alumna
St. Louis Post-Dispatch: Won an Arch Grant for HireMe, a job-search platform for people with disabilities
Lon Wilkens, emeritus professor of neuroscience
Apalachicola Times: The history of electric fish
Other News
Campus Safety Magazine: Brunch patrol program
Columbia Missourian: UM curators discuss improving graduation and retention rates
KRCG: Statewide partnership with Special Olympics Missouri
The Morning Call: Anti-gang program
The National Herald: Annual Nicholas and Theodora Matsakis lecture
Nurse.org: Ranked top 10 nursing school in Missouri
RiverBender: Pop-up coat exchange
St. Joseph News-Press: Insect population study
St. Louis Magazine and St. Louis Post-Dispatch: "Diary of a Wimpy Kid" author comes to Touhill Performing Arts Center
St. Louis Magazine: Transgender Spectrum Conference
St. Louis Post-Dispatch: Missouri Institute of Mental Health grant to reduce opioid overdose deaths
St. Louis Public Radio: MADCO and the German Culture Center collaborate on "WallSTORIES"
St. Louis Public Radio: Hip-hop violin duo Black Violin performed at Touhill Performing Arts Center
St. Louis Public Radio:  St. Louis Chess Club gala
Street Insider: Startups showcase sustainable tech at Ameren Accelerator Demo Day
Webster-Kirkwood Times: Webster Groves to acquire "Earth Rabbit" statue
Webster University: Workshop on advancing racial equity in higher education
Webster University: Art and Labor movement exhibit

Short URL: https://blogs.umsl.edu/news/?p=83078