Media Coverage: October 2021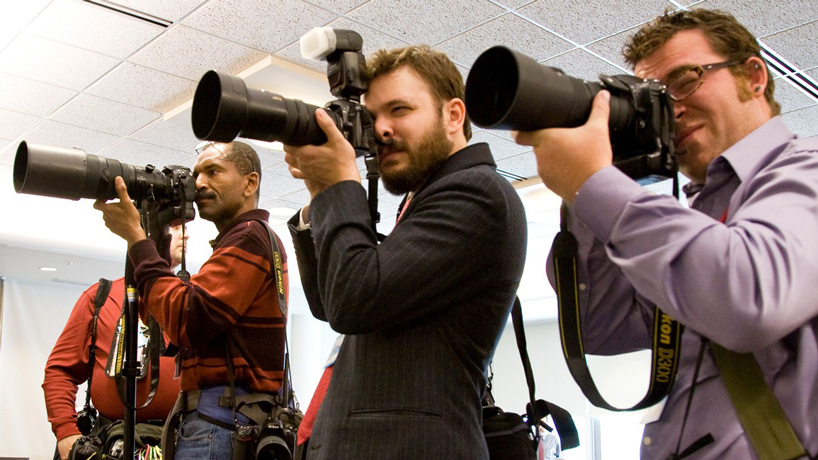 The University of Missouri–St. Louis makes a significant impact on the St. Louis area. Stories about the university, its scholars and their expertise are often covered by local and national news media.
Media Coverage highlights some of the top stories but does not serve as a comprehensive listing. Notice a clip we missed? Email us at umsldaily@umsl.edu.
Featured stories:
On "Fresh Air," St. Louis Public Radio's Sarah Fentem asked Amber Reinhart, associate professor in the Department of Communication, how people might persuade loved ones to get the COVID-19 vaccine. Reinhart said it's important to meet people where they're at, and it's often more effective to show genuine concern for a love one's well-being than saying, "You're wrong."
Max Gillman, professor of economic history, spoke with KDSK about St. Louis Public Schools' teacher shortage. Currently, the district has 120 open positions. Gillman thinks people are avoiding the positions because of the delta variant of COVID-19. However, he remains hopeful that more people will enter the labor market as case numbers and the fatality rate goes down.
The St. Louis Post-Dispatch profiled Sandy MacLean, vice chancellor emeritus, and group of retired friends who meet every weekday for coffee. Recently, the group decided to branch out and share their collective wisdom, setting up a sign near their table that reads, "Old men giving advice, it's free."
Media coverage:
Theresa Appelbaum, history alumna
Missouri Lawyers Media: WJA 2021: Theresa A. Appelbaum
Edward Bennett, professor emeritus of optometry
Contact Lens Spectrum: GP and Custom Soft Annual Report 2021
Brigette Colley, optometry alumna
McDonough County Voice: Colley named Optometrist of the Year
Rob Dixon, political science alumnus
St. Louis Post-Dispatch: Missouri Cabinet member hired by Ameren to lead community, economic development
Devin Elkins, international business student
The St. Louis American: Jennings H.S. grad Devin Elkins receives inaugural Holly Cousins scholarship
Beth Goetz, education alumna
Indianapolis Business Journal: 2021 Women of Influence: Beth Goetz
Aubrey Herman, asian studies alumnus
The American Israelite: Aubrey Herman receives 2021 five star wealth manager award
Thomas Hoerr, scholar in residence
Shondaland: Intelligence doesn't just boil down to IQ and EQ
Shaji Khan, associate professor of information systems and technology
AdvisorSmith: Cyberattacks Targeting Small Businesses
St. Louis Post-Dispatch: Missouri teachers' Social Security numbers at risk on state agency's website
David Kimball, professor of political science
Minneapolis Star-Tribune: Q&A: How ranked-choice voting works in Minneapolis
Talking Points Memo: 'God's Will Is Being Thwarted.' Even in Solid Republican Counties, Hard-Liners Seek More Partisan Control of Elections.
The Texas Tribune: "God's will is being thwarted." Even in solid Republican counties, hard-liners seek more partisan control of elections.
David Klinger, professor of criminology and criminal justice
Penn State University: New book analyzes the intersection of ethics and policing
UHD News: vitalvoices Hosts "Reducing Deadly Force Usage in Policing" October 27
Anita Manion, professor of political science
ConstructForSTL: Pat White: Labor Can Be Stronger Together
St. Louis Post-Dispatch: Republican councilman proposes bill for nonpartisan elections in St. Louis County; Democrats skeptical
St. Louis Public Radio: St. Louis unions face uncertainty after carpenters union shutters local regional council
Mia Milazzo, education student
The Times of Northwest Indiana: Andrew grad making mark in pro soccer with Chicago Red Stars
Philip Oehlerking, political science alumnus
The Missouri Times: Philip Oehlerking running for St. Louis County House seat
Jianli Pan, associate professor of computer science
Consulting-Specifiying Engineer: Designing 'smart' security for smart devices
Security: NSA awards $500,000 cybersecurity grant to University of Missouri research
Svetlana Panicheva, business alumna
Globe Newswire: Bluewater Acquisition Corp. signs definitive agreement with VM Agritech Limited in connection with qualifying transaction
Tasha Pettis-Bonds, political science alumna
Illinois Business Journal: Vice president of business development named at Midwest BankCentre
Richard Rosenfeld, Curators' Distinguished Professor Emeritus of Criminology and Criminal Justice
The Bulwark: Will higher inflation lead to a spike in crime?
Daily Herald: Which crimes increased, which ones decreased in the suburbs in 2020
Deseret News: Crime and inflation — two bad things that go together
Fox 2 Now: St. Louis has highest murder rate in U.S. in 2020; other crimes decreasing
The Guardian: How the rising US murder rate has affected Black women and girls: 'It feels like nobody cares'
Pennsylvania Capital-Star: The 3 factors behind the perfect storm of 2020's homicide spike
KMOX: The Dave Glover Show: 10-5-21 Hour 3
KTLA: Criminologist and Professor Emeritus Richard Rosenfeld talks on California's rise in homicides
Milwaukee Journal Sentinel: Milwaukee Police Department's homicide clearance rate dips
Mother Jones: What if everything you know about murder rates and policing is wrong
The Oregonian: Under the gun: 69 people have been killed so far this year in Portland amid a stunning wave of gun violence
Springfield News-Leader: Here is the latest on the 17 homicides this year in Springfield
Voice of San Diego: Despite the recent increase, crime in San Diego is still well below its 1990s peak
WKBW: Could COVID be the cause of Buffalo's crime uptick?
Lauren Schoellhorn, education alumna
West Newsmagazine: Eureka's District Teacher of the Year named state finalist
Hainan Sheng, assistant professor of finance
WalletHub: Ask the Experts: Cheap Car Insurance Pros & Cons
Cathy Vatterott, professor of education
Star 102.1: What to say to your child about homework
Kim von der Heyde, fine arts alumna
The Alton Telegraph: S. M. Wilson promotes six
Illinois Business Journal: S.M. Wilson & Co. promotes six of its employees
Megan Woll, Tritons volleyball player
Edwardsville Intelligencer: EHS grad Woll digs up milestone
Other news:
Black Information Network: These Are the two black men who made Forbes' 400 Richest Americans List
Columbia Daily Tribune: Columbia health officials want you to carry Narcan. Here's why and how to use it
Construction Forum STL: UMSL playing leading role in St. Louis Anchor Action Network with goal of building inclusive prosperity
Daily Journal Online: MAC and UMSL update social work articulation agreement
Dayton Business Journal: See where Ohio schools rank among world's best universities
The Edwardsville Intelligencer: 'Whose Live Anyway' inspired by TV improv hit coming to UMSL Nov. 11
Fox 2 Now: New initiative addresses mental health in black communities
Fox 2 Now: Dancer on FOX's Big Leap to perform at Touhill for 'An Evening of Ballet Stars'
Fox 2 Now: Six Missouri universities land on Best Global University list
Fulton Sun: WWU hosting final lecture by outgoing President Jahnae H. Barnett
Jefferson City News Tribune: Classroom mask mandate to expire today in University of Missouri system
Ladue News: Join the University of Missouri–St. Louis in celebrating a cultural institution
MarketWatch: EDsmart releases the Best Online Communications Degree Programs rankings.
Parabolic Arc: NGA, UMSL partner to develop STEM professionals, educators
PR Newswire: Best Health Degrees releases national rankings of counseling master's programs
The St. Louis American: UMSL DEI Accelerator accepting applications
St. Louis Business Journal: Commentary: Auto racing offers much more than just a race
St. Louis Business Journal: UMSL, NGA ink agreement to train geospatial workforce
St. Louis Business Journal: In bid to address racial inequities, network of employers seeks to boost hiring, contracting with minorities
St. Louis Business Journal: UMSL's entrepreneurship program targets growth with new facility, $10M fundraising campaign
St. Louis Magazine: Saint Louis Ballet goes down the rabbit hole with Alice in Wonderland
St. Louis Magazine: Top 10 things to do this November 2021
St. Louis Post-Dispatch: Geospatial conference draws thousands to downtown St. Louis
St. Louis Post-Dispatch: As St. Louis' reputation grows in the geospatial industry, leaders stress workforce development
St. Louis Post-Dispatch: Greendale's youngest mayor remembered for prioritizing 'what was best' for residents
St. Louis Post-Dispatch: 'This is not how adults function': Politics, dysfunction dominate Normandy city government
St. Louis Post-Dispatch: Experience the power of music with the St. Louis Symphony Orchestra
St. Louis Public Radio: Monday: How indigenous wisdom can help address urgent sustainability challenges
Student Loan Hero: The most expensive and least expensive colleges in each state to get a bachelor's degree
Town & Style: Saint Louis Ballet | Cinderella Ball Kick-off
Trajectory Magazine: Discovery and Connections
University Magazine: Best Colleges in Missouri 2021

Short URL: https://blogs.umsl.edu/news/?p=91197