Media Coverage: November 2021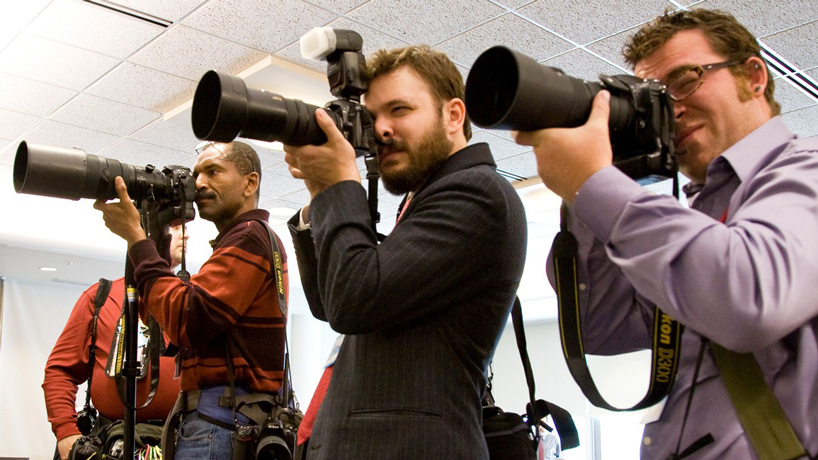 The University of Missouri–St. Louis makes a significant impact on the St. Louis area. Stories about the university, its scholars and their expertise are often covered by local and national news media.
Media Coverage highlights some of the top stories but does not serve as a comprehensive listing. Notice a clip we missed? Email us at umsldaily@umsl.edu.
Featured stories:
WGN Radio and Fox 2 Now spoke with Mitch Millstein, professor of supply chain management, about the truck driver shortage and what it means for the supply chain during the holiday season. Millstein said disruptions to the supply chain can be attributed to the early days of the pandemic and misplaced shipping containers. But he predicted supply bottlenecks would ease up more quickly than expected.
The St. Louis Business Journal profiled Tim Hebel for its 2021 40 Under 40 class. Hebel, a computer science alumnus, founded Beanstalk Web Solutions in 2013 while working toward his bachelor's degree. The web development and digital marketing firm has grown considerably under his leadership.
The St. Louis Post-Dispatch caught up with James Young, education alumnus, the 2022 Missouri Teacher of the Year. Young is the sixth-grade musical theater teacher at Johnson-Wabash Sixth Grade Center in Ferguson, Missouri. After serving three years in the U.S. Army and working as a musician, Young's grandmother helped him find his passion for music education.
Media coverage:
Sabari Arcot, College of Optometry clinical resident
Contact Lens Spectrum: Contact Lens Spectrum continues its residents program
Lisa Bass, public policy and administration alumna
Texas Women's University: Veteran's experiences were foundation for success
Carl Bassi, professor of optometry
St. Louis Business Journal: At 88, this entrepreneur is still teeing up new ideas. His latest venture targets improving your golf game.
Susan Brownell, Olympic scholar and professor of anthropology
The Associated Press: 'A big task': China's Olympic hockey team facing questions
Vision Times: China's Men's Ice Hockey Team May Not Be Good Enough for the Olympics
Jessica Bueler, international business alumna
St. Louis Post-Dispatch: Uchitelle and Skrainka: St. Louis racial-bias case set precedent to overturn Texas abortion law
Deborah Clark, adjunct associate professor of biology
NewScientist: Tropical trees grow less in warmer years so they take in less CO2
Brad Cook, business alumnus
Manufacturing News: Beckwood Press Company Announces Organizational Improvements
Frank Cusumano, communications alumnus
St. Louis Post-Dispatch: KSDK's Frank Cusumano's car stolen — from Chaifetz lot
Felia Davenport, associate professor of communication and media studies
St. Louis Public Radio: Kranzberg residency program expands to include visual artists, writers and musicians
Karen Dilber, accounting alumna
Missouri Patch: City Of Clayton Announces New Finance Director
Joshua Dudek, optometry student
Invision Magazine: AAOF Announces the 2021 Johnson & Johnson Vision J. Pat Cummings Scholarships
Aimee Dunlap, associate professor of biology
Saint Louis University News: SLU Scientist Collaborating with UMSL-led Team to Study Pollination in Urban Orchards
Beth Elders, music alumna
RiverBender.com: American Red Cross Of Greater St. Louis Names New Executive Director
St. Louis Business Journal: American Red Cross of Greater St. Louis names Beth Elders as its new executive director
Timothy Green, business alumnus
St. Louis Construction News & Review: People On The Move In The Local Construction Industry
Yvette Kell, the director of Campus Recreation
Campus Rec Magazine: Where are Wellness Trends Heading?
Orvin Kimbrough, business alumnus
St. Louis Business Journal: 40 Under 40 Hall of Fame 2021: Orvin Kimbrough, Midwest BankCentre
David Klinger, professor of criminology and criminal justice
Medscape: Who's Keeping Track of Police Killings?
NPR: The trial of Kyle Rittenhouse is a microcosm of the gun control debate in the U.S.
Lea-Rachel Kosnik, professor of economics
St. Louis Public Radio: Thursday: UMSL economist weighs in on Spire's STL Pipeline snafu
St. Louis Public Radio: Spire is warning of winter gas shortages. St. Louis officials call it fear-mongering
Nikos Michailidis, assistant teaching professor of anthropology
Al-Monitor: Why was cosmopolitan Istanbul so threatening to Turkish identity?
Katy Mike Smaistrla, sustainability coordinator
KMOV: Local universities urging the public to recycle plastic bags
Abte Mtibaa, associate professor of computer science
KMOV: Ransomware attack shuts down Lewis & Clark Community College
Leigha Ragsdale-Knoderer, communications alumna
Daily Journal Online: Bonne Terre chamber to hold women's conference Thursday
Amber Reinhart, associate professor of communications
Sinclair Broadcast Group: Protests, lawsuits signal resistance as federal vaccine mandates loom
Scott Richert, business alumnus
Becker's Hospital Review: Meet the CIOs of the 10 largest nonprofit health systems
Richard Rosenfeld, Curators' Distinguished Professor Emeritus of Criminology and Criminal Justice
Chicago Sun-Times: As violent crime besets the city, bring in voices who can help
The Crime Report: Murder Surge Eases, But Rising Violence Still 'Legitimate' Concern: Study
The Crime Report: The Danger of a Return to Crime Alarmism
East Valley Tribune: Roads in Mesa are getting deadlier
KCUR: Kansas City is one of the only U.S. cities without local control of its own police. Will that ever change?
Times News Network: Christmas parade tragedy shows insanity of drive to help alleged criminals: Michael Shellenberger
Vox: America can't fix policing without fixing the country's gun problem
Washington Newsday: After a deadly shooting at a soccer game in Houston, a man was arrested.
Wally Siewert, former professor of political theory
The St. Louis American: Activists criticize redistricting process
St. Louis Post-Dispatch: Critics of St. Louis ward redistricting process, Aldermanic President Lewis Reed face off at City Hall
Akeem Shannon, Diversity, Equity, and Inclusion Accelerator cohort member
The St. Louis American: Flipping the script
Lana Stein, professor emeritus of political science
St. Louis Post-Dispatch: St. Louis personnel director Richard Frank retiring; Jones fills tech, civil rights posts
Todd Swanstrom, E. Desmond Lee Endowed Professor in Community Collaboration and Public Policy
The St. Louis American: Disinvestment decimated northern St. Louis County and city. This group plans a reversal
Roxanne Vandermause, College of Nursing dean
The Guardian: 'I can't do this any more': US faces nurse shortage from burnout
Cathy Vatterott, professor of education
Baylor Lariat: Homework isn't helpful in first grade or in college
Alan Westfall, archaeology alumnus
Leader Publications: Nov. 3 Senior Expo speaker to talk about archaeological trips
George Zsidisin, John W. Barriger III Endowed Professor and the director of the Supply Chain Risk and Resilience Research Institute
KSDK: What's behind supply chain bottlenecks and is there an end in sight?
Other stories:
Columbia Daily Tribune: University of Missouri prepares employees for possible federal COVID-19 vaccine mandate
Columbia Daily Tribune: 'I cried so hard': Veterans United Foundation grant will transform The Center Project
Columbia Missourian: MU Health Care to 'sunset' COVID-19 incident command, move pediatric facilities
Daily Republic: Brian Owens set for stop at Downtown Theatre
The Edwardsville Intelligencer: Saturday morning with Santa coming Dec. 11
Eyes on Eyecare: Pediatric Eyecare: Inside the Optometry Residency
Fox 2 Now: UMSL's entrepreneur accelerator announces 15 finalists for $50k grant
Healthy Simulation: New Clinical Simulation Center Updates | November 2021
Missourinet: Fall enrollment a mixed bag for Missouri's colleges and universities
St. Louis Business Journal: This St. Louis startup appeared on 'Shark Tank' a year ago. Here's what happened next.
St. Louis Business Journal: Nonprofit and McBride Homes start construction on affordable housing subdivision in north St. Louis County
St. Louis Magazine: K-Pop Festival and Taste of Korea comes to Clayton this weekend
St. Louis Post-Dispatch: Nicklaus: 11 institutions pledge to address inequality in St. Louis
St. Louis Post-Dispatch: Area colleges notebook: UMSL men among favorites in GLVC basketball
St. Louis Post-Dispatch: St. Louis County Council plans hearing over Spire's pipeline warning
St. Louis Post-Dispatch: After countless collabs, Ferguson musician Shedrick Mitchell returns focus to himself
St. Louis Post-Dispatch: St. Louis classical music fans get a welcome holiday gift: return of in-person concerts
St. Louis Post-Dispatch: 100 Neediest Cases: Even in a pandemic, St. Louis answers the call to help
St. Louis Public Radio: UMSL hopes high-tech simulation mannequins will mean more nursing grads

Short URL: https://blogs.umsl.edu/news/?p=91549