Media Coverage: April 2022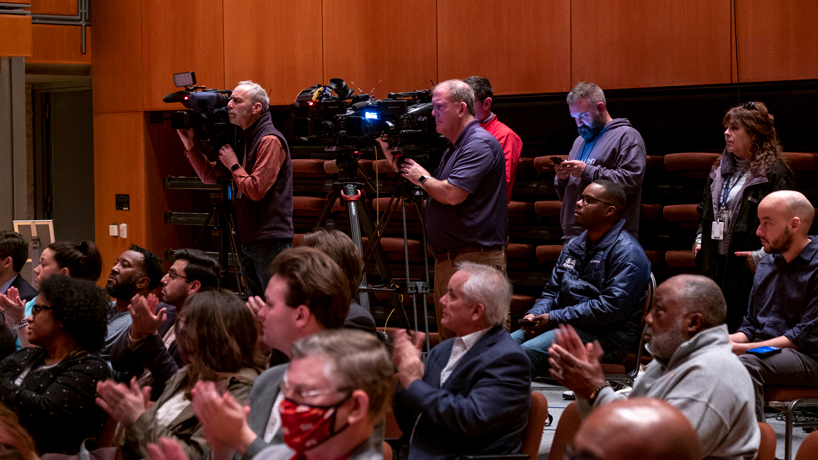 The University of Missouri–St. Louis makes a significant impact on the St. Louis area. Stories about the university, its scholars and their expertise are often covered by local and national news media.
Media Coverage highlights some of the top stories but does not serve as a comprehensive listing. Notice a clip we missed? Email us at umsldaily@umsl.edu.
Featured stories:
St. Louis Magazine, the St. Louis Post-Dispatch, St. Louis Business Journal and KSDK talked with Steven Pursley, a political science alumnus, about his new ramen restaurant Menya Rui. After graduating from UMSL, Pursley, who is half Japanese, moved to Japan to reconnect with his heritage and learn about the cuisine. He brought back what he learned and is putting it use at his Lindenwood Park brick-and-mortar.
Sandra Langeslag, associate professor of psychological sciences, spoke with The Independent and The New York Times about falling out of love. Langeslag said many people believe heartbreak is inevitable, so there's no use in trying to fix it. However, she pointed out there are plenty of common, and even serious, diseases that we try to cure. "Why shouldn't we try to help people with heartbreak and try to move on?" she told The Independent.
Sarah Fenske, of St. Louis Public Radio's "St. Louis on the Air," invited Priscilla Dowden-White, associate professor of history, on the show to discuss The Missouri History Museum's Thomas Jefferson statue. After a two-year process, the museum is installing three interpretive panels that describe Jefferson's complex legacy. Dowden-White welcomed the idea that the added context will spur more conversation about Jefferson.
Media coverage:
Angela B. Abraham, optometry alumna
The Journal of Blacks in Higher Education: Four African Americans Who Have Been Named to New Admnistrative Posts in Higher Education
Melanie Adams, education alumna
The Georgetowner: Next Cultural Leadership Speaker: Melanie Adams, Director, Anacostia Community Museum
Stephen Bagwell, assistant professor of political science
The Atlanta Journal-Constitution: Opinion: Pandemic saw global decline in human rights
The Conversation: Human rights declined during the COVID-19 pandemic, in countries from Angola to the US to New Zealand
Edward Bennett, professor emeritus of optometry
ContactLens Spectrum: Highlights from the 2022 GSLS
Karen Boleska, director of sport management
WKBN: Poland graduate volunteering at NCAA Men's Final Four
Jeanne Bothwell, business alumna
Business Wire: RealVoice Welcomes Jeanne Bothwell as Executive Director of Sales
Susan Brownell, professor of anthropology
The Diplomat: Assessing the 2022 Beijing Winter Olympics: Soft Power, Politics, and the Future of the Games
Jennifer E. Cobbina-Dungy, criminology and criminal justice alumna
WRPN: Hands Up Protest Discussion At Ripon College
Rachelle Crowe, biology alumna
Illinois Business Journal: Crowe nominated for U.S. attorney in Southern District
St. Louis Post-Dispatch: State senator from Glen Carbon nominated as U.S. attorney for southern Illinois
The White House: President Biden Announces Five New Nominees to Serve as U.S. Attorneys
Jill Delston, associate teaching professor of philosophy
Daily Nous: Philosophy & Activism
Rollo Dilworth, education alumnus
WWNY: Crane Concert: Maestro Rollo Dilworth
Max Gillman, professor of economics
KTVI: Inflation hitting fast-food menus in strange ways across St. Louis area
Michelle Grimes, nursing alumna
The St. Louis American: Seven excellent awardees
Hal Harris, emeritus professor of physical chemistry
St. Louis Post-Dispatch: Harris: Is expansion of ethanol in fuel wise or even ethical?
Dorothy Haskell, project director for Children's Advocacy Services of Greater St. Louis
KSDK: Helping kids cope with violence
David Kimball, professor of political science
The Waterloo-Cedar Falls Courier: UNI conference focused on ensuring trust, integrity in local elections
David Klinger, professor of criminology and criminal justice
San Diego Union-Tribune: 'Even if it's lawful, it's awful': Policing experts critical of shooting that killed Yale-trained scientist
Kasia Landa, education alumna
The St. Louis American: Kasia Landa named principal of Glasgow Elementary
Alice Layton, entrepreneurship instructor
The Alton Telegraph: Small business talks set by Alton Main Street
The Alton Telegraph: Free seminars in Small Business Hot Topics
Illinois Business Journal: Alton Main Street offers free seminars on small business 'hot topics'
Kawanna Leggett, education alumna
PR Newswire: LMU Names Kawanna Leggett as Senior Vice President for Student Affairs
Dominic LeNoir, education alumnus
The St. Louis American: Dominic LeNoir named principal of Danforth Elementary
Anita Manion, an assistant professor of political science
KSDK: Missouri Congressional candidate releases terms of settlement with woman who accused him of rape
The St. Louis American: Sen. Steve Roberts Jr. challenges Rep. Cori Bush
Michele Meckfessel, associate professor of accounting
St. Louis Post-Dispatch: Nicklaus: Billionaire tax would distort markets and be tricky to enforce
Joanna Mendoza, professor of music
The Prairie News: HSQ to Close Season by Welcoming Back Former Member Joanna Mendoza
Janell Mueller, education alumna
Newstime: WSD Names Assistant Superintendent Of Administrative Services
Nicholas Palisch, former director of student and alumni services for the College of Optometry
PR Newswire: Kansas College of Osteopathic Medicine grows Wichita staff with addition of Darrell Youngman, DO; Nicholas Palisch, Ph.D.; Francis Fitzpatrick, Ph.D.; and Stacy Jones, Ph.D.
Brian Payne, business alumnus
Spencer Fane: Spencer Fane Welcomes Experienced Litigator to Cape Girardeau Office
J. Martin Rochester, Curators' Distinguished Teaching Professor of Political Science Emeritus
St. Louis Jewish Light: Finding off ramp for Putin is best case resolution for Ukraine
Paris Rollins, DEI Accelerator participant
Feast Magazine: St. Louis-based Picky Eaterz is on a mission to make eating healthy fun for kids
Steven Rosenblum, former director of development for the College of Arts and Sciences
St. Louis Jewish Light: 2012 Unsung Hero Steven Rosenblum to receive special honor from WashU
Richard Rosenfeld, Curators' Distinguished Professor Emeritus of Criminology and Criminal Justice
Milwaukee Journal Sentinel: As Milwaukee again reaches historic homicide totals in 2022, officials are left searching for answers as families are left to grieve
National Academies: Recidivism Is Inadequate Measure of Success After Prison; New Measurements and National Standards Are Needed, Says New Report
The New York Times: A Violent Crisis
The Post and Courier: Growing gun violence drives homicides in Charleston County's urban areas
Yahoo News: Republican-controlled states have higher murder rates than Democratic ones: study
Leah Holbrook Sackett, adjunct lecturer
1888 Press: New Book by Leah Holbrook Sackett: Catawampus in Sweetgum County
Akeem Shannon, DEI Accelerator participant
Fox 2 Now: UMSL Accelerate Grant recipient now has product in 300 Targets
St. Louis Public Radio: From 'Shark Tank' to Target — St. Louis invention goes nationwide
Natissia Small, vice provost for access, academic support, and workforce integration
Fox 2 Now: How to apply for college scholarships and financial aid
Mary Troy, professor emeritus
NEA Report: Authors to work with students and present readings at Delta Symposium XXVII
Cathy Vatterott, professor of education
Education Week: Is Homework a Waste of Time? Teachers Weigh In
Lora Westling, former assistant women's basketball coach
WIBW: Washburn hires former school legend as new Ichabod Head Coach
Letisha Wexstten, graphic design alumna
KSDK: St. Louis woman born without arms creates site to help people with disabilities find jobs
Rachel Winograd, associate research professor at the Missouri Institute of Mental Health
KCUR: Missouri's fentanyl crisis is worsening, but patients can't get substance abuse treatment
St. Lousi Post-Dispatch: Missouri lawmakers move toward legalizing needle exchanges, easing access to addiction meds
St. Louis Public Radio: Missouri's fentanyl crisis is worsening, but patients can't get treatment for substance abuse
Other stories:
Call Newspapers: County prioritizing how to spend its remaining $83M in ARPA funding
Construction Forum STL: UMSL, SLU to Collaborate on R&D for Advanced Manufacturing Center
Construction Forum STL: Taylor Geospatial Institute Targets St. Louis as World Leader
Directions Magazine: St. Louis Comes Together to Announce the Taylor Geospatial Institute
ExecutiveGov: Tonya Wilkerson: NGA Works With Non-Federal Entities to Nurture STEM, GEOINT Talent Pipelines
Fox News: Crime in big cities may be worsened by inflation, researchers find
Fox 2 Now: Sam Page delivers State of the County Address
Fox 2 Now: St. Louis County voters ban Sam Page from having a side job
Fox 2 Now: 8 research orgs form new geospatial institute in St. Louis
Globe Newswire: Generation USA Partners With University of Missouri-St. Louis to Offer, Through Verizon Skill Forward, Free Access to the Junior Full Stack Java Developer Program
Government Technology: St. Louis Works to Become Hub for Geospatial Technology
Kaiser Health News: Opioid Deaths Rise Devastatingly Among Black St. Louisans
The Kansas City Star: Students with disabilities can get college, career help this week, thanks to KC mom
KMIZ: High school students' mental health disproportionally impacted by pandemic
KSDK: St. Louis County organizations react to American Rescue Plan funding proposals
KTVI: UMSL may get new business, workforce district from COVID funds
Missouri Senate: Sen. Brian Williams: If Not Now, When?
News Wise: St. Louis Comes Together to Announce the Taylor Geospatial Institute
R&D World: War and inflation cut global R&D spend, in this week's R&D Power Index
RiverBender.com: Congresswoman Cori Bush Headlines New Sustainability Awards at Earth Day Festival
Riverfront Times: Our Very Incomplete Guide to North County
The Source: The Launch Pad
Springfield News-Leader: Use Missouri opioid settlement funds for evidence-based services, including peer support
The St. Louis American: UMSL Trailblazers Awards honor women focused on healing, empowerment
The St. Louis American: Local golf tournament to support Normandie Golf Course renovation
The St. Louis American: Legacy Institute: Preparing Black Youth for a Post-COVID World
The St. Louis American: North STL County rec center, Convention Center funding approved
The St. Louis American: Taylor Geospatial Institute targets STL as world leader
St. Louis Business Journal: Pro sports event backs effort to restore St. Louis-area historic golf course
St. Louis Business Journal: St. Louis' challenges are a burden for business. Here's how we address them
St. Louis Business Journal: St. Louis County executive offers proposals on how to spend federal ARPA money
St. Louis Business Journal: County OKs bonds for convention center expansion, rec center as costs rise
St. Louis Business Journal: Funded by prominent St. Louis businessman, new research institute launches to focus on geospatial technology
St. Louis Magazine: Dance St. Louis is bringing Les Ballets Trockadero De Monte Carlo to Touhill
St. Louis Post-Dispatch: Page to deliver 'State of the County' address next week
St. Louis Post-Dispatch: Missouri is flush with cash, but House leaves some money out of the state budget
St. Louis Post-Dispatch: St. Louis County remains 'strong' Page says in first 'State of the County' address
St. Louis Post-Dispatch: Page says he 'will abide by' St. Louis County voters' decision to bar moonlighting
St. Louis Post-Dispatch: St. Louis County Council approves bonds for convention center, recreation center amid concerns over rising cost
St. Louis Post-Dispatch: New Taylor Geospatial Institute hailed as 'big deal' for St. Louis
St. Louis Public Radio: Page is 'cautiously optimistic' worst of the pandemic is behind St. Louis County
St. Louis Public Radio: Black opioid overdose deaths in St. Louis are up 500% in 6 years
St. Louis Public Radio: St. Louis aldermen OK $120 million in fed relief for small business and capital projects
St. Louis Public Radio: North St. Louis County rec center and St. Louis convention center funding approved
St. Louis Public Radio: Taylor Geospatial Institute at SLU to help St. Louis train workers and create startups
St. Louis Public Radio: Missouri ad campaign promotes safe gun storage to prevent suicide
West Newsmagazine: County Council authorizes bond use for America's Center, North County complex

Short URL: https://blogs.umsl.edu/news/?p=93449