Media Coverage: January 2023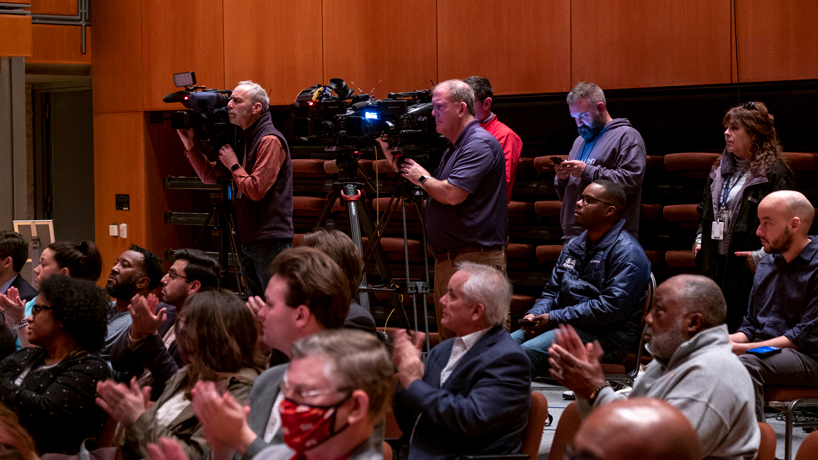 The University of Missouri–St. Louis makes a significant impact on the St. Louis area. Stories about the university, its scholars and their expertise are often covered by local and national news media.
Media Coverage highlights some of the top stories but does not serve as a comprehensive listing. Notice a clip we missed? Email us at umsldaily@umsl.edu.
Featured stories:
The St. Louis Post-Dispatch, Springfield Business Journal and KSDK spoke with the Missouri Institute of Mental Health's Addiction Science Team at UMSL about its work to reduce opioid overdose deaths with prevention, research and programs. Now, it's armed with an additional $6 million from state settlements with opioid manufacturers.
Outlets including KMOV, Springfield Business Journal, St. Louis American, St. Louis Public Radio and St. Louis Magazine covered the new partnership between St. Louis CITY SC and UMSL. Under the new agreement, the Major League Soccer club and the university will collaborate on esports programming and expand the school's sports management curriculum.
St. Louis Public Radio profiled Steven Pursley, political science alumnus, who owns and operates the acclaimed ramen restaurant Menya Rui. After graduating from UMSL, Pursley spent three years in Japan, where his mother is from, working in ramen shops. Upon returning to St. Louis, he launched Ramen x Rui in 2018. The pop-up eventually led to the brick-and-mortar shop in Lindenwood Park.
Media coverage:
Temidayo Akenroye, associate professor of supply chain and analytics
The Conversation: Food shortages: five ways to fix 'unfair' supply chains
Steven Berberich, vice chancellor for academic affairs and provost
The Chronicle of Higher Education: Transitions: Columbia U. Names Next President; U. of South Florida Selects New Provost
KMOX Radio: The latest with UMSL
St. Louis Business Journal: UMSL names new academic chief
Andrew R. Bramman, philosophy alumnus
St. Louis Post-Dispatch: Lashly & Baer, P.C. adds two new associates, Andrew Bramman and Riley Brown
Erik Busch, history alumnus
St. Louis Magazine: LongStory Coffee opens in Belleville, with plans for Clara B's to move in next month
Zachary Cairns, an associate professor of music
St. Louis Post-Dispatch: Looking ahead to 2023 highlights in St. Louis arts, entertainment and dining
James Campbell, professor of business
Denverite: Denver has struggled to clear streets after big snowstorms for a long time. Here's why.
Minneapolis Star Tribune: Why can Edina quickly plow their streets, but Mpls. can't?
Faith Carr, education alumna
Hannibal Courier Post: Carr named DCS Head Start director
Muddy River News: Carr named Head Start director for Douglas Community Services
Felia Davenport, associate professor of communication and media
Riverfront Times: New Art Exhibit at the Kranzberg Explores Identity Through Fashion
Keshia Elder, dean of the College of Optometry
Review of Optometric Business: 2 New Complimentary DEI Training Resources Especially for OD Practices
Women in Optometry: Hats Off to Optometry School Leadership
Women in Optometry: WO Board Feels Momentum For The Years Ahead
Laura Encalade, education alumna
Nashville Post: Lipscomb taps public policy school executive director
Irene Garrison, French alumna
KTVI: Irene Garrison celebrates her brand-new French degree just weeks before her 85th birthday
Max Gillman, Friedrich A. Hayek Professor of Economic History
Money Geek: Best Hotel Rewards Credit Cards in 2023
Karl Guenther, vice chancellor of Economic & Community Development
Ladue News: Christian Hospital Foundation's Dr. Martin Luther King, Jr. Celebration
Ruth Harker, former Tritons soccer player
Women's World Football Show podcast: Episode 210: Ruth Harker
Taneika Herman, nursing alumna
McKnights Senior Living: Commonwealth announces new CFO, resident care leadership
Dan Isom, criminology and criminal justice alumnus, former Endowed Professor of Policing and the Community, and adjunct professor of criminology and criminal justice
Market Screener: Ameren : names Isom to lead the company's corporate safety, security and crisis management groups
St. Louis Business Journal: St. Louis public safety director stepping down to join public company
St. Louis Post-Dispatch: Dan Isom resigns as St. Louis public safety director, deputy fire chief to replace him
Orvin Kimbrough, business alumnus
The St. Louis American: Orvin Kimbrough prides himself on being 'a thinker and a doer'
David Klinger, professor of criminology and criminal justice
The Associated Press: Tyre Nichols case shows officers still fail to intervene
Sioux City Journal: 'Suicide by cop' incidents show need for mental health training
Sandra J. E. Langeslag, associate professor of psychological sciences
HuffPost: This Low-Effort Activity Could Bring The Love Back To Your Relationship
List 23: A seemingly simple exercise appears to increase your attachment to your spouse and marital satisfaction
Live Science: What does love do to your brain?
PsyPost: A surprisingly simple task appears to boost attachment to your spouse and marital satisfaction
Adam Layne, education alumnus
The St. Louis American: City Treasurer Adam Layne keynotes graduation
Timothy Maher, teaching professor of criminology and criminal justice
St. Louis Post-Dispatch: Autopsy: Teen killed by police at north St. Louis gas station was shot 18 times
Anita Manion, assistant professor of political science
Riverfront Times: Kunce Campaign Teases Record-Breaking Fundraising Numbers
St. Louis Public Radio: As Schmitt is sworn in, divided federal government takes sharper focus
Freddy Mawyin, economics and Spanish Alumnus
WIBW: City of Topeka announces its next CFO
Chelsea McDowell, education alumna
Southeast Missourian: Distinguished students named
Jerome E. Morris, E. Desmond Lee Endowed Professor of Urban Education
Clarksville Online: Austin Peay State University to hold Martin Luther King Jr. Breakfast on January 16th
Leaf Chronicle: APSU hosting inaugural Martin Luther King Jr. breakfast on Jan. 16
John Nanney, associate clinical professor and director of community psychological service
KSDK: 'Society must be pro-active, tackle mental health issues': UMSL professor says in hopes of preventing workplace violence
Chris Peoples, engineering student
St. Louis Business Journal: St. Louis Character: Chris Peoples works to connect north St. Louis with greenways, and maybe wine, too
Rachel L. Pickering, history alumna
Hays Post: W. Kansas woman confirmed to Kansas Board of Regents
Amber Reinhart, associate professor of communication
The National Desk: FDA lays out proposal for once-a-year COVID booster shots
Richard Rosenfeld, Curators' Distinguished Professor Emeritus of Criminology and Criminal Justice
Arkansas Democrat-Gazette: Report: Violent crime rates in major cities dip
CBS News: Auto thefts, carjackings in major U.S. cities spike, new report finds
The Crime Report: New Crime Trends Working Group Aims to Improve National Crime Data Reporting
Inside Higher Ed: When a Criminology Student Turns Criminal
KSDK: I-Team: Police departments failing to report crime, so how does St. Louis measure up?
The New York Times: Data From Cities Show Violent Crime Rates Fell Slightly Last Year
Spectrum News: Fixing Missouri's crime problem: legislative fights coming over local control, guns
USA Today: Data from big cities suggests most violent crime fell last year. It's not the full picture, experts say.
The Washington Times: Violent crime fell in 2022, remains above pre-pandemic levels
Robert Sharp, research fellow with UMSL Geospatial Collaborative
Texas Standard: As data plays a bigger role in warfare, the military is building a new center to analyze it
James V. Shuls, associate professor of educational leadership and policy studies
Columbia Daily Tribune: What does Missouri's teacher shortage really look like?
Kristin Sobolik, chancellor
EIN News: The 2023 St. Louis Titan 100
Shawn Stevenson, business and biology alumnus
Everyday Wellness podcast: Eat Smarter: The Impact of Ultra-Processed Foods on Your Gut, Brain and Metabolic Health with Shawn Stevenson
Donald Stolberg, public policy and administration alumnus
Washington eMissourian: Stolberg out as St. Clair city administrator
Doug Swanson, coordinator for labor studies
Construction Forum STL: Researcher's Study Asks Workers, "What Do You Wish You'd Learned in High School?"
St. Louis Post-Dispatch: More workers are trying to unionize in St. Louis. A shift in the tide for labor?
Jacqueline Thompson, associate professor of communication and media
Next City: How A St. Louis Opera Theatre Is Putting The Community In Charge
Tony Urban, business alumnus
Business Wire: Cass Information Systems, Inc. Names Tony Urban as Executive Vice President and Transportation Information Services Business President
St. Louis Post-Dispatch: Urban promoted to president of Cass' TIS business
Jason Vasser-Elong, English alumnus and education student
Sapiens: Rhyme & Reason: Poetry as a Cultural and Communal Bridge
De'Shawn Charles Winslow, English alumnus
The St. Louis American: De'Shawn Charles Winslow to discuss award-winning novel 'Decent People'
Other news:
The Associated Press: Experts urge better opioid rescue drug access to save lives
Columbia Daily Tribune: MU residential program for students with developmental disabilities to start in fall 2023
Current: Staffers at St. Louis Public Radio seek to unionize
Daily Mail: Want to reignite the spark in your relationship? Scientists reveal the surprisingly simple task that helps boost infatuation
Digital Journal: Meet Anasseril E. Daniel M.D.: How One Author Is Shining the Light on the Problems That Exist Within the US Jails and Prisons
Directions Magazine: Geospatial Institute Taps Former LaunchCode Exec to Direct Government, Industry Partnerships
Disability Insider: MU launches residential program for students with intellectual, developmental disabilities
eLearningInside News: MU launches residential program for students with intellectual, developmental disabilities
KMOV: 15 events to celebrate MLK Day
KMOV: St. Louis Symphony Orchestra prepares for massive renovation and expansion of Powell Hall this spring
KOMU: Target 8: Lack of overdose data makes action steps difficult for local health officials
KOMU: MU launches residential program for students with intellectual and developmental disabilities
KSDK: International Institute starts new Afghan Chamber of Commerce for refugees
KSDK: Here's how St. Louis is celebrating Martin Luther King Jr. Day 2023
KTVI: Boeing to offer new training program for UMSL students
Muddy River News: St. Louis Public Radio to form Missouri's first public radio station union
REBusiness Online: Life Sciences Sector in St. Louis: Building on a Legacy
Riverfront Times: New Program Shortens County Jail Stays for Probation Violators
Riverfront Times: St. Louis Entrepreneur Kay Wells To Be Featured on GMA3
Salem News Online: Missouri's fentanyl poisonings rise to record levels
Savannah Business Journal: Gene Dobbs Bradford receives Honorary Doctorate from University of Missouri – St. Louis
Springfield News-Leader: Firearm injuries in kids have increased. Springfield experts say safe storage is key.
The St. Louis American: UMSL College of Education awarded $4 million grant to support postdoctoral fellowship program
The St. Louis American: A Californian couple brings new flavor to St. Louis
St. Louis Business Journal: UMSL gets $4M grant to support College of Education
St. Louis Business Journal: Boeing to launch internship program for UMSL engineering students
St. Louis Business Journal: Workers at St. Louis Public Radio to form union
St. Louis Business Journal: Express Scripts headquarters in north St. Louis County sells
St. Louis Business Journal: Former Express Scripts subsidiary moves away from UMSL campus to its own office space
St. Louis Construction News and Review: Emerging Trends Report ID's Top 10 Real Estate Trends in 2023
St. Louis Jewish Light: How Washington University's Hillel House became a reality
St. Louis Jewish Light: Crown Center welcomes new staff
St. Louis/Southern Illinois Labor Tribune: Staff at St. Louis Public Radio takes step toward organizing
St. Louis Magazine: B Juiced juice bar opening in Ferguson in 2023
St. Louis Magazine: Celebrate the legacy of Martin Luther King Jr. with these community events
St. Louis Magazine: How FYSIQ's bungee classes marry fitness with fun
St. Louis Post-Dispatch: International students returning to St. Louis after pandemic, immigration slump
St. Louis Post-Dispatch: Want the best price for concert tickets? Be more of a savvy buyer, less of a gambler.
St. Louis Post-Dispatch: UMSL men's basketball had low expectations, instead enjoying a special season
St. Louis Post-Dispatch: St. Louis Public Radio workers move to unionize
St. Louis Post-Dispatch: St. Louis Public Radio unionization will go to a vote
St. Louis Public Radio: Companies turned to collaboration to get through COVID disruptions, UMSL researchers find
St. Louis Public Radio: Join STLPR and UMSL for Martin Luther King Jr. Day

Short URL: https://blogs.umsl.edu/news/?p=96758