UMSL Veterans Center celebrates Student Veteran's Week
Student Veteran's Week kicked off today at the University of Missouri–St. Louis.
The UMSL Veterans Center partnered with the student organization Triton Vets to provide programming geared to celebrate and support UMSL's more than 300 military-connected students.
UMSL has a proud tradition of serving student veterans over the past decade, and Military Times has ranked the university on its "Best for Vets: Colleges" list for eight consecutive years. The Veterans Center offers student veterans and other military-connected students critical resources and support including help with admissions, GI Bill advising and certification, academic support and networking opportunities with local military-friendly employers.
Joshua Evans, coordinator of the UMSL Veterans Center and a veteran who spent 10 years in the military, helped facilitate the planning for Student Veteran's Week. UMSL Daily spoke with Evans about the importance of the event and what attendees can get out of the featured programming.
Why is Student Veteran's Week important?
It's important for two different reasons. One, the purpose is for the school to show its support of student vets. And then, to show that there are many positives, strengths and benefits of having student veterans on campus.
What are some things attendees can expect to get out of events throughout the week?
The Triton Vets are bringing in the DAV – the Disabled American Veterans Organization. They can discuss what it looks like to put in VA claims for disability compensation and also discuss whatever else the DAV may offer in terms of support.
UMSL Veterans Center partnered with Career Services and is providing the workshop, "Demilitarize Your Resume," looking at how you can translate that military language and experience to the civilian side. How does a veteran look at their military experience and know what civilian employers want from it?
In the "Lunch with Jim" workshop, Jim Craig will discuss his research project regarding the Global War on Terrorism memorial and get feedback from attendees on veteran memorials in general.
What are some ways veterans enhance the university experience?
The experiences from the military – traveling the world and interacting with different cultures – provides a different perspective on things in the classroom. If there's someone who spent four years doing supply chain in the military, they come to a classroom in the supply chain program, they bring that with them to share with other students and faculty. That practical knowledge only makes the educational experience better.
What are some of the main functions of the UMSL Veterans Center?
We're central to making sure the students are getting paid on time by the VA in submitting those certifications that a school is required to. That is the No. 1 service we provide. We serve as a central hub for all of our military-connected students so they can get whatever support they need, and we work to connect them to UMSL so they build that investment into the campus. We make sure they understand what the campus has to offer, and we do some other things that are not student facing, such as VA compliance. These are the primary functions of our office.
How well does UMSL support its veteran students?
I have interacted with many schools across the country in terms of their school certifying officials, which is one of the roles I hold here. One thing I can say for sure is that UMSL does very well. We have a lot of policies and rules in place that allow us to effectively support our veterans in a way that is above and beyond what I have seen in many other institutions – ways that we can decrease the stress on the students so they can focus on the classroom.
Here is a list of events planned for Student Veteran's Week.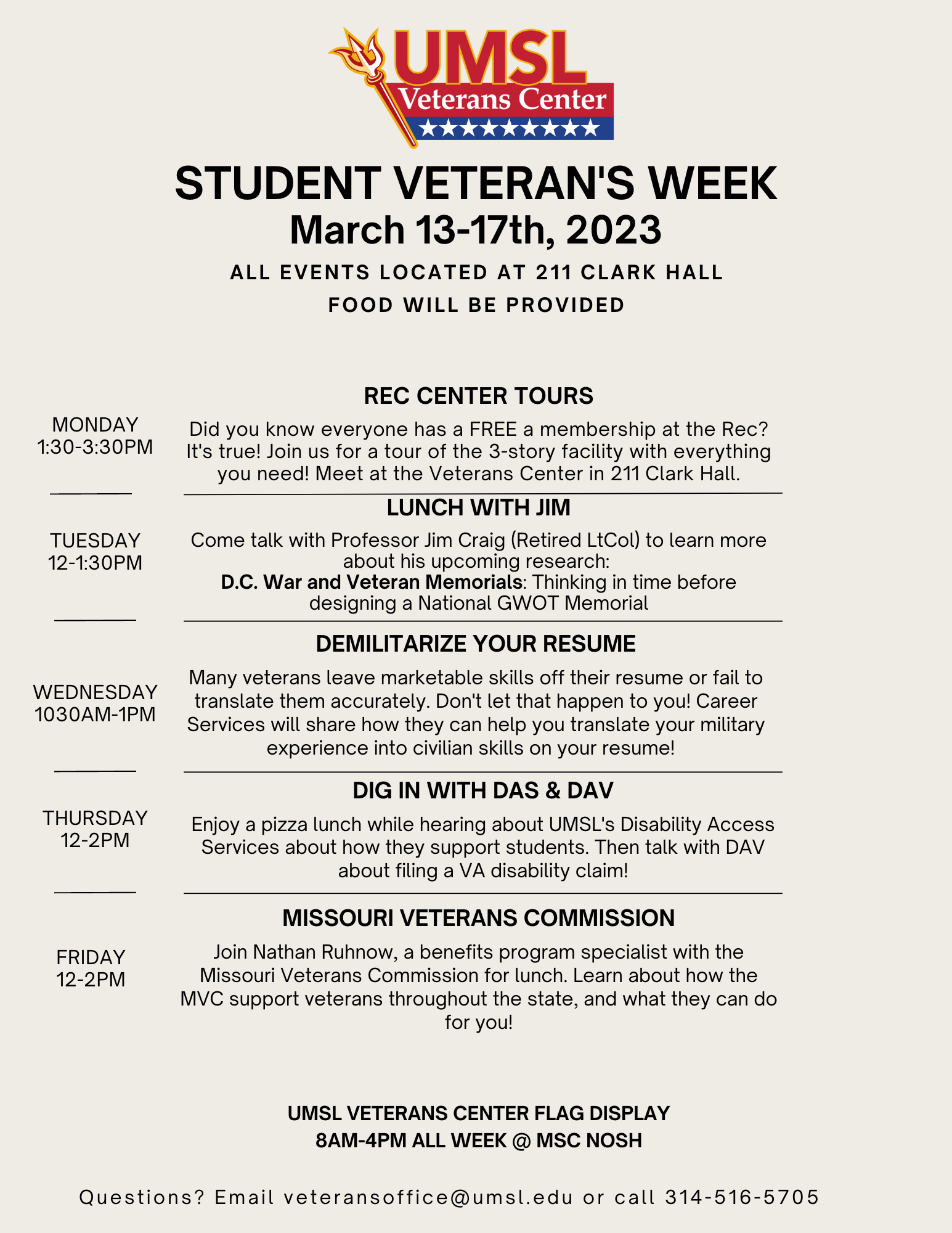 Short URL: https://blogs.umsl.edu/news/?p=97281