Media Coverage: May 2023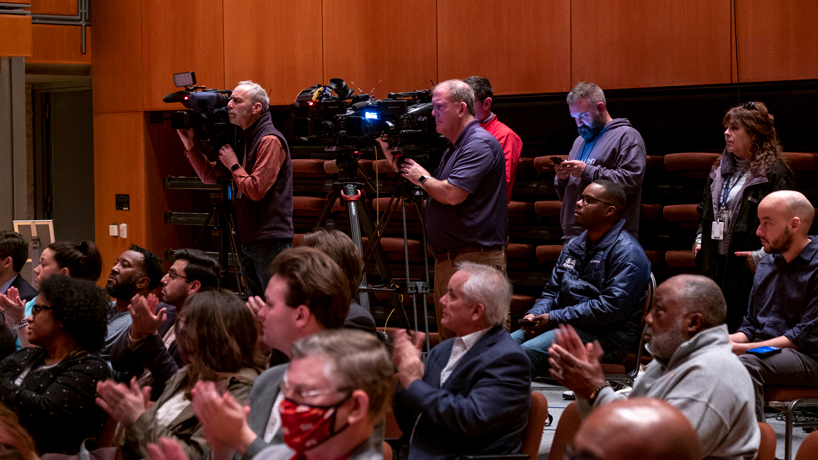 The University of Missouri–St. Louis makes a significant impact on the St. Louis area. Stories about the university, its scholars and their expertise are often covered by local and national news media.
Media Coverage highlights some of the top stories but does not serve as a comprehensive listing. Notice a clip we missed? Email us at umsldaily@umsl.edu.
Featured stories:
Associate Professor Emeritus of Marketing Haim Mano found himself in demand as reporters at the St. Louis Post-Dispatch and KSDK reached out to discuss the legacy of Becky Rothman, the famed "Queen of Carpet" and a beloved icon of St. Louis advertising, upon news of her death at the age of 67.
The St. Louis Post-Dispatch noted the appointment of Andrew K. Balkansky, a longtime faculty member and administrator at Southern Illinois University Carbondale, as the new dean of the College of Arts and Sciences. Balkansky was chosen after a nationwide search and will assume his new position on July 1. Balkansky will be leading UMSL's largest college, with disciplines spanning the arts, humanities and sciences. Priorities include meeting enrollment and retention targets, while continuing to provide essential research, training, and internship experiences for students in the St. Louis metropolitan area.
The feel-good story of Michael Block, former Tritons golfer and current PGA Championship contender, garnered attention from several media outlets including the St. Louis Post-Dispatch, the Wall Street Journal and Yahoo Sports. Block, who played golf at the University of Missouri–St. Louis during the 1996-97 season, captured the attention of the country during the final round of the PGA Championship at Oak Hill Country Club in Pittsford, New York. On the 15th hole, Block hit the shot of the tournament – a 151-yard hole-in-one with a 7-iron.
Media coverage:
Abigail Ant, future Tritons golfer
Anchorage Daily News: Anchorage track standouts among latest Alaska high school athletes committed to competing in college
Bobby Boxerman, criminology and criminal justice doctoral student
St. Louis Post-Dispatch: Sultan: Is it safe to take children to Cardinals games?
Washington Times-Herald: Is it safe to attend a downtown baseball game?
Jill Bernard Bracy, associate teaching professor and director of the Supply Chain Risk & Resilience Research (SCR3) Institute
St. Louis Public Radio: St. Louis' economic future requires a lot more trained workers and fast
Gloria Carter-Hicks, criminology and criminal justice alumna
The St. Louis Post-Dispatch: Gloria Carter-Hicks named a Civil Service Commissioner
Nicole Colbert-Botchway, business alumna
St. Louis Post-Dispatch: Holleman: Here are more possible successors to St. Louis prosecutor Kim Gardner
Anthony D'Agostino, public policy and administration alumnus
St. Louis Business Journal: Peter & Paul Community Services names next CEO
Perry Drake, associate teaching professor of marketing
St. Louis Post-Dispatch: A-B marketing reputation takes a huge hit with Bud Light misstep
Jerry Dunn, clinical professor of psychology and executive director, Children's Advocacy Services of Greater St. Louis
KMOX Radio: May is Mental Health Awareness Month
Trilce Encarnación, supply chain student
Eureka Alert: Don't call it panic buying if it's rational
Beth Goetz, former Tritons women's soccer coach
Hawkeyes Wire: Who is Beth Goetz? Meeting Iowa's potential next AD
James C. Gray, chaplain for the Catholic Newman Center
St. Louis Review: Clergy appointments 2023
Liz Haberberger, education alumna
St. Louis Business Journal: Local business coach teaches how to win friends and influence people, and still has time for ninja warrior training
Ella Hickman, future Tritons soccer player
RiverBender.com: Ella Hickam Leading Warriors To Great Season – Is A Stillwater Senior Living Athlete Of The Month For Granite City
Kyle Jakubeck, accounting alumnus
CPA Practice Advisor: AICPA Recognizes Top 2022 CPA Exam Performers with Elijah Watt Sells Award
Me'Kayla La'Shea Jones, psychology student
The St. Louis American: Mom-daughter duo educate world on perseverance
Dan Lauer, business alumnus and founder of UMSL Accelerate
St. Louis Business Journal: Dan Lauer, who led UMSL's entrepreneurship program, joins Lindenwood in new role
Roberta Lavin, former professor and associate dean of academic programs in the College of Nursing
USU News: USU Nursing Ph.D. Graduates Make "Profound Impact" in Nursing Science
Caleb Leach, future Tritons cross country runner
Cassville Democrat: Leach, Sanders, Arguelles make college selections
Danielle N. Lee, biology alumna
Ada Lovelace Day Weekly on Substack: Prof Danielle N Lee, Behavioural Ecologist
Warren Morgan, education alumnus
Cleveland.com: Warren Morgan named next CEO of Cleveland Metropolitan School District
Spectrum News 1: Cleveland Metropolitan School District announces new CEO
WMMS: Cleveland Board of Education Names Dr. Warren G. Morgan as CMSD's next CEO
Cin Lam Mung, cybersecurity student
24Hip-Hop: Burma's Rising Star Key Mung Makes Waves in the Music Industry with His Captivating Melodies and Soulful Voice
Ted Olguin, education alumnus
The Antelope Valley Times: L.A. County Assessor names public affairs chief of staff
The LA Post: LA County Assessor Prang names public affairs chief of staff
Jessica Ponder, accounting alumna
Lincoln News Now: Cuivre River Electric Cooperative appoints Vice President of Accounting and Finance
Sierra Pryor, former Tritons basketball player
Sullivan Independent News: Where are they now? … Sierra Pryor
J. Martin Rochester, Curators' Distinguished Teaching Professor Emeritus of Political Science
St. Louis Jewish Light: What to make of Tucker Carlson — and other journalists today
Jaqui Rogers, education alumna
St. Louis American: Jaqui Rogers named to board of Pedal the Cause
Richard Rosenfeld, Curators' Distinguished Professor Emeritus of Criminology and Criminal Justice
FactCheck.org: FactChecking Ron DeSantis' Presidential Announcement
Illinois Business Journal: Greater St. Louis, Inc., Regional Business Council report calls for regional strategy to reduce homicides in bi-state metro
KMOV: Business leaders tackle homicides as St. Louis region's number one priority in new report
KSDK: 'It's the best of both worlds' | St. Louis expert says homicide reduction strategy appeals to all political views
KSDK: Bi-state leaders start on plan to address St. Louis' crime problem
KTVI: Regional leaders push for cooperation in effort to reduce crime
Longmont Leader: How does police spending impact crime in Longmont?
Nine PBS: Donnybrook Next Up: May 18, 2023
Spectrum News: Missouri Gov. downplays potential state control of SLMPD, as legislative session nears end
Spectrum News: Reducing homicides 'top priority', business groups ask elected leaders for regional approach
Spectrum News: Expert: Don't wait for 'kumbaya moment' for solution to violent crime in St. Louis region
St. Louis Business Journal: Set homicide reduction targets, business groups urge St. Louis' elected leaders
St. Post-Dispatch: 'An outlier': Business leaders call for regional plan to cut St. Louis' murder rate
St. Louis Public Radio: St. Louis police could return to state control. Kansas City's mayor is sounding the alarm
Robert Sharp, research fellow with the UMSL Geospatial Collaborative
Trajectory: Fostering Growth Around Next NGA West
Phyllis Smith, education alumna
KTVI: 10 years after 'The Office' finale, a look back at many St. Louis connections
Bryan Spencer, education alumnus
Louisiana Press Journal: Former State Rep. Spencer selected as Louisiana city administrator
James V. Shuls, associate professor of education
Columbia Daily Tribune: Banning Books? Everyone is a Censor
Todd Swanstrom, the E. Desmond Lee Endowed Professor of Community Collaboration and Public Policy Administration
St. Louis Post-Dispatch: Swanstrom and Powers: St. Louis needs to invest in home repairs
Amy Vandevender, business alumna
Leader Publications: Fox C-6 to bring in new chief financial officer
Cassandra Walker Suggs, education alumna
Leader Publications: Rockwood names Suggs director of educational equity and access
Michael Ward, education alumnus
KSDK: Former BJC healthcare leader named Lifetime Achiever for his work in radiology, nursing education
The St. Louis American: Dr. Michael Ward named Lifetime Achiever in Health Care
Luigi Wewege, business and finance alumnus
Finextra: Optimism For US Tech and Fintech Industries Despite Mass Layoffs
Maura Wuellner, former associate director of advancement
The Alton Telegraph: Wuellner's volunteerism spreads throughout the Riverbend
Other news:
Accesswire: Scale VC Closes Fund II, Anchored by University of Missouri System and Shelter Insurance
The Alton Telegraph: Phi Kappa Phi inducts Riverbend residents
The Alton Telegraph: Miles Davis Festival set for June 3
Bryant News: International Business Team places 3rd in national Case Competition
Business Wire: World Chess Hall of Fame to Premiere Two New Exhibitions Showcasing Chess' Influence on Music and Literature
California Democrat: Health center starting naloxone program
The Center Square: University of Missouri adopts tuition plan to end disparity in course fees
City-County Observer: UE Archaeology Students to Travel Internationally for Summer Excavations and Internships
Columbia Missourian: UM curators approve differential tuition rates
Construction Forum STL: Addressing the Source of the STL Region's Challenges — Once and For All
The Department of Education: Biden-Harris Administration Announces Nearly $100 Million in Continued Support for Mental Health and Student Wellness Through Bipartisan Safer Communities Act
Digital Journal: The Future of Adult Education Market size is growing with an anticipated CAGR rate 7.2% for period 2023-2030.
Directions Magazine: Taylor Geospatial Institute Announces Inaugural Class of TGI Fellows
EIN Presswire: New instructor fund serves university consumer product safety education management programs
Eurasia Review: Collapse Of The Russian Empire's Main Historical Pillar? – Analysis
Kirksville Daily Express: Missouri Digital Asset Map inventories publicly available digital tools
KMIZ: Narcan distribution program to be voted on at Monday's City Council Meeting
KMOV: Therapy dogs visit UMSL campus before finals week
KMOV: USDA building food safety lab in Normandy
KRCG: Columbia City Council to approve marijuana sales tax and Narcan distribution program
KSDK: The St. Louis Symphony Orchestra looks ahead to next season
KTVI: Several Missouri universities share new tuition plans
KTVI: We are tapped out today with the Spring to Dance Festival
Milwaukee Independent: Medical experts highlight need for better access to opioid rescue drug naloxone to save lives
The Missouri Independent: Lawmakers pack Missouri budget with earmarks for local agencies, building projects
National Geospatial-Intelligence Agency: Remarks as prepared for Vice Adm. Frank Whitworth , Director, National Geospatial-Intelligence Agency for 2023 USGIF GEOINT Symposium
Newswise: Taylor Geospatial Institute Announces Inaugural Class of TGI Fellows
Parents Talk Back: The More Shocking Stats in Teen Anxiety Data
Pet Insight: Purina's Therapy Dog Visits Help Manage Student Stress Before Final Exams
PR Newswire: Purina goes back to school with therapy dog visits to help manage student stress before final exams
Pulse 2.0: Scale VC Closes Fund II With $5 Million In Commitments
Red Latina St. Louis: The "Cinco de Mayo" festival on Cherokee Street has degenerated to "Drinko de Mayo"
The Riverfront Times: B Juiced Adds a Health Food Option to Downtown Ferguson
Sensors & Systems: Taylor Geospatial Institute Announces Inaugural Class of TGI Fellows
Startland News: Scale VC launches Fund II with $5M investment led by UM System, Shelter Insurance
St. Louis Business Journal: Regional officials agree to craft strategy to reduce homicides
St. Louis Business Journal: USDA to break ground on replacement $115M food safety laboratory, at site of former St. Louis County convent
St. Louis Jewish Light: The 2023 St. Louis Summer Arts Guide
St. Louis Magazine: Addressing the source of the St. Louis region's challenges—once and for all
St. Louis Post-Dispatch: Photos: Purina employee dogs help relieve stress at UMSL ahead of finals
St. Louis Post-Dispatch: Stars align for SLSO to present a do-over of 'Damnation of Faust'
St. Louis Post-Dispatch: Missouri lawmakers send $50 billion spending plan to governor's desk
St. Louis Post-Dispatch: Sultan: The more shocking stats in teen anxiety data
St. Louis Post-Dispatch: Memphis ballet company reflects diversity of Spring to Dance Festival
St. Louis Post-Dispatch: New USDA food safety lab breaks ground in Normandy
St. Louis Post-Dispatch: St. Louis County Children's Service Fund Invests $150 Million in 72 Local Mental Health Organizations
St. Louis Public Radio: Legal advice at St. Louis County libraries helping keep people out of jail
Teknovation.biz: New fund launched to support U of Missouri student start-ups
Vision Monday: Optometry Schools, Graduation Season and a New Class of ODs
Woman's Day: Memorial Day Weekend Events Around the U.S.

Short URL: https://blogs.umsl.edu/news/?p=98591