Media Coverage: July 2023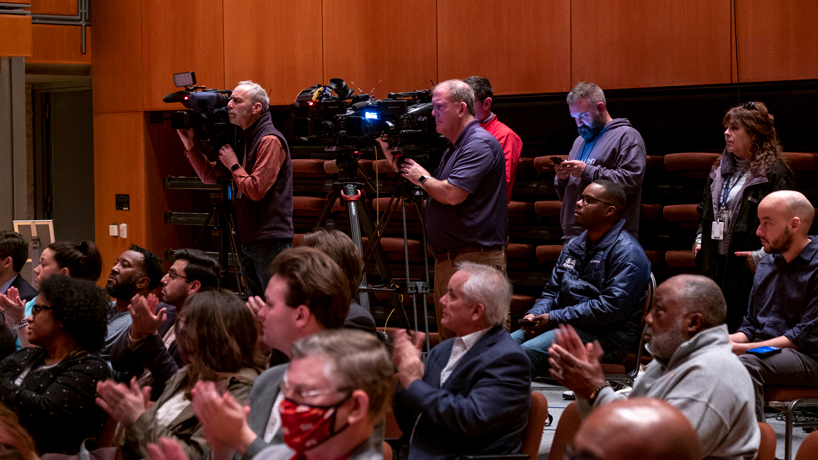 The University of Missouri–St. Louis makes a significant impact on the St. Louis area. Stories about the university, its scholars and their expertise are often covered by local and national news media.
Media Coverage highlights some of the top stories but does not serve as a comprehensive listing. Notice a clip we missed? Email us at umsldaily@umsl.edu.
Featured stories:
KCUR and St. Louis Public Radio tapped Anita Manion, assistant professor of political science, to comment on Missouri's extension of Medicaid postpartum benefits to new mothers. Manion said this has long been an issue that Democrats have expressed concerns over, and that Republicans in Missouri are following a national trend on reframing what it means to support families. She also noted passing these policies could be motivated by political parties wanting to capture the vote of suburban women.
The St. Louis American featured Eboni Sterling, a three-time graduate of the UMSL College of Education, who was named the new director of research and evaluation at Area Resources for Community and Human Services (ARCHS). The organization funds and strategically enhances initiatives that improve the lives of children and families facing disparities and disadvantages in St. Louis' most resource-deprived communities.
Outlets such as the Tennessee Tribune and Because of Them We Can covered Maria Ellis, a music education alumna, and her debut at Carnegie Hall. The choral conductor travels all across the country performing and teaching students. She focuses on making education accessible, hoping to help Black youth, especially young Black girls, learn to read music, where previously they've only learned music foundation by ear.
Media coverage:
Jack Anderson, former professor of accounting
Madison.com: At the piano, Donna Anderson gives back
Scott Biondo, criminology and criminal justice alumnus
St. Louis Jewish Light: Security expert Scott Biondo forges ties, helps keep Jewish community safe
Macie Brahm, optometry student
Eyecare Business: CooperVision Awards 23 Students with Contact Lens Award Scholarships
Tove Brunell, Tritons golfer
BVM Sports: UMSL's Brunell Named GLVC Scholar-Athlete for Women's Golf
Perry Drake, professor of marketing
St. Louis Post-Dispatch: Letter: Post-Dispatch photographer captures best of city's sports
Daniel Ethakoti, optometry alumnus
Digital Journal: Erker's Fine Eyewear Welcomes Dr. Daniel Ethakoti to Their Team
Digital Press Network: Eye Roc Eyewear Welcomes New Lead Optometrist Dr. Daniel Ethakoti
Thomas Eyssell, director of UMSL Financial Planning programs
KTVI: St. Louis County discusses property tax relief for seniors
Regina Faden, history and museum sciences alumna
The Dallas Express: North Texas Museum Selects President
Fort Worth Report: Fort Worth Museum of Science and History names new president
Sherry Fantroy-Ross, operations manager in the dean's office
The St. Louis American: Sherry Fantroy-Ross receives UMSL Hero Award
Amal Hagisufi, education alumna
Times of San Diego: Opinion: Three Reasons Why Gen Z Women Should Consider a Financial Planning Career
Denae Howard, accounting student
PCAOB: 369 Students Named PCAOB Scholars for the 2023-2024 Academic Year
Val Joyner, communications alumna
The St. Louis American: Val Joyner named director of communications for housing authority
Angela Kearns, social work alumna
Daily Journal Online: New chief operating officer announced at Great Mines Health Center
David Klinger, professor of criminology and criminal justice
The Denver Gazette: Defense wraps up in trial of Fort Lupton officer who put woman in patrol car on train tracks
Robert Matonis, social work alumnus
St. Louis Post Dispatch: St. Louis remembers music superfan Beatle Bob; documentary on his life will resume
Amy Palmer, addiction science team educator
Columbia Missourian: Fentanyl epidemic is getting worse in Missouri with record numbers of overdoses
St. Louis Public Radio: Missouri's fentanyl epidemic is getting worse, with a record number of overdoses
Michael Pulley, English alumnus
USA Newshour: Michael Pulley announces the release of 'When All Else Fails'
VB Profiles: Michael Pulley announces the release of 'When All Else Fails'
Richard Rosenfeld, Curators' Distinguished Professor Emeritus of Criminology and Criminal Justice
Arkansas Democrat Gazette: Decline in homicides provides ray of hope in crime statistics
The Associated Press: New report points to homicide rate declines in US cities after pandemic-era spike
The Atlanta Journal-Constitution: Atlanta homicides are down for the first time in four years
Bearing Arms: Anti-gunners aim to enshrine gun control in Missouri's constitution
Consumer Affairs: Crime is both down and up in the post-pandemic era
Daily Journal Online: Missouri locals sidestep pro-gun lawmakers to put limits on firearms
KMOX News: 'Sensible Missouri' wants local control of guns
NBC News: Violent crime is down in U.S. cities but still above pre-pandemic levels, report says
The New York Times: Survey of 30 U.S. Cities Shows Nearly 10 Percent Drop in Homicides in 2023
Pittsburgh Tribune-Review: Murders down this year in Pittsburgh, many U.S. cities, report says
ProgramBusiness: Violent Crime Declines While Car Thefts Soar in H1 2023
St. Louis Magazine: Should the city ban the open carry of firearms by teenagers?
St. Louis Public Radio: 10% of felonies in Madison County come from Missouri residents. Is that a problem?
USA Today: Most violent crime is declining in the US after COVID-19 surge, while car thefts soar.
USA Today: Homicides are trending down, and we don't know all the reasons why. But do we need to?
The Week: Why is the murder rate dropping?
WPTV: Homicide rates are declining after pandemic-era surge
Yahoo! News: Homicides are trending down, and we don't know all the reasons why. But do we need to?
Sherri Sullivan, criminology and criminal justice alumna
Law News Today: Sherri Sullivan to retire as judge of Missouri Court of Appeals, Eastern District
Adriano Udani, associate professor of political science and director of the Public Policy Administration Program
Political Science Now: Webinar: Institute for Civically Engaged Research (ICER) Roundtable on Civic Engagement
Season Walker, political sciences alumna
St. Louis Record: Greensfelder, Hemker & Gale announces Greensfelder Debuts New Slip in Law Scholarship With Inaugural Recipient Season Walker
Rachel Winograd, associate professor of clinical psychology and head of the Missouri Institute of Mental Health Addiction Sciences team
KMOV: Substance users fall through the cracks as overdose epidemic rolls on
James Xu, business alumnus
PR Newswire: ThermoGenesis Expands Board of Directors with the Appointments of Dr. Biao Xi and Dr. James Xu
Keith Zoromski, history alumnus
Daily Journal Online: Mineral Area College welcomes Zoromski as provost
Other news:
Columbia Daily Tribune: These are the first recipients of Remington Williams Student Leader of the Year Awards
Construction Forum STL: Parson Directs Another $20M for UMSL Campus Master Plan Transformational Projects
Construction Forum STL: Mia Rose Holdings Adds New Role of Chief Financial Officer
Construction Forum STL: Eye on UMSL: Make Room For the Future
Current: St. Louis Public Radio staffers form union after successful vote
EIN Presswire: Risk and Crisis Management to be Featured in University Product Safety Conference
EIN Newswire: Rebecka Jackson and Turiya Magadlela in 'When Angels Speak of Love' at Triangle Loft
InsideRadio: St. Louis Public Radio Votes To Unionize.
KMIZ: Central Missouri offers a glimmer of hope amid growing drug overdose numbers
KMIZ: University of Missouri to phase out Printing Services; stores to stay open
KMOV: 50th anniversary of Ozark Airlines crash to be marked with memorial service
KSDK: St. Louis American publisher Donald M. Suggs elected to Missouri Press Hall of Fame
KSDK: 50 years after deadly Ozark Air Lines Flight 809 crash, memorial honors survivors and victims
KTVO: Missouri high school athletes given green light to profit from their name, image & likeness
Ladue News: Inside UMSL's state-of-the-art campus transformation project
Live Action: New college program for people with disabilities was the brainchild of a special needs dad
Prevention: How to Boost a Low Sex Drive, Including Easy Lifestyle Changes That Work Fast
PRLog: Chamber Music Society of St. Louis Celebrates 15th Anniversary
Riverfront Times: St. Louis Public Radio Reporters Unionize
Sensors & Systems: SLU, TGI Researcher Enbal Shacham Named to USGIF Board of Directors
Spectrum News: St. Vincent Greenway to connect residents to Metro Transit, neighborhoods, trails
Springfield Business Journal: Opinion: New study might be catalyst for gender parity on civic boards
The St. Louis American: St. Louis American publisher Donald M. Suggs elected to Missouri Press Hall of Fame
St. Louis Business Journal: Workers at St. Louis Public Radio approve unionization
St. Louis Business Journal: Gov. Mike Parson's vetoes slash millions for St. Louis-area projects
St. Louis Business Journal: Fire Awards 2023: Sentio Biosciences brings new drug to market, works on another while expanding operations
St. Louis Magazine: Pagedale: A template for moving all of St. Louis forward
St. Louis Post-Dispatch: St. Louis Public Radio becomes state's first public media union
St. Louis Post-Dispatch: Best Bets: Chris Stapleton, Snoop Dogg, Jeff Tweedy, Tori Amos, Post Malone and more
St. Louis Post-Dispatch:  Photos: Memorial remembers victims of Ozark Air Lines Flight 809 on 50th anniversary
St. Louis Post-Dispatch: July 23, 1973 • The worst plane crash in St. Louis history kills 36 people
St. Louis Public Radio: St. Louis Public Radio's news, programming and marketing employees vote to unionize
St. Louis/Southern Illinois Labor Tribune: Public Radio workers vote to form a union
Supply Chain Management Review: The changing face of supply chain executive education
University of Missouri System: UM System leaders thank Governor Parson and the Missouri legislature for historic funding increase
The Waterloo-Cedar Falls Courier: UNI's Upward Bound program gives high school students opportunity to experience college
Webster-Kirkwood Times: A Soccer Story
Yahoo! News: Collinsville's Catsup Bottle Festival and other town events happening this weekend

Short URL: https://blogs.umsl.edu/news/?p=99112