Media Coverage: September 2023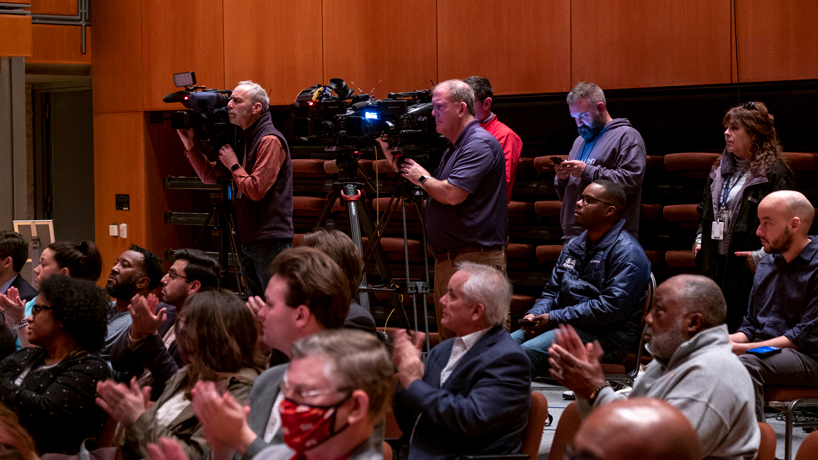 The University of Missouri–St. Louis makes a significant impact on the St. Louis area. Stories about the university, its scholars and their expertise are often covered by local and national news media.
Media Coverage highlights some of the top stories but does not serve as a comprehensive listing. Notice a clip we missed? Email us at umsldaily@umsl.edu.
Featured stories:
Steven Pursley, an UMSL political science alum, was recently named among Food & Wine's 10 Best New Chefs in America for 2023. Several local outlets such as the St. Louis Business Journal profiled Pursley after the announcement. Pursley owns Menya Rui, located at 3453 Hampton Ave., which he opened in April of last year. Menya, which translates to "noodle shop" in Japanese, serves six varieties of ramen in three different styles. Pursley spent part of his childhood in his father's hometown of Union, Missouri, while the rest was spent in his mother's hometown of Okinawa, Japan. He studied political science at UMSL, originally thinking he'd be a lawyer. But after deciding he wanted a new career path, Pursley opted to move to Japan where he took up work in multiple noodle shops to learn ancient ramen-making techniques.
KSDK and the St. Louis Post-Dispatch tapped George Zsidisin, the John W. Barriger III Professor of Supply Chain Management, to comment on the UAW strike and how it would affect the General Motors plant in Wentzville, Missouri. Of the strike, he said "Time is, in my opinion, the most valuable asset an individual or company can have. Once you lose out on that time for being able to produce those respective products for your customers, you can never get that back."
Maria Ellis, music education alum, spoke with STLMade about her education at UMSL and about Girl Conductor, a business she founded to teach music in a way that feels more authentic to her, incorporating elements of gospel, R&B and hip-hop to help kids understand different musical concepts.
Media coverage:
Vijay Anand, associate professor of information technology
St. Louis Post-Dispatch: Sam Page seeks $5 million for cybersecurity boost after hack this week
Michael Block, former Tritons golfer
Sportskeeda: Michael Block wins the SCPGA Match Play Championship, secures yet another PGA Tour event spot
Abram Brummett, philosophy alum
Oakland Post: Take 5: Abram Brummett, Ph.D., assistant professor, Department of Foundational Medical Studies
Darrion Cockrell, education alum
The St. Louis American: Darrion Cockrell receives recognition from UMSL
Trezette Dixon, education alum
The St. Louis American: Trezette Dixon now senior director at Business Diversity Initiative
Regina Faden, history and museum sciences alum
Fort Worth Inc.: Museum of Science and History's New President Has Fort Worth on Her Mind
Fort Worth Magazine: The Museum of Science and History's New President Talks About Her Plans
Joyce Farrow, education alum
Biz. Magazine: Nine LSUS professors receive endowed professorship appointments
Pops Jackson, former director for the David and Thelma Steward Institute of Jazz Studies
The St. Louis American: Pops Jackson named director at Jazz St. Louis
Michelle Kilper, communications alum
AgriMarketing: MACA names Michelle Kilper Ambassador of the Year
Sandra Langeslag, associate professor of psychological sciences
Riverfront Times: Serial Killer Gary Muehlberg Probably Knows More than He's Saying
Vance Lewis, optometry alum
Citybiz: Swagel Wootton Eye Institute Appoints Joshua Brozek and Vance Lewis to Ophthalmology Practice
Daily Independent: Swagel Wootton Eye Institute adds to eye care team
Anita Manion, assistant professor of political sciences
Brookings: Partisan policy preferences to improve teacher recruitment and retention
KSDK: 'The Record' to premiere on broadcast television in October
Mitch Millstein, professional practice professor of supply chain and analytics
KSDK:  Local UAW union to rally in Wentzville for a strong contract amid negotiations
KSDK: Ongoing UAW strike could have lasting impact on economy
Orinthia Montague, education alum
Essence: Tennessee Community College Mourns The Loss Of President, Dr. Orinthia Montague
Inside Higher Ed: Tennessee Community College President Dies
Tompkins Courtland Community College: College mourns death of former President Orinthia Montague
Brian Munoz, St. Louis Public Radio photographer
St. Louis Public Radio: STLPR's Brian Munoz named public media 'rising star' and wins UMSL Chancellor's Award
Sarah An Myers, psychology alum
Psychology Today: What Social Neuroscience Reveals About Schizophrenia
Kathy Osborn, education alum
The St. Louis American: Kathy Osborn a 'Champion of Education' for STL region
Joycelyn Pugh-Walker, education alum
The St. Louis American: 'Superhero' Dr. Joycelyn Pugh-Walker will receive a 2023 Stellar Award
Joey Randazzo, chemistry student
Daily Journal Online: Randazzo named student of the month
Rob Rollinson, assistant men's basketball coach
BVM Sports: University of Missouri-St. Louis Hires Rob Rollinson as Assistant Coach for Men's Basketball Team
Hoopdirt: Rollinson added to Missouri-St. Louis Basketball Staff
Richard Rosenfeld, Curators' Distinguished Professor Emeritus of Criminology and Criminal Justice
KARE-TV: Violent crime dropped 8.6% in Minnesota in 2022, although it remains higher than pre-pandemic levels
KSDK: Byers' Beat: Effort underway to make gun laws more local
KSDK: St. Louis homicide rate down through August
Red Latina: St. Louis homicide rate down through August
St. Louis Post-Dispatch: St. Louis anti-crime program costs millions. Was it worth it?
Yahoo! News: Rising crime in US capital divides politicians, puzzles researchers
Lawrence Sapp, Succeed student and Tritons swimmer
U.S. Paralympics Swimming: The Next Step For Lawrence Sapp? Taking On Collegiate Swimming At UMSL
U.S. Paralympics Swimming: Roundup: Elizabeth Marks Shares Her Invictus Games Journey
Andrew C. Stout,  access services librarian
Englewood Review: Isaac B. Sharp – The Other Evangelicals [Review]
Chris Sullivan, E. Desmond Lee Professor of Youth Crime and Violence
St. Louis Magazine: "Cops and clinicians" seems to be working
Sherri B. Sullivan, justice administration alum
St. Louis Record: Replacement announced for Eastern District Missouri Court of Appeals vacancy
Doug Swanson, coordinator of labor studies
St. Louis Post-Dispatch: Workers are trying to unionize in greater numbers than expected in the Midwest
Todd Swanstrom, the E. Desmond Lee Endowed Professor of Community Collaboration and Public Policy Administration
The Alton Telegraph: Repairing older homes will save lives
Matthew Taylor, associate professor of psychological sciences
St. Louis Business Journal: As pressure mounts on DEI programs, key players in St. Louis remain steadfast
Michael "Michi" Tobler, E. Desmond Lee Endowed Professor in Zoological Studies
Saint Louis Zoo: New E. Desmond Lee Endowed Professor in Zoological Studies at UMSL and Senior Scientist at Saint Louis Zoo
St. Louis Post-Dispatch: People in Business: PARIC promotes; MO Public Transit Board elects; St. Charles EDC promotes
Janet Wilding, assistant vice chancellor for economic and community development
St. Louis Post-Dispatch: People in Business: UMSL adds; United Way honors; St. Luke's hires; Vivent promotes
Other news:
BioSpace: Biopharma Career Fairs Make a Powerful Comeback
City Sentinel: Silencing is 'prevalent' — OU fares poorly on free-speech ranking
Commercial-News: DACC's annual College Day set for Thursday
Construction Forum STL: How St. Louis Could Become America's Comeback City
EIN Presswire: Product Safety Leaders Assist Industry in Meeting Crises that Affect Millions of Consumers. Nine Guidelines Defined
Episcopal News Service: Episcopal churches observe International Overdose Awareness Day with prayer services, Narcan distribution
Illinois Business Journal: S. M. Wilson & Co. to manage construction of Dawson Hall at Lincoln University
KFOR: UNL's Mid-American Transportation Center Receives $15-Million Grant
KMOV: Man injured in shooting at North County MetroLink Station
KOMU: US News releases college rankings for 2024. How do Missouri schools rank?
KSDK: Career Central: St. Louis County hosts Construction Expo; UMSL hosting internship fair
KTVI: Historic investment in Missouri's colleges, universities is helping retain students
KTVI: New study finds best value colleges in Missouri for 2023
KTVI: UMSL holding forum on creation of 'heat islands'
KTVO: Adair County Ambulance District shifts strategy to combat rising drug overdose deaths
Nebraska Today: Mid-America Transportation Center receives $15 million grant
News-Press NOW: County public health center offers free Narcan
Oklahoma Council of Public Affairs: Silencing is 'prevalent': OU fares poorly on free-speech ranking
The Source: Tyson observatory is WashU's dark sky site
St. Louis Jewish Light: Jewish "Beethoven specialist" coming to St. Louis for special show
St. Louis Business Journal: Women-owned businesses bring inclusion and flavor to St. Louis' business community
St. Louis Magazine: How St. Louis could become America's comeback city
St. Louis Post-Dispatch: Cure Violence helped cut violent crime in only 1 of 3 affected St. Louis areas, new study finds
St. Louis Post-Dispatch: UMSL celebrates 60th anniversary in a big way
St. Louis Post-Dispatch: Fall theater highlights include a St. Louis debut, an American debut and a world premiere
St. Louis Post-Dispatch: Classical music season in St. Louis heats up with SLSO, Cathedral Concerts and more
St. Louis Post-Dispatch: Sept. 15, 1963: The day UMSL was created
St. Louis Post-Dispatch: With Powell Hall under construction, SLSO takes its season on the road
St. Louis Post-Dispatch: Meet the STL Headliners: Education
St. Louis Post-Dispatch: Best Bets: Oktoberfest, Metro East Pride, Todrick Hall and a 12-foot puppet
St. Louis Public Radio: Civic boards and commissions in Missouri lack diversity, new report shows
St. Louis Public Radio: Food insecurity leaves some college students to rely on campus food pantries in St. Louis
St. Louis Public Radio: Powell Hall renovation has St. Louis Symphony Orchestra on the road this season
Times Standard: Classical concerts: Eureka Chamber Music Series kicks off new season
Webster-Kirkwood Times: Much To Look Forward To With St. Louis Symphony Orchestra

Short URL: https://blogs.umsl.edu/news/?p=99931