#MDMC17 Through Students' Eyes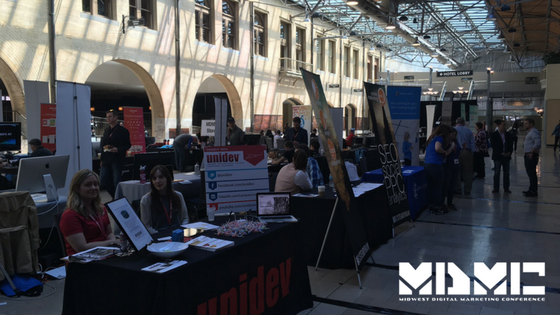 On April 12-13, 2017, UMSL hosted the Midwest Digital Marketing Conference (MDMC17), for the 5th year in a row. From Under Armor to Pinterest, speakers from companies all over the US gave their insights on the digital and social media marketing world as they see it. The conference was open for both professionals working in this sphere, as well as students making their first steps in marketing.
Day 1 was full of activities from the Networking and Professional Development Fair, where attendees could talk face to face with some of the companies that were presenting later that day, to various sessions and MDMC Opening Keynotes. As the evening approached, Momentum Worldwide held an opening night party, where attendees were invited to come to chat with each other and try out new widgets in a relaxing environment. Day 2 offered 52 concurrent sessions for the public to choose. UMSL Business had the opportunity to speak with some of the students who were able to attend this year's MDMC, and get their impressions.
This blog originally appeared on UMSL Digital Mindshare. Click here to read the full story.