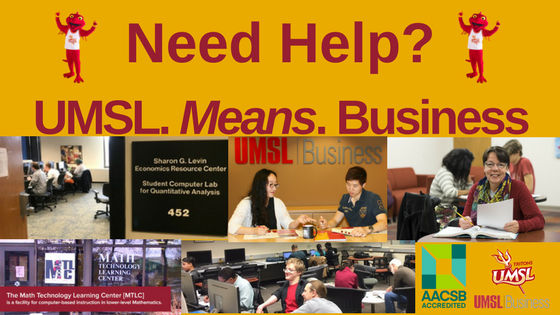 UMSL Tutoring and Lab Services For Business Students  
By: Chris Copithorne
The University of Missouri – St. Louis (UMSL) offers business students different types of resources to ensure student success. One of the best features they offer is tutoring programs and labs for students from all business-related majors. Specifically, these majors include: Accounting, Finance, Supply Chain and Analytics, and Information Systems. There is also a Writing Center and a Math Academic Center available, both located in 222 SSB.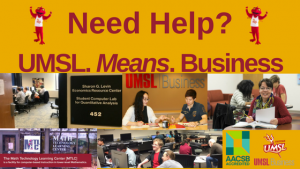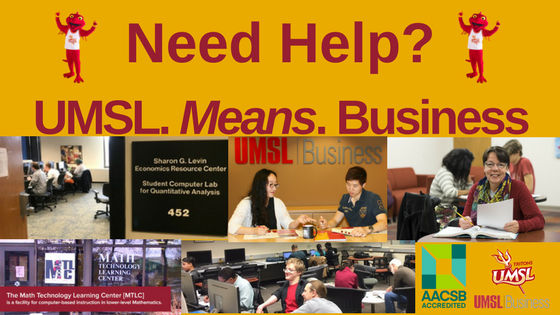 ---
Math and Writing Centers are probably the most well-known by students, but many other fields are just as valuable and should be taken advantage of by business students. For instance, the Finance Lab for Bloomberg Terminal Use is something every student should get themselves familiar with. It is a new feature offered to business students on the first floor of the new business building – Anheuser Bush Hall. Bloomberg Terminal is a software which helps monitor financial data in real-time. This resource offers the opportunity for real-world experience, especially for those who plan to pursue a career in finance.
Tutoring outlets and resources meet the dynamic needs of business students studying in a variety of fields at the undergraduate and graduate level. For instance, an undergraduate business student working on pre-requisite courses in Economics could take advantage of the Economics Resource Center (ERC) located in 452 SSB. Moreover, students can improve their understanding in other technical disciplines like: Mathematics/Writing (222 SSB), Accounting (006 ABH), Management Information Systems (200 ESH), and Supply Chain (002 ABH) in their respective tutoring Centers. All of these tutoring services function on a walk-in basis, but the writing center does require an appointment to receive assistance. This is due to the ambiguous time requirements which is necessary to accurately review, evaluate, and guide a student on a writing assignment. For additional information concerning hours of operation for Tutoring services in Business, please click here.   
Conversely, if you have the ability to help others in these subjects, you can become a tutor. Oftentimes these boast a high degree of flexibility regarding the tutor's class schedule. These coveted positions are usually given to students who have demonstrated the highest level of proficiency in the courses that they tutor. Prospective business students who need help from a tutor should feel assured in knowing that they are working with the best and brightest in the UMSL Community. Tutors are usually hand-picked by department heads and leaders who look for patient and intelligent students to fill these roles.
Clearly, the tutoring program at UMSL is something that provides huge benefits to all parties involved. It is the hope of the College of Business that students and tutors will cultivate long-lasting relationships through common career interests in the field of business. These relationships often lead to additional networking opportunities through business clubs and organizations within the UMSL community. Tutoring services are meant to serve the needs of business students and augment current efforts in their respective courses. To make the most out of tutoring services, students should come prepared with specific questions on practice problems or assignments. The overall difference tutoring services can make is profound, as students exceed and achieve their academic goals.
---