Looking for a Job? You're Doing it Wrong!
By Kalynn Clinton
So, you've finally graduated, you've got that coveted piece of paper, and now it's time for you to find your first "real" job. Or maybe you're feeling suffocated in your current role and you're looking for a change. Whatever the reason, and whatever point in your career you're at, if you're looking for a new position, I can guarantee that you're probably missing one critical tool in your search: a digital portfolio.
What is a digital portfolio you ask? It's an online collection of professional items that demonstrate who you are, the work you've done, and what your career goals are. Now you might think that it sounds pretty similar to your resume, and once again, you'd be wrong. A digital portfolio is so much more: it's interactive and engaging and has much more depth. You could call it your secret weapon, your ultimate resume.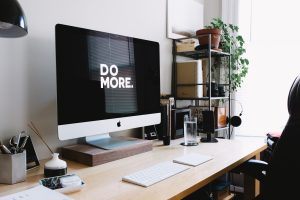 There are several benefits to creating a digital portfolio. Use it to your advantage to
Carve out your professional brand
Help you remember what you've done
Maintain an easily accessible and lasting record of your work
Distinguish yourself from other job seekers
In today's highly competitive career climate, a great digital portfolio will make you stand out from the hundreds or even thousands of people who are applying for the exact same position as you; it can make all the difference in you getting a job or not. Imagine if, instead of handing in a plain old resume and cover letter, you could share a link with recruiters and hiring managers with real examples of your work: case studies, models, research, designs, tools, etc. Showing is always better than just telling.
The beauty of it is that you can completely customize it to your individual preferences and cater it to the needs of the company you're applying to. If the job description says, "must have excellent written communication skills," your portfolio should include articles, blog pieces, and other pieces you've written. For areas like finance or accounting, you can embed an Excel sheet with different examples of working financial models. Especially for fields like marketing and graphic design, a digital portfolio is not even optional, it's a must have. You can include photographs you've taken, art and images you've designed, and showcase your video production and editing skills.
Digital portfolios are becoming the norm as more and more people are ditching traditional resumes. But even now, they are not as common as you might think. That's why you need yours now, to be ahead of the curve and up on the trend before everyone else. Don't underestimate the power of a digital portfolio! Don't make this rookie mistake! Follow these tips to make yours today!