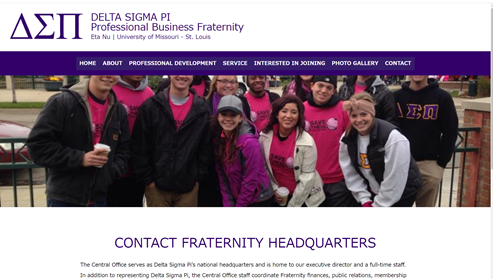 Have You Heard of the Business Fraternity at UMSL?
By Tomotaka Iguchi
Are you familiar with a business fraternity called Delta Sigma Pi?
Delta Sigma Pi is one of the largest professional business fraternities with multiple chapters and brothers across the globe. It was founded in New York in 1907 and now consists of over 250 chapters worldwide. Brothers are able to network with other members in different countries and help each other further their respective careers! The fraternity prides itself for its diversity, especially with its multiple international members.
University of Missouri- St. Louis' chapter, Eta Nu, has members from various countries, such as Palestine, Africa, Mexico, Colombia, and Bosnia and Herzegovina. In addition, Eta Nu has a ratio from men to women of 1:2, so it is not a fraternity limited to male students or students from the States. The fraternity is open to and welcomes all students who want to take part in it!
The fraternity's mission is "to foster the study of business in universities; to encourage scholarship, social activity and the association of students for their mutual advancement by research and practice; to promote closer affiliation between the commercial world and students of commerce; and to further a higher standard of commercial ethics and culture and the civic and commercial welfare of the community."
Another core value of the fraternity is developing your leadership skills for their future career. While members have the opportunity to be a leader either at a national level or chapter level, they have an event called LEAD which represents Leadership and Excellence Academies for Deltasigs. That includes networking opportunities such as sessions and materials. You can strengthen your educational and professional skills other than leadership skills.
Brothers can help each other develop their professional skills, such as networking and resume building, by being a part of Delta Sigma Pi. The fraternity holds many exclusive events, such as bringing in guest speakers, professors and successful businessmen, and conducting workshops. Delta Sigma Pi also attends various conferences and career fairs. The fraternity does fun activities to promote team building and cooperation skills like joining the Gateway Regional Kickball Tournament. Along with all of this, brothers can assist you with internship and full-time career placements!
You can take a look at their website as well as Instagram and Facebook in order to know upcoming events and get other updates. Moreover, they recruit members in the first two or three weeks of a semester, and they have a table at the MSC Bridge and Fall/Spring Student Organization Expo.
Click here to contact them if you are interested in joining or have any questions for them!