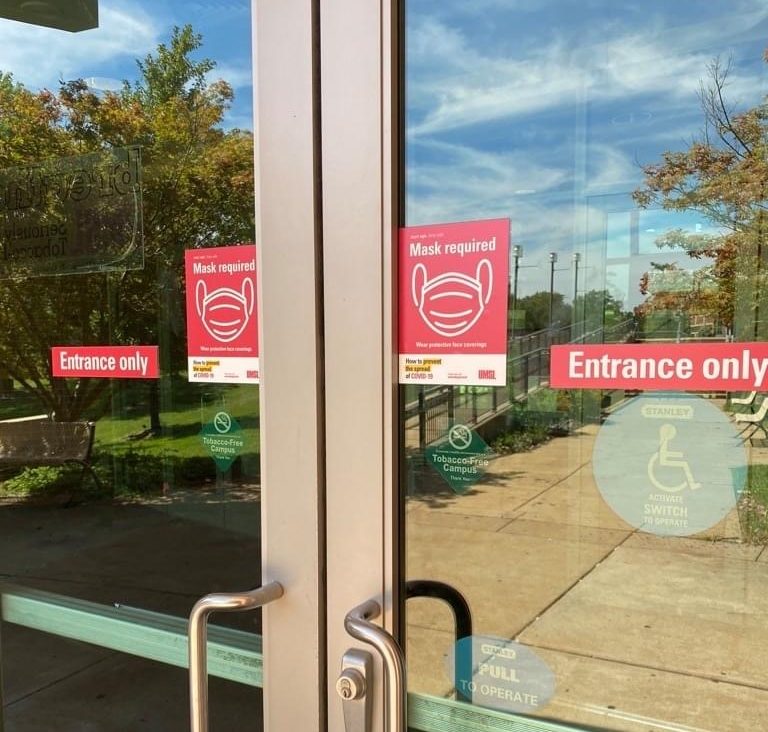 UMSL's Response to COVID-19
By Tori Foster
Ever since March, we have been trapped in a bubble…. meaning our homes of course. The government and public officials told us to quarantine and to social distance as much as possible. 
March is the same month when students were told to move back home if possible and vacate the University of Missouri-St. Louis. After months of quarantine and many precautions, UMSL has reopened its campus to students. UMSL has been working hard to ensure no student is getting left behind in this pandemic. Currently, the University is implementing strict guidelines on the reopening of campus. 
When speaking with Dr. Perry D. Drake, Department Co-Chair & Associate Teaching Professor of Marketing, he spoke out his perspective on COVID-19 and the effects it has on remote- learning within the College of Business. Below are his answers:
How do you feel about the current community and health guidelines that have been in place by UMSL?
A: I feel very confident in the guidelines and procedures that UMSL has put in place to ensure the safety of all students, faculty, and staff. The campus actually created a group called
Unified Command
that involves many different people from across campus. It has been in place since the initial shutdown last spring. They help oversee and see the COVID policies that we all use.
In addition, I am on a committee that approves various on and off campus events for students and departments. Again, ensuring the safety of all involved. For example, we recently approved an event for a fraternity that desired to go to the zoo as a group of 15. The trip to the zoo was approved as long as they guaranteed the use of social distancing and facemasks while enjoying themselves. 
What do you like and dislike about the transition to online/remote learning?
A: What I like is the ease for which everyone can attend classes using technology. It makes it somewhat convenient. I am finding attendance very good for synchronous classes.
I am also the faculty advisor for the marketing advisory board. With
Zoom
we are getting close to 100 percent attendance of our executive at our meetings now. Before it might have been tough for our busy executives to get away from the office to come to campus for a board meeting.
I also see this benefiting the
mentoring program
as well. Again, allowing better participation by our executives may not have been able to play a role before.
What I do not like is the lack of interaction. It's just so much harder to engage with large classes online and judge their level of understanding of content. Which is easy to do face-to-face.
How has the new learning model affected your personal lifestyle?
A: It really has not. I just miss the students and interacting with them. That is tough for me. And I am sure for the students as well.
How is this going to impact your students' summer (or post-college) job search?
A: Job-hunting will be more difficult simply due to the worsening economy. Not as many opportunities that will be had. Interviewing will still be the same, just remote. But, the competition will be fiercer.
With over half a semester left, there are still a lot of questions left unanswered. Like, 'is graduation virtual?,' 'When are things going to return back to normal?,' 'Will all of our classes be completely online next semester?' The answer is still unclear, but to stay up-to-date on UMSL's efforts to keep students, faculty, and staff safe visit UMSL's Wellness and Recreational page on COVID-19 Updates and Information.