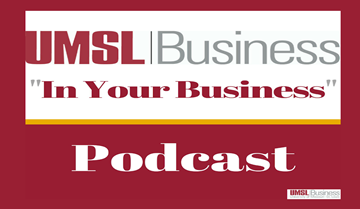 UMSL's "In Your Business" Podcast Series
By: Danielle Boland
"In Your Business with UMSL Business"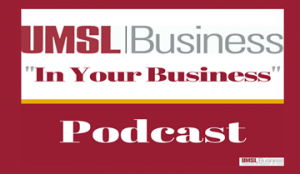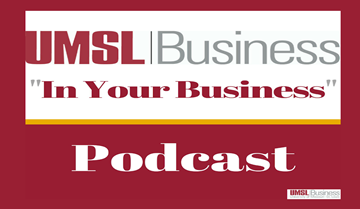 About MKTG 3722
This spring semester's Marketing 3722 course allows enrolled students to gain knowledge and hands-on experience with digital media marketing strategies. The students of this course create and share podcasts targeting students involved in UMSL's College of Business Administration.
What is "In your Business"
The "In Your Business" podcast series is all about how UMSL faculty, staff, alumni, board members, students, as well as other St. Louis entities and events positively impact the region. This semester's podcasts focus on a new podcasting series called "5 Years Forward". In this new series, there is a focus on different aspects of business as well as discussing these topics with industry experts such as professors or other highly qualified individuals within each topic.
What is podcasting and why is it important?
Podcasting growth has continued to rise over the past few years. Did you know that 20% of people have bought a product or service after hearing about it on a podcast? Brands are using podcasting more than ever before as a marketing channel to attract new customers. Although this stands true, there are many important steps that go into creating a podcast. When deciding to make a podcast you must make decisions on things such as formatting, publishing services, editing options, equipment needs, and much more.
Specific topics to be covered
Throughout the spring semester of 2022, there are three podcasts scheduled: one covering supply chain, another about marketing, and lastly one about international business. These podcasts cover the past, present, and future of each field. The first podcast discusses the supply chain and has the theme of "Modern Supply Chains with New Technologies." The guest speakers for the podcast are Mr. Chris Holzer from Bayer and UMSL Professor Haitao Li from the Supply Chain and Analytics Department. Students Alaya Jones and Olivia Urschler are hosting this podcast.
Release Dates
Visit UMSL' podcast link on the COB's website page for upcoming release dates of podcasts and to listen to previous podcasts:
https://umsldigital.podbean.com/