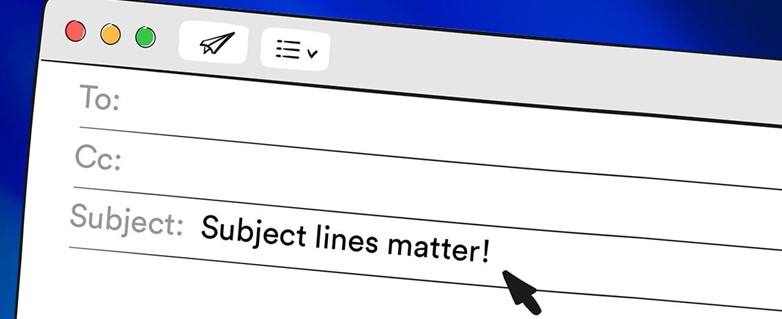 Maximizing Email for Marketing Purposes Part II: Subject Lines
By: Carletta Washington
I recently attended an Email and Cross-Channel Relationship Marketing Strategies seminar led by April Mullen, a leader in digital marketing and a Digital Marketing Adjunct at UMSL. There was a wealth of excellent knowledge, expertise, and illustrations shared within these 2 days of learning! For those in the start-up stage, subject lines and personalization (discussed in Part I) might be a great starting point for improving your conversions.
Subject Lines. A well-written, attention-grabbing subject line for your email marketing campaign can prompt customers to open your email right away (even more than once) and to make a purchase! Here's a list of seventeen types of subject lines: 
Informational

(Interesting & relevant)

Personalized

(Customer's name)

Urgency

(Event date countdown)

Clever

(Play on words and theme)

Short and Sweet

(Brief overview)

Listicles

(Mention number of tips found in article)

Questions

(Pose question of importance to customers)

How-To

(Step-by-Step procedure)

Scarcity or FOMO (Limited opportunity)
Trends and What's Cool

(Most current refresh, etc.)

Controversy

(*Know your audience before using controversial titles.)

Keyword

(Common customer search terms and those used by competitors for SEO)

Take Action

(CTA)

Statistics

(Data)

Exclusive Sneak Peek

(Advanced looks/Insider scoops)

Offers

(Trials, trips, discounts your audiences appreciate)

Emojis

(*Know your audience in terms of which emojis are acceptable/of most common use.)
Regardless of the subject line category you choose, be sure it is the right one for your audience and that your subject accurately reflects the content of your email marketing campaign. Doing your homework in these areas can help build trust and credibility in your customer relationship.
Understanding to write a compelling subject line can help you to enhance your skills as an email marketer – even when utilizing an email template! Take time to develop a few subject lines to fit some of your email marketing campaigns to help increase your business' conversions TODAY!
For examples of attention-grabbing email subject lines, visit: Braden Becker's blog on HubSpot. See if you can match the types of subject lines to the examples in the HubSpot blog.
Also, follow April Mullens on Twitter @aprildmullen.
If you'd like to learn more about other marketing seminars that UMSL's College of Business Administration offers, visit our website.
See blog on Maximizing Email for Marketing Purposes Part I: Personalization