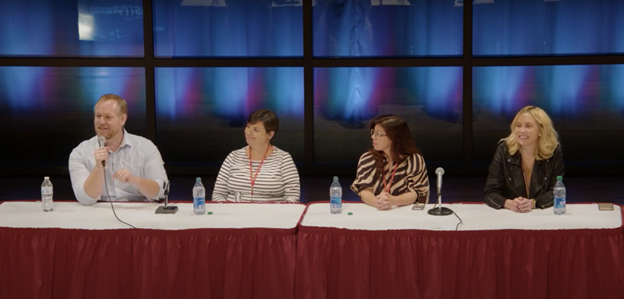 MDMC- "Post"-Pandemic B2B Marketing Impacts
By: Kailey Wagnaar
On September 22nd of this year, the Midwest Digital Marketing Conference (MDMC) produced by UMSL Business took place at the Touhill Performing Arts Center.  MDMC, which first began in 2013, was started as a way for marketing professionals to come together and take a 'deep dive into the hottest marketing topics' of the moment. Saint Louis businessman, Peter Cartier, points out that the event's title, FastForward, is particularly fitting as it displays the fact that the pandemic has accelerated the need for digital marketing- a concept that was starting to slowly creep into the mainstream until suddenly, it became an overnight expectation in the industry.  The September 2022 event covered topics such as influencer marketing, TikTok marketing, paid advertising, marketing in the metaverse, and post-pandemic B2B marketing; the last-mentioned I had the pleasure of attending myself.  
The fourth event of the day titled 'Post Pandemic B2B Marketing Impact' was filled with great insight and advice from four professionals in the field – the speakers on the panel comprised of (from left to right in the picture at the top of the post) Craig Severinsen, founder of Bright Works Training which consults with companies on how to best structure their offer in order to get more clients using digital marketing; Lindsey Brown, the Director of Digital Activation at Hedy & Hopp which specializes in healthcare with a strong focus in digital and analytics; Ryann Ariano, a Strategic Digital Marketing Advisor at LinkedIn who helps big names to best apply their marketing strategies to the LinkedIn platform; and Sarah Hall, Marketing Director at Nolan & Associates, an agency that works with business owners who want to sell their business(es). 
In this discussion, the panelists were asked questions by audience members and host Peter Cartier in regards to Business to Business Marketing such as ways in which their marketing strategies have shifted in response to the pandemic, how they do about using personalization tactics, what are the post-pandemic trade show and exposition trends if any, how to use marketing to attract talent/retain employees, using omni channels, how are these companies working to create community, etc.  
An elementary interpretation of a few of the major takeaways and overarching themes discussed in this particular panel are as follows:
Using personalization tactics:

Craig declares that digital marketing is the strategy currently at the forefront of this industry due to the effects of the pandemic and to not be a part of that is to be behind.  Along with the pandemic pushing marketing to the digital realm, marketers are experiencing an oversaturation which makes standing out just that much more difficult.  Business to Business relationship building and personalization is going to set you apart from the competition.  Craig says that when it comes to his personal personalization tactics, he is finding it most effective to summarily: stick to relevant information, know the audience you are/will be in contact with, find the sweet spot between quality and quantity, use your skills and experience to determine the appropriate tone (not too robotic, not too informal) to use when in contact, and engaging the recipient right off the bat and getting to action of the 'story'. 

Introducing emotional connection:

Ryann talked about how some companies are embracing the traditionally B2C mindset of emotional connection as a way to stand out in the B2B sector.  Another way of harnessing emotional connection that she touched on was creating a community, whether through company hashtags or employee spotlights for current employees to be a part of and potential talent to want to to be a part of.

In-Person Events:

  Craig states that the pandemic caused the pendulum to swing so far into the digital realm that it is swinging just as hard back into the physical, resulting in a unanimous need for connection.  Ryann highlights that in-person events are also a way in which companies are stretching their content much farther than just the one day or weekend that was spent at a convention and taking what was experienced and using it for social media posts, sound bites,  interviews for podcasts, or blog entries (just like this one!) in order to get the most bang for your buck.

Knowing your audience:

All panelists are in agreement that knowing your audience is an impactful and necessary part of successful digital marketing; without it you run the risk of wasting a lot of time, money, and resources.  Lindsay in particular, working in the medical sector, says that it is important that every piece of content and information they put out there be relevant and that they find it best to limit the bells and whistles because in the medical industry being able to quickly receive accurate information along with a call to action and how to engage further is what garners the best response; understanding why this is what works in that particular environment is all apart of knowing your audience.  

Creativity:

Now that many of the limitations put on businesses by the pandemic have lifted, a renewed emphasis on creativity has been something brands are wanting to tackle whether through photography and videography as Sarah and her company mentions wanting to focus on, through copywriting as Ryann mentions is a good place to focus on, or as Lindsey mentions by taking risks and trying out a new campaign strategy that you've never tested before.
Being an undergraduate student, my 'real world' experience in business would be considered pretty limited which led me to feel like I might have a hard time digesting some of the topics touched on during the session, especially considering the speakers are so knowledgeable.  Yet, I was able to absorb much more than I anticipated and I am grateful for the opportunity to sit in on this conversation.  The marketing industry will never stop changing and there will always be new things to learn.  If you feel as though attending an event like this would benefit you or the organization you represent, check out the MDMC website linked HERE to stay up to date on conference news and when registration for the next event will become available.