THE FUTURE OF AI AND MARKETING PANEL at MDMC
Written by: Nathan Jacquemin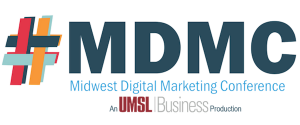 On April 18th, 2023, the Midwest Digital Marketing Conference (MDMC) produced by UMSL Business took place at the Touhill Performing Arts Center. This yearly conference hosted 6 marketing panels covering a variety of marketing related topics such as Leveraging the Power of Influencer Marketing, the Future of SEO, and Driving Results with Videos. There was also a panel on the Future of AI and Marketing that I had the pleasure of attending.
The panel was moderated by Ryan Brock, Chief Solutions Officer of MDMC`s title sponsor, Demand Jump and featured four marketing professionals: Bonnie Frank, Marisa Lather, Nick Stover, and Lindsay Tjepkema. The main goal of the panel was to discuss the questions of how we can use AI to communicate and produce marketing messages that are still human and personalized to the target audience.
At the beginning, the panelists discussed how AI can be used in marketing. Here are some of the examples: creating a course or even part of a strategy, coming up with social media and blogging content, writing emails, responding to reviews and more. Generally, the consensus was that AI is usually used as a virtual writing assistant. However, the panelists warned that it is all about rewriting, about not copying and pasting.
The first key point that was discussed is that AI does not have a personality or other human characteristics. AI cannot lie and if given information is inaccurate or doesn't answer what you need, it just means that you weren't specific enough in your request or input. Further, we must be careful with output because information may be inaccurate or not fully complete. We have to remember that AI tools as we know them today are still in their development and improvement stage, and you are fully responsible for what you post or share.
Building on that point, the panelist stressed the importance of understanding that the effectiveness of AI tools ultimately depends on the user. Users need to be extremely specific with their goals and prompts to get the most out of it. As Bonnie Frank said, "it's like coding but with words". She explained that you must train your virtual assistant and for example if you want your text written in a particular tone, you have to first provide the tool with concrete examples of that writing style or tone.
The third point the panel discussed is how companies can maximize the productivity of their teams through creating a 7-step process. Nick Stover has shared his with the audience.
Define your goals and clearly know what you want the AI tool to do (writing emails, crating SEO contents, social media posts,…)
Choose the right AI tool for your purpose: ChatGPT is the most known, but there are several others specific to certain domains (Midjourney can be used for image generation and Jasper for written marketing content generation)
Train your virtual assistant. It has an infinite memory and if you want to get the most relevant, personalized, and human like results, you need to give it enough background information and resources.
Set up the integration and make sure it works with all of your other tools (calendar, email,…)
Keep testing and refining to make sure it is up to date.
Monitor and track the performance of your virtual assistant and improve where needed.
Personalize everything and don't forget to never copy & paste. Always rewrite.
A question asked by an audience member about the risk of companies generating the same or very similar content through AI and it leading to lower SEO rankings was quickly answered. The consensus of the panelists was that it does not impact SEO rankings because if users personalize and train their virtual assistants, different companies should get different results that are tailored to their brand.
Overall it was a really great and relevant panel session with lots of interesting conversations. All of the speakers were very knowledgeable and gave good tips for incorporating AI tools. Marketers today have to keep coming up with more and more creative content to attract the attention of consumers and differentiate themselves from competitors. Companies can make their work easier and faster with the help of AI tools. In order to stand out on the market, make sure you are using your AI to be the most creative and human like brand.