The International Business Institute hosted its 10th annual International Case Competition
Written by: Eboni Valentine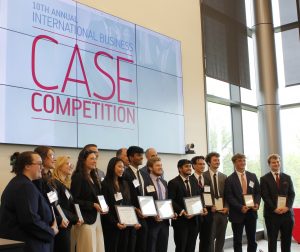 The International Business Institute hosted its 10th annual CUIBE International Case Competition on April 20-22. Led by the Director of the International Business Institute Dr. Joseph Rottman, and Program Manager Renita Miller, this event engaged eleven university teams from Bryant University, Commonwealth University of Pennsylvania, Illinois State University (2 teams), San Diego State University, Temple University, Truman State University, the University of Missouri-St. Louis, the University of Tennessee, Washington State University, and Washington University in St.Louis. Over a 3-day period, students put their creativity and problem-solving skills to the test to solve a real-life business problem.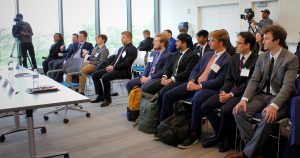 The competing university teams created a solution to answer the question for the sponsoring company, Hussmann. The case question was: As consumers across the globe embrace an omnichannel approach to acquiring groceries, how can Hussmann utilize its core competencies and position of market leadership to win in the new eGrocery modalities that are gaining traction for food at home? The sponsoring company was referred by 2022 UMSL Doctor of Business Administration graduate Dr. Mike Seals, Chief Digital Office and Senior Vice President, Business Strategy at Hussmann.
Upon reading the case, junior International Business and Marketing major at UMSL Anna Shuler's initial thoughts were, "Wow the grocery industry is so much more complex and interesting than I thought it was…my mind was just blown with the amount of problems and possible solutions…it was a realization that we're gonna have to detangle all those problems and applying a solution we want to go with".
At the end of the 3-day event, the top three finalists were Washington University in St. Louis, the University of Tennessee, and Bryant University. The winner of the Case Competition was Washington University in St. Louis. Drew Carone, Senior Economics and Finance major from Washington University in St. Louis said that his team's approach to the question was to first "spend some personal reading time…we really wanted to wrap our heads around what the data [provided] was pointing us towards…making sure that what we were really telling was a cohesive story".
Dr. Seals said that the solutions from the top three competing teams were "very insightful and spot on, all three teams in the final group offered very relevant solutions to Hussmann things we can actually implement today or tomorrow".
This year's Case Competition was another hit across all competing universities. Students from across the nation used their classroom knowledge and applied it to a real-life business world situation that they may face one day. The weekend was enjoyable and challenging in the most positive way. The International Business Institute looks forward to hosting another Case Competition next year.