MDMC Keynote: Agents of Change by Chris Phillips
Written by: Emma Wolf
The Midwest Digital Marketing Conference (MDMC) was held on April 17th and April 18th at UMSL. The conference featured over 50 speakers and various workshops. This years MDMC 2023 keynote speaker was Chris Phillips. Chris Phillips is the owner of Maverick Media Group, a multimedia group that creates content for various media types.
Phillips' keynote was titled Agents of Change: Use Storytelling to Reach African-American and Diverse Audiences in an Authentic Way. Phillips starts out the keynote by taking a moment to thank his audience for being there, emphasizing how important this kind of conversation is to have. Phillips discusses with his audience on stereotypes and how they can be negative and harmful in many different ways. He was able to show many different examples of advertisements that show the negative impacts of stereotyping diverse audiences as well as advertisements that represent different cultures and abilities that were done well and authentic.
What does Storytelling do?
Phillips emphasizes the effectiveness of storytelling through marketing. First, it drives better engagement for their audience; and for brands, it signals that you are able to understand the audience and understand that you know your target consumers. By being authentic in your storytelling, it shows consumers the value of your company and it creates a connection between brand and consumer that drives success. The main idea is that storytelling is the key to shaping our perception of the world and of different communities.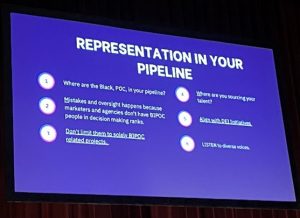 To the right, is a photo of one of Chris Phillips' slides showcasing the keys to successful marketing by both including and representing diverse audiences within your company. Since the image may be difficult to read, the slide includes 6 key points to ask to see how you are representing within your business. It includes:
Where are the Black, POC, in your pipeline?
Mistakes and oversights happen because marketers and agencies don't have BIPOC people in decision making ranks.
Don't limit them to solely BIPOC related projects.
Where are you sourcing your talent?
Align with DEI Initiatives
Listen to diverse voices
To check out more about Chris Phillips and to view the important work that he is doing, visit his website.