Spring to Dance Festival returns to Touhill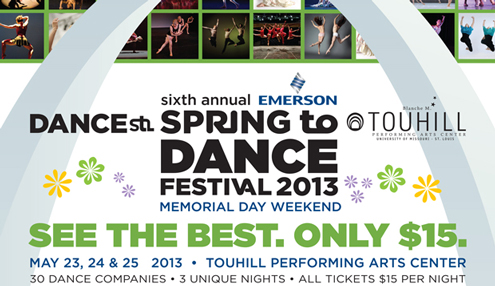 What started out as just an idea of Dance St. Louis Artistic and Executive Director Michael Uthoff has exploded into one of the hottest dance festivals in the country. Thirty professional dance companies, three nights, $15 tickets – the Memorial Day Weekend phenomenon, Spring to Dance Festival, returns for its sixth year at the University of Missouri–St. Louis with a smorgasbord of dance styles, including everything from cutting-edge contemporary dance and tap to classical ballet, modern and more.
Dancers from 30 companies across the country will gather at the Blanche M. Touhill Performing Arts Center at UMSL for three nights of nonstop performances. It's the best opportunity of the year to see all types of dance, varying in style and repertoire, from nationally touring professional dance companies in the Midwest and on the East and West Coasts. Presented by Dance St. Louis, the Touhill Performing Arts Center, Edward Jones and Whitaker Foundation, the sixth Annual Emerson Spring to Dance Festival will take place May 23 through May 25.
Spring to Dance has two notable highlights this year: over half of the 30 companies have never participated in the festival and, back by popular demand, St. Louis native, dance extraordinaire and principal dancer of Alvin Ailey American Dance Theater, Antonio Douthit, is performing a duet with the talented and breathtaking Alicia Graf Mack, another Ailey principal who once resided in St. Louis with her husband, a native St. Louisan.
"What's unique about this year's Spring to Dance is that 16 of the companies are new to the festival," Uthoff said. "So while there are some returning favorites like Chicago Human Rhythm Project and MOMENTA, there are also new participants like Camille A. Brown from Durham, N.C., and Robert Moses' Kin and others from San Francisco."
Uthoff, who created Spring to Dance in 2008, developed a formula for the festival's program whereby participating companies are a mix of those that appeared the year before, those that did not appear that year but did appear in previous festivals, and those completely new to St. Louis. This formula ensures the return of audience favorites while keeping the mix constantly fresh.
"Audiences flock to the performances — the price is right and the offerings are generous," stated Time Out Chicago. "Dance St. Louis has just the ticket," hailed Dance Magazine.
"Spring to Dance is the most popular event of the season because of its affordability, accessibility and variety, which attract a wide mix of people from the greater St. Louis area and beyond," Uthoff said. "It's also a fun and upbeat festival with a convivial atmosphere, making it the perfect way to wind down the season."
Each evening's $15 ticket covers three sets of performances. Interactive demonstrations from St. Louis-area arts groups, ranging in style from Irish and African dance to hula and hip-hop, will begin at 5:30 p.m. in the Touhill's Terrace Lobby. Performances by four different professional companies will start at 6 p.m. in the E. Desmond and Mary Ann Lee Theater, followed by the 7:30 p.m. mainstage performances by another six professional dance companies in the Anheuser-Busch Performance Hall. A total of 10 professional dance companies will perform each evening of the festival.
Performances in the Lee Theater will begin at 6 p.m. Due to the intimate and limited seating in the Lee Theater, its performances are only open to ticket holders who have special Lee Theater passes. The Lee Theater passes are free and will be handed out in the Touhill's Upper Lobby beginning at 5 p.m. on the night of the show until all passes are gone. If guests are not able to secure a pass, they can enjoy the interactive performances by local dance troupes in the Terrace Lobby, which will run continuously from 5:30 to 7:15 p.m. until the mainstage performances begin in the Anheuser-Busch Performance Hall at 7:30 p.m.
Tickets are $15 per night and available at the Dance St. Louis box office at 3547 Olive Street in the Centene Center for Arts and Education in Grand Center in St. Louis, by calling 314-534-6622 or by visiting dancestlouis.org.

Short URL: https://blogs.umsl.edu/news/?p=37773