Variety Children's Theatre to perform 'Peter Pan' at the Touhill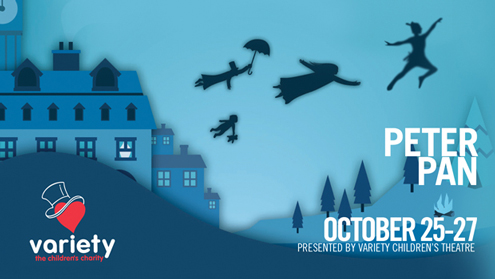 "Peter Pan," the latest Variety Children's Theatre production, will take flight Oct. 25-27 at the Blanche M. Touhill Performing Arts Center at the University of Missouri–St. Louis. As in years past, Variety Children's Theatre will stage its production with a cast of professional actors and children of all abilities, a live orchestra with 21 musicians, glorious sets and brilliant costumes.
The play will be performed at 10 a.m. and 7:30 p.m. Oct. 25, 1:30 p.m. and 7 p.m. Oct. 26 and 1:30 p.m. Oct. 27.
This is the 5th season of Variety Children's Theatre and the production of "Peter Pan" is sure to be one that inspires self-appreciation and a reminder to have a little fun in life. With each Broadway musical the audience will see Variety's mantra of "I CAN!" shine through every actor – especially children who have disabilities, as they sing and dance with the best professionals in town. Other Variety kids will contribute their skills backstage, serving as assistants to some of the area's most highly regarded theatrical directors and designers.
The St. Louis Post-Dispatch highlighted the concert in the newspaper's fall arts guide.
Tickets for the "Peter Pan" are $15-$35 and can be purchased at the box office, online at touhill.org or by phone at 314-516-4949.

Short URL: https://blogs.umsl.edu/news/?p=42107