72 UMSL student-athletes named to Academic All-GLVC Team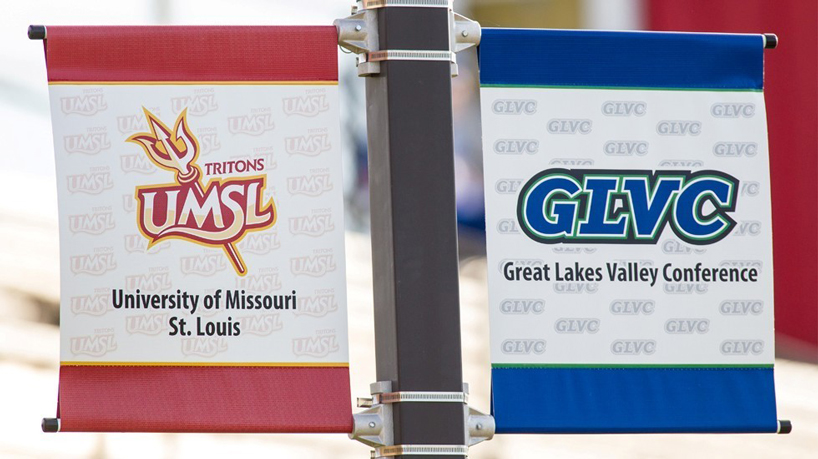 The Great Lakes Valley Conference has released its list of Academic All-Conference selections for the 2014-15 academic year, and the University of Missouri–St. Louis had 72 student-athletes receive recognition for their academic accomplishments.
Twelve of UMSL's 13 sports programs were represented on the list with baseball and volleyball accounting for the most with 10 student-athletes each being named. Women's golf had the highest percentage of team members, with six of seven student-athletes being honored.
There were a total of 44 student-athletes who were repeat recipients for this award, having been named at least once before during their career, including graduating seniors Jena Boudreau (softball), Leanne Cantalupo (women's tennis), Harry Heyburn (men's tennis), Bailey Hopper (women's golf), Paul Moritz (baseball), Katie Rutledge (softball) and Chris True (baseball), who are all four-time honorees.
Additionally, three student-athletes were noted for owning a 4.00 GPA, including Moritz, Erin Walker (volleyball) and Allan Bower (men's tennis).
The Academic All-GLVC honor is bestowed upon student-athletes who meet a cumulative GPA of 3.3 after two semesters at the institution. In all, more than 2,400 student-athletes from 16 member schools garnered Academic All-GLVC distinction.
UMSL 2014-15 ACADEMIC ALL-CONFERENCE STUDENT-ATHLETES
* – Indicates number of Academic All-Conference honors
BASEBALL (10)
Shane Brinker **
Gian Gomez
Jay Heller
Chris Mathes**
A.J. McElderry
Paul Moritz **** (4.00)
Alex Piontek **
Jonathon Shanker **
Kevin Smith
Chris True ****
VOLLEYBALL (10)
Madyson Abeyta
Shelby Bishop ***
Haley Brightwell ***
Lindsay Meyer ***
Hannah Miller ***
Carly Ochs
Kara Roggemann **
Jory Siebenmorgen **
Kristen Uradzionek
Erin Walker (4.00)
SOFTBALL (9)
Kelsey Bailey **
Jena Boudreau ****
Brianna Butler ***
Sara Kern **
Brandi Kiel **
Rachel Matthies **
Katie Rutledge ****
Alex Stupek **
Katie Wood ***
WOMEN'S SOCCER (8)
Brooke Barczewski **
Liz Drennan ***
Mary Kopsky **
Haley Larson ***
Cassie McFadden ***
Megan Ohm
Amanda Shurzinske **
Baylee Williams
MEN'S SOCCER (7)
DJ Bednar **
Connor Carnduff
Tyler Collico ***
Nathan Dreyer
Evan Garrad **
Jake Schmidt
Nick Werner
WOMEN'S GOLF (6)
Ares Boira
Alexa Capesius
Kristin Gonzalez **
Bailey Hopper ****
Stefaniya Ivanova
Miranda Rohlfing **
WOMEN'S BASKETBALL (5)
Hayley Alexander
Amber Daly
Danielle Daume **
Kelly Kunkel ***
Kelly McGovern ***
MEN'S GOLF (5)
Matt Barry **
Gordon Hundley
Markus Lindberg
Stephan Sorg
Brian Wade **
MEN'S TENNIS (4)
Allan Bower (4.00)
Harry Heyburn ****
Kristoffer Lindal
Alberto Maza Martin
WOMEN'S TENNIS (4)
Leanne Cantalupo ****
Natalia Carvalhais ***
Chandler Duchaine ***
Lina Parra **
MEN'S BASKETBALL (3)
Max Cook
Andreas Kefalas **
Alex Majewski
MEN'S SWIMMING (1)
Anson Tam


Short URL: https://blogs.umsl.edu/news/?p=57941