Golfer Matt Barry earns 2015 GLVC Sportsmanship Award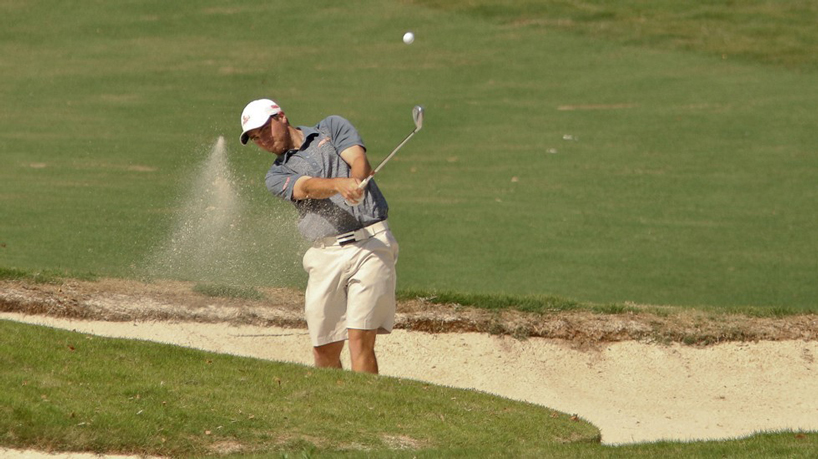 University of Missouri–St. Louis men's golfer Matt Barry and Rockhurst University women's soccer standout Maria Merlo have been named the recipients of the 2015 Great Lakes Valley Conference Male and Female Sportsmanship Awards, it was announced by the conference office Friday. The GLVC Sportsmanship Award is presented to one male and one female student-athlete or team who has distinguished themselves through demonstrated acts of sportsmanship and ethical behavior.
Nominees for the GLVC Sportsmanship Awards are presented to the conference office by each institution's Student-Athlete Advisory Committee (SAAC).
Barry, a business administration major, became the first UMSL student-athlete to earn the league's individual sportsmanship award following his efforts at the 2015 GLVC Men's Golf Championship Awards Ceremony. During the match play championship final, in which individuals compete against one another in five head-to-head matches, Barry was paired against Lewis University's Robert Dofflemyer. The two had played all three rounds of stroke play in the same pairing and were now vying for what would be championship-clinching points. Dofflemyer, the 2014 GLVC Scholar-Athlete of the Year and 2014 and 2015 All-GLVC honoree, lost his lead on the 18th hole when he made a double-bogey 7. Barry made a 10-foot putt for a par 5, which halved their match and secured the GLVC title for UMSL – its first in program history. When the GLVC Sports Network interviewed Barry at the Awards Ceremony, which was attended by the Lewis team, Barry took time to talk about the final hole and praise Dofflemyer:
"I just want to say Robert is a great player. We played in the stroke play part of it and I enjoyed playing with him. It just shook down in a weird way. At the time I did not know it was for the actual championship, I just knew it was to halve him."
In addition to his individual act of sportsmanship, the sophomore from Parkville, Mo., also took part in notable team efforts throughout the year. These acts included writing thank you notes to tournament personnel at every event in which the UMSL Tritons played, and delaying their departure by two hours from the Lewis-hosted NCAA Midwest/Central Regional to support conference foe University of Indianapolis, which won a playoff and the chance to join UMSL at the NCAA Championships.
Barry and Merlo will also be the GLVC nominees for the 2015 NCAA Student-Athlete Sportsmanship Awards. The honor celebrates student-athletes who, through their actions in the competitive arena of intercollegiate athletics, have demonstrated one or more of the ideals of sportsmanship, including fairness, civility, honesty, unselfishness, respect and responsibility. Selections are made will be made this August by the NCAA Committee on Sportsmanship and Ethical Conduct.


Short URL: https://blogs.umsl.edu/news/?p=57977