Five baseball players named All-GLVC, McGuire and Simokaitis on First Team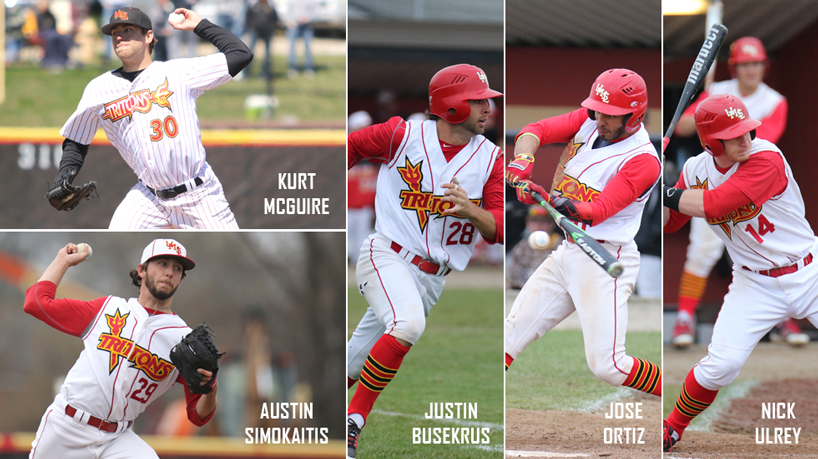 University of Missouri-St. Louis senior pitchers Kurt McGuire and Austin Simokaitis were both named to the All-Great Lakes Valley Conference West Division First Team to highlight a group of five Tritons to earn postseason accolades. Senior outfielders Justin Busekrus and Jose Ortiz, along with junior catcher Nick Ulrey, were all named to the league's second team.
McGuire was the ace of the UMSL pitching staff, posting an overall record of 8-2 with a 2.75 ERA. He led the squad with 54 strikeouts and limited opponents to a .226 batting average. In GLVC-only contests, McGuire was 5-2 with a 3.62 ERA and struck out 40 as opponents batted just .209 against him.
Simokaitis repeats as a First Team All-GLVC selection. The Tritons' closer set a UMSL single season record with 16 saves, which ranks first in both the GLVC and NCAA Division II. He also broke the program's career saves record and graduates with 27. Simokaitis sported a 2.11 ERA. In GLVC-only contests, Simokaitis recorded seven saves, tied for a league-high.
Busekrus, a First Team All-GLVC honoree last year, led the Tritons with 68 hits behind a .354 batting average. He recorded 16 doubles, which tied for sixth in the GLVC, three home runs, 32 RBIs and 40 runs scored. Busekrus also led the team with 22 multi-hit games and posted a team-best .484 slugging percentage. Defensively, he committed just two errors in the outfield. In GLVC-only games, he batted .287 with 29 hits, including six doubles, 12 RBIs and 15 runs scored.
Ortiz was one of three players to start all 50 games and batted .316 with 55 hits. He tallied 31 RBI and owned team highs of 46 runs and 15 stolen bases. Ortiz also drew 48 walks, second most in an UMSL single season, and third most in NCAA Division II. He also topped the GLVC with 237 plate appearances and was third with a .483 on-base percentage. Oritz put together a reached base streak of 24 games during the year and ended the year with 11 straight games on base. In GLVC-only games, Ortiz batted .319 with 30 hits and 22 runs scored. He drew a league-best 25 walks and owned an on-base percentage of .488, which ranked third.
Ulrey batted .283 during the year, recording 41 hits, including nine doubles, two triples and two home runs. He also drove in 222 runs and scored 21 runs. In GLVC-only games, Ulrey upped his average to a team-best .377 with 29 hits, including seven doubles, for a slugging percentage of .532. He added 13 RBIs and eight runs scored. Defensively, Ulrey threw out a league-high 19 runners trying to steal.
UMSL finished the 2016 campaign with a 29-21 overall record, including an 11-17 GLVC mark.


Short URL: https://blogs.umsl.edu/news/?p=62443