Media Coverage: April 2017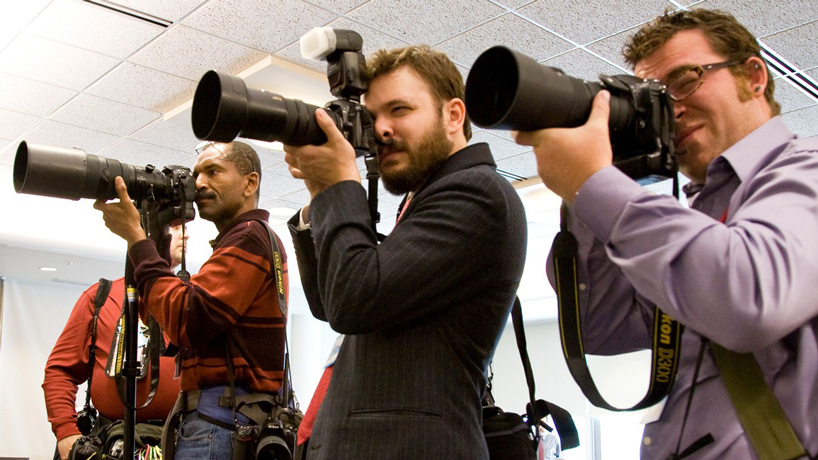 The University of Missouri–St. Louis makes a significant impact on the St. Louis area. Stories about the university, its scholars and their expertise are often covered by local and national news media.
Media Coverage highlights some of the top stories but does not serve as a comprehensive listing. Notice a clip we missed? Email us at umsldaily@umsl.edu.
Rick Baniak, economics alumnus and chief financial officer for UMSL
St. Louis Public Radio: Missouri state budget
St. Louis Public Radio: UMSL closing deficit ahead of schedule
Niyi Coker, E. Desmond Lee Endowed Professor of African/African American Studies and Cinema
The Guardian (Nigeria): challenges of documentary filmmaking in Nigeria
Michael Cosmopolous, the Hellenic Government-Karakas Foundation Endowed Professor in Greek Studies
BBC: the importance of looking back to look forward
Greek Public TV (ERT): excavation at Iklaina, Greek professorship at UMSL and war's impact in ancient Greece and today
Jim Craig, chair of the Department of Military and Veteran Studies
St. Louis Public Radio: issues faced by veterans returning to civilian life
Joshua Eckhoff, liberal studies major
St. Louis Post-Dispatch: personal story of overcoming challenges after being injured in IED blast
Mary Edwards, music alumna
St. Louis Public Radio: inducted into St. Louis Media Hall of Fame
Brittany Ferrell, nursing alumna
St. Louis Post-Dispatch: "Show Me Democracy" documentary
Paul Fregeau, education alumnus
Herald & Review: taking track record of student success to job leading Decatur, Illinois, schools
Tom George, chancellor
St. Louis Post-Dispatch: enrollment and budget in University of Missouri system
Kevin Hertell, biology alumnus
Stockton Record: new leader at Micke Grove Zoo
Matthew Kerns, adjunct professor of theater
St. Louis Public Radio: UMSL's presentation of "My Country: A Devised Work"
David Kimball, professor of political science
St. Louis Post-Dispatch: redrawing boundary lines in Florissant's nine wards
Bill Klein, teaching professor of English
St. Louis Post-Dispatch: "What to Do? St. Louis" game
David Klinger, professor of criminology and criminal justice
CNN: treatment of police misconduct in the cellphone video age
Lauren Knoll, education alumna
West End Word: director of early learning for Affton School District
Lyda Krewson, accounting alumna
The Telegraph and Advantage News: new wave of female mayors
STL.News: sworn in as St. Louis' first female mayor
Sandra Langeslag, assistant professor of psychological sciences
Times of India: research on falling in and out of love
Dan Lauer, executive director of UMSL Accelerate
Inc.com: Startup accelerators like Ameren Accelerator on the rise
Entrepreneur: Purpose-over-profit movement
Sharon Levin, professor emeritus of economics
The New York Times and The Post and Courier: ranks of scientists aging faster than other workers
Mario Love, criminology and criminal justice alumnus
RiverBender.com: panel on race and the criminal justice system
Colette M. McLemore, assistant dean of student and alumni affairs in the College of Nursing
The St. Louis American: appointed to assistant dean of student and alumni affairs
Bill Mendelsohn, director of charter schools and partnerships
St. Louis Post-Dispatch: immersion schools potentially creating an achievement gap
Heath McClung, mechanical engineering major and president of Student Veterans Association
St. Louis Public Radio: issues faced by veterans returning to civilian life
Nicholas O'Brien, electrical engineering major
St. Louis Post-Dispatch: "What to Do? St. Louis" game
Dave Robertson, Curators' Teaching Professor and chair of political science
The New York Times and KMOX: Clair McCaskill and the 2018 Senate race
KMOX: challenges facing new Mayor Lyda Krewson
Darryl Maximilian Robinson, performing arts alumnus
BroadwayWorld.com: appearing in "Night of January 16th"
Richard Rosenfeld, Thomas Jefferson Professor of Criminology and Criminal Justice
The Guardian: disparities in clearance rates for crimes with black and white victims
Vox.com: increases in the murder rate in 2015 and 2016
Chris Rolwes, computer science alumnus
St. Louis Post-Dispatch: "What to Do? St. Louis" game
Steven Schreiner, director of MFA program
West End Word: poets in St. Louis
Tudor Seserman, philosophy alumnus
Riverfront Times: chef at Element who left philosophy behind
Lana Stein, professor emeritus of political science and public policy administration
St. Louis Magazine: new St. Louis Mayor Lyda Krewson
Mark Tranel, director of Public Policy Research Center
St. Louis Public Radio, RiverBender.com, The Telegraph and Illinois Business Journal: research with the United Way on St. Louis households that struggle to meet basic living expenses
Eamonn Wall, Smurfit-Stone Corporation Professor of Irish Studies
West End Word: poets in St. Louis
Chris Walter, business major
St. Louis Public Radio: Missouri's scholarship programs underfunded at time of rising tuition
Rachel Winograd, assistant research professor for the Missouri Institute of Mental Health
St. Louis Public Radio: bulk of new opioid grant going toward treatment
Emma Young, biology doctoral candidate
St. Louis Post-Dispatch: March for Science

Short URL: https://blogs.umsl.edu/news/?p=68200