UMSL Night with the St. Louis Blues attracts sizable contingent for night of hockey fun
The St. Louis Blues are one of the hottest teams in the National Hockey League and current owners of an 11-game win streak, the longest in franchise history.
Members of the University of Missouri–St. Louis community got to take in the seventh of those historic 11 wins – an 8-3 drubbing of the New Jersey Devils – in person as part of the second annual UMSL Night with the St. Louis Blues on Feb. 12 at the Enterprise Center.
UMSL sold out its allotment of 240 tickets to students, alumni, faculty and staff, who scored tickets to the event through New Student Programs. Price of  admission included a  UMSL/Blues-themed winter beanie. The game served as a Weeks of Welcome Adventure during Triton Spring Launch programming at the beginning of the new semester.
UMSL students including Shehla Tahir (left) and Mireia Pellicer Agud (right) got situated in their seats before the game.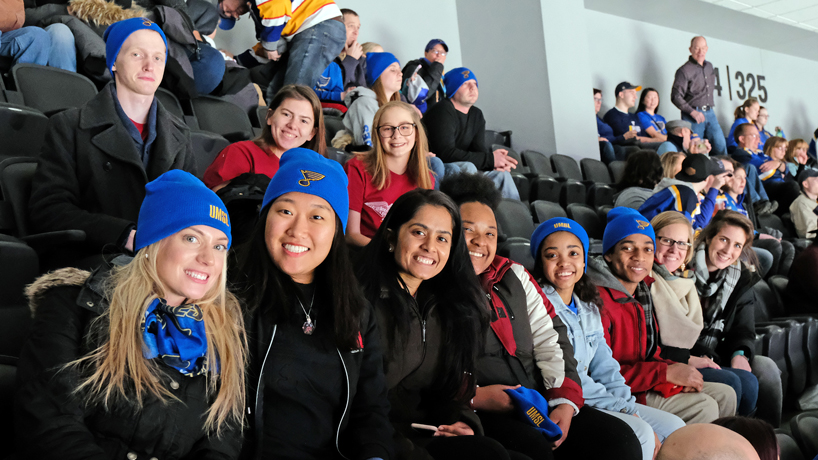 New Student Programs Coordinator Erin Sullivan (bottom row, right) and Director Megan Green Simonds (second from right) shared their Blues experience with Orientation Leaders (bottom row, from left) Elizabeth Younger, YuJin Hur, Foram Patel, CC Current, Kelsey Ginger and Malik Taylor-Allen and future UMSL students (back row, from left) Kai Rohrer, Manna Rassi and Ashton Hartman, who were taking part in the Student for a Day program.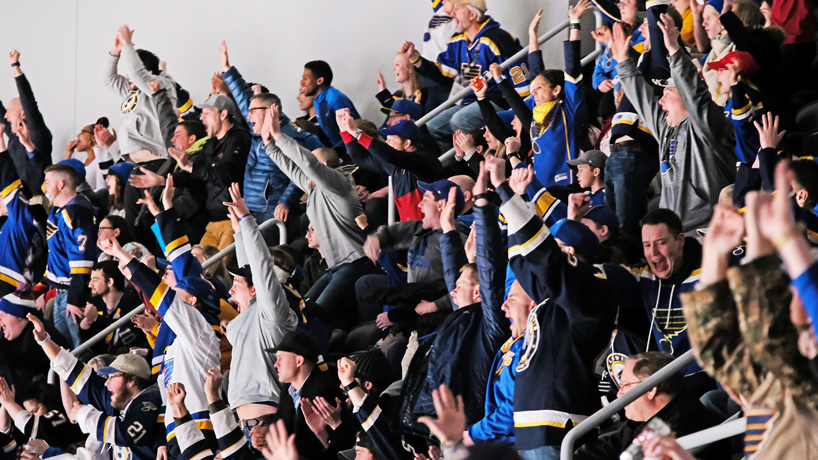 The crowd erupts after one of the home team's eight goals on the evening. The UMSL contingent in attendance sat in sections 323, 324, 325 and 331.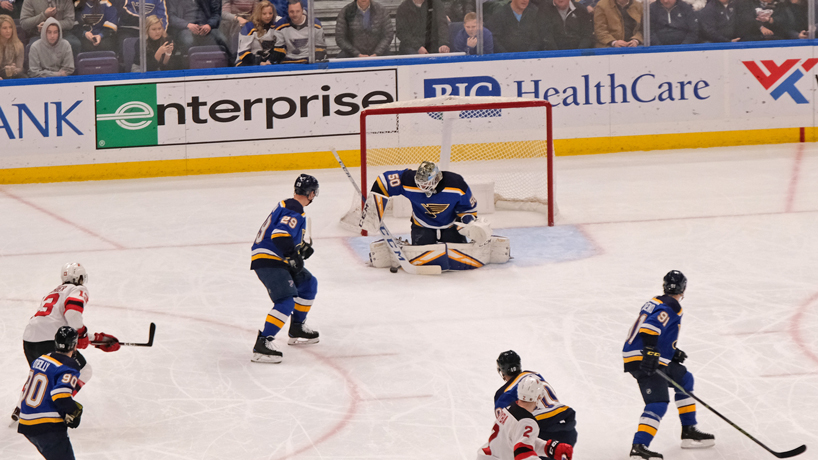 Blues goalie Jordan Binnington stops a shot from Devils center Nico Hischier, one of Binnington's 20 saves on the night.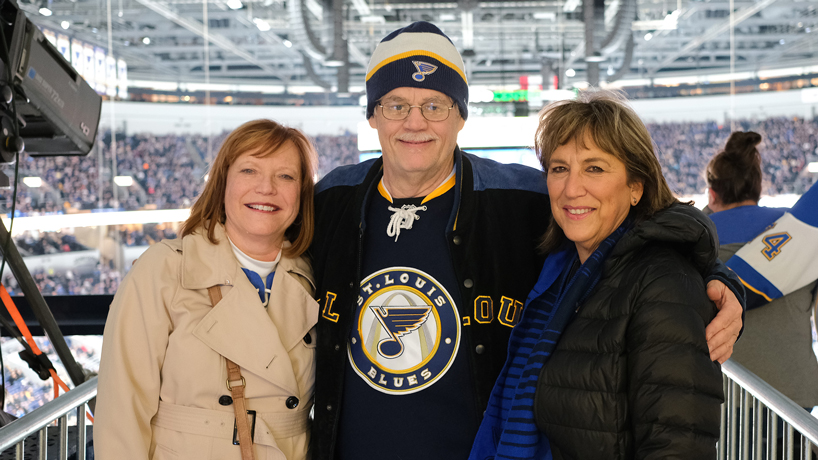 UMSL alumni such as Theresa Stamer Juenger (right) took the game as an opportunity to connect with friends.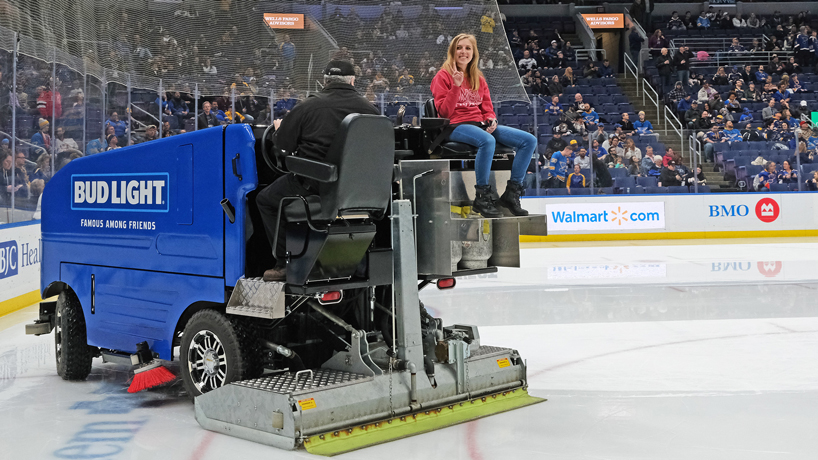 UMSL psychology alumna Sydney Harris was selected for a Zamboni ride between periods, one of the two rides offered to lucky UMSL attendees as part of their Blues game day experience.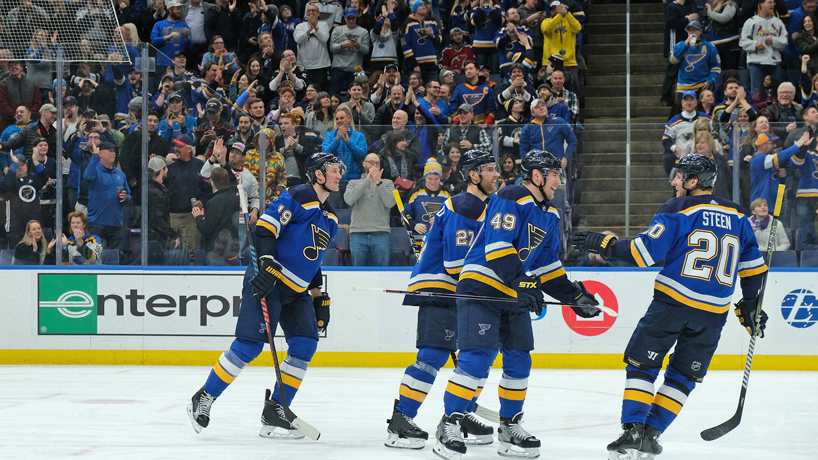 Blues left winger Alexander Steen (20) congratulates teammates Jay Bouwmeester (19), Alex Pietrangelo (27) and Ivan Barbashev (49) in the third period after Steen assisted on one of Barbashev's two goals.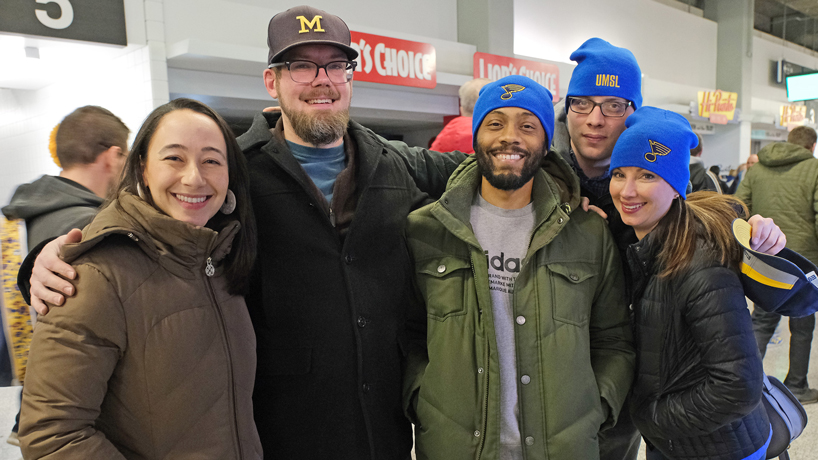 From left, UMSL Assistant History Professor Kara Moskowitz, Assistant Professor of Philosophy Billy Dunaway, Joe Martinez, UMSL alumnus Tom Manion and Associate Teaching Professor of Political Science Anita Manion are all smiles after the Blues' win.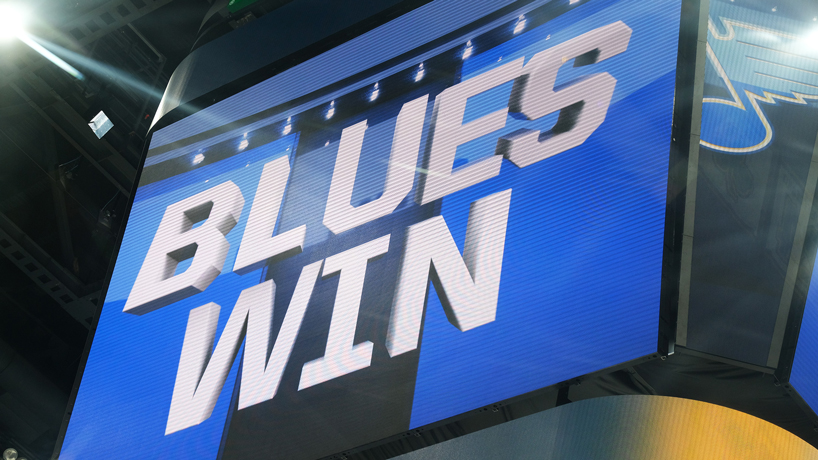 The scoreboard says it all.

Short URL: https://blogs.umsl.edu/news/?p=78369