Media Coverage: May 2019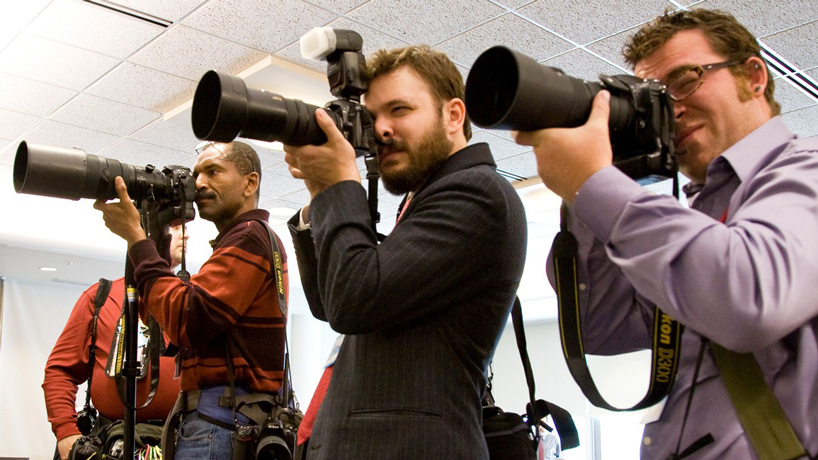 The University of Missouri–St. Louis makes a significant impact on the St. Louis area. Stories about the university, its scholars and their expertise are often covered by local and national news media.
Media Coverage highlights some of the top stories but does not serve as a comprehensive listing. Notice a clip we missed? Email us at umsldaily@umsl.edu.
Featured Stories
– Professor of Political Science David Kimball provided expert analysis on a trio of topics during the month of May. St. Louis Public Radio | 90.7 KWMU went to Kimball twice, once to explore the reasons behind negative sentiments in the St. Louis African American community toward redistricting efforts and another time to explain how sometimes local government ethics initiatives end up paving the way toward statewide measures. The Dallas Morning News also consulted Kimball for a story on nonpartisan local elections and how turnout usually compares with partisan elections.
– Anne Winkler, professor of economics and public policy administration and chair of the UMSL Department of Economics, served as one of a panel of experts as the site WalletHub put together a list of the best and worst states in the U.S. for working mothers. The rankings – along with Winkler's analysis – were then aggregated by Yahoo! Finance and Scary Mommy.
– KSDK (Channel 5) used Jill Bernard Bracy, acting director of program development for the Center for Transportation Studies, as the centerpiece of its story analyzing the use of cast-iron road reflectors by state departments of transportations, along with the hazards that come along when they become dislodged.
– Recent Trinity Catholic High School graduate Brandon Gardner was profiled in the St. Louis Post-Dispatch and on KMOV (Channel 4) for the perseverance he showed in earning his diploma while battling sickle cell disease and a mild form of cerebral palsy. Gardner plans to attend UMSL in the fall and study psychology.
– Harold Crawford earned his BSW from UMSL this spring after battling addiction and leaving a life of gang involvement. Crawford, who was featured in UMSL Daily last summer, told his story to "St. Louis on the Air" on St. Louis Public Radio.
Media Coverage
Melanie Adams, education alumna
Insight News: named director of the Smithsonian's Anacostia Community Museum 
Eric Battle, political science alumnus
The St. Louis American: authored op-ed in "Homegrown Black Males" series
Edward Bennett, professor of optometry
American Optometric Association: the dangers pool water can cause for contact lenses
Jason Bockman, business administration alumnus
The Webster Journal: profiled for overcoming troubled adolescence to earn degree and open Strange Donuts
Justin Brotherton, education alumnus
South County Times: hired as assistant principal at Mesnier Primary School
Eva Colberg, biology PhD student
Scientific American: Science Distilled series mentioned in story about being a scientist communicator
Jennifer Campbell, education alumna
Columbia Daily Tribune: named principal of Sturgeon High School
Linda Dawkins, education alumna
The Edwardsville Intelligencer: named Southwestern Illinois College full-time faculty member of the year
Mark Deadwyler, business administration alumnus
The St. Louis American: recipient of UMSL Salute to Business Achievement award
Billy Dunaway, assistant professor of philosophy
The St. Louis American: awarded Templeton grant to study medieval Islamic philosophy
Tom George, chancellor
Stevens Point News: announced retirement as UMSL chancellor effective Sept. 1
FloValley News: earned Public Service Leadership Award from North County Incorporated
Steve Givens, English/education alumnus
The Source (Washington University): retiring after 24 years as associate vice chancellor at WUSTL
Mallory Griggs, biology student
Riverbender and AdVantage News: recipient of the UMSL Community College President's Scholarship
Opal Jones, business administration alumna
The St. Louis American: recipient of UMSL Salute to Business Achievement award
Terry Jones, professor emeritus of political science
Governing: fallout from Better Together putting city/county merger plans on hold
Martin Kardos, business administration alumnus/former Tritons tennis player
The Gilmer Mirror: inducted into Kilgore College Athletics Hall of Fame
David Klinger, professor of criminology
The Associated Press and KMOV (Channel 4): analysis of police-involved shooting in Ladue, in which lawyer says officer meant to draw Taser instead of gun
KMOV (Channel 4): analysis of police officer kicking carjacking suspect
Dan Lauer, founding executive director of UMSL Accelerate
KMOX (1120 AM): "Charlie Brennan Show" guest discussing Ameren Accelerator
Kathy Litton, education alumna
Baptist Press: nominated as registration secretary of the Southern Baptist Convention
George McKee, education/English alumnus
eMissourian: commencement speaker at St. Francis Borgia Regional High School
Jon McGinnis, professor of philosophy
The St. Louis American: awarded Templeton grant to study medieval Islamic philosophy
Nikki Menichino, nursing alumna
St. Louis Post-Dispatch: named one of 10 Nurses: Heart of Health Care Contest winners
Michael Mohr, business administration alumnus
The St. Louis American: recipient of UMSL Salute to Business Achievement award
Kathy Osborn, education alumna
St. Louis Post-Dispatch: accepts Citizen of the Year award, urges investment in underprivileged communities
Jessica Portis, economics alumna
The St. Louis American: recipient of UMSL Salute to Business Achievement award
Dave Robertson, Curators' Teaching Professor of Political Science
St. Louis Post-Dispatch: analysis of different brands of conservatism in Sens. Roy Blunt, Josh Hawley
St. Louis Post-Dispatch: impact new Missouri abortion bill could have on mobilizing female voters
CNN Business: the ethical quandary Netflix would face moving production from Georgia to Missouri
David Rose, professor of economics
Forbes: book "Why Culture Matters Most" mentioned in economic policy column
Richard Rosenfeld, Curators' Distinguished Professor Emeritus of Criminology
Cleveland.com: advantages of consolidating urban and county police forces in cities like St. Louis and Cleveland
The Missouri Times: analysis of report on traffic stop data
Amanda Scott, Tritons softball coach
St. Louis Post-Dispatch and KTVO: named Great Lakes Valley Conference softball coach of the year
James Shuls, assistant professor of education
St. Louis Public Radio: analysis of Missouri's relatively limited paths to teacher certification
Todd Swanstrom, E. Desmond Lee Endowed Professor in Community Collaboration and Public Policy
St. Louis Public Radio: need for more collaboration between St. Louis city and county
St. Louis Post-Dispatch: on panel to explore how ward reduction would affect St. Louis
Jacqueline Thompson, assistant professor of theater
American Theatre: recognized as part of Theatre Communications Group's "Rising Leaders of Color" cohort
Eamonn Wall, Smurfit-Stone Corporation Professor of Irish Studies
RTE: review of his new book, "From Oven Lane to Sun Prairie"
Laura Westhoff, associate professor of history and education
St. Louis Public Radio: "St. Louis on the Air" guest discussing how history textbooks have changed
Jake Yates, criminology alumnus
SIU Carbondale News: profiled for extensive pro bono work done during law school
Other Campus News
St. Louis Post-Dispatch: Mercantile Library's St. Louis Fine Print, Rare Books and Paper Arts Fair named a "best bet" for the weekend
KPLR (Channel 11): current exhibit at the Griot Museum of Black History, "Still We Thrive: The Neighborhoods of Fountain Park, Lewis Place, and The Ville," created by UMSL graduate students
KSDK (Channel 5) and Missourinet: UMSL wins fifth conference softball title in program history
St. Louis Post-Dispatch: UMSL literary magazine Natural Bridge partnering with Boulevard for "Three Writers and a Comedian" event
Silicon Prairie News: GiftAMeal wins pitch competition at UMSL-hosted Midwest Digital Marketing Conference
GoodNet: UMSL research into how to get over a breakup highlighted
Yahoo! Finance: UMSL College of Business Administration on College Consensus' 2019 list of the 50 Best Online Undergraduate Business Programs
Southeast Missouri State University News: UMSL in first phase of nursing schools using new SEMO pilot program for tissue and organ donation education
Fox 2: cited UMSL professor-aided research into Better Together financials projections
Fox 2 and  St. Louis Jazz Notes: Denise Thimes holding annual Mother's Day concert at the Touhill
St. Louis Post-Dispatch: Black Violin coming to the Touhill
Call Newspapers: UMSL hosting Metropolitan Sewer District hearings on rate hike
Broadway World St. Louis: John Cusack coming to the Touhill
St. Louis Public Radio, St. Louis Post-Dispatch, St. Louis Post-Dispatch, Riverfront Times, Riverfront Times, West End Word and St. Louis Jewish Light: Dance St. Louis' "Spring to Dance" coming to the Touhill
FloValley News: UMSL presenting at Florissant Police Department Future Leaders Academy
St. Louis Business Journal: UMSL mentioned in story about area Airbnb hosts welcoming a record number of visitors for commencement
KPLR (Channel 11): Center for Trauma Recovery listed as a resource for abused women
St. Louis Post-Dispatch: UMSL's Gallery 210 listed in story about places to take in art this summer
Columbia Missourian: Missouri Institute of Mental Health research cited in story about prevalence of young adult suicide in state
Yahoo! Finance: Center for Behavioral Health one of St. Louis Community Foundation grant recipients
Columbia Daily Tribune: UMSL hosting Anytown Leadership Institute for High School Youth
Digital Journal: UMSL mentioned as host of Cannabis Business Licensing Bootcamp
St. Louis Post-Dispatch: UMSL students alerted scholars about a long-lost painting that was a wedding gift to Anne and Charles Lindbergh

Short URL: https://blogs.umsl.edu/news/?p=80393