Media Coverage: December 2019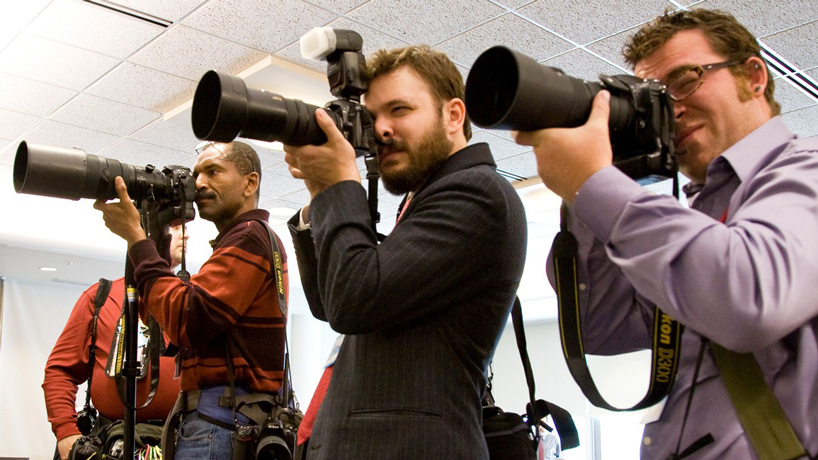 The University of Missouri–St. Louis makes a significant impact on the St. Louis area. Stories about the university, its scholars and their expertise are often covered by local and national news media.
Media Coverage highlights some of the top stories but does not serve as a comprehensive listing. Notice a clip we missed? Email us at umsldaily@umsl.edu.
Featured Stories
Marie Mora, economics professor and associate provost for academic affairs, explained to Bloomberg why the wage gap for Latinas persists despite the group becoming a powerful force in the U.S. job market recently.
The Riverfront Times sat down with Zachary Schwartz, political science student and recording artist, to talk about his new five-song release, EP II. Recording under the name Hollow Ends, Schwartz brings a folk-tinged sound to stages around the state.
The Riverfront Times also spoke with Adrian O. Walker, sociology alumnus and brand marketer for the popular photography app VSCO, about being featured in the National Portrait Gallery. In 2019, Walker was one of seven artists to win the Outwin Boochever Portrait Competition for his photograph, "Black Virgin Mary."
Media Coverage
Anne Austin, assistant professor of anthropology
Art Net, Atlas Obscura, Inked Magazine, Fox News, Mashable India, Medical Daily, News 18, Science News, Smithsonian Magazine, St. Louis Public Radio, The Sun: Infrared technology reveals hidden tattoos on Egyptian mummies
Anthony D'Agostino, Non-profit organization management and leadership alumnus
St. Louis Business Journal: Named CEO of the St. Patrick Center
Rick Davis, adjunct professor of business
St. Louis Business Journal: Named president of St. John Vianney High School
Alexei Demchenko, Curators' Distinguished Professor of Chemistry
Chemistry World: Development of a gastric cancer vaccine
Max Gillman, Friedrich A. Hayek Professor in Economic History
Marketplace: Why inflation isn't rising
Thomasina Hassler, adjunct assistant professor of education
LindenLink: Confirmed to Board of Police Commissioners
Gail Hintz, staff vocal accompanist
Phelps County Focus: Inducted to the Rolla High School Hall of Fame
Terry Jones, professor emeritus of political science
St. Louis Post-Dispatch: The future of new city-county board
David Kimball, professor of political science
The Columbia Missourian: NRA political spending in Missouri
David Klinger, professor of criminology and criminal justice
The Crime Report and The Washington Post: Response to UPS hijacking
Jim Lally, business alumnus
St. Louis Business Journal: Honored at C-Suite Awards 2019
Dan Lauer, executive director of UMSL Accelerate
SMB CEO: Executives key to sustainability goals
Irwin Loiterstein, business alumnus
St. Louis Jewish Light: St. Louis' Christmas tree king
Tom Minogue, economics alumnus
St. Louis Business Journal: Honored at C-Suite Awards 2019
Kara Moskowitz, assistant professor of history
St. Louis Jewish Light: Elected to the Young Friends of Legal Services of Eastern Missouri board of directors
Ray Mundy, former director of the Center for Transportation Studies
St. Louis American: Airport privatization process comes under scrutiny
St. Louis American: Airport privatization process halted
Jianli Pan, assistant professor of mathematics and computer science
The Rolla Daily News: High-voltage research at new joint laboratory
Richard Rosenfeld, Curators' Distinguished Professor Emeritus of Criminology and Criminal Justice
St. Louis Post-Dispatch: St. Louis homicide rate
James V. Shuls, assistant professor of educational leadership and policy studies
The 74: Standards in charter schools
Joel Sjerven, social work alumnus
St. Louis American: Needle exchange programs save lives and money
Todd Swanstrom, E. Desmond Lee Endowed Professor in Community Collaboration and Public Policy
St. Louis Post-Dispatch: New credit program revitalizing south St. Louis neighborhoods
Katy Walter, social work alumna
St. Louis Post-Dispatch: Appointed CEO of Kids in the Middle
Rachel Winograd, associate professor of research at Missouri Institute of Mental Health
Fox Business: Walk-in clinics helping in fight against opioid epidemic
Jackie Zykan, biology alumna
San Francisco Examiner: Became head of tasting and product development at Old Forrester distillery
Other News
The Alton Telegraph: Opera Edwardsville's 2019 season
The Alton Telegraph: The Good Weather Gallery promotes regional art
Boonville Daily News: Closing the gap between urban and rural healthcare
Columbia Daily Tribune: Moody upgrades financial outlook
Daily Journal Online: Ste. Genevieve Christmas Festival
Edwardsville Intelligencer: GeoFutures Advisory Committee
Farmington Press: Program to help students finish degrees
Jefferson City News Tribune: New joint transportation center
Out in STL: The Forum
The Source: Grants to fight opioid abuse
St. Louis Post-Dispatch: McNair Scholars Program
St. Louis Post-Dispatch: University beer brewing courses grow
St. Louis Post-Dispatch: Wrapping presents for 100 Neediest Cases program
St. Louis Post-Dispatch: Delmar DivINe project
St. Louis Public Radio and 921News: Program to help Missourians finish degrees
St. Louis Public Radio: Photojournalism contest showcases young talent

Short URL: https://blogs.umsl.edu/news/?p=83488