Media Coverage: February 2020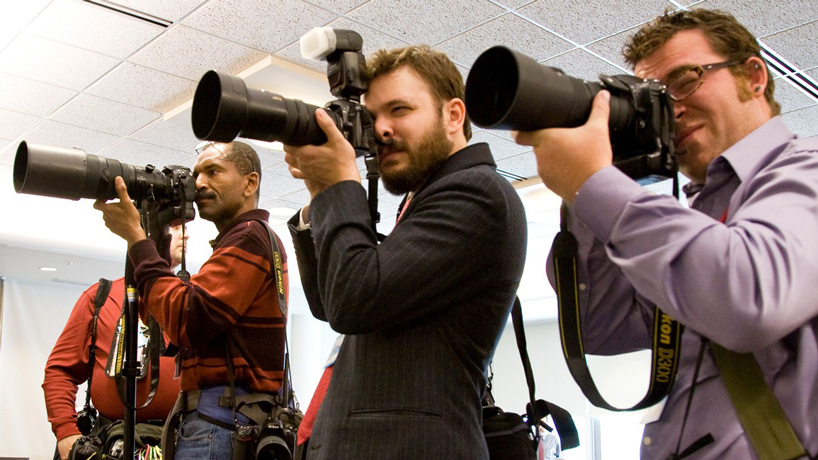 The University of Missouri–St. Louis makes a significant impact on the St. Louis area. Stories about the university, its scholars and their expertise are often covered by local and national news media.
Media Coverage highlights some of the top stories but does not serve as a comprehensive listing. Notice a clip we missed? Email us at umsldaily@umsl.edu.
Feature Stories:
The St. Louis Business Journal, talked with St. Louis County Council chairwoman Lisa Clancy, social work alumna and former associate director of the Community Innovation and Action Center, about working for nonprofits and how she stays centered while she's busy.
The St. Louis Post-Dispatch featured education alumnae Darryl Diggs and Howard Fields' effort to support black educators with the founding of Black Males in Education. They recently hosted their first conference, the State of Black Educators Symposium, at UMSL.
St. Louis Public Radio interviewed Darwin Aquino, director of the University Orchestra, about conducting a unique concert, featuring music from popular video games.
Media Coverage:
Meagan Anderson, optometry student
Street Insider: Bringing eye care to Haiti
Matthew Austin, biology student
EcoWatch: Bumblebee extinction
Mindy Bier, Co-director of the Center for Character and Citizenship
St. Louis Public Radio: Benefits of a servant leadership education model
Susan Brownell, professor of anthropology
The Peninsula: Delivered keynote address at the "Digital Transformation of Sport Media" conference
Deitra Colquitt, education alumna
West End Word: Named co-principal of Pershing Elementary School
Rachelle Crowe, biology alumna
Alton Daily News: Selected to head Illinois Senate Judiciary Committee
Darryl Diggs, education alumnus
Jefferson City News-Tribune, St. Louis Post-Dispatch and USA Today: Formed support group for black educators
Howard Fields, education alumnus
Jefferson City News-Tribune, St. Louis Post-Dispatch and USA Today: Formed support group for black educators
Brittae Gray-Ross, liberal studies alumnus
St. Louis American: Salute to Young Leaders awardee
Shanee Haynes, communications alumna
KLPW: 13th Amendment documentary
Jennifer Hecker, biology alumna
Bonita Springs Florida Weekly and Fort Meyers Florida Weekly: Protecting Florida's water and wildlife
Gail Lee Hintz, vocal accompanist
Phelps County Focus: Inducted into Rolla High School Hall of Fame
Tom Hoerr, scholar in residence
St. Louis Public Radio: Benefits of a servant leadership education model
Beth Huebner, professor of criminology and criminal justice
St. Louis Post-Dispatch: Educating policy makers and the public on what drive incarceration rates
St. Louis Public Radio: Jail reform in St. Louis County
David Kimball, professor and graduate director of political science
Governing: Election alternatives
Ryan Krull, assistant teaching professor of communications
Riverfront Times: Life at the Blue Fountain Apartments
Aunyã McElroy, counseling alumna
St. Louis American: Salute to Young Leaders awardee
Natalie Murphy, associate teaching professor of nursing and interim associate dean for academic programs
St. Louis Public Radio: Nursing shortage causing problems in St. Louis
Kyle Lackey, education student
St. Louis Post-Dispatch: Honored at Missouri History Museum exhibit
Martin Leifeld, former vice chancellor for advancement
St. Louis Post-Dispatch: Awarded Millard S. Cohen Lifetime Achievement Award from St. Louis Public Radio
Jacquelyn Lewis-Harris, director of the Connecting Human Origin and Cultural Diversity Program
Joplin Globe: Forgotten African relics
Stephen Littleton, business alumnus
Business Wire: Named VP of investor relations and corporate security at ExxonMobil
Jodi Oliver, education alumna
St. Louis Post-Dispatch: Hired as principal of Heritage Intermediate
Brian Owens, E. Desmond Lee Community Music Artist in Residence
Alive Magazine: Calls to action via music
Seemantini Pathak, assistant professor of business management
Innovation Map-Houston: Restructuring and hiring a CEO
Ben Poremba, philosophy alumnus
Hoodline: Best restaurants for new American food
Dave Robertson, chair of the Department of Political Science
St. Louis Post-Dispatch: Mark Mantovani entering race for St. Louis County executive
Marty Rochester, Curators' Teaching Professor Emeritus
St. Louis Jewish Light: Serious discourse without rancor
Rick Rosenfeld, Curators' Distinguished Professor Emeritus of Criminology and Criminal Justice
The Crime Report: Reforming prisons
KMOV: Cure Violence program
KMOV: Conviction rates for Circuit Attorney fall
Chicago Now: Race and violence statistics
St. Louis Public Radio: Bail reform
Katherine Ruocco, business alumna
Robinson Daily News: Appellate court election
Kristin Sobolik, interim chancellor
Columbia Daily Tribune: Leading the NextGen Precision Health Initiative
St. Louis Business Journal: Panelist at future of higher education discussion
Christopher Sullivan, director of health
St. Louis Public Radio: Mental health app
Terry Suhre, Director of Gallery 210
St. Louis Public Radio: Celebrating African American artists
Katie Vaughn, women's basketball coach
St. Louis Post-Dispatch: UMSL women rally around basketball coach after fire destroys her family's house
Other News:
Columbia Missourian: Nanotechnology Center part of NextGen initiative
Columbia Missourian: Governor names new members to University of Missouri System Board of Curators
Columbia Missourian: NextGen Initiative could mean $5 billion economic impact
Daily Journal: MAC student housing
Expansion Solutions Magazine: Building NGA workforce
Gladstone Dispatch: How to heal after heartbreak
KBIA: Bill to improve mental health resources statewide
KDSK: $700 million investment in Cortex
The Pitt News: Ranked-choice voting
St. Louis Business Journal: Launching the Center for Civic Research and Innovation
St. Louis Post-Dispatch: National Geospatial-Intelligence Agency north campus
St. Louis Post-Dispatch: $700 million investment in Cortex
Fox 2 and St. Louis Post-Dispatch: Sam Fiorello named as Cortex president and CEO
St. Louis Public Radio: Cortex driving regional economy
St. Louis Public Radio: Teach in 12 program
Washington Monthly: Colleges doing the most to get their students to vote

Short URL: https://blogs.umsl.edu/news/?p=84266