Media Coverage: December 2021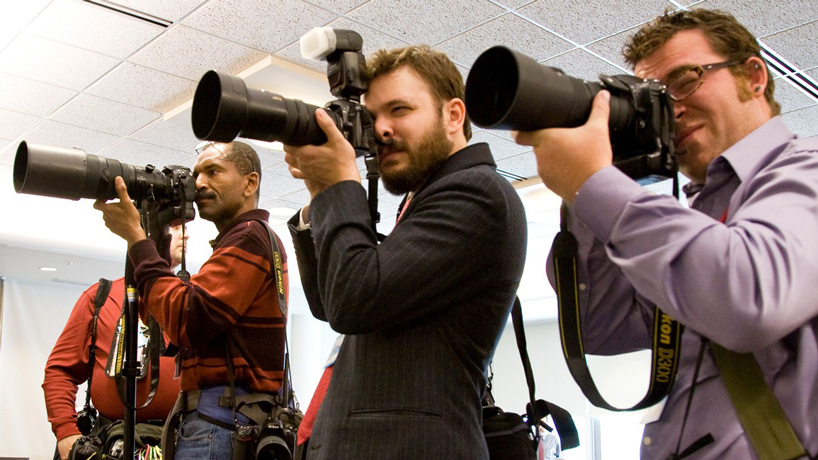 The University of Missouri–St. Louis makes a significant impact on the St. Louis area. Stories about the university, its scholars and their expertise are often covered by local and national news media.
Media Coverage highlights some of the top stories but does not serve as a comprehensive listing. Notice a clip we missed? Email us at umsldaily@umsl.edu.
Featured stories:
The St. Louis Post-Dispatch spoke with Michele Meckfessel, assistant professor of accounting, about the implications of a new minimum corporate tax. She said depreciation accounts for the biggest part of the gap between taxable income and the profit companies report to shareholders. Tax-loss carryforwards are another big difference-maker for companies like Amazon, which lost money for years before becoming profitable.
Amenta Christian-Robertson, engineering student, is one of several people St. Louis Magazine talked to about the region's burgeoning geospatial industry. Christian-Robertson is studying chemical engineering while also working as a a global service desk analyst at World Wide Technology. She envisions a career in biotechnology, perhaps as a chief security officer.
Beth Huebner, professor of criminology and criminal justice, provided her thoughts on rising incarceration rates to Governing and the Indianapolis Star. Huebner's research shows people held on probation violations also tend to stay in jail longer than the rest of the jail population. That clogs valuable bed space in facilities that desperately need people to go as quickly as they come. "When you talk to judges and other court personnel, oftentimes once someone violates probation, they are given that one chance," Huebner said, "then often people are more harsh because they've given them that one chance."
Media coverage:
Susan Brownell, professor of anthropology
The German Marshall Fund of the United States: The 2022 Winter Olympics, Calls for Boycotts, and the Role of Sports in China
Voice of America: Experts: Diplomatic Boycott of Beijing Games Needs More Nations for Impact
VOA China: Diplomatic boycott allies join forces with more countries to boycott Beijing Winter Olympics
World Journal/Chinese News Group: U.S. Boycotts Winter Olympics, Five Allies Australia, Britain, Canada, and New Zealand Eye Follow Up
Steven Bruce, director of the Center for Trauma Recovery
Columbia Missourian: Causing an accidental death carries its own kind of trauma
John Butz, public policy alumnus
Phelps County Focus: Central Workforce Development Region welcomes Butz to the Board
Joseph Carroll, Curators' Professor of English
Mashable: The surprising health benefits of binge-watching
Susan Feigenbaum, Curators' Distinguished Teaching Professor Emerita
Becker's ASC Review: 'I don't see much positive': ASC leaders on Biden's 1st year
Becker's ASC Review: Factors driving federal changes in ASC policy
St. Louis Post-Dispatch: McClellan: The Ghost of Christmas Past visits a former whiz kid
Beverly Fleming, education alumna
The Alton Telegraph: Harmon named interim principal at Marquette
Chris Frankenfield, education alumnus
Victory Sports Network: Frankenfield Named Head Men's Volleyball Coach at University of Health Sciences and Pharmacy
Timothy Green, business alumnus
St. Louis Construction News & Review: People On The Move In The Local Construction Industry
Philip Hong, political science alumnus
WGAU Radio: New dean for UGA's School of Social Work
Justyce Jedlicka, chemistry alumna
Food Safety Magazine: MilliporeSigma: Mycotoxin Madness
David Kimball, professor of political science
St. Louis Post-Dispatch: Bell opposes Fitch's plan for nonpartisan elections in St. Louis County
Mike Klenke, business alumnus
Washington eMissourian: Klenke replaces Strong on Meramec Valley R-III school board
Ken Koenemann, business alumnus
Industry Today, Automation: A Long-Term Solution to Supply Chain Crises
Amy Kweskin, finance alumna
The Source: Amy Kweskin named executive vice chancellor for finance, CFO
Sara McAllister, nursing alumna
Daily Journal Online: Nurse practitioner providing women's health care in Farmington
Orinthia Montague, education alumna
Hendersonville Standard: How 2021 impacted Hendersonville residents
Abte Mtibaa, assistant professor of computer science
KMOV: Lewis & Clark Community College to resume classes Tuesday amid ransomware attack
Grace Osvath, women's soccer midfielder
The Alton Telegraph: 'Amazing Grace' to UMSL
David Rose, professor of economics
97.1 FM Talk: Mark Reardon Show: Dave Murray says every household needs to have a tornado plan
Richard Rosenfeld, Curators' Distinguished Professor Emeritus of Criminology and Criminal Justice
CNN: 'We've seen lifelong friends kill each other:' How a state capital became one of the deadliest US cities
Eurasia Review: Why Violent Crime Is Rising – OpEd
Foundation for Economic Education: The Atlantic Claims 'More People Carrying Guns Tends to Result in More Shootings.' Decades of Data Show They're Wrong
New York Post: Jackson, Mississippi, hits all-time homicide record
Springfield News-Leader: With days remaining in 2021, Springfield sits at 26 homicides. Here's what we know.
St. Paul Pioneer Press: In record year for St. Paul homicides, 36 killed, many in domestic violence or minor disputes
Time: Amid a Continuing Wave of Gun Violence, This U.S. City is Bucking the Trend
Alieu Sanneh, political science alumnus
All Africa: The Gambia's 55-Year-Old Marbles Voting System Is Simple but Difficult to Cheat
Malena Smith, music alumna
NewsDirect: AP for LIFE Creative Resident Malena Smith Records Debut EP Through Mentorship of American Portfolios Affiliated Financial Professional Donna LaScala
Michael V. Smith, E. Desmond Lee Endowed Professor of Music Education
HEC: E. Desmond Lee Fine Arts Education Collaborative
Kristin Sobolik, chancellor
Columbia Daily Tribune: University of Missouri suspends COVID vaccine mandate for faculty, staff and student employees
Shawn Stevenson, biology alumnus
Health Planet: MBPP EP. 639.5 – Our Food Is The Gift And The Curse Ft. Shawn & Jorden Stevenson
Bob Sundvold, men's basketball coach
St. Louis Post-Dispatch: Led by veteran group, UMSL men are off to an 8-2 start
Jacqueline Thompson, professor of theater
Riverfront Times: Jazz Singer Denise Thimes Returns to St. Louis Stage In February
Christine Verduzco, education alumna
Leader Publications: Play center offers entertaining, educational experiences
Aric Waltz, optometry alumnus
Sioux Center News: Promise adds optometrist Dr. Aric Waltz
Luigi Wewege, business alumnus
PR Newswire: Caye International Bank Appoints Luigi Wewege as President
Other news:
Construction Forum STL: Vir Biotechnology Expanding in St. Louis
Daily Journal Online: Bicentennial: Sullivan explains why people work, live, play in St. Francois County
Fox 2 Now: St. Louis choir retells story of 'Candy Bomber' who dropped sweets from sky
Fox 2 Now: Why UM System employees no longer required to get a COVID vaccine
Fox 2 Now: This St. Louis County mayor wants to mine and share $1,000 in Bitcoin with citizens
Fox 2 Now: Get Out Along the St. Vincent Greenway
KCUR: A Black gun enthusiast is on a lonely mission to stop Missouri's suicide crisis
KMOV: MetroLink resumes operations after overhead system repaired
KTRS: St. Louis Coro Fellows Program Director Sam Babb talks to Ray Hartmann on St. Louis in the Know.
Ladue News: Holiday 2021: Shows to Note on St. Louis Area Stages This Season
The St. Louis American: Five local businesses selected to receive $50,000 each through UMSL
The St. Louis American: YWCA Metro St. Louis awarded the women chosen as 2021 YWCA Leaders of Distinction
The St. Louis American:St. Louis style holidays
St. Louis Business Journal: St. Louis Inno's 2021 Gift Guide: These 12 local startups have products you can buy this holiday season
St. Louis Business Journal: Skincare, children's meals and more: UMSL is giving 5 firms $50,000 each through a diversity-focused program
St. Louis Post-Dispatch: Longtime Variety leader Jan Albus to step down
St. Louis Post-Dispatch:  UMSL accelerator awards $50,000 apiece to 6 diverse entrepreneurs
St. Louis Public Radio: For St. Louis artists, 2021 was a year of improvisation and adaptation

Short URL: https://blogs.umsl.edu/news/?p=91876