Celebrating Black History Month with stories of UMSL student, alumni excellence
As the University of Missouri–St. Louis launches its annual commemoration of the triumphs, struggles and contributions of Black Americans with a month of Black History Month programming, we at UMSL Daily took a moment to revisit a year of inspiring stories of UMSL student and alumni accomplishments.
Those featured in the following 10 articles worked hard to achieve their dreams, improve their families' lives, impact communities and improve health.
PhD Alieu Sanneh gets a 'lifeline' to achieve his dreams at UMSL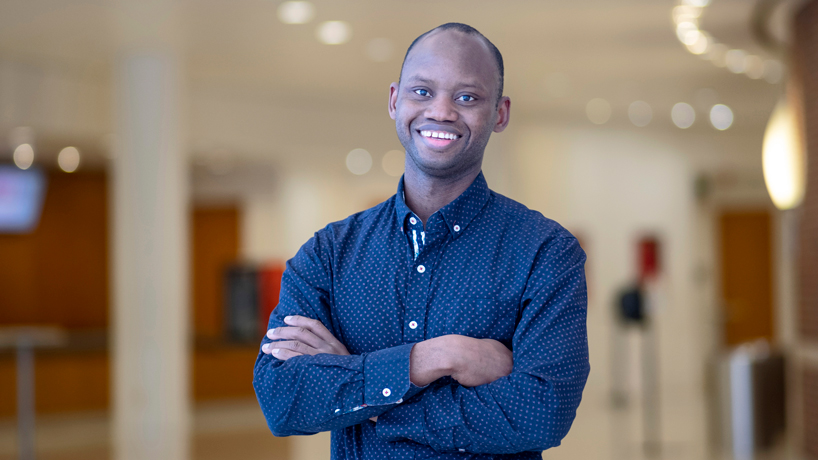 As a boy, Alieu Sanneh was incensed watching his parents toil for little money in The Gambia.
Sanneh was a naturally curious kid, always reading, and his family's situation only strengthened his resolve to further his education. His parents never had the opportunity to go to school, but he would.
"I knew that there were two things that I could do," he said. "My dad was a farmer, and being a farmer in Gambia means you get stuck in poverty. But I thought, 'Or I could change my life and become different. Choose education, however hard it is.' I could just test myself and see if I was good at it."
Now, Sanneh, who is the son of a farmer and domestic worker, is a doctor after recently completing his PhD in political science at UMSL.
Read more
A bout with cancer and her daughter's graduation inspire UMSL student Beauty Cooper to renew her own education goals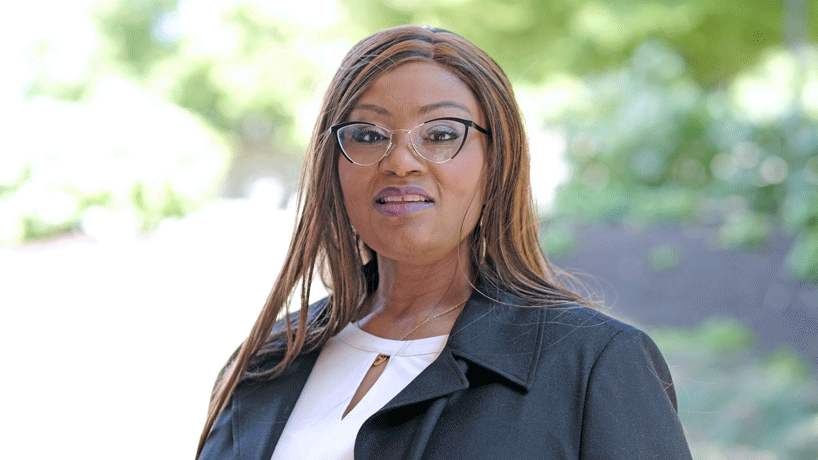 With an online ministry and responsibility for the care of three generations of her family, UMSL psychology and philosophy student Beauty Cooper didn't have much room for her own goals.
But after an experience with cancer and then after seeing her daughter, Candace Woodard, graduate from UMSL two years ago, Cooper decided it was her time.
"Of my four siblings, I was the only one to finish high school, and it was always my dream to graduate college," Cooper said. "I cried so many times at other people's graduations because I just knew I lost my opportunity. At my daughter's graduation, I knew I had to come to UMSL and be a student because it was part of my family. It made the school more home, and so that's why I wanted to come here."
Read more
Kay Hood selected for Japan Exchange and Teaching Program
Kay Hood was in middle school the first time she ever heard about the Japan Exchange and Teaching Program.
Her mother's friend had participated in the program for several years, and it was one of the things that first piqued her interest in Japanese culture and traveling to the country one day.
The other was Cartoon Network.
"I used to watch Adult Swim – I probably shouldn't have been watching it – when I noticed that there was a show called 'Bleach' coming on," Hood said of the popular Japanese animated show. "I thought it was the weirdest name for a show. Then I watched it, and it was the first anime that I actually sat and watched weekly and got really into. 'Bleach' really propelled me into the world of anime."
Now, Hood, who graduated from UMSL last spring with a bachelor's degree in Japanese and a minor in French, is participating in the JET Program after years of anticipation.
Read more
Ayomide Aruwajoye wins inaugural $10,000 Loretta Ford Centennial Scholarship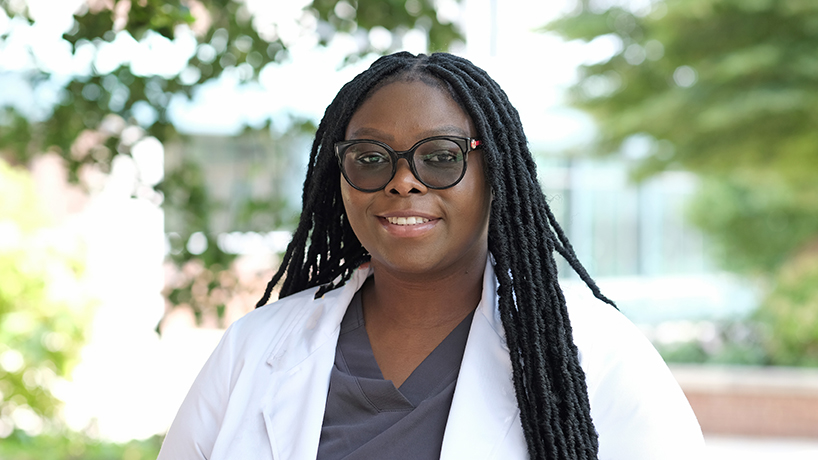 When Ayomide Aruwajoye first started thinking about what she wanted to do with her life, her mind flashed to her father, a pastor.
She'd spent her life watching him put together programs to help homeless people or members of the church.
"It's just the way my family is," she said, noting her mother's childcare profession. "We want to help or figure out how to heal in different types of ways. I fell in love with health care and the dynamic of taking care of people."
That interest in helping others led Aruwajoye to the UMSL College of Nursing, where she earned her BSN in 2017, then to the DNP program, where she's now less than a year away from completing her advanced degree.
Last year, her journey to becoming a nurse practitioner received some unexpected help when she was named one of five inaugural recipients of the Loretta Ford Centennial Scholarship.
Read more
Education alumnus James Young wins Ferguson-Florissant School District Teacher of the Year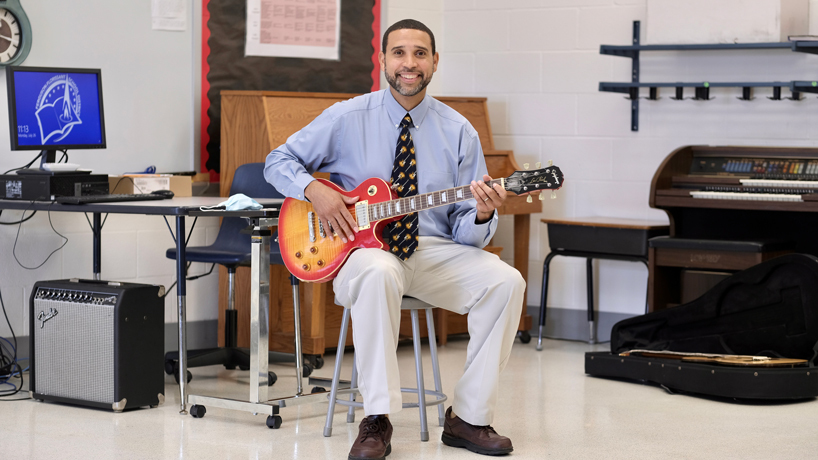 It was a mostly normal spring school day at Johnson-Wabash Sixth Grade Center in Ferguson, Missouri.
James Young, sixth-grade musical theatre teacher, had noticed some Ferguson-Florissant School District administrators in the building, which was a little bit odd but not unheard of. Young continued with his normal routine, heating up some food and heading back to his room to take his lunch break.
He was mid bite when Superintendent Joseph S. Davis and several other district administrators barged into the room with balloons, an Edible Arrangement and a novelty-sized check. They let a shocked Young, an UMSL alumnus, know he had been named Ferguson-Florissant School District's 2021-2022 Teacher of the Year.
"It was kind of surreal," Young said. "It was surreal because I know so many great teachers in our district and other places. There are so many great teachers who are just high-level. I work hard and do my best, but it really was an honor to be recognized for the work."
Read more
Read about Young winning Missouri Teacher of the Year
Not-so-traditional path gives optometry student Jasmine Welch unique lens for outreach efforts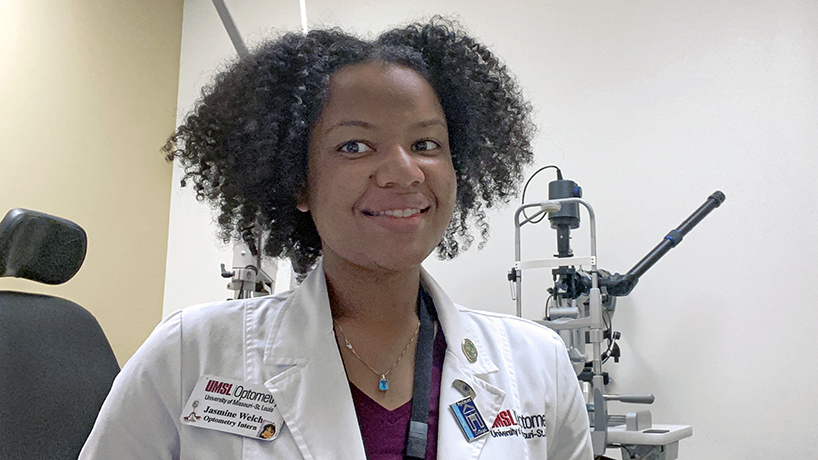 Getting a scleral contact lens to fit correctly involves fine-tuning many aspects of the large-diameter specialized lens that extends to rest on the white of the eye.
That process is part of what makes them UMSL student Jasmine Welch's favorite.
"It's a puzzle, trying to match the lens with the eye, as opposed to a soft lens, as you just pop that on, and you're out the door," the College of Optometry student said. "It's a little bit more involved, more hands on, and I enjoy that."
The unique lenses, Welch explains, can be useful for patients with keratoconus – a condition where the cornea juts out from the eye – with corneal transplants, with irregular astigmatisms that other contacts or glasses don't fully help or even with corneal wounds that aren't healing properly.
Read more
Leader of the St. Louis Avant-Garde: Artist Brock Seals' background fuels his ascent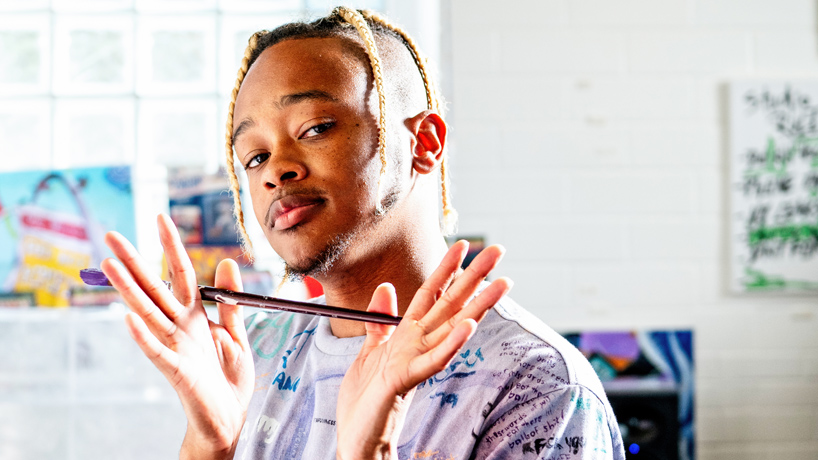 Paint cans, sneakers and recording equipment saturate Brock Seals' studio in the Grove. On a top shelf sits a Lego action figure he designed of himself. The scene feels like controlled chaos, a merging of artistic styles befitting a man who works across mediums.
The 2019 UMSL Department of Art and Design graduate is in full creative swing, no longer working a day job but instead supporting himself painting canvases, performing hip-hop and fashioning custom cleats for sports stars, such as Cardinals outfielder Harrison Bader.
Both book smart and street smart, Seals draws on a wide range of influences, from pop culture to ancient philosophy. Today wearing thin blond braids, a vintage KISS T-shirt, camo pants and sneakers running the color gamut, he's a walking visual statement who pushes boundaries. Having painted "REPARATIONS" in huge letters on the street by City Hall – as well as created roller skates that look like ice cream cones – his art is both political and commercially viable.
Read more
Ronald Jones works to nurture St. Louis into a city of gardens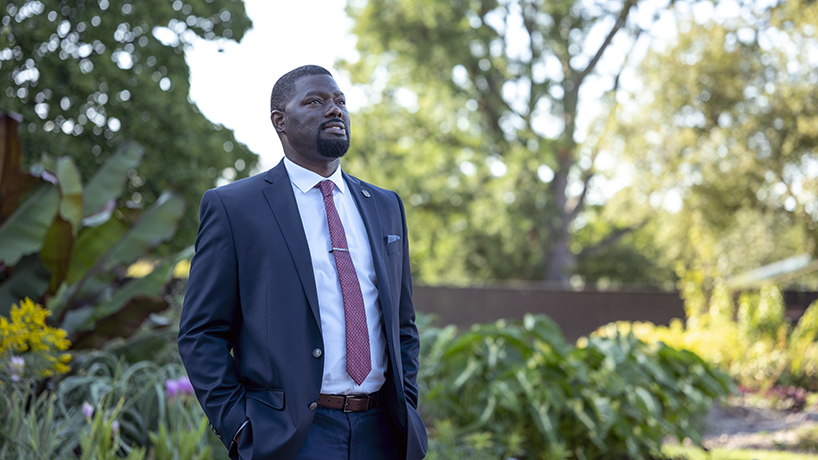 Ronald Jones' backyard bursts with life.
Cherry, fig, mulberry and plum trees stand among the grapevines. There are blackberries and raspberries, peaches and paw paws. Flowers bloom, attracting tiny visitors that, in turn, pollinate the fruit trees.
"I work hand in hand with the bumblebees and the hummingbirds," said Jones, an UMSL alumnus.
Jones' backyard and business, called Blackberry Landscaping LLC, is part pollinator garden, fruit orchard and educational center. Located in the heart of Jeff-Vander-Lou in North St. Louis, it's always open to the residents of the neighborhood. He traces its roots back to childhood summers in Walnut Park spent in "Fruit Alley," which he and friends named for the tantalizing array of fruit dropping from overhanging trees planted in the backyards of neighborhood elders.
Jones started gardening in his free time in 2008. The hobby became a passion that's grown into a dedication to help rebuild St. Louis neighborhoods, to nurture its people and plants and create a city of gardens.
Read more
'Where I'm supposed to be': December grad, young single mother Lauren Bowers figures things out at UMSL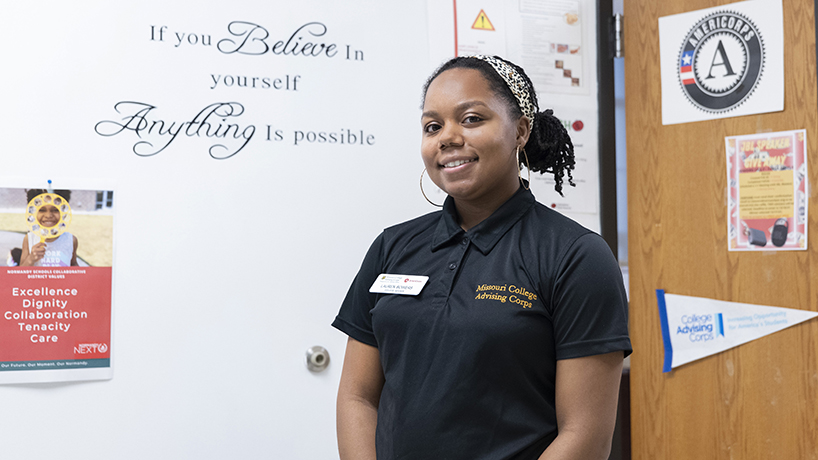 When she talks about her daughter, Lauren Bowers' voice changes.
It's always lively and focused but, upon mention of Skye, suddenly there's an apparent smile and more than a hint of pride.
"She's 1," Bowers said. "She was born on 2/20/2020. She was due on 2/29, so she was going to have a quirky birthday no matter what. But she's so smart. She can count to 18. She knows her ABCs, and she's not even 2 yet. So, yeah, she's, she's just – I don't know – I'm kind of speechless. I'm at a loss for words, but I love her."
A Pierre Laclede Honors College and criminology and criminal justice major, Bowers graduated cum laude from UMSL last month after a year away following the birth of her daughter. Having to take a break proved to be extremely difficult for Bowers, an ambitious and talented student, and persevering to graduate as a single mother, while working full-time, is a triumph.
Read more
Doctor of Business Administration research puts alumnus James E. Jordan Jr. on path to senior leadership at USDA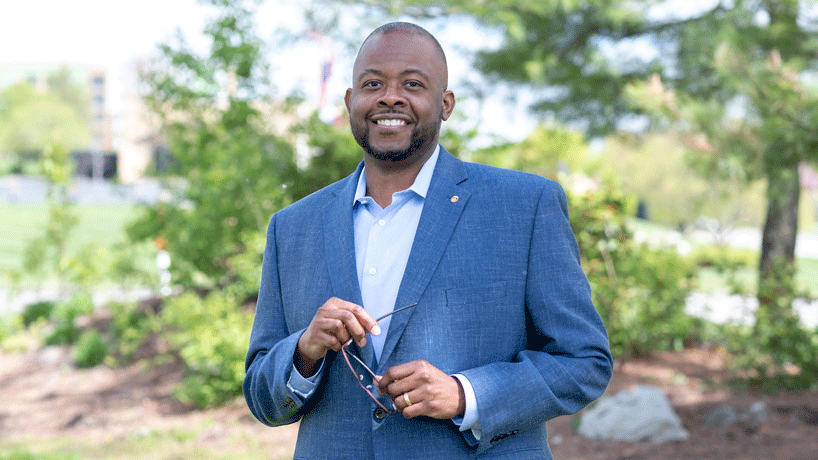 The day before James E. Jordan Jr. received his Doctor of Business Administration from UMSL, he was notified by his employer of almost two decades that he was chosen to lead a newly created division.
For Jordan, being named the director of the Program Assistance Division at Rural Development for the U.S. Department of Agriculture was affirmation that his research and hard work to earn a DBA had made a positive impact on his career.
"I graduated December 19, 2020, and found out I was offered the new position on December 18, 2020," Jordan said. "I officially started the job in January 2021. The skills that I have gained in the DBA program provided me with additional skills to meet the needs of the new organization. There was a need to research and understand the problems and prepare recommendations for resolution, and the tools that I acquired during the program gave me the necessary knowledge to be able to make a difference."
Read more
About Black History Month at UMSL
Each year, the Office of Student Involvement works with student organizations and other departments to celebrate and honor the many important and invaluable contributions African Americans have made in our world, as well as educating about the past and present-day experiences in the Black community.
Details about this year's events can be found on MyEngage.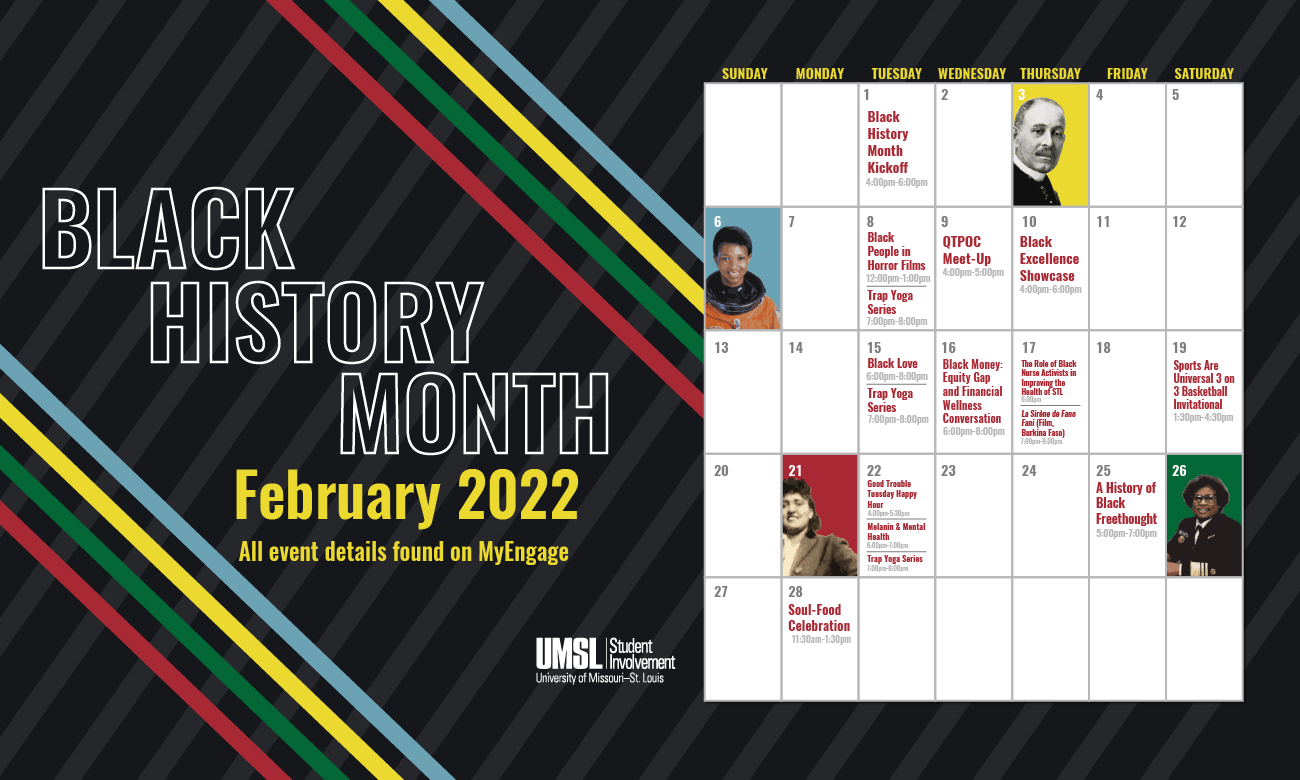 Short URL: https://blogs.umsl.edu/news/?p=92147