Media Coverage: March 2022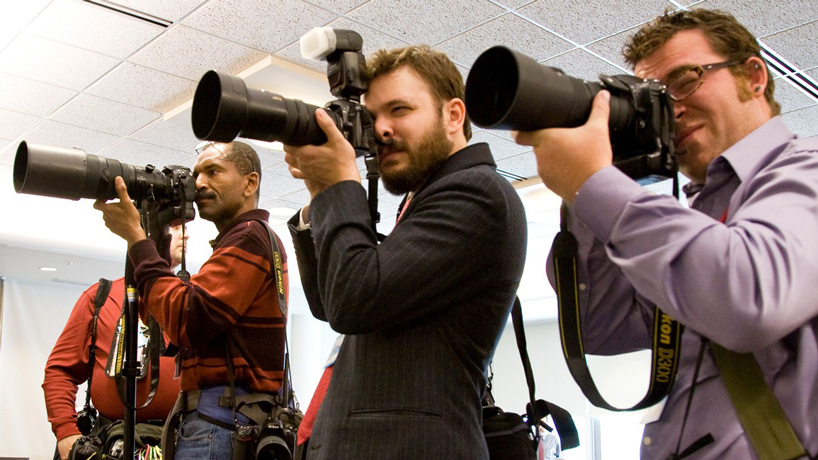 The University of Missouri–St. Louis makes a significant impact on the St. Louis area. Stories about the university, its scholars and their expertise are often covered by local and national news media.
Media Coverage highlights some of the top stories but does not serve as a comprehensive listing. Notice a clip we missed? Email us at umsldaily@umsl.edu.
Featured stories:
Dan Lauer, the founding executive director of UMSL Accelerate, spoke with CNBC about Accelerate's Diversity, Equity and Inclusion Accelerator and supporting underrepresented startup founders. Lauer said he wants to help participants to be able to create generational wealth.
Lara Zwarun, an associate professor of communications, joined host Sarah Fenske on "St. Louis on the Air" to discuss how Ukrainians are using social media to combat Russian disinformation. Zwarun said after the Maidan Revolution in 2014, many Ukrainians became better organized, not just in a military sense but with their online messaging as well.
St. Louis Public Radio invited Letisha Wexstten to discuss her startup V15Able, which is a an online career development platform for people with disabilities and employers who wish to hire capable candidates who happen to have a disability. V15Able is similar to LinkedIn, only it's also designed to address questions employers might have about someone's disability.
Media coverage:
Rachel Anderson, Sue Shear Institute graduate
Springfield News-Leader: 2 Springfield women recognized for mentoring, inspiring others by Chamber of Commerce
Sonya Bahar, professor of biophysics
Physics Today: Physicists happy to be back face-to-(masked)-face at APS March Meeting
Allison Balderrama, museum studies alumna
Atchison Daily Globe: Balderrama is flying high as Museum Director
Brian Bishop, education alumnus
Newstime: WSD Hires New Assistant Superintendent of Human Resources
Susan Brownell, professor of anthropology
NPR: China is a Paralympics star, but its people with disabilities face high hurdles
Christopher Cerroni, political science alumnus
KTVO-TV: Missouri State Highway Patrol sergeant to retire after 29 years of service
John Cucchi, communication alumnus
KSDK: John Cucchi promoted to director of sales at 5 On Your Side
Bradley DiMariano, public policy administration alumnus
The New York Times: The Wrong Side of the Gender Gap
Alex Ebert, financial aid coordinator
St. Louis Magazine: How St. Louis educators are solving for students' needs
James Farquhar, music student
Columbia Missourian: Odyssey fellow James Farquhar performs concert in stunning moment
Sara Foster, communication alumnus
Advisor News: Sara Foster Announces Her Retirement After 35 Years and Commerce Bank Shares Her Successors
Matthew Griese, former assistant baseball coach
The Missouri Times: Coach Matthew Griese announces candidacy for state representative of Lake St. Louis, Dardenne Prairie
Sharonica Hardin-Bartley, education alumna
The St. Louis American: U City's Dr. Hardin-Bartley selected for national fellowship
St. Louis Post-Dispatch: Superintendent Sharonica Hardin-Bartley selected as Annie E. Casey Foundation Children and Family Fellow
Ryan Higgins, education and history alumnus
The Missouri Times: Republican Ryan Higgins to run for state representative in St. Louis County
Mark Holaway, political science alumnus
The State Journal-Register: Jacksonville middle school teacher Holaway named to LLCC board of trustees
David Kimball, professor of political science
The Associated Press: Busch beer heiress enters Missouri US Senate race
Daily Caller: Anheuser-Busch Heiress Announces Run For Senate
Daily Kos: MO-Sen: WTF?!? Senate Candidate Lucas Kunce's (D) Campaign Office Gets Broken Into
The St. Louis American: County Republicans thwarted; Fitch drawn out of his own district
St. Louis Post-Dispatch: Who's behind effort to change elections in Missouri? A couple from Texas
Eileen Lambert, accounting alumna
Webster-Kirkwood Times: Help Your Loved Ones Find Their Oasis
Timothy Maher, teaching professor of criminology and criminal justice
Cosmopolitan: When the Man Who Sexually Assaults You Is a Cop
Anita Manion, assistant professor of political science
KCUR: Eric Greitens accused by ex-wife of physically abusing his family, 'unstable and coercive' behavior
KSDK: Danforth: 'Something is really wrong here' after Schmitt's 'Let's go, Brandon' speech
KSDK: Senators Durbin, Hawley clash at 2nd day of Supreme Court confirmation hearings
St. Louis Public Radio: Missouri legislature returns from break with only one law passed at midpoint
Bill Mays, member of Safer Homes Collaborative
Kaiser Health News: More Black Americans Are Buying Guns. Is It Driving Up Black Suicide Rates?
NPR: More Black Americans are buying guns. Is it driving up Black suicide rates?
Real Health Magazine: Is There a Link Between Gun Ownership and Suicide in Black Americans?
Salon: More Black Americans are buying guns—is it driving up Black suicide rates?
Charles Messmer, criminal justice alumnus
Leader Publications: Rockwood Schools: Five crowd into field for two open seats
David Meyer, business alumnus
PR Newswire: David Meyer Elected to Graybar's Board of Directors
tED: Graybar Elects David Meyer to Board of Directors
Joshua Miller, chemistry alumnus
VolumeOne: Meet the 2022 Candidates
Jerome E. Morris, the E. Desmond Lee Endowed Professor of Urban Education
Diverse Issues in Higher Education: American Educational Research Association Announces 2022 Fellows
News Wise: AERA Announces 2022 Fellows
Doug Mueller, accounting alumnus
Construction Forum STL: Jeffrey R. Murphy Named Construction Forum President
Brendan Mulqueeny, optometry student
VSP Global: VSP Global and Heart of America Eye Care Congress announce the recipient of the third Dr. Frank D. Fontana Memorial Scholarship
Tareq Nabhan, assistant clinical professor of optometry
Everyday Health: New Directions: What's Coming Down the Pike in Eyewear?
Randall Perkins, biology alumnus
Boston University School of Medicine: A Student Receives National Health Service Corps Award
Rick Rice, economics alumnus
KMOV: Francis Howell School Board candidates talk critical race theory, controversial books
Richard Rosenfeld, Curators' Distinguished Professor Emeritus of Criminology and Criminal Justice
The Atlantic: Why People Are Acting So Weird
Northern California Public Broadcasting: Violent Crime Soared During the Pandemic. But Does the Political Debate Reflect the Data?
Time: Why the FBI Won't Release Quarterly Crime Stats for 2021
The Washington Post: This police chief is hiring female officer to fix 'toxic' policing
Lynne Ruzicka, business alumna
Leader Publications: Rock Township Ambulance: Four are in search of two available seats on board
Todd Scott, education alumnus
Leader Publications: Fox C-6 Schools: Heated race on to fill three seats on board
Juliann Sebastian, former dean of the College of Nursing
News Channel Nebraska: UNMC's College of Nursing dean Juliann Sebastian announced retirement
Doug Swanson, coordinator for labor studies
KMOX Radio: 40 Hour Work Week an Exception to the Norm
St. Louis Business Journal: In rare move, workers at O'Fallon company dump union after 40 years
Derrick Wallace, education alumnus
Ladue News: Derrick Wallace named assistant superintendent at Ladue
Jim Widner, former professor and director of jazz studies
Daily Journal Online: Jazz festival will honor its founders
Daily Journal Online: 36th jazz festival renamed in honor of its two founders
Rachel Zipfel, business alumna
CNN: Two years later, remote work has changed millions of careers
Other news:
Fortune: Amazon workers can now attend these 180 colleges for free
Fox 2 Now: UMSL chosen as education partner for Amazon Career Choice program
Fox 2 Now: Both UMSL Men's and Women's basketball teams are NCAA Tournament bound
Fox 2 Now: St. Louis County Council aims for compromise on $210M convention center expansion
Jacksonville Journal-Courier: JWCC plays host to college fair
The Joplin Globe: Our view: Free mental health trainings for schools would be beneficial
KMOV: UMSL men and women's basketball qualify for the NCAA Division II tournament in the same season
KMOV: UMSL and SLU invest in an innovation center in North City
KSDK: Amazon picks 4 area universities and colleges to offer education to its hourly employees
KSDK: UMSL hoops is heading to NCAA Division II tournament
KSDK: St. Louis Public Radio photo contest aims to usher in next generation of journalists
LAist: Understanding LA's Homelessness Issues
Missourinet: Mental Health First Aid? It's in demand in Missouri Schools – and the state is offering free training
The Penny Hoarder: Amazon Increases Tuition Reimbursement for Study at 180 Schools
RiverBender.com: L&C's East St. Louis Nursing Students Visit UMSL
St. Louis Business Journal: Amazon picks 4 area universities and colleges to offer education to its hourly employees
St. Louis Business Journal: Meet the 2022 Innovation in Philanthropy Awards winners
St. Louis Business Journal: UMSL, SLU to collaborate on R&D for advanced manufacturing center
St. Louis Post-Dispatch: Days says proposal for north St. Louis County recreation facility 'close,' but won't release details
St. Louis Post-Dispatch: Days adds $40 million for a north St. Louis County rec center to convention center bonds
St. Louis Post-Dispatch: Overdose deaths flatten in St. Louis region but still dismal
St. Louis Post-Dispatch: Business Bulletin Board: FOCUS announces What's Right with the Region awards
St. Louis Post-Dispatch: Digest: UMSL's Division II postseason run ends
St. Louis Post-Dispatch: Emails reveal behind-the-scenes planning for north St. Louis County rec center
St. Louis Post-Dispatch: Cortex, facing unprecedented challenges, plots new course. 'This is an evolution,' says chief.
St. Louis Post-Dispatch: UMSL's Artists Anonymous group fulfills wishes with murals
St. Louis Post-Dispatch: Business Bulletin Board: Rootberry expands; GCS helps out; Transactly acquires
St. Louis Post-Dispatch: The art of healing: Treating grief, illness or worry with creative action
St. Louis Post-Dispatch: Budget chief balks at push to raise teacher salaries in Missouri
St. Louis Public Radio: St. Louis recorded hundreds of overdose deaths during the pandemic
St. Louis Public Radio: St. Louis universities and schools are teaming up to study education issues
Teknovation: UMSL operates nation's "first-of-its-kind" university-led DEI accelerator
Teknovation: St. Louis adds another leg to its major R&D efforts

Short URL: https://blogs.umsl.edu/news/?p=92999