Media Coverage: May 2022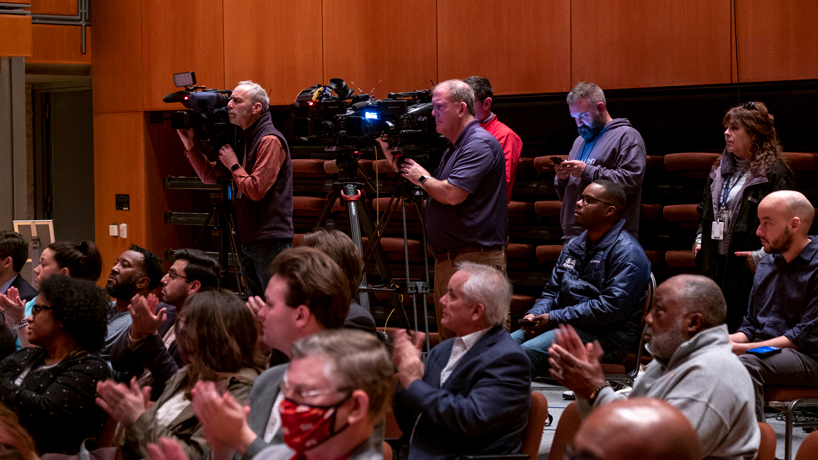 The University of Missouri–St. Louis makes a significant impact on the St. Louis area. Stories about the university, its scholars and their expertise are often covered by local and national news media.
Media Coverage highlights some of the top stories but does not serve as a comprehensive listing. Notice a clip we missed? Email us at umsldaily@umsl.edu.
Featured stories:
The St. Louis American interviewed Myrina "Renaissance" Otey-Myton, business alumna, about her "H.E.R. Eminent Reign: The Movemint" photo series. The visual art series highlights unsung Black women, including Leontyne Price, the first African American soprano opera singer afforded international recognition; Florence Mills, a popular cabaret, dancer and comedian during the Harlem Renaissance era; and Ericka Huggins, activist and past principal member of The Black Panther Party.
Kit Heffern and Webster Heffern, biology student, joined St. Louis Public Radio's "St. Louis on the Air" to discuss the 50-year history of Heffern Jewelry in Clayton. Webster has begun joining his father in the family business at their shop at 101 South Hanley Road and will be the fourth generation to run the family business.
The St. Louis Business Journal interviewed David Rose, professor of economics, about the St. Louis' "brain drain." St. Louis lost nearly 2,000 educated people each year since 2010. Rose offered two solutions for the ominous trend: fixing crime issues and improving struggling public schools.
Media coverage:
Melanie A. Adams, education alumna
The Georgetowner: Smithsonian's Anacostia Museum Director Headlines Cultural Breakfast
Shelli Allen, education alumna
KWBG Radio: DMACC Boone Campus Commencement Friday
Yolanda Alovar, education alumna
Ladue News: Meet Dr. Yolanda Alovor: St. Louis Symphony Orchestra's New VP of External Affairs and Equity, Diversity and Inclusion
Stephen Bagwell, assistant professor of political science
The Conversation: Foreign companies exiting Russia echo the pressure campaign against South Africa's racist apartheid system
Edward Bennett, professor emeritus of optometry
Vision Monday: AOA Foundation Announces Four Inductees for 2022 into the National Optometry Hall of Fame
Michael Cosmopoulos, Hellenic Government-Karakas Foundation Professor of Greek Studies
Greek Reporter: Greek Archaeologist Cosmopoulos Elected to American Academy
The National Herald: UMSL Archaeologist Cosmopoulos Elected to American Academy of Arts & Sciences
Rachelle Crowe, biology alumna
The Alton Telegraph: Crowe named new US Attorney
St. Louis Post-Dispatch: State senator from Glen Carbon confirmed as U.S. attorney for southern Illinois
Kelsey Cundiff, assistant professor of criminology
KSDK: Data shows how frequent school shootings are in Missouri and Illinois
Perry Drake, associate professor of marketing
St. Louis Post-Dispatch: Nicklaus: As a business, Twitter needs fixing. Can Musk do it?
Phillip Dunlap, adjunct professor of music
Broadway World Miami: Bailey Contemporary Arts Center Seeks New Artists In Residence
Shawntelle Fisher, social work alumna
St. Louis Post-Dispatch: Messenger: Felony record blocks nonprofit founder from becoming a foster parent
Steven Harris, accounting alumnus and member of the Chancellor's Council
The St. Louis American: RubinBrown names Steven Harris managing partner
St. Louis Business Journal: RubinBrown names Steven Harris as managing partner, 4th in 70-year history
Beth Huebner, professor of criminology
St. Louis Post-Dispatch: St. Louis County jail adviser quits, calls for reform panel with subpoena power
Andrea Hughes, adjunct professor of literacy
Springfield Business Journal: Newsmakers: May 23-29, 2022
Veta Jeffery, business alumna
Omaha World-Herald: New head of Greater Omaha Chamber plans to work to keep young people in city
Shea Kerkhoff, assistant professor of literacy
Today at Elon: Student, alumni and faculty research presented at American Educational Research Association annual meeting
David Kimball, professor of political science
Fox 2 Now: Endorsement from Trump could sway Missouri Senate primary
Riverfront Times: Missouri May Vote on Ranked-Choice Voting this Year
Chris Kopp, business alumnus
Construction Forum STL: Chris Kopp, MBA, Named Senior Project Manager at BEX Construction
Lea-Rachel Kosnik, professor of economics
The St. Louis American: The challenge of interracial adoption: "Is he with you?"
Sandra Langeslag, associate professor of psychological sciences
The Economic Times: Can we fall out of love? Science says we do have some control over the process
KCRW: The psychology of heartbreak and strategies for singledom
KCRW: The science behind heartbreak: How to move on, and is there a cure?
Dan Lauer, founding executive director of UMSL Accelerate
The St. Louis American: Young St. Louis inventor hits bullseye
Kawanna Leggett, education alumna
The Journal of Blacks in Higher Education: Four African Americans Who Have Been Appointed to University Administrative Posts
The St. Louis American: Kawanna Leggett named senior VP at Loyola Marymount
Suzanna Long, history alumna
Phelps County Focus: Missouri S&T department chair named dean of engineering at University of Idaho
Anita Manion, an assistant professor of political science
KSDK: Rep. Cori Bush pushes to end the filibuster in fight for abortion access
Riverfront Times: The Way to Save Roe? Abolish the Filibuster, Says Cori Bush
Riverfront Times: IUDs, Plan B Likely Illegal in Missouri Post-Roe
Riverfront Times: Senate Candidate Trudy Busch Valentine Ducks Missouri Voters
Joe McCarthy, business alumnus
St. Louis Post-Dispatch: Vietnam veteran unlocks 50 years of memories
Janell Mueller, education alumna
St. Louis Post-Dispatch: WSD Names Assistant Superintendent of Administrative Services
April Mullen, adjunct professor of digital marketing
MarTech Series: How The Increase In Consumer Privacy Is Causing A Shift In Investment
Zelideth Rivas, biology alumna
The Herald-Dispatch: Rivas named Hendrick Award winner
Richard Rosenfeld, Curators' Distinguished Professor Emeritus of Criminology and Criminal Justice
Brownstone Institute: The Culture of Devaluation, Destruction, and Devolution
InsideNoVa: Two shot in Manassas, search underway for gunman
St. Louis Post-Dispatch: Ex-St. Louis health director named CEO of national anti-violence organization
Leah Holbrook Sackett, adjunct professor of English and communications
PR Sync: New Book by Leah Holbrook Sackett: Catawampus in Sweetgum County
Liz Sale, research associate professor at MIMH
St. Louis Post-Dispatch: Suicide on campus: How the mental health crisis is changing college life
St. Louis Post-Dispatch: The people trying to reduce youth suicide in Missouri and what they need
Tracy Smith, education alumna
The St. Louis American: Tracy Smith selected as principal of Ross Elementary
Shawn Stevenson, biology alumnus
The Doctor's Farmacy with Mark Hyman: How To Improve Your Sleep
Dean Streed, education alumnus
KJFM Radio: Streed named principal at Clopton
Pike County News: Streed hired as new Clopton High School principal
Joel Sylven, men's golfer
St. Louis Post-Dispatch: UMSL golfer wins Division II championship, first in school's history
Golfweek: Lee men's golf wins 2022 NCAA Division II National Championship
Elizabeth Voss, optometry alumna
Women in Optometry: Congratulations, Class Of 2022!
Eric Warnhoff, business student
Employee Benefit News: Expand your definition of inclusivity: How employers can support blind talent
Reneé Watson, education alumna
The Journal of Blacks in Higher Education: New Administrative Posts in Higher Education for Five African Americans
Luigi Wewege, business alumnus
FinExtra: Get on The Road to Investing Wisely with These Tips
Chelsey Wilks, assistant professor of clinical psychology
KSDK: 'These kids are struggling': Mother speaks about son's suicide in hopes of finding solution
KSDK: What to do to protect your child on social media
Other stories:
Call Newspapers: BoE hears Compass Plan updates at workshop
Columbia Daily Tribune: University of Missouri's tuition will increase in fall, with a new structure for 2023-24
Columbia Missourian: UM curators approve tuition increases, new differential tuition structure
EIN Presswire: AcademicInfluence.com Ranks the Best Colleges & Universities in Missouri for 2022
Government Technology: University of Missouri-St. Louis to Train Java Developers
KCUR: Missouri's federal funding for Narcan has ended even as overdoses escalate
KSDK: St. Louis artist paints 'most ambitious' mural in East St. Louis
KTVI: Jazz legend Denise Thimes to perform at special Mother's Day concert
Las Cruces Sun-News: NMSU among universities in new NSF program for Resilient and Intelligent NextG Systems
Missouri Ag Connection: St. Louis Comes Together to Announce Taylor Geospatial Institute
Missouri Business Alert: New Taylor-backed institute hopes to make St. Louis a center for geospatial research
Missouri Business Alert: Missouri's federal funding for Narcan has ended even as overdoses escalate
Missouri Senate: Sen. Brian Williams Helps Secure Funding for North St. Louis County Projects
The St. Louis American: A Song for Mama
St. Louis Business Journal: Using the IPO financial model as a catalyst for moving our region forward, once and for all
St. Louis Business Journal: Corporate Philanthropy Awards 2022: Clayton intelligence firm partners with university to help nonprofit make better hires
St. Louis Business Journal: Convention center delay, North County add-on to cost taxpayers extra $88M, official says
St. Louis Magazine: Dance St. Louis closes its season with the 14th annual SPRING TO DANCE Festival
St. Louis Post-Dispatch: St. Louis-area projects get funding in massive state Senate plan
St. Louis Post-Dispatch: After a nod from God, Denise Thimes brings back her Mother's Day concert for 25th anniversary
St. Louis Post-Dispatch: Missouri lawmakers OK election year budget with tax rebates, money for construction
St. Louis Post-Dispatch: 'This place was ugly at times': Missouri lawmakers close book on contentious session
St. Louis Post-Dispatch: Bike-riding lessons are booming business in St. Louis
St. Louis Public Radio: Largest budget in Missouri history includes teacher raises, tax credits, rural road work
St. Louis Public Radio: Commentary: Many factors contribute to the cultural richness of St. Louis
The University News: Health Policy Pod Hosts Narcan Training
West Newsmagazine: St. Louis Community College celebrates 60 years, plans for the future
West Newsmagazine: St. Louis County to receive $77 million in federal relief money

Short URL: https://blogs.umsl.edu/news/?p=93992