Media Coverage: June 2022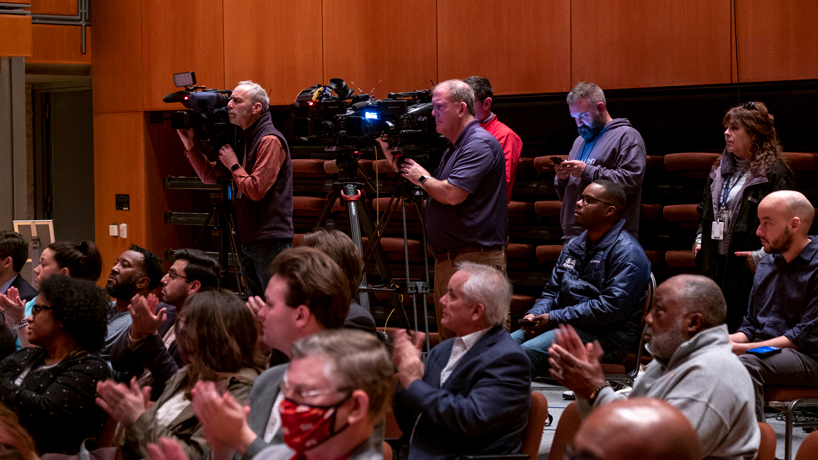 The University of Missouri–St. Louis makes a significant impact on the St. Louis area. Stories about the university, its scholars and their expertise are often covered by local and national news media.
Media Coverage highlights some of the top stories but does not serve as a comprehensive listing. Notice a clip we missed? Email us at umsldaily@umsl.edu.
Alexis Zotos, of KMOV (Channel 4), interviewed Tony Davis, business alumnus and UMSL Accelerate participant, for the "Meet Me in St. Louis" podcast. Davis discussed starting his business Pop Pop Hurray!, a gourmet popcorn company, during the pandemic. He also shared his vision for the present and future of his brand, as well as the push he received from UMSL Accelerate program, which works to lift up small businesses.
The St. Louis Business Journal profiled Steven Harris, an accounting alumnus, after being named managing partner at Clayton accounting firm, RubinBrown. Harris recounted watching his father E.C. Harris build his successful drapery installment business and explained how an accounting class at UMSL changed the course of his career.
Lori Flanagan, director of athletics, was one of several St. Louis athletes and leaders interviewed by the St. Louis Post-Dispatch about the impact of Title IX. Flanagan recalled her time as a high school athlete in Wisconsin when girls had to petition the principal to start a basketball team in the years after Title IX was enacted.
Media coverage:
Terry Austin, former professor of music
VCU News: Retirement concert honors the legacy of VCU's longtime director of bands
Stephen Bagwell, assistant professor of political science
The Academic Minute: This Week on The Academic Minute (2022.06.06)
The Academic Minute: The Academic Minute from 06.06 – 06.10
Inside Higher Ed: Declining Respect for Human Rights: Academic Minute
Springfield News-Leader: 'A step beyond': Eric Greitens' new 'RINO hunting' ad criticized by politics and violence experts
Warner Baxter, accounting alumnus
Daily Energy Insider: Edison Electric Institute elects new board chair
PR Newswire: Warner Baxter elected EEI chair; Pedro J. Pizarro and Maria Pope elected vice chairs
Steven Brawley, communication alumnus
Out in STL: The Hearse Chaser: Steven Brawley Preserves LGBTQ History
St. Louis Business Journal: Business of Pride Awards 2022: Steven Louis Brawley preserves St. Louis' LGBTQ history
Susan Brownell, professor of anthropology
South China Morning Post: Messy Summit of the Americas highlights contrast in US, China hosting styles
Jon-Anthony Caban, former Tritons baseball player
Urban Milwaukee: Milwaukee Youth Face Barriers to Participate in Sports
Claire Christeson, education student
RiverBender.com: Two-Sport Athlete Claire Christeson Is A Tom Lane State Farm Insurance Female Athlete Of The Month For CM
Luke Coffey, political science alumnus
Hudson Institute: Hudson Institute Welcomes Luke Coffey as a Senior Fellow
Rachelle Crowe, biology alumna
Labor Tribune: Crowe confirmed as U.S. attorney
Seema Dahlhemier, English alumna
Sportskeeda: Who is returning to the Chaser throne in The Chase Season 3 Episode 6?
Scott Decker, former professor of criminology
KMOV: Grassroots organization holds walk protesting police pursuits in St. Louis City, County
Aimee Dunlap, associate professor of behavioral ecology
STL Made: Hive Mind
Keshia S. Elder, dean of the College of Optometry
Vision Monday: Keshia S. Elder, OD, Named Dean of College of Optometry at the University of Missouri–St. Louis, Becomes Country's First Black Female Optometry School Dean
Women In Optometry: Women In The News – June
Erika Gibb, chair of the Department of Physics and Astronomy
St. Louis Post-Dispatch: Don't miss it: Five planets and the moon will align Friday morning in St. Louis
Beth Goetz, education alumna and former head women's soccer coach
CNHI Sports Indiana: Title IX at 50: Progress, but more to do
The Meridian Star: Title IX at 50: Progress, but more to do
St. Louis Post-Dispatch: Title IX anniversary carries weight with Mizzou AD Reed-Francois
Danielle Henkel, former Tritons tennis player
Brownwood News: Henkel Named Head Coach For Howard Payne Tennis
Jerri A. Johnson, adjunct professor of education
Leading Equity Podcast: Leading Equity Episode 245: How to Lead an Urban School with Jerri A. Johnson, Ph.D.
Faith Jordan, education alumna
EdGlenToday.com: Lincoln Middle School Math Teacher Faith Jordan and Family Will Soon Have Home Of Own Thanks To Habitat For Humanity
David Kimball, professor of political science
St. Louis Business Journal: Indictment of St. Louis aldermen puts spotlight on SLDC: 'I want to get this done ASAP'
David Klinger, professor of criminology and criminal justice
San Diego Union-Tribune: 'It's a miracle we were not killed': Harbor police fired at a gunman — and a round struck a passing vehicle
San Francisco Chronicle: 'It didn't have to happen.' Experts review video, criticize S.F. police in double fatal shooting
Lea-Rachel Kosnik, professor of economics
Riverfront Times: St. Louis Professor's Novel Inspired by Real-Life Adoption Story
Dan Lauer, executive director of UMSL Accelerate
KMOV: New businesses fail at higher rate in Missouri, local program works to change that
Jeff Lenhart, business alumnus
Springfield Business Journal: Newsmakers: June 13-19, 2022
Burnea Lester, former evaluation and learning manager at the Community Innovation and Action Center
Construction Forum STL: Burnea Lester Joins SITE Improvement Association
St. Louis Post-Dispatch: Workforce Development Leader Burnea Lester Joins SITE Improvement Association
David S. Loshin, former professor optometry
Vision Monday: Association of Schools and Colleges of Optometry Announces Special Recognition Award Recipients
Anita Manion, an assistant professor of political science
NPR: Eric Greitens says his RINO-hunting ad was meant in humor. How will voters see it?
Riverfront Times: Downfall: A Guide To the Scandal Rocking St. Louis' City Hall
St. Louis Public Radio: Monday: Missouri leads the way banning abortion with Roe overturned
St. Louis Public Radio: Post-Roe, 'both parties are hoping to mobilize their voters,' says UMSL professor
WVEC-TV: No, leaders of the Jan. 6 committee didn't try to overturn previous elections
Stella Markou, associate professor of music, director of vocal studies and director of Opera Theatre
Arlington Virginia Patch: In Concert – Jose Sacin and Stella Markou
Jerome Morris, E. Desmond Lee Endowed Professor of Urban Education Professor
KMIZ: Vehicle stop report data shows continued overrepresentation of Black drivers in traffic stops
Kathy Osborn, former vice chancellor
St. Louis Business Journal: Advance STL: In St. Louis' struggles to attract talent, many answers come from within, panel says
Amber Reinhart, associate professor of communication
The National Desk: Parents give mixed reaction to getting children 5 and under vaccinated
David Roither, philosophy alumnus
EIN Newswires: 22nd circuit commission announces nominees for Sullivan circuit judge vacancy in St. Louis
Yaakema Rose, exercise science alumnus and former Tritons basketball player
The State Journal-Register: 'I finally get to say it': Springfield Lanphier grad Division-I basketball player at last
Richard Rosenfeld, Curators' Distinguished Professor Emeritus of Criminology and Criminal Justice
Audacy Radio: Cities nationwide are failing to report crime data to the FBI
Axios: Virginia law enforcement among best in nation for reporting crime stats
Bloomberg: Los Angeles Murders Are Up 35% in Two Years as Gun Violence Surges
Kentucky Today: When anger replaces grief
KMOV: Report: Blacks in Missouri 68% more likely to be stopped by officers
L.A. TACO: How much crime goes unreported? Thousands of police departments, including LAPD, failed to report date to FBI
The Marshall Project: What Can FBI Data Say About Crime in 2021? It's Too Unreliable to Tell
The National Memo: If There's A Crime Wave, That May Well Be Trump's Fault Too
Northern Kentucky Tribune: Bill Cunningham: As our law enforcement officers are unjustifiably demonized, grief is replaced by anger
Yahoo! Finance: Los Angeles Murders Are Up 35% in Two Years as Gun Violence Surges
Roxanne Vandermause, dean of the College of Nursing
St. Louis Public Radio: St. Louis-area hospitals see an increase in vacant nursing positions
Aleathea Williams, political science alumna
The Public Magazine: Making And Taking Your Place In The Legal Field As A Black Woman
George Zsidisin, John W. Barriger III Professor and Director of the Supply Chain Risk and Resilience Research
KSDK: Everything has tripled and sometimes more': Inflation forces some St. Louis businesses to raise prices
Other news:
ArtDaily: "Travelers, Tracks and Tycoons: The Railroad in American Legend and Life" on view at The Grolier Club
Blavity: How LeBron James, Michael Jordan, Rihanna And Other Black Billionaires Give Back
Broadway World: The Indian Community of St. Louis Joins Hands in Celebrating 75 Years Of India's Independence With 'Samarpan'
Broadway World: DIVA Jazz Orchestra's FIVE PLAY And Arianna String Quartet & Judith Gordon, Piano to Perform at Music Mountain
Construction Forum STL: North County Inc. Celebrates New Home on UMSL Campus
Fine Books & Collections: St. Louis Mercantile Library Railroad History Collection on View in NYC
Globe Gazette: Dillavou never let accolades, honors in three sports outshine character
Inside Radio: News Bites: 'Kids Week,' Buzz Knight/Mark Chernoff, KWMU, KHST.
KMOX: Historic Normandie Golf Club gets new owners, new course
KTVI: Local business gets UMSL Accelerate Program funding
Missouri Ag Connection: Leadership in Action: Calming Traffic, Building Community
Missouri Business Alert: Missouri Minute: State settles corrections pay dispute; Oracle-Cerner deal gets closing date
Muscatine Journal: Forest City athlete never let accolades, honors in three sports outshine character
Radio Ink: St. Louis Public Radio Turns 50
Railway Age: New York Hosts Exhibition of Barriger Railroad Collection
The St. Louis American: UMSL Accelerate's impact continues to grow
St. Louis Business Journal: Normandie Golf Club, slated for major renovation, trades for $1.5M
St. Louis Business Journal: Editor of St. Louis Public Radio is out
St. Louis Post-Dispatch: Nicklaus: St. Louis venture firm wants to bet $25 million on minority-led startups
St. Louis Post-Dispatch: St. Louis Public Radio cuts newsroom boss Shula Neuman
St. Louis Post-Dispatch: St. Louis University no longer will offer master's degree in urban planning
St. Louis Post-Dispatch: St. Louis Public Radio cuts newsroom boss Shula Neuman, appoints Brian Heffernan as interim
St. Louis Post-Dispatch: Made in St. Louis: Artists trade canvases, plan a show in a garage
St. Louis Post-Dispatch: Dance St. Louis announces 2022-23 season
St. Louis Public Radio: St. Louis Public Radio turns 50, and looks to the future
St. Louis Public Radio: 42-foot bus brings on-demand drug and alcohol abuse treatment to north St. Louis
Thrillist: The Most LGBTQ+ Friendly City in Every Red State in America
West Newsmagazine: Bulletin Board: June 8

Short URL: https://blogs.umsl.edu/news/?p=94299