Media Coverage: September 2022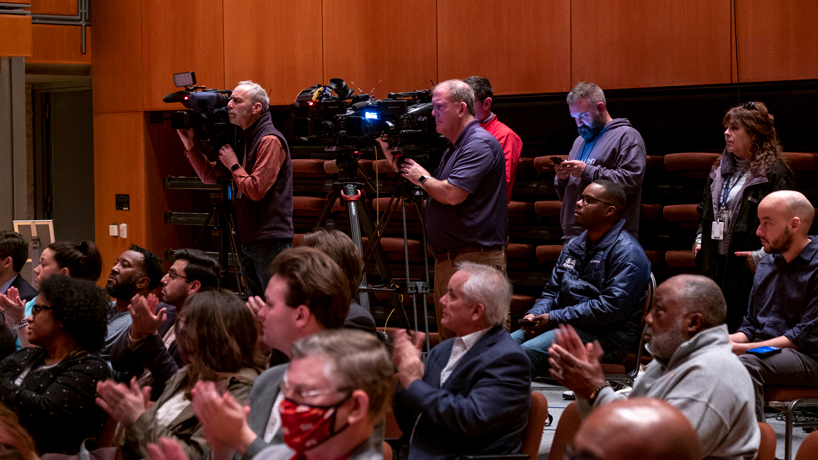 The University of Missouri–St. Louis makes a significant impact on the St. Louis area. Stories about the university, its scholars and their expertise are often covered by local and national news media.
Media Coverage highlights some of the top stories but does not serve as a comprehensive listing. Notice a clip we missed? Email us at umsldaily@umsl.edu.
Featured stories:
The St. Louis Business Journal profiled Charli Cooksey, founder and CEO of WEPOWER and education alumna, for the publication's 2022 Champions for Diversity & Inclusion Awards. Cooksey's childhood in north St. Louis, observing systemic racism and oppression, inspired her to found WEPOWER. The organization trains and supports Black and Latinx residents to design equitable policies, organize to transform St. Louis' education and economic policies and systems and build thriving businesses that create wealth for these communities.
The St. Louis Post-Dispatch's Lifestyle section featured Britt Tate-Beaugard's home in St. Louis' Shaw neighborhood. Tate-Beaugard, who recently earned her EdD, explained that her home's eclectic, whimsical decor, which features Pez and Barbie collections, is a reflection of her creativity. She added that her love of color and pop art is reflected in virtually every space of the home.
Biochemistry and biotechnology alumna Marina Villoch was profiled by Yahoo Entertainment about her work restoring coral reefs and protecting the biodiversity of the oceans. Originally from Spain, Villoch came to the U.S. to study at UMSL. After graduating, she began working at the Mote Marine Laboratory. Marina noted that coral reefs aren't just crucial to preserving life in the ocean. They also affect life on land. "Coral reefs, although they only represent less than one percent of the ocean, they support more than 30 percent of the ocean's biodiversity," she said. "Coral reefs also protect our shorelines. If we don't have the 3D structure that the coral reefs provide, then we're going to be more susceptible [to the effects of climate change] and it's going to affect us humans."
Media coverage:
Stephen Bagwell, assistant professor of political science
Strive Podcast: Measuring Human Rights
Rich Baker, business alumnus
KC Chamber: Starlight's president and CEO announces he will retire effective March 31, 2023
Ken Cella, president of Chancellor's Council
St. Louis Business Journal: Edward Jones exec heads Chancellor's Council as UMSL seeks to transform campus
Gray-Le Coz, business alumna
Travel Agent Magazine: Fairmont El San Juan Hotel Announces Slew of Appointments
Dr. Keshia Elder, dean of the College of Optometry
The St. Louis American: Dr. Keshia Elder Becomes Nation's First Black Female Optometry School Dean at UMSL
Trilce Encarnacion, assistant professor of supply chain management
KTVI: St. Louis braces for potential national railroad strike
Lathon Ferguson, political science alumnus
The St. Louis American: Ferguson named executive director at ALSAC/St. Jude
Nicholas Fry, Robert W. McKnight Endowed Curator for the John W. Barriger III National Railroad Library
St. Louis Magazine: Read This Now: Travelers, Tracks, and Tycoons
Beth Goetz, education alumna, former women's soccer coach and assistant athletic director
HawkCentral: Ball State AD Beth Goetz hired as Iowa's next deputy athletics director and COO
Naomi Green, business alumna
D Magazine: People of Pride II
Dr. Kate Hamm, optometry alumna
Vision Monday: Women In Optometry Announces 2022 Theia Awards of Excellence Winners
Women in Optometry: Women In Optometry Announces The 2022 Theia Awards Of Excellence Winners
Judge Renee Hardin-Tammons, criminology and criminal justice alumna
The Missouri Times: Governor Parson makes 100th judicial appointment
Adaron "Pops" Jackson, director of the David and Thelma Steward Institute for Jazz Studies
The St. Louis American: Adaron "Pops" Jackson appointed to board for Pianos for People
St. Louis Post-Dispatch: Adaron "Pops" Jackson Appointed to Board of Directors for Pianos for People
Adella D. Jones, chief of staff
St. Louis Post-Dispatch: People in Business: Anders, Alberici promote; Justine Petersen, Community Living hire
Lynde Langdon, business alumna
World: Immigrants drown trying to cross Rio Grande illegally
Dan Lauer, executive director of UMSL Accelerate
St. Louis Business Journal: Champions for Diversity & Inclusion Awards 2022: Dan Lauer, Founding executive director, UMSL Accelerate
Kisha Lee, public policy and administration alumna
The St. Louis American: Kisha Lee named president of Ladue Schools Board of Education
Markus Lindberg, men's golfer
Golfweek: Club 60: Meet the 15 players who have signed for a 60 in college golf
Ben Lindquist, business student
Missouri Business Alert: Missouri Minute: St. Louis considers COVID funding for arts groups; state misses transportation contract targets
Toby Middleton, cross country runner
The Bolton News: Harriers club members shine at home and abroad
Mitch Millstein, assistant teaching professor of supply chain management
WGN Radio: Are we approaching a national beer shortage?
Sam Moore, former professor of museum studies
Blooploop: Exploring the future of space exploration at Moonshot Museum
Masao Nishi, leadership council member
Supply Chain Quarterly: CSCMP recognizes supply chain pioneers
Suzanne Palmer, education alumna
The St. Louis American: Community Gospel Choir sings out for equity, justice
Hannah Perryman, former softball player
Daily Herald: Radtke among inductees into Elgin Sports Hall of Fame
Amber Reinhart, associate professor of communication
KPIC: With new booster, US starts another vaccine campaign
Richard Rosenfeld, Curators' Distinguished Professor Emeritus of Criminology and Criminal Justice
CNN: Once nicknamed 'Murderapolis,' the city that became the center of the 'Defund the Police' movement is grappling with heightened violent crime
KRMS Radio: FBI Data Shows Missouri Is 6th Highest In The Nation For Violent Crime
LancasterOnline: Uniform crime data is essential. State police need to get in synch with FBI's new crime reporting system.
Loss Prevention Magazine: The Victims of a Victimless Crime: The Future of Organized Retail Crime
NPR Illinois: President Biden's anti-crime bill: Will it make America safer?
Kaje Sanford, assistant director of student support services
St. Louis Business Journal: St. Louis Character: Javia Gilliam-Sanford and Kaje Sanford put their travels into craft cocktails for mobile bar
James Shuls, associate professor of educational leadership and policy studies
The Kansas City Beacon: Missouri's school funding system undermines its own goals for equity, experts say
Paul Sorenson, co-director of the St. Louis Regional Data Alliance
EHR Intelligence: Using FHIR Hubs to Drive Social Service, Health Data Interoperability
Edrar 'Bird' Sosa: criminology and criminal justice alumnus
Riverfront Times: New Documentary Digs Into St. Louis Cold Case of Headless Child
Ben Stafford, education and history alumnus
Washington eMissourian: Biden's student loan forgiveness plan has minimal impact at East Central College
Lana Stein, associate professor of political science
St. Louis Post-Dispatch: There's an election in St. Louis this week. Will it matter?
Tanisha Stevens, vice chancellor for diversity, equity and inclusion
St. Louis Post-Dispatch: FOCUS St. Louis Announces Fall 2022 Cohort of Women In Leadership
Quinton Ward, Neighborhood Leadership Fellow
St. Louis Post-Dispatch: Operation Food Search's Quinton Ward Selected as a Next City Vanguard Fellow
Christy Warner, nursing alumna
The Kansas City Star: Rural Missouri hospitals need more nurses like me, but the current system is broken
Linda Wells-Glover, teaching professor of social work
The St. Louis American: Salute honors Linda Wells-Glover
Travis Wood, public policy and administration alumnus
Construction Forum STL: CMT Welcomes Travis Wood as Senior Program Manager
Illinois Business Journal: Citizens for Modern Transit welcomes Travis Wood as senior program manager
George A. Zsidisin, director of the Supply Chain Risk And Resilience Research Institute
The Wichita Eagle: Looming rail strike threatens Kansas farmers and possibly food prices
Other news:
Bloomberg: Planet Partners with Taylor Geospatial Institute, Data Expected To Be Leveraged for Research on Food Security and Defense and Intelligence
Counsel Cast from Legal Thought Network: How can lawyers build communities with live streaming? with Stephanie Liu
Executive Biz: Planet Grants Data Access to 8 Universities, Center Under Geospatial Research Contract
Intelligence Community News: Planet partners with Taylor Geospatial Institute
Jefferson City News-Tribune: Lincoln University gallery naming tied to billionaire businessman
KCTV 5: Oak Grove mom encouraged by federal grant to fight opioid overdoses
KMOV: DEA training agencies to investigate overdose deaths in hopes of reining in crisis
KMOX: UMSL reports a 10% increase in first-time students this year
KTVI: UMSL keeps rising in U.S. News' 'Best Colleges' rankings
KTVI: What Are You Doing About It? Ritenour Health CareFair, Shred Day, UMSL 5K Run / Walk
KTVI: Find help and funding at the University of Missouri-St. Louis Diversity, Equity, and Inclusion Accelerator
KTVI: Compete for a $50,000 grant and extensive training in entrepreneurship from UMSL
KSDK: Here's where to celebrate National Hispanic Heritage Month in St. Louis
KSHB: DEA hosts drug summit in Overland Park to address opioid crisis
Missouri Business Alert: Missouri Minute: Chiefs' victory marks first NFL broadcast on a streaming service; legislative special session to resume Monday
Muddy River News: Arianna String Quartet to perform Saturday concert to start Quincy Civic Music Association season
Pulse 2.0: Planet Labs (PL) Stock: Why It Increased 15.45%
Quad-City Times: Black Hawk College hosts 50th-annual College Night for local high schoolers
Quincy Herald-Whig: Arianna String Quartet kicks off Quincy Civic Music Association season
Spectrum News: What you need to know about voting in Missouri's November election
Springfield Business Journal: UMSL to offer fintech master's degree
Springfield News-Leader: How Springfield area colleges fared in 2023 U.S. News & World Report rankings
St. Louis Business Journal: St. Louis' only Top 20 university drops a notch in US News & World Report's best colleges ranking
St. Louis Business Journal: UMSL to offer a master's degree in fintech as region seeks more high-paying jobs
St. Louis Business Journal: Talk of recession doesn't deter St. Louis students seeking finance jobs. 'You're almost their savior.'
St. Louis Magazine: Everything you need to know about the 2nd annual Ascension Charity Classic
St. Louis Post-Dispatch: Authors are back in business with live St. Louis events to promote fall books
St. Louis Post-Dispatch: Acclaimed Broadway shows, a world premiere and more on St. Louis stages in fall
St. Louis Post-Dispatch: When an alley is art: Walls off Washington celebrates murals
The St. Louis American: 35 years of tradition, legacy, pride, community
The St. Louis American: Tashanna Stanciel makes sure students 'belong'
U.S. Army: Gateway Battalion ROTC cadets gain valuable training during FTX at Fort Leonard Wood
Washington Monthly: America's Best Colleges for Student Voting
Webster Journal: Brief: COVID vaccine no longer required for Webster students

Short URL: https://blogs.umsl.edu/news/?p=95225