Media Coverage: November 2022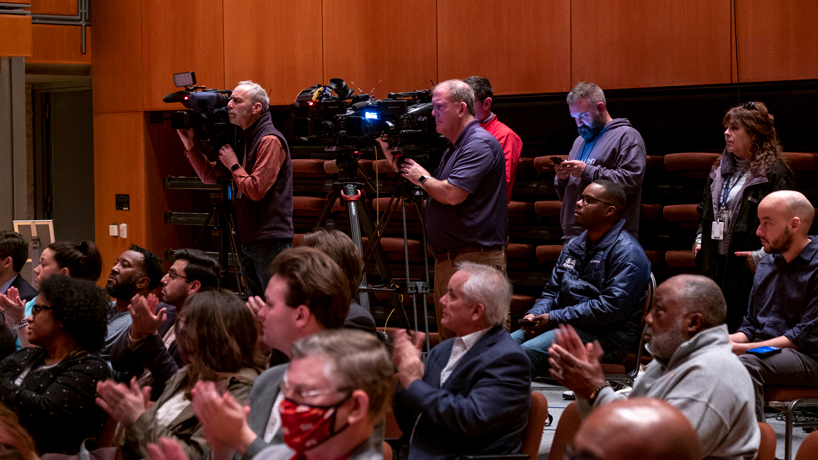 The University of Missouri–St. Louis makes a significant impact on the St. Louis area. Stories about the university, its scholars and their expertise are often covered by local and national news media.
Media Coverage highlights some of the top stories but does not serve as a comprehensive listing. Notice a clip we missed? Email us at umsldaily@umsl.edu.
Featured stories:
Anne Austin, assistant professor of anthropology, is in the news again for new discoveries at Deir el-Medina, an Egyptian archaeological site she's been excavating since 2012. Austin and Marie-Lys Arnette found tattoos located on the lower back of mummified bodies and tattooed figurines at the site. They're likely connected with the ancient Egyptian god Bes, who protected women and children, particularly during childbirth. Numerous outlets such as Ancient Origins, Greek Reporter, India Narrative,  Live Science, The Science Times and Yahoo! News reported on the findings.
The St. Louis Business Journal featured several University of Missouri–St. Louis alumni on its annual 40 Under 40 Awards this year. Awardees included Brett Arndt, a media studies alumnus and CEO and founder of Experience Fresh; Elizabeth Bleier, an education alumna and executive director of Teach For America St. Louis; Stephanie Co, a public policy administration alumna and deputy chief operating officer of Beyond Housing; Darryl Diggs Jr., an education alumnus and assistant director for equality with the Special School District of St. Louis County.
Forbes spoke with Jim Craig – professor of sociology, founder of the Veterans Studies program and 25-year veteran of the United States Army – about hiring veterans and how they can best transition into civilian careers.
Media coverage:
Jada Aleem, English student
The St. Louis American: A win for Congresswoman Bush
Rebecca Chaplin, criminology and criminal justice alumna
Washington eMissourian: Sworn To Serve: More women among the ranks of the Washington Fire Department, Washington Police Department
Jennifer Cobbina, criminology and criminal justice alumna
The Eagle: Author of 'Hands Up, Don't Shoot' offers solutions for police brutality at book talk
Rylee Edson, Tritons volleyball player
Centralia/Mt. Vernon Morning Sentinel: To the NCAA Finals
Tim Green, business alumnus
The Labor Tribune: Tim Green named Electrical Connection executive vice president
Candace Hall, English alumna
The St. Louis American: Hall receives UMSL's Outstanding Young Alumni award
Destiny Hannick, education student
Teen Vogue: Teacher Salaries Are So Low That They're Working Multiple Jobs
Vinita Henry, clinical professor of optometry
The Pathway: HLGU Gala celebrated in gratitude
James W. Hesford, associate professor of accounting
PR Newswire: Applications for the 2023 IMA AsiaPac Student Case Competition are Now Open
Adaron "Pops" Jackson, director of the David and Thelma Steward Institute for Jazz Studies
The Alton Telegraph: Blackburn plans January jazz concert
David Kimball, professor of political science
Grid: Did 'race-skippers' doom the GOP's Senate chances? A theory emerges on why the midterms bucked trends.
Houston Chronicle: Less could be more efficient for Harris County Elections
Springfield News-Leader: Despite scrutiny and drama with DOJ, Missouri's midterm went off (mostly) without a hitch
St. Louis Post-Dispatch: The GOP hasn't won St. Louis County's top job in 36 years. Is this year different?
Time: What Happens if a Candidate Contests the Results of a Midterm Election?
Dan Kleffner, business alumnus
St. Louis Business Journal: Central Bank of St. Louis names a new president, the second since 2021
Sandra Langeslag, associate professor of behavioral neuroscience
MarketWatch: When older couples break up, it's not always about conflict. There's something else going on.
Bernie Lee, business alumnus
Sauce Magazine: Review: Akar in Clayton
Janet Lauritsen, Curators' Distinguished Professor Emerita
NCJA: Another Plea To Fix Gaps In U.S. Crime Statistics
Timothy Makubuya, assistant professor of education
Emerson: Emerson Honors 86 St. Louis Area Educators with Excellence in Teaching Awards
Anita Manion, an assistant professor of political science
KCUR: Redistricting created some e races in Missouri. Do more Democrats have a chance?
KCUR: Missouri Democrats won their largest share of House seats in a decade. What changed?
Learfield News: Missouri News Headlines Monday, November 21st, 2022
Riverfront Times: RFT Asks: Will Missouri Ever Turn Blue?
Nick Marty, biology alumnus
Leader Publications: Several first responders at Rock Fire and Rock Township have military backgrounds
George Paz, business alumnus
Al Dia: George Paz, the first Latino CEO of Express Scripts, dies at 67
The Wall Street Journal: George Paz Leapt to CEO Job From Steak 'n Shake Gig
Gualtiero Piccinini, Curators' Distinguished Professor of Philosophy
Inverse: The most polarizing Sci-Fi movie on HBO Max reveals the limits of a major tech trend
Wiley Price, music alumnus
The St. Louis American: 40 years of excellence
Yaakema Rose Jr., Tritons basketball player
WCIS: Yaakema Rose Jr. embarks on final college season as an EIU Panther
Richard Rosenfeld, Curators' Distinguished Professor Emeritus of Criminology and Criminal Justice
The Davis Vanguard: Academy of Sciences Panel Discusses Crime Rate Changes During Pandemic
Los Angeles Business Journal: Crime and CRE in the COVID-19 Era
The National Desk: Study: More than 80% of Black voters say violent crime is key issue ahead of midterms
The New York Times: Fear of Crime Looms Large for Voters, to Republicans' Advantage
Portland Business Journal: We looked at Portland's crime rates. Comparatively, they're not so bad.
South Florida Business Journal: Crime and Abandonment
St. Louis Post-Dispatch: How much crime is in St. Louis? FBI gets numbers wrong after city fell behind on reporting.
St. Louis Post-Dispatch: Messenger: Voters reject fear-mongering. Why? Crime is down in St. Louis, other cities.
WRAL Tech Wire: Guest opinion: Is US headed for a Doomsday driven by crime?
James V. Shuls, associate professor of educational leadership and policy studies
Columbia Missourian: Spreading disinformation: Who will teach the teachers?
Steve Stancic, education alumnus
Promo Marketing Magazine: Specialty Mailing's Steve Stancic Explains His Company's New Capabilities and Why Solution-Based Approaches Work
Thomas Stearns, manager of the University Tutoring Center
U.S. News & World Report: How to Get Good Grades in College
Shawn Stevenson, business and biology alumnus
Heal Thy Self with Dr. G: Daily Nutrition Tips to Burn Fat Quickly with Shawn Stevenson
Dianna Sumner, education student
The Alton Telegraph: Phi Kappa Phi welcomes 3
Michael J. Thompson, political science student
Rockford Register Star: Meet the two candidates vying to fill a vacant Winnebago County Board seat
Kedra Tolson, former media relations manager
Illinois Business Journal: Kedra Tolson to lead SIUE Marketing, Communications
Brian Vandenberg, professor of psychology
KTVI: What Are You Doing About It? 10th annual SAGE Celebration, Psychological Toll of Climate Change, Crime Prevention Summit 2022
Emerson Weller, future Tritons women's basketball player
The Edwardsville Intelligencer: Emerson Weller recovers from ACL injury, signs with UMSL
Remington Williams, former business student
WDAF-TV: UMKC establishes award in honor of student killed by suspected drunk driver
Jessica Zeisler, political science alumna
Savannah Business Journal: Jessica Zeisler joins VEL as In-Store Experience Manager
George Zsidisin, director of the Supply Chain Risk and Resilience Research Institute
KSDK: Here's why personal property tax bills have a 30% increase across Missouri
Other news:
Broadway World St. Louis: Arianna String Quartet to Play KAMMERRAKU HARVEST This Month
Call Newspapers: No-excuse absentee voting open for 2022 general election
Cedar Rapids Gazette: Upper Iowa joining Great Lakes Valley Conference
Construction Forum STL: Former NGA Director Robert Sharp Joining UMSL Geospatial Collaborative
Directions Magazine: Former NGA Director Robert Sharp Joins UMSL Geospatial Collaborative
Earth Imaging Journal: Former NGA Director Robert Sharp Joins UMSL Geospatial Collaborative
Illinois Business Journal: Former NGA Director Robert Sharp joins UMSL Geospatial Collaborative
InPark Magazine: Saint Louis Zoo given conservation award by WAZA
KMOV: Saint Louis Ballet dancers pose with Stray Rescue pups ahead of Muttcracker contest
KSDK: Voter turnout varies in parts of St. Louis County
KSDK: Normandy Schools Collaborative raises curtain on student opera with help of Opera Theatre St. Louis
KTVI: Mayor shows how to vote in Missouri before election day
KTVI: Normandy school students create original opera
Newsweek: America's Top Online Colleges and America's Top Online Learning Providers 2023
Public Utilities Fortnightly: CEOs on ESG: Warner Baxter
Riverfront Times: The Best Things to Do in St. Louis This Weekend, November 24 to 27
St. Louis Business Journal: Brands are facing increasing litigation for inaccessible websites. This St. Louis startup aims to help.
St. Louis Business Journal: Seeking more 'inclusive regional economy,' St. Louis employers set minority hiring, procurement goals
St. Louis Business Journal: St. Louis Inno's 2022 Gift Guide: Meet the local startups with products you can buy this holiday season
St. Louis Magazine: 30 ways to celebrate the holidays in and around St. Louis
St. Louis Post-Dispatch: Award-Winning Local Air Force Band Announces Annual Holiday Concert 12/2
St. Louis Post-Dispatch: Best Bets: Cherokee Jazz Crawl, Gin Blossoms, Laumeier After Dark and more
St. Louis Post-Dispatch: MADCO dance program explores authenticity of today's digital connections
St. Louis Post-Dispatch: St. Louis stages offer everything from glittery holiday fare to edgy drama
St. Louis Post-Dispatch: Best Bets: Reverend Peyton's Big Damn Band, the Urge, Shular King, Jagged Edge
St. Louis Post-Dispatch: New book, music projects get St. Louis singer Brian Owens in holiday spirit
St. Louis Post-Dispatch: Holidays bring a dazzling display of classical music offerings across St. Louis
St. Louis Public Radio: Plea bargain study examines racial disparities in deal-making in St. Louis County
St. Louis Public Radio: Normandy third graders wrote an opera — and they're putting 'the wolf' on trial

Short URL: https://blogs.umsl.edu/news/?p=96042