Media Coverage: March 2023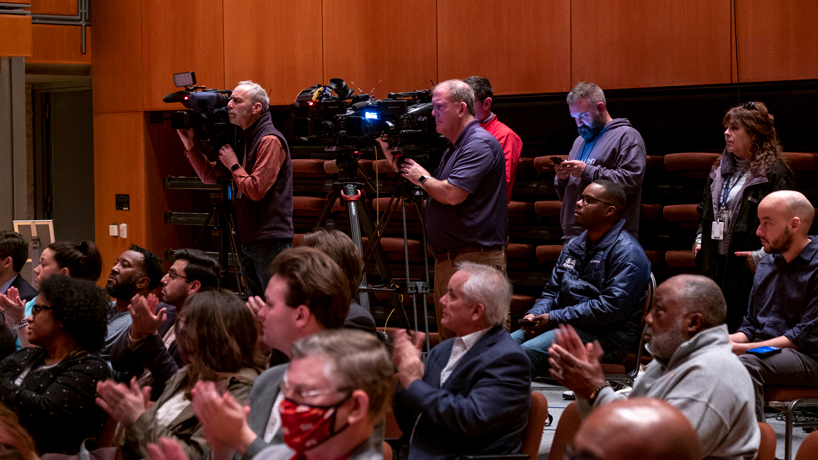 The University of Missouri–St. Louis makes a significant impact on the St. Louis area. Stories about the university, its scholars and their expertise are often covered by local and national news media.
Media Coverage highlights some of the top stories but does not serve as a comprehensive listing. Notice a clip we missed? Email us at umsldaily@umsl.edu.
Featured stories:
Several outlets – Evansville Courier & Press, KMOV, KTVI, NCCA.com and the St. Louis Post-Dispatch – profiled the UMSL men's basketball team's historic run to the NCAA Division II Elite Eight. The Tritons beat McKendree 62-60 in the Midwest Region Championship, punching their ticket for the national quarterfinals. It was only the second time in school history, the first one coming in the 1971-72 season, that the Tritons advanced to the Elite Eight. Unfortunately, that's where the team's run ended after a 82-75 defeat at the hands of top-ranked and unbeaten Nova Southeastern.
Michael Cosmopoulos spoke with the National Herald, the paper of record of the Greek diaspora community, about his childhood in Greece and his work excavating the Eleusis and Iklaina archeological sites. Cosmopoulos, professor of archaeology and the Hellenic Government-Karakas Family Foundation Professor in Greek Studies, recounted many of the exciting discoveries at the latter including gargantuan buildings, paved roads, piazzas, and an advanced drainage system.
Media coverage:
Brittany Alberty, communications alumna
The Alton Telegraph: Online entrepreneur masterclass set March 31
Stephen Bagwell, assistant professor of political science
The Conversation: In Turkey, women are feeling the worst aftershocks of the earthquake disaster – this disparity may lead to dwindling trust in government
Paul Beckerle, political science alumnus
St. Louis Post-Dispatch: Paul Beckerle, former St. Louis alderman, dead at 66
Michael Broughton, criminology and criminal justice alumnus
Call Newspapers: Incumbent Thuston faces Ward 1 Alderman Broughton for Green Park mayor
Bobby Boxerman, criminology and criminal justice student
KTVI: Spike in car thefts, increase in gun violence among crime trends in St. Louis
James Campbell, professor of supply chain and analytics
Supply Chain Drive: What drone companies need to do to reach lofty delivery goals
Stephanie Cage, criminology and criminal justice alumna
Leader Publications: Voters Guide: Two seek vacant one-year seat on board
Sean Curd, literature alumnus
COMO Magazine: Movers & Shakers — March 2023
Shaughnessy Daniels, communications alumna
The St. Louis American: Shaughnessy Daniels named director at Great Rivers Greenway
Andrew Donaldson, optometry student
Effingham Radio: Effingham Noon Rotarians Learn About Fellowship Of Christian Athletes
Shawntelle Fisher, education and social work alumna
St. Louis Post-Dispatch: Messenger: She's an 'extraordinary' foster mom candidate. Why won't Missouri license her?
Maria Cova Gerritzen, business alumna
St. Louis Public Radio: New and returning members bring passion and expertise to STLPR board
Max Gillman, Friedrich A. Hayek Professor of Economic History
KSDK: Economist weighs in on potential impact of SCOTUS student loan forgiveness decision
Galen Gritts, history alumnus
KCUR: St. Louis was once Mound City. Its Native American residents still feel erased
St. Louis Public Radio: St. Louis was once Mound City. Its Native American residents still feel erased
Amal Hagisufi, education alumnus
Wealth Solutions Report: WSR Pathfinder Awards – Top Women Industry Leaders Of 2023
Renee Hardin-Tammons, criminology and criminal justice alumna
KSDK: Renee Hardin-Tammons takes her place on Court of Appeals
Ruth Harker, former Tritons goalkeeper
St. Louis Post-Dispatch: St. Louis meets its moment: A look at our town's rich soccer history
Barbara Harrington-McKinney, education alumna
Wisconsin State Journal: Candidate Q&A: Madison City Council, District 20
Jim Henry, director of choral studies
The Joplin Globe: Songs by Wenrich, other Missouri composers to be featured at 2-day concert
E. Paulette Isaac-Savage, professor of adult education
The St. Louis American: Isaac-Savage receives UMSL award named after her
Mary Keithly, chemistry alumna
News Channel Nebraska: Keithly Selected as 2023 NSCS Teaching Excellence Award Recipient
Robert Kinsinger, economics alumnus
Webster-Kirkwood Times: And The Winners Are …: Kirkwood-Des Peres Area Chamber of Commerce to honor annual award recipients
Timothy Lewis, political science alumnus
The Edwardsville Intelligencer: SIUE to host Banned Books roundtable on March 28
Tim Maher, teaching professor of criminology and criminal justice
Triad City Beat: Three members of Greensboro Police Department were fired for sex-related crimes. What does that reveal about police culture?
Anita Manion, assistant professor of political science
KSDK: How a tie in Ward 9 might be broken ahead of next month's general election
Lynne Midyett, education alumna
Leader Publications: Voters Guide: Six vie for three open seats in Rockwood School District
Gloria J. Moore, accounting alumna
St. Louis Post-Dispatch: Gloria J. Moore, CPA, joins Schowalter & Jabouri, P.C.
Lisa Morgan, business and finance alumna
The St. Louis American: Lisa Morgan named VP at Midwest BankCentre
Warren Morgan, education alumnus
New Haven Independent: Supe Search Narrowed To 3 Finalists
Michael Mullen, former adjunct professor of criminal justice
citybiz: Former Circuit Judge Michael Mullen Joins Armstrong Teasdale's St. Louis Office
St. Louis Record: Former Circuit Judge Michael Mullen Joins Armstrong Teasdale's St. Louis Office
Melissa Parker, organizational leadership alumna
Leader Publications: Voters Guide: Parker seeks to replace one of three Crystal City Board of Education incumbents
Ebonie Reed, criminology and criminal justice alumna
The St. Louis American: Ebonie Reed named VP at Urban Strategies, Inc
David Rose, professor of economics
The Lane Report: Thomas More University officially names College of Business
Northern Kentucky Tribune: Thomas More University celebrates official naming of new Robert W. Plaster College of Business
St. Louis Post-Dispatch: Rose: Why America's primary election model doesn't yield the candidates voters want
Richard Rosenfeld, Curators' Distinguished Professor Emeritus of Criminology and Criminal Justice
GW Hatchet: GWPD made fewer arrests despite more calls for service in 2022: annual review
KMOV: Tracking the data: Is local control of St. Louis Police the reason for St. Louis crime?
The New York Times: Teens Are Stealing More Cars. They Learn How on Social Media.
St. Louis Post-Dispatch: Traffic stops and tickets have plummeted in St. Louis. Traffic deaths have gone up.
St. Louis Public Radio: East 'Safe' Louis? That's where the mayor says the city is headed as homicides fall 31%
USA Today: Which Los Angeles neighborhoods are safest? See the latest trends in the LA crime rates
Washington Examiner: St. Louis stopped enforcing traffic laws. You'll never guess what happened next
Wisconsin Public Radio: Milwaukee is considering legal action against Kia and Hyundai
James V. Shuls, assistant professor of education
Forbes: Catholic Schools And The Fabric Of American Education
Natissia Small, provost for access, academic support and workforce integration
KMOX: What is UMSL's Bridge program?
St. Louis Business Journal: Girl Scouts of Eastern Missouri looks to state university for new CEO
St. Louis Post-Dispatch: Business Bulletin Board: United Way adds board members; Francis Howell North High School expands
Dawn Smith, social work alumna
Webster-Kirkwood Times: 'The Next Step': Kirkwood couple's nonprofit provides scholarships to those recovering from alcohol or substance abuse
Judy Smith, adjunct professor of education
Leader Publications: Voters Guide: Three new members will join Fox C-6 Board of Education
Lana Stein, associate professor of political science
St. Louis Post-Dispatch: Time for change at City Hall? St. Louis voters could OK sweeping review.
Anthony Taylor, accounting alumnus
KTVI: Local organization hosts fundraiser for Janae Edmondson
Blanche M. Touhill, chancellor emerita
Ladue News: Saint Louis Ballet is Growing and Supporting the St. Louis Arts Community
Ron Weeks, business alumnus
Leader Publications: Voters Guide: Four seek election to two board seats on Joachim-Plattin Ambulance District board
Luigi Wewege, business and finance alumnus
Finextra: After E.U. Bail-Ins and Capital Controls, European Bank Depositors Have a Short Memory
Will Zwikelmaier, education alumnus
Missouri S&T News: Missouri S&T announces 2023 Honorary St. Pats, Honorary Knights and parade marshal
Other news:
Branson News: C of O students participate in University of Missouri TigerHacks
The College Fix: Mizzou launches new program for students with intellectual disabilities
EIN Presswire: API Innovation Center Receives $9.45 Million Advanced Manufacturing Resiliency Grant from Missouri Technology Corp.
The Heartlander: Missouri State University clings to robust Diversity, Equity and Inclusion programs and 'loyalty oaths' despite nationwide retreat from them
Illinois Business Journal: Partners host 'College Transit Challenge,' reinforcing benefits of transit, Metro U-Pass availability
Jefferson City News Tribune: LU unveils new gallery in honor of Dorothy Steward
KOMU: Audrain County Health Department to offer free NARCAN starting April 7
KRZK: College of the Ozarks students participate in University of Missouri TigerHacks
KSDK: American's 501c3 Foundation continues its focus on providing financial support for high-achieving students
KTVI: Remarkable Woman: St. Louis native, Monica Butler inspires young people into filmmaking
KTVI: What You Are Doing About It? Go Dutch! How to Make Dutchtown Home, Spring Seed Share and Mutual Aid, 'The Invisible Race' with Sam Hyun
KXEO: Audrain County Health Department Launches NARCAN Program
MICPA: Fin Lit Evolution: National Financial Capability Month
Riverfront Times: The Best Things to Do in St. Louis This Weekend, March 9 to 12
The Salem News Online: Neighborhood Leadership Academy awards 20 mini-grants
Sensors & Systems: Missouri S&T researchers awarded seed grants from Taylor Geospatial Institute
The St. Louis American: Voices lifted: Kennedy Holmes joins SLSO, IN UNISON Chorus for BHM performance
St. Louis Business Journal: Meet the winners of the 2023 Innovation in Philanthropy Awards
St. Louis Business Journal: Edward Jones, UMSL take lead on project to target workforce diversity growth
St. Louis Business Journal: Workforce Navigation
St. Louis Business Journal: A Nimble Higher-Ed
St. Louis Business Journal: 'Advanced Vision'
St. Louis CITY SC: St. Louis CITY SC's Winning Ways Continue As Niklas "NR7" Raseck Wins The 2023 eMLS Cup
St. Louis Jewish Light: How the Patchin family is making every moment count
St. Louis Post-Dispatch: Lawmakers tap brakes on governor's plan to purchase Missouri transportation headquarters
St. Louis Post-Dispatch: Spring theater, dance options in St. Louis cover everything from fairy tales to farce
St. Louis Post-Dispatch: Metro Transit to reduce paratransit coverage area in St. Louis County
St. Louis Post-Dispatch: Your guide to summer camps in the St. Louis area
St. Louis Post-Dispatch: One less muni in St. Louis County? Glen Echo Park seeks to merge with Normandy.
St. Louis Post-Dispatch: In St. Louis debut, Dorrance Dance steps into 'the sonic history of tap'
St. Louis Public Radio: Metro Call-A-Ride will reduce routes in parts of St. Louis County starting April 10
Washington Technology: General Dynamics IT takes on NGA geospatial data work
Webster-Kirkwood Times: Saint Louis Ballet Presents "Swan Lake" April 28-30
Webster-Kirkwood Times: Celtic Angels Ireland March 16
World Wildlife Fund: Moving the farm indoors

Short URL: https://blogs.umsl.edu/news/?p=97539