Media Coverage: June 2023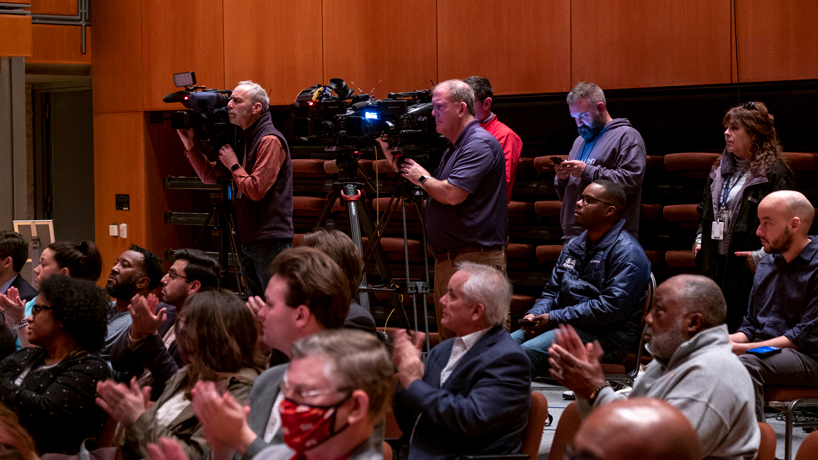 The University of Missouri–St. Louis makes a significant impact on the St. Louis area. Stories about the university, its scholars and their expertise are often covered by local and national news media.
Media Coverage highlights some of the top stories but does not serve as a comprehensive listing. Notice a clip we missed? Email us at umsldaily@umsl.edu.
Featured stories:
St. Louis Public Radio was on hand for a workshop aimed at helping teachers bring geospatial technology into classrooms. UMSL hosted the event, which was connected to the Geography 2050 STL: Feeding Our Future Planet symposium, put on in partnership with the American Geographical Society. Chancellor Kristin Sobolik joined Retired Vice Admiral Robert Sharp, the former director of the National Geospatial-Intelligence Agency and now a research fellow with UMSL's Geospatial Collaborative, and Zekita Armstrong Asuquo, the chair and CEO of the Gateway Global American Youth and Business Alliance, for a panel discussion about the resources available in St. Louis.
The Riverfront Times spoke with Assistant Professor Anita Manion about the forthcoming Missouri senate race. The election could draw big money, as well as national attention, as several candidates seek to challenge Republican Josh Hawley. Manion said this is due to the difficult 2024 map for Democrats, which means that if there is even a chance a Democrat could unseat Hawley, donors are likely to pour resources into Missouri to try to make it happen.
Several local and regional media outlets, including, the St. Louis Business Journal, KMOX, Construction Forum STL and the Springfield Business Journal, heralded the beginning of construction on UMSL's new Richter Family Welcome and Alumni Center. The new 31,000-square-foot center will connect to the J.C. Penney Conference Center and is intended to serve as the gateway to UMSL for prospective students and their families while also providing a permanent home for the university's more than 112,000 alumni.
Media coverage:
Brian Adler, public policy administration alumnus
KMOX: How difficult is it to be a pedestrian in the city of St. Louis?
Temidayo Akenroye, associate professor of supply chain and analytics
The Independent Uganda: Human organs for transplant
Bobby Boxermann, criminology and criminal justice doctoral student
St. Louis Post-Dispatch: Dot Foods said crime drove its trade show from St. Louis. It's more complicated than that.
Robin Boyce, communications alumna
Edwardsville Intelligencer: SIUE Segue show on Sunday features WSIE FM broadcasters
Susan Brownell, professor of anthropology
Al Jazeera: Ban on Israelis could see Indonesia lose World Beach Games
Monique Bynum, managing director of the DEI Accelerator
St. Louis Magazine: 50+ people working toward solutions in St. Louis
Marco Cheatham, graphic design alumnus
The St. Louis American: UMSL alum Marco Cheatham designed soccer ball commemorating Juneteenth for St. Louis CITY SC match
Scott Decker, curators' professor of criminology and criminal justice emeritus
St. Louis Business Journal: East-West Gateway Council of Government board votes to work with crime reduction consultant
Perry Drake, professor of digital marketing
KSDK: St. Louisans interpret AB's new 'That's Who We Are' campaign following Bud Light fallout
Ellie Frederich, graphic design alumna
PRLog: Ellie Frederich Joins Hilliker Corporation as a Marketing Manager
Beth Goetz, former Tritons women's soccer coach and education alumna
The Cedar Rapids Gazette: Beth Goetz, Iowa's soon-to-be interim athletics director, has impressed colleagues as 'servant leader at heart'
The Gazette: Iowa's replacement for Gary Barta may already have replaced him
Rivals.com: Iowa Names Beth Goetz Interim AD
Quad-City Times: Goetz named interim AD for Hawkeye programs
Sean Gold, English student
St. Louis Business Journal: Technology creates new virtual learning option for STLCC students with disabilities
Sean Hickham, economics and finance alumnus
Business Wire: Caliber Expands its Internal Wholesale Team as the Firm Accelerates its Capital Markets Initiatives
Tamar Hodges, nursing alumna
St. Louis Business Journal: Corporate Counsel Awards 2023: Tamar Hodges keeps Mallinckrodt Pharmaceuticals in compliance
Derik Holtmann, campus photographer
Belleville News-Democrat: Belleville News-Democrat wins 20 awards in Illinois journalism contests
Andrew Hurley, professor of history
Eater: The Myth of the American Diner
St. Louis Public Radio: Extreme heat is coming. What is St. Louis doing about 'the silent killer' of climate change?
Kyle Jakubeck, accounting alumnus
CPA Practice Advisor: AICPA News – June 2023
Brian Jenkins, economics alumnus
St. Louis Business Journal: CBD Kratom fills newly created C-suite post
Anita Manion, assistant professor of political science
KSDK: Local leaders, colleges react to Supreme Court's overturn of affirmative action
Jason McDowell, optometry alumnus
Jacksonville Journal-Courier: Community room at Pathway Services in Jacksonville renamed in honor of Dr. McDowell
Mansur Nurdel, optometry alumnus
Douglas County News-Press: Local resident shares story of escape from Iran
Miles Patterson, professor emeritus of industrial-organizational psychology
Psychology Today: All You Know About Nonverbal Communication May Be Wrong
David Purschke, business alumnus
Seed Today: NewLeaf Symbiotics Appoints David Purschke as Vice President of Finance
Richard Rosenfeld, Curators' Distinguished Professor Emeritus of Criminology and Criminal Justice
The Associated Press: Missouri locals sidestep pro-gun lawmakers to put limits on firearms
The Christian Science Monitor: Untangling the roots of violence: What can we learn from the South?
Fox News: Crime is surging and here's a way to help stop it
Government Technology: St. Louis Police Credit Cameras for Homicide Clearance Rate
The Kansas City Star: Missouri group files ballot petitions to allow Kansas City to enact tougher gun rules
KMOV: Petition would ask voters if cities and counties in Missouri should be able to enact stricter gun laws
KTTN: Audio: Proposed constitutional amendment would allow local governments in Missouri to enact stricter gun laws
KTVI: Should Missouri voters allow counties, St. Louis City to enforce stricter gun laws?
KTVI: Group seeks ballot initiative for local control of guns in Missouri
Los Angeles Times: Gun violence rocks nation over holiday weekend, with multi-victim shootings in at least 7 states
Missourinet: Proposed constitutional amendment would allow local governments in Missouri to enact stricter gun laws
Missourinet: UMSL criminologist part of group exploring local gun control ballot initiative
Officer.com: St. Louis' Murder Clearance Rate at 75%; Police Credit 2 Things
Police1: St. Louis police credit cameras, communication as homicide clearance rate jumps to 75%
St. Louis Business Journal: Ballot initiative seeks to allow St. Louis to make its own gun regulations
St. Louis Post-Dispatch: Homicide clearance rate jumps to 75% in St. Louis. Police credit cameras, communication.
St. Louis Post-Dispatch: Group wants a vote in Missouri to allow stricter gun laws in counties and St. Louis city
St. Louis Post-Dispatch: St. Louis-based group seeking stricter local gun laws submits petition wording to state
The Trace: A 'Particularly Violent Weekend' Marked by Mass Shootings
Elvin Sabanadzovic, Tritons swimmer
Starkville Daily News: Missouri-St. Louis next stop for Starkville swimmer Sabanadzovic
Lawrence Sapp, Tritons swimmer
SwimSwam: University of Missouri–St. Louis adds Tokyo 2020 Paralympian Lawrence Sapp
James V. Shuls, associate professor of educational leadership and policy studies
Springfield News-Leader: To reduce superintendent turnover, change the pension system
St. Louis Business Journal: St. Louis' poor decisions affect the whole of Missouri | Opinion
Lee Slocum, a professor of criminology and criminal justice
St. Louis Public Radio: Missouri police continue to disproportionately pull over Black motorists
Sherri B. Sullivan, criminology and criminal justice alumna
Law News Today: Appellate Judicial Commission seeks applicants for Sullivan vacancy on Missouri Court of Appeals, Eastern District
Luigi Wewege, business and finance alumnus
Pune.Media: CIB President Luigi Wewege explains the FTAs Unlocking Business Opportunities for U.S. Investors in Central America
Sarah Wortman, communications alumna
Office Insight: Sarah Wortman Joins MG2 as Director of Marketing
Other news:
Broadway World: St. Louis Shakespeare Presents the one-hour Star Wars Trilogy: A Parody!
Civil + Structural Engineer: S&T professors named inaugural fellows of the Taylor Geospatial Institute
Columbia Missourian: UM curators approve $4.2 billion system budget for 2024
Construction Forum STL: How to Move a Mountain: Creating Lasting Change in STL Region
The Conversation: Human organs for transplant: 5 steps Africa must take to improve the supply chain
Daily Kos: Is Missouri really that far gone? The sneaky progressivism of Missouri – including the state GOP!
DRG News: Cheyenne River Youth Project prepares to welcome artists, performers, guests to RedCan 2023 next week
Entrepreneur: How Nano Influencers With 1,000 Followers Are Making Big Money and Impact
Exploring Your Mind: The Best Therapies for Treating Trauma
Fox 4 KC: Some Kansas City Police officers now carry Narcan
Inside Higher Ed: Newly Tenured… at Anna Maria, Culver-Stockton, U of Missouri at St. Louis
The JJ Report: Watching dramas like Casualty could increase people's trust in doctors
KCTV 5: KCPD patrol officers to carry Narcan to help overdose victims
KMOV: Local universities pledge to keep diverse classes after SCOTUS rules against affirmative action
KTVI: Street outside CityPark could be named in honor of St. Louligans
KTVI: Duet With Dad is a must attend event at the Touhill Performing Arts Center
Newswise: Danforth Center Scientist Malia Gehan Named to Inaugural Class of TGI Fellows
Patch.com: Darryl Maximilian Robinson Shares 4 Guest Visits To "Actor's Choice"
Pierre Capital Journal: Cheyenne River Youth Project to welcome artists, performers to RedCan 2023
Riverfront Times: St. Louis' Brian Owens To Play Father's Day Concert — With His Dad
Spectrum News: St. Louis County Library to launch business program for formerly incarcerated people in August
Springfield Daily Citizen: Firefighters add naloxone, leave-behind kits to tools for treating opioid overdoses
The St. Louis American: UMSL research hopes to improve home repair system in St. Louis
The St. Louis American: $150 million to Better Family Life and 72 organizations
St. Louis Business Journal: Taylor Geospatial Institute hires 1st executive director
St. Louis Business Journal: Supreme Court strikes down affirmative action, leaving colleges to overhaul admissions
St. Louis CITY SC: St. Louis CITY SC Hosts CITY Cup presented by World Wide Technology Outdoor Youth Soccer Tournament at UMSL
St. Louis Economic Development Partnership: USDA to build new Food Safety and Inspection Service Midwestern Laboratory in Normandy
St. Louis Magazine: How to move a mountain: thoughts on creating lasting change in the St. Louis region, once and for all
St. Louis Magazine: Brian and Thomas Owens host special concert for Father's Day
St. Louis Post-Dispatch: 'More North Clayton than North County': Tied election in Bel-Nor highlights neighborhood divide.
St. Louis Post-Dispatch: Father-son singers Thomas and Brian Owens celebrate viral milestone on 'Hoda & Jenna'
St. Louis Post-Dispatch: Letters to the editor: The historic parallels for today's trans persecution
St. Louis Public Radio: Taylor Geospatial Institute in St. Louis names Nadine Alameh executive director
St. Louis Southern Illinois Labor Tribune: Staffers at St. Louis Public Radio to vote on unionization June 28
YouTube: UMSL Supply Chain & Analytics and Industry Engagement

Short URL: https://blogs.umsl.edu/news/?p=98929