Media Coverage: October 2023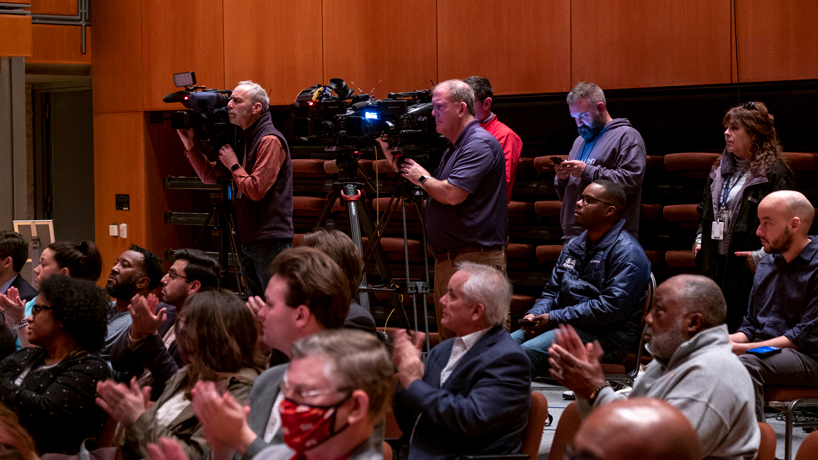 The University of Missouri–St. Louis makes a significant impact on the St. Louis area. Stories about the university, its scholars and their expertise are often covered by local and national news media.
Media Coverage highlights some of the top stories but does not serve as a comprehensive listing. Notice a clip we missed? Email us at umsldaily@umsl.edu.
Featured stories:
Geospatial Collaborative Director Reda Amer joined KMOX's  Megan Lynch on "Total Information AM" to discuss how UMSL's helping build the geospatial workforce in St. Louis. Amer said it's important to expose students to the geospatial field early, building geospatial thinking and preparing them to take that path in college.
Billy Dunaway, associate professor of philosophy and chair of the Department of Philosophy, spoke with U.S. News & World Report about the advantages of majoring in humanities as an undergraduate. Dunaway said his students pursue careers in many fields, including business, public policy, insurance and computer science. He added that for students planning to apply to law school, doing undergraduate work in philosophy may be the best preparation.
CNN tapped several experts, including  Michael Cosmopoulos, the Hellenic Government-Karakas Foundation Chair of Greek Studies and Professor of Archaeology, to comment on new evidence that classical Greek sculptures were colorful, painted with floral patterns and other elaborate designs. Cosmopoulos said the new study challenges the traditional Western idea that classical art was just plain white marble and shows how important color was to ancient Greek artists.
Media coverage:
Anne Austin, assistant professor of archaeology and anthropology
AIA News: AIA Archaeology Hour With Anne Austin
Lauren Bowers, criminology and criminal justice alum
St. Louis Record: Eagleton Scholarships awarded to Lauren Bowers and Blake Comeaux
Erin M. Brooks, associate clinical professor of optometry
Vision Monday: 'Be Bold' Is Theme of Women in Optometry's 5th Annual Women's Leadership Conference, as Theia Awards Presented
Monique Bynum, former community director for the DEI Accelerator
St. Louis Magazine: Women who make St. Louis great
Mark Deadwyler, business alum
Feedstuffs: Elemental Enzymes adds Mark Deadwyler to leadership team
Katie Ellison, research project director for the Safer Homes Collaborative at the Missouri Institute of Mental Health
The Good Men Project: In Missouri, 66% Of Suicides Come With a Gun. So Groups Want Firearms a Little Farther Out of Reach
Mike Engdale, business alum
St. Louis Business Journal: Mike Engdale Hired at EyeCare Partners
Amy Escott, trauma therapist at Child Advocacy Services of Greater St. Louis
KMOX Radio: St. Louis group working to prevent child sexual abuse
Joyce Farrow, education alum
Biz. Magazine: Nine LSUS professors receive endowed professorship appointments
Jackie Fiddler, optometry alum
Vision Monday: Southern College of Optometry Welcomes Five Faculty Members
John Flotron, communication alum
PRWeb: Creative Group is Pleased to Welcome John Flotron, Account Executive, Business Development
Elizabeth Hemingway, criminology and criminal justice alum
West Newsmagazine: Ballwin's newest officer introduced at Board of Aldermen meeting
David Kimball, professor of political science
Alabama Reflector: Alabama is creating its own voter database. Experts aren't sure that's wise.
Katie Kyles, optometry student
Invision Magazine: 2023 American Academy of Optometry Foundation Student and Resident Travel Fellowship Recipients Announced
Sandra Langeslag, associate professor of psychology
HuffPost: This Low-Effort Activity Could Bring The Love Back To Your Relationship
Robert Marquis, professor emeritus of biology
The GW Hatchet: Grubbin' up? Study illustrates impact of cicada cycles on food webs
Mitch Millstein, professional practice professor of supply chain and analytics
KSDK: UAW members in Wentzville say it's a boost seeing others join the picket line
Orinthia Montague, education alum
Essence: Tennessee Community College Mourns The Loss Of President, Dr. Orinthia Montague
Kathy Osborn, education alum
The St. Louis American: Kathy Osborn a 'Champion of Education' for STL region
Rebecca Rogers, Curators' Distinguished Professor of literacy studies
St. Louis Post-Dispatch: The magic of middle-grade books can make kids eager readers
Richard Rosenfeld, Curators' Distinguished Professor Emeritus of Criminology and Criminal Justice
The Associated Press: FBI report: Violent crime decreases to pre-pandemic levels, but property crime is on the rise
Council on Criminal Justice: Did Violent Crime Go Up or Down Last Year? Yes, It Did.
The Daily Mail: These are the safest and most dangerous cities in the US
KMOV: 'Preventable' A retrospective look at St. Louis' school shooting
The Messenger: Number of Young People Killed by Guns Jumps 12%, New Crime Stats Show
New York Daily News: Violent crime drops to pre-pandemic levels but hate crimes skyrocket: FBI report
NEXTSTAR: Is crime going up in America? Some types are, new FBI data shows
Pittsburgh Business Times: Downtown crime stats reveal downward trend in arrests over past decade — here's what that means for businesses
ProPublica: Police Resistance and Politics Undercut the Authority of Prosecutors Trying to Reform the Justice System
Spectrum News: Violent crime in St. Louis hits 10-year low, according to FBI Crime data*
St. Louis Post-Dispatch: FBI publishes wrong crime numbers for St. Louis again amid technology woes for city police
Adam Schwadron, political science alum
The Missouri Times: Representative Adam Schwadron announces his candidacy for Missouri Secretary of State
Stephane B. Seck-Birhame, political science student
Illinois.gov: Employee Spotlight: Bureau Chief of Safety Programs and Engineering Stephane B. Seck-Birhame
Sara Siebert, optometry alum
Muddy River News: Siebert joins SPECS eyecare team as optometrist
Lana Stein, associate professor emerita of political science
St. Louis Post-Dispatch: St. Louis' mayor has frustrated some of her core supporters. Does it matter?
Shawn Stevenson, business and biology alum
The Ready State Podcast: Shawn Stevenson: Creating Kitchen and Table Culture to Reap the Vast Benefits of Gathering for Family Meals
Todd Swanstrom, E. Desmond Lee Endowed Professor of Community Collaboration and Public Policy Administration
St. Louis Post-Dispatch: Wellston wants St. Louis County land. And it's blocking redevelopment to get it.
Kim von der Heyde, fine arts alum
St. Louis Construction News & Review: S. M. Wilson & Co. Promotes Kim von der Heyde to Project Manager
Rodney Wilson, history alum
Montgomery Community Media: Montgomery College Club Holds LGBTQIA+ Job Fairs
Other news:
Belleville News-Democrat: Highland Around Town – Oct. 4 edition
Belleville News Democrat: St. Louis school ranked No. 1 in Missouri. What are the top universities in Illinois?
Broadway World St. Louis: Trinity Irish Dance Company Kicks Off Dance St. Louis' 58th Season
Fulton Sun: Hugs not Drugs aims to provide education, awareness
HR Tech Outlook: IHire's Career-Driven Education & Training Courses Now Available To General Public
KMOV: Missouri Education Dept. distributes grants to bolster teaching degrees amid shortage
KSDK: 14 year old, Legacy Jackson, founded a nonprofit when she was 7. Now, the teen is the youngest in Missouri to give a TedTalk.
Lake News Online: How access to naloxone medication like Narcan—used to reverse opioid overdoses—varies in each state
Mid Rivers NewsMagazine: Private School Directory
Midwest Moves: Midwest Moves Shares Reasons Why St. Louis, MO is a Great Place to Live
PRLog: TEDxStLouis Hosts "Two Steps Forward" Talks
PRWeb: AllCampus Announces University of Missouri-St. Louis as Newest Learning Provider*
The Source: Ruppert-Stroescu to speak for TEDx St. Louis Women Oct. 27
Southern Illinoisan: SIU Carbondale invites all university students, tax professionals to Student Tax Night in St. Louis
Spectrum News: St. Louis-area school districts receive state funding to grow their students into teachers
STLCC News: STLCC Designated as Leader in Cybersecurity Education
The St. Louis American: SLSO mashes up Beethoven with Unsuk Chin in creative world premiere
The St. Louis American: Harris-Stowe awarded $3.5 million grant supporting STEM education
The St. Louis American: SLSO, Macelaru bring fury, rhapsody to the Touhill
The St. Louis American: UMSL Advanced Workforce Center now open for business
The St. Louis American: SLSO premiere sets stage for Beethoven concerto and Mendelssohn symphony
The St. Louis American: Scholarships: critical part of annual Salute Gala
St. Louis Business Journal: Missouri Technology Corp., with increase in funding, to launch new financing programs for startups
St. Louis Business Journal: UMSL creates workforce development center to fill business needs
St. Louis Post-Dispatch: Tell your own family tales with help from experts at St. Louis Storytelling Festival
St. Louis Public Radio: UMSL is celebrating its 60th anniversary with five new fanfares
WSIU: SIU invites all university students, tax professionals to Student Tax Night in St. Louis

Short URL: https://blogs.umsl.edu/news/?p=100367