Eye on UMSL: Piano man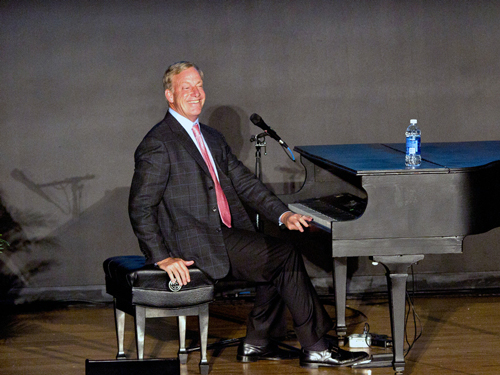 Accomplished pianist Tom Sullivan basks in applause May 10 following a performance in the J.C. Penney Building/Conference Center at UMSL.
Sullivan, who has been blind since shortly after birth, performed for students, faculty and staff from the College of Optometry and discussed how he overcame obstacles en route to becoming an award-winning actor, singer, author and producer. He also talked about InfantSEE, a national public health program that provides no-cost comprehensive vision assessments for infants 6 to 12 months of age. Sullivan made a public presentation called "Envisioning Change" at the Blanche M. Touhill Performing Arts Center, and he capped off his visit to UMSL on May 12 when he spoke at the College of Optometry commencement, where he received an honorary degree from the university.
The picture, by campus photographer August Jennewein, is the latest to be featured at Eye on UMSL.
Short URL: http://blogs.umsl.edu/news/?p=25147