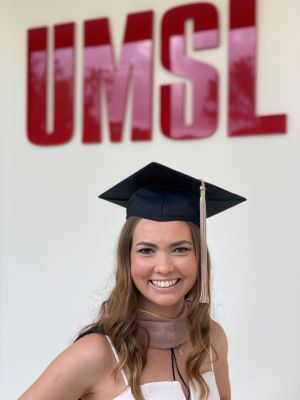 Triple Alumna Layne Paubel Appreciates the Value of an UMSL Degree
The name "Paubel" is well-known on the University of Missouri-St. Louis campus. The family has produced generations of graduates and a few generations are continuing their education. One particular member of the clan, Layne Paubel, remains within the UMSL community. 
Layne Paubel is the Internship Coordinator for the College of Business Administration at UMSL. She earned her Bachelor of Arts in Communication with an emphasis in Business Administration in 2016 and a Master of Arts in Communication in 2018. During the pandemic, Layne found herself with more time after logging off from work. This is what prompted her to work toward another master's degree "as an outlet during the pandemic". Layne enrolled and earned a Master of Business Administration in 2023. Receiving degrees from two different colleges at the university, Layne understands the value of an UMSL degree, but the programs were both similar and different. 
In the College of Arts and Sciences, the journey towards a Master of Arts in Communication prepares students for developing scholarly research, Layne said "the whole thought process [in that program] was more from a research lens, and in the MBA…it was let's analyze this in a different way, what makes sense to consumers". The subject areas were different but there were overlapping with courses from both programs. At the conclusion of the MA in Communication, students turned in a thesis that was prepared throughout the duration of the program; Layne's thesis was 70 pages long. Contrary to the MBA program, students complete a capstone project in their final semester, putting together everything they've learned. She said, "I appreciate both [programs] for different reasons". 
Looking back at her UMSL experience as a whole, Layne is grateful for the opportunities to get involved in campus life and interactions with professors. She joined a campus religious organization and met some other lifelong friends. Although her campus involvement was great, she wished it was more evident that all campus groups were open for everyone to join. Making connections with her professors also contributed to her experience. Layne credited Information Systems and Technology professor Dr. Dinesh Mirchandani who had several classes as an undergraduate and graduate student. He recognized her hard work in his courses; he noticed her dedication. She also recalled Accounting professor Dr. Stephen Moerhle who has a history with the Paubel family. Dr. Moerhle helped Layne get reconnected to UMSL when he recommended that she apply to her first staff position as a Graduate Business Academic Advisor. Layned mentioned that Accounting professor Dr. Marcia Countryman has always been helpful throughout her journey, as well as (communication professor) Dr. Stephanie Van Stee, who was Layne's faculty advisor for her thesis paper. Dr. Stee provided encouragement and guidance for Layne in her Master of Communication program. One special moment that she remembers is when Layne and her older sister were selected as student marshalls the same year (2018) by coincidence. She said, "to have this honor…it was really cool and felt very powerful because I got to share with my sister".  
Layne is very appreciative of her UMSL professors and continues to grow their bonds. 
As a part of the Paubel family's UMSL legacy, Layne calls UMSL their "family school" and that everyone has their "shared stories at the dinner table…the stories across generations are fascinating". The memories are the most special part of the Paubel-UMSL legacy. Layne and her mother even recount having some of the same communication professors. 
With UMSL at the head of her career, Layne grew into working in higher education. During her MA degree program, she communication courses in the College of Arts and Sciences. Although she didn't want to become a full professor, teaching part-time was on her mind, and Layne took full advantage of the opportunities presented before her. 
In addition to teaching at the University of Missouri-St. Louis, Layne also taught at Lewis and Clark Community College from 2019-2022. In the future, Layne plans to return to teaching at Lewis and Clark if her schedule permits. Further ahead, she is comfortable with her current role in the College of Business Administration and plans to continue to prosper as she enjoys working in higher education, a career that ultimately found her. A doctoral degree may come later on down the line but for now, UMSL is Layne Paubel's home.