Spring commencement 2019: Celebrating UMSL's newest class of graduates
The University of Missouri–St. Louis campus community celebrated nearly 1,500 students who earned their degrees over the weekend at six commencement ceremonies, starting with Friday's event to recognize graduates of the College of Optometry at the Blanche M. Touhill Performing Arts Center and continuing Saturday and Sunday at the Mark Twain Athletic Center.
UMSL campus photographer August Jennewein captured a few of the joyous scenes.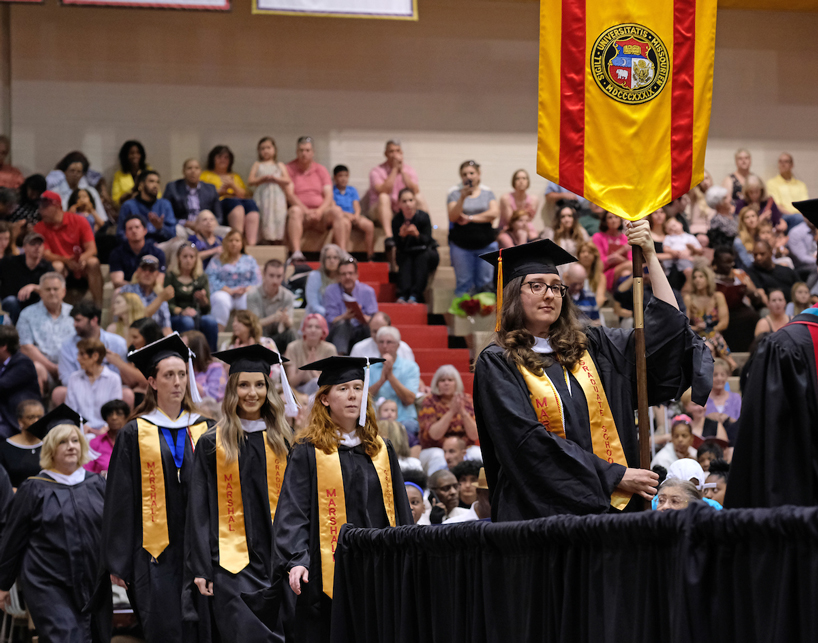 Student Marshal Meagan Burwell (at right) led her fellow graduates into the Mark Twain Athletic Center during Saturday afternoon's commencement ceremony.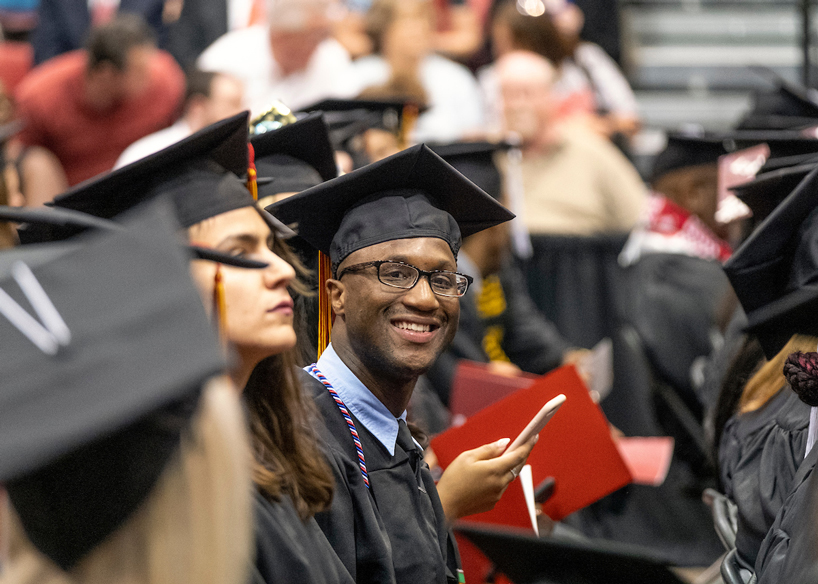 Students couldn't hide their excitement as they sat together on the floor during the second of two ceremonies for the College of Arts and Sciences.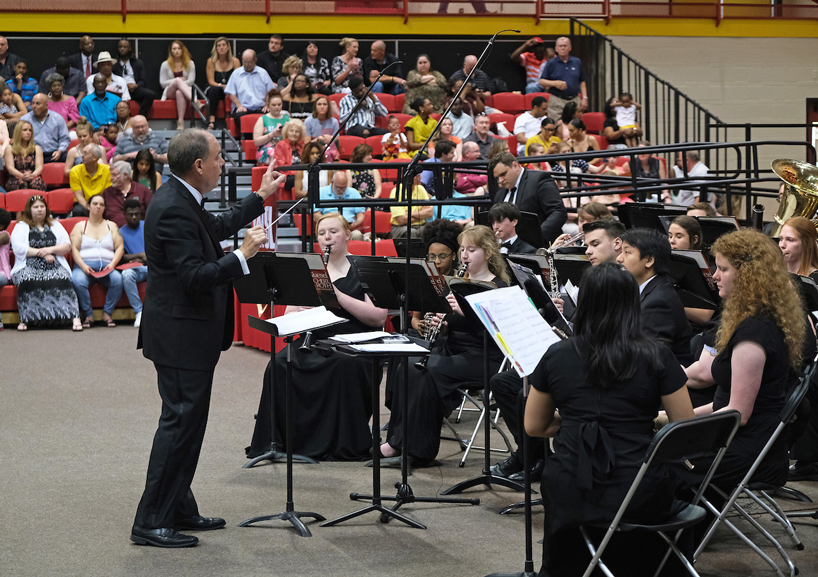 Teaching Professor Gary Brandes, UMSL's director of bands, directed the UMSL Wind Ensemble at the Mark Twain Athletic Center.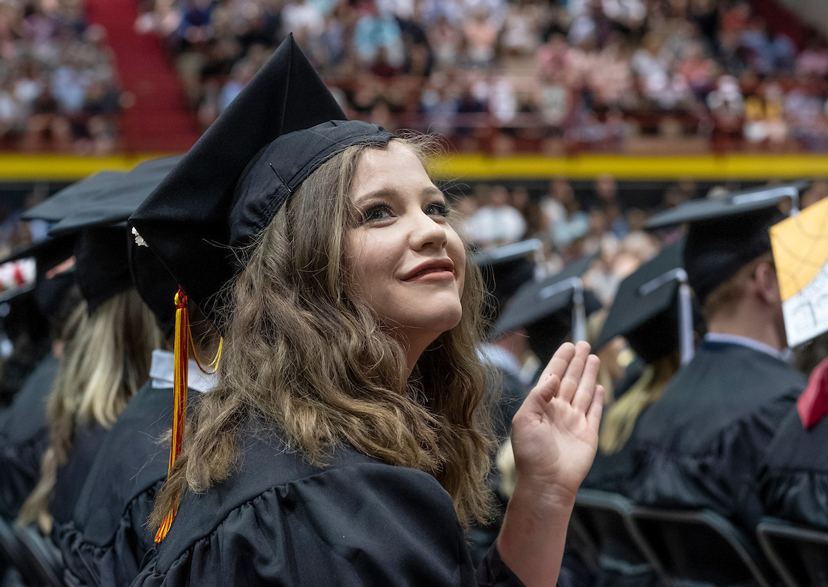 Students' eyes were constantly peering into the crowd, looking to locate the people who helped them achieve their goals of earning their college degrees.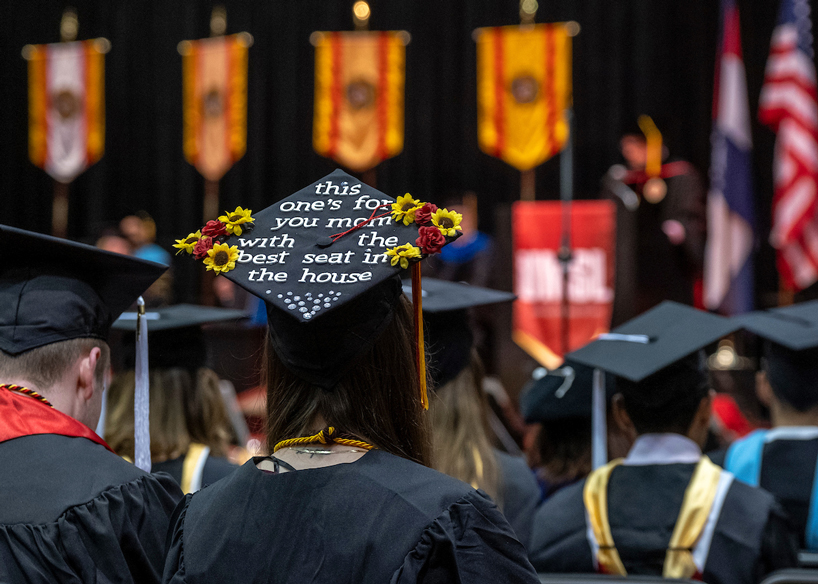 Some took the time to decorate their graduation caps with messages of gratitude for the people who helped them on their journeys to the stage.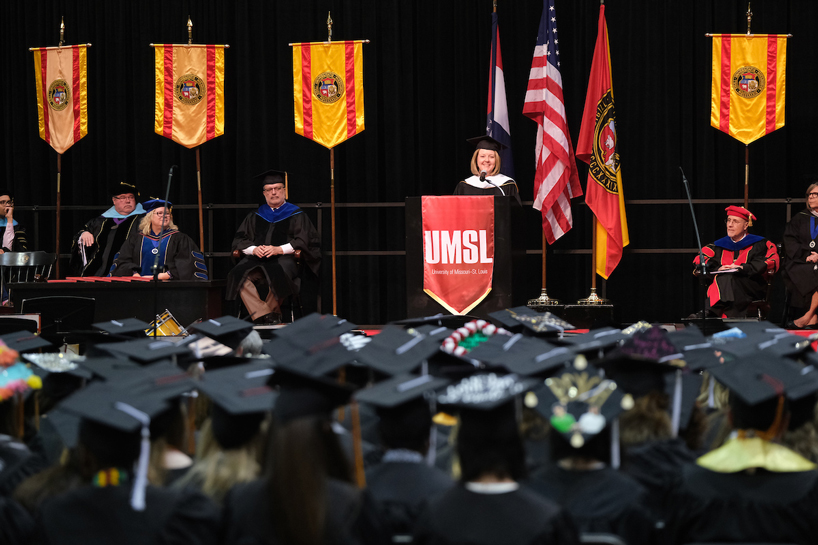 UMSL alumna Sara Foster, an executive vice president at Commerce Bancshares Inc., delivered one of six commencement addresses.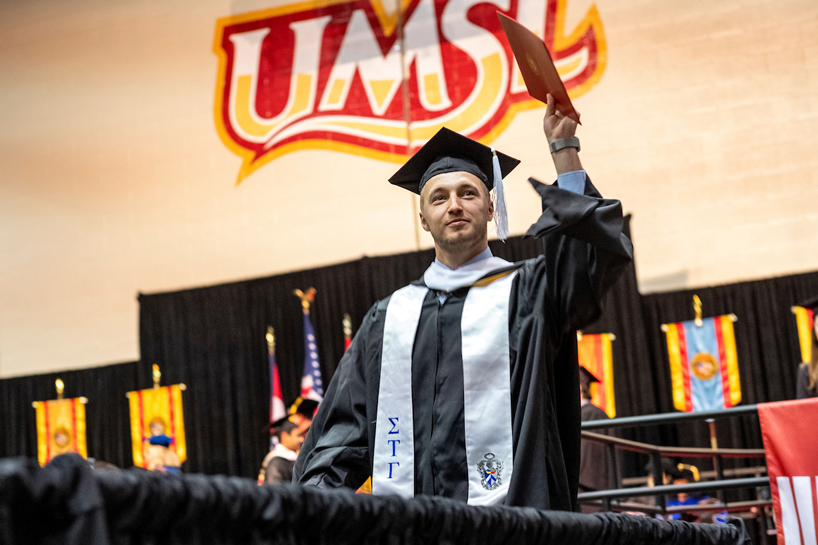 The breakdown of degree candidates from the spring semester was 629 from the College of Arts and Sciences, 380 from the College of Business Administration, 256 from the College of Education, 87 from the College of Nursing, 55 from the School of Social Work, 39 from the College of Optometry and 23 from the UMSL/WUSTL Joint Undergraduate Engineering Program.
Alex Zvibleman (second from left) became the first student to earn a BSBA with an emphasis in entrepreneurship and commemorated the moment with (from left) UMSL Accelerate Founding Executive Director Dan Lauer, College of Business Administration Dean Charlie Hoffman and Chancellor Tom George.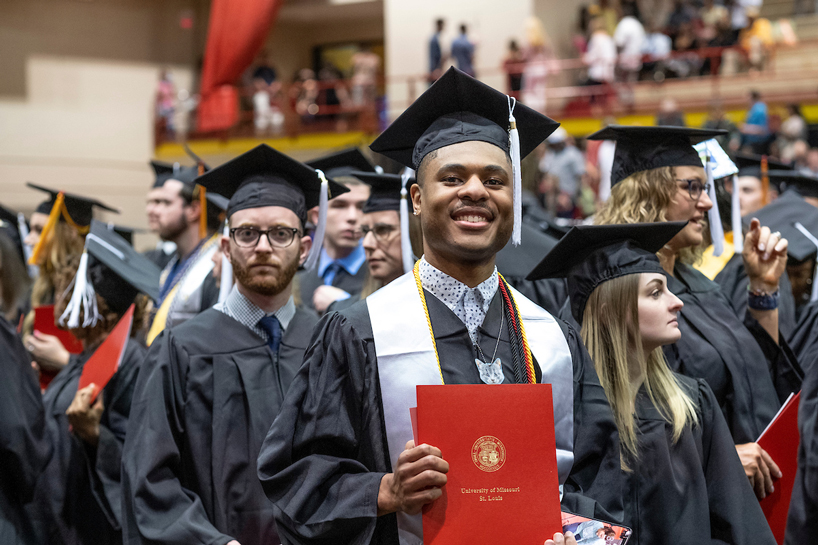 Liberal studies graduate Michael Dunlap proudly showed off his diploma cover after his walk across the stage.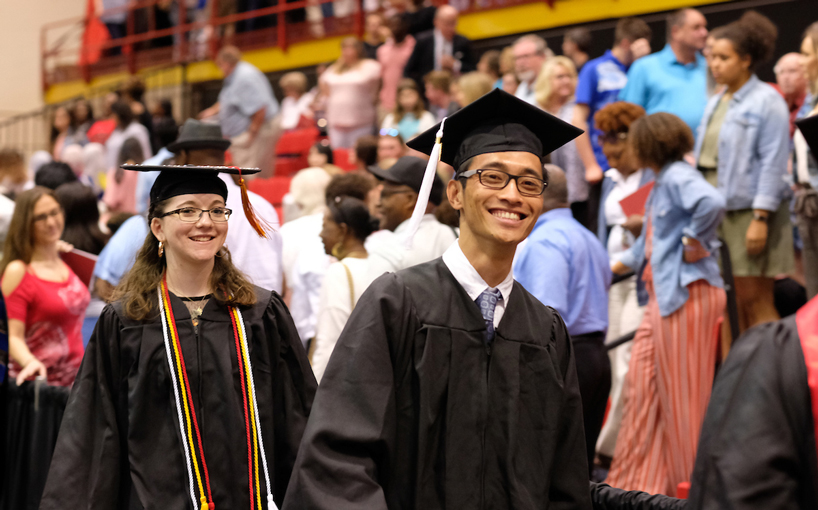 Economics graduate Thinh Dam (at right), a native of Vietnam, processed out of the Mark Twain Athletic Center with his fellow graduates.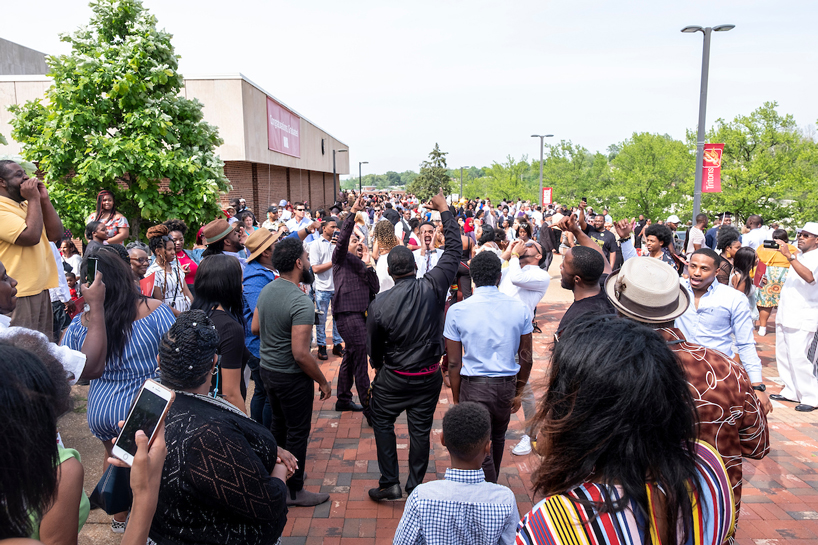 The celebration spilled outside onto the sidewalk in front of the Mark Twain Athletic Center as the new graduates met up with friends and family members.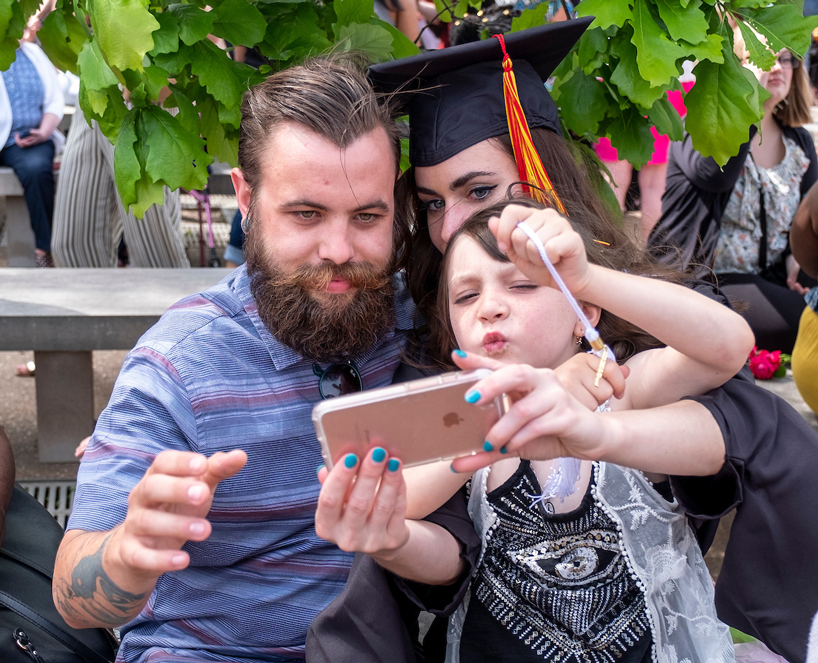 Economics dual-degree graduate Nicolette Seder took a selfie with her boyfriend and her daughter, Skylar.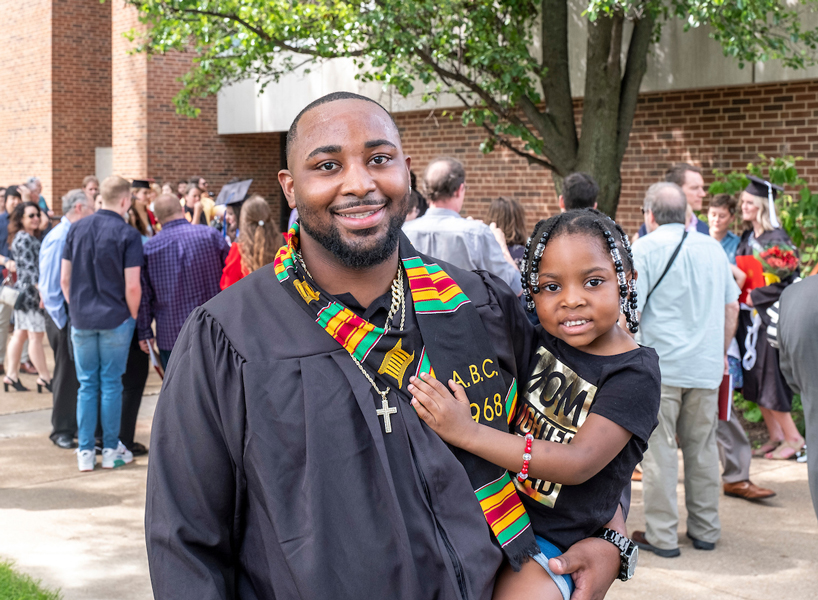 Daniel Bolden took a photo with his daughter after graduating with a degree he began pursuing as an Opportunity Scholar in 2011.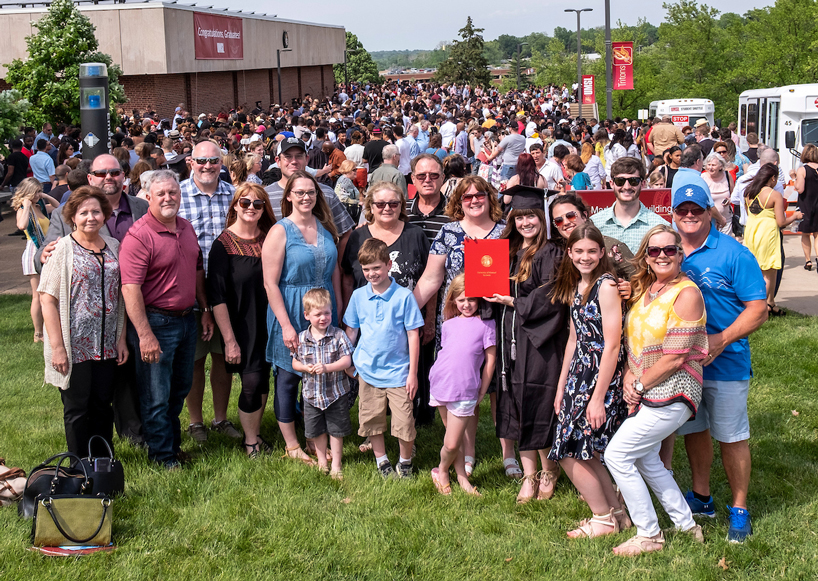 Psychology graduate Courtney Rowland (holding red folder) gathered with her family outside the Mark Twain Athletic Center.

Short URL: https://blogs.umsl.edu/news/?p=80113